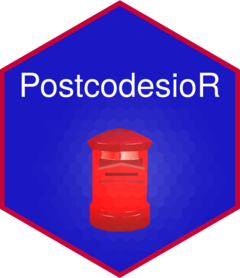 Bulk reverse geocoding
Source:
R/bulk_reverse_geocoding.R
bulk_reverse_geocoding.Rd
Returns nearest postcodes for a given longitude and latitude. Accepts up to 100 geolocations.
Arguments
geolocations

A list containing an array of objects to geolocate. At least two elements needed.
Details
This method requires a JSON object containing an array of geolocation objects to be POSTed. Each geolocation object accepts an optional radius (meters) and limit argument. Both default to 100m and 10 respectively. It also accepts a wideSearch argument.
Examples



# \donttest{




geolocations_list

 

<-

 structure

(


list

(


geolocations 

=

 structure

(


list

(


longitude 

=

 c

(

-

3.15807731271522

, 

-

1.12935802905177

)

,
latitude 

=

 c

(

51.4799900627036

, 

50.7186356978817

)

,
limit 

=

 c

(

NA

, 

100L

)

,
radius 

=

 c

(

NA

, 

500L

)

)

,
.Names 

=

 c

(

"longitude"

, 

"latitude"

, 

"limit"

, 

"radius"

)

,
class 

=

 

"data.frame"

,
row.names 

=

 

1

:

2

)

)

,
.Names 

=

 

"geolocations"

)







bulk_reverse_geocoding

(

geolocations_list

)




#>

 [[1]]


#>

 [[1]]$query


#>

 [[1]]$query$longitude


#>

 [1] -3.158077


#>

 


#>

 [[1]]$query$latitude


#>

 [1] 51.47999


#>

 


#>

 


#>

 [[1]]$result


#>

 [[1]]$result[[1]]


#>

 [[1]]$result[[1]]$postcode


#>

 [1] "CF24 2BT"


#>

 


#>

 [[1]]$result[[1]]$quality


#>

 [1] 1


#>

 


#>

 [[1]]$result[[1]]$eastings


#>

 [1] 319675


#>

 


#>

 [[1]]$result[[1]]$northings


#>

 [1] 176305


#>

 


#>

 [[1]]$result[[1]]$country


#>

 [1] "Wales"


#>

 


#>

 [[1]]$result[[1]]$nhs_ha


#>

 [1] "Cardiff and Vale University Health Board"


#>

 


#>

 [[1]]$result[[1]]$longitude


#>

 [1] -3.158076


#>

 


#>

 [[1]]$result[[1]]$latitude


#>

 [1] 51.47998


#>

 


#>

 [[1]]$result[[1]]$european_electoral_region


#>

 [1] "Wales"


#>

 


#>

 [[1]]$result[[1]]$primary_care_trust


#>

 [1] "Cardiff and Vale University Health Board"


#>

 


#>

 [[1]]$result[[1]]$region


#>

 NULL


#>

 


#>

 [[1]]$result[[1]]$lsoa


#>

 [1] "Cardiff 038D"


#>

 


#>

 [[1]]$result[[1]]$msoa


#>

 [1] "Cardiff 038"


#>

 


#>

 [[1]]$result[[1]]$incode


#>

 [1] "2BT"


#>

 


#>

 [[1]]$result[[1]]$outcode


#>

 [1] "CF24"


#>

 


#>

 [[1]]$result[[1]]$parliamentary_constituency


#>

 [1] "Cardiff South and Penarth"


#>

 


#>

 [[1]]$result[[1]]$admin_district


#>

 [1] "Cardiff"


#>

 


#>

 [[1]]$result[[1]]$parish


#>

 [1] "Splott"


#>

 


#>

 [[1]]$result[[1]]$admin_county


#>

 NULL


#>

 


#>

 [[1]]$result[[1]]$date_of_introduction


#>

 [1] "199906"


#>

 


#>

 [[1]]$result[[1]]$admin_ward


#>

 [1] "Splott"


#>

 


#>

 [[1]]$result[[1]]$ced


#>

 NULL


#>

 


#>

 [[1]]$result[[1]]$ccg


#>

 [1] "Cardiff and Vale University"


#>

 


#>

 [[1]]$result[[1]]$nuts


#>

 [1] "Cardiff and Vale of Glamorgan"


#>

 


#>

 [[1]]$result[[1]]$pfa


#>

 [1] "South Wales"


#>

 


#>

 [[1]]$result[[1]]$codes


#>

 [[1]]$result[[1]]$codes$admin_district


#>

 [1] "W06000015"


#>

 


#>

 [[1]]$result[[1]]$codes$admin_county


#>

 [1] "W99999999"


#>

 


#>

 [[1]]$result[[1]]$codes$admin_ward


#>

 [1] "W05001295"


#>

 


#>

 [[1]]$result[[1]]$codes$parish


#>

 [1] "W04001005"


#>

 


#>

 [[1]]$result[[1]]$codes$parliamentary_constituency


#>

 [1] "W07000080"


#>

 


#>

 [[1]]$result[[1]]$codes$ccg


#>

 [1] "W11000029"


#>

 


#>

 [[1]]$result[[1]]$codes$ccg_id


#>

 [1] "7A4"


#>

 


#>

 [[1]]$result[[1]]$codes$ced


#>

 [1] "W99999999"


#>

 


#>

 [[1]]$result[[1]]$codes$nuts


#>

 [1] "TLL22"


#>

 


#>

 [[1]]$result[[1]]$codes$lsoa


#>

 [1] "W01001874"


#>

 


#>

 [[1]]$result[[1]]$codes$msoa


#>

 [1] "W02000404"


#>

 


#>

 [[1]]$result[[1]]$codes$lau2


#>

 [1] "W06000015"


#>

 


#>

 [[1]]$result[[1]]$codes$pfa


#>

 [1] "W15000003"


#>

 


#>

 


#>

 [[1]]$result[[1]]$distance


#>

 [1] 1.567236


#>

 


#>

 


#>

 [[1]]$result[[2]]


#>

 [[1]]$result[[2]]$postcode


#>

 [1] "CF24 2ED"


#>

 


#>

 [[1]]$result[[2]]$quality


#>

 [1] 1


#>

 


#>

 [[1]]$result[[2]]$eastings


#>

 [1] 319632


#>

 


#>

 [[1]]$result[[2]]$northings


#>

 [1] 176274


#>

 


#>

 [[1]]$result[[2]]$country


#>

 [1] "Wales"


#>

 


#>

 [[1]]$result[[2]]$nhs_ha


#>

 [1] "Cardiff and Vale University Health Board"


#>

 


#>

 [[1]]$result[[2]]$longitude


#>

 [1] -3.158688


#>

 


#>

 [[1]]$result[[2]]$latitude


#>

 [1] 51.47969


#>

 


#>

 [[1]]$result[[2]]$european_electoral_region


#>

 [1] "Wales"


#>

 


#>

 [[1]]$result[[2]]$primary_care_trust


#>

 [1] "Cardiff and Vale University Health Board"


#>

 


#>

 [[1]]$result[[2]]$region


#>

 NULL


#>

 


#>

 [[1]]$result[[2]]$lsoa


#>

 [1] "Cardiff 038D"


#>

 


#>

 [[1]]$result[[2]]$msoa


#>

 [1] "Cardiff 038"


#>

 


#>

 [[1]]$result[[2]]$incode


#>

 [1] "2ED"


#>

 


#>

 [[1]]$result[[2]]$outcode


#>

 [1] "CF24"


#>

 


#>

 [[1]]$result[[2]]$parliamentary_constituency


#>

 [1] "Cardiff South and Penarth"


#>

 


#>

 [[1]]$result[[2]]$admin_district


#>

 [1] "Cardiff"


#>

 


#>

 [[1]]$result[[2]]$parish


#>

 [1] "Splott"


#>

 


#>

 [[1]]$result[[2]]$admin_county


#>

 NULL


#>

 


#>

 [[1]]$result[[2]]$date_of_introduction


#>

 [1] "199906"


#>

 


#>

 [[1]]$result[[2]]$admin_ward


#>

 [1] "Splott"


#>

 


#>

 [[1]]$result[[2]]$ced


#>

 NULL


#>

 


#>

 [[1]]$result[[2]]$ccg


#>

 [1] "Cardiff and Vale University"


#>

 


#>

 [[1]]$result[[2]]$nuts


#>

 [1] "Cardiff and Vale of Glamorgan"


#>

 


#>

 [[1]]$result[[2]]$pfa


#>

 [1] "South Wales"


#>

 


#>

 [[1]]$result[[2]]$codes


#>

 [[1]]$result[[2]]$codes$admin_district


#>

 [1] "W06000015"


#>

 


#>

 [[1]]$result[[2]]$codes$admin_county


#>

 [1] "W99999999"


#>

 


#>

 [[1]]$result[[2]]$codes$admin_ward


#>

 [1] "W05001295"


#>

 


#>

 [[1]]$result[[2]]$codes$parish


#>

 [1] "W04001005"


#>

 


#>

 [[1]]$result[[2]]$codes$parliamentary_constituency


#>

 [1] "W07000080"


#>

 


#>

 [[1]]$result[[2]]$codes$ccg


#>

 [1] "W11000029"


#>

 


#>

 [[1]]$result[[2]]$codes$ccg_id


#>

 [1] "7A4"


#>

 


#>

 [[1]]$result[[2]]$codes$ced


#>

 [1] "W99999999"


#>

 


#>

 [[1]]$result[[2]]$codes$nuts


#>

 [1] "TLL22"


#>

 


#>

 [[1]]$result[[2]]$codes$lsoa


#>

 [1] "W01001874"


#>

 


#>

 [[1]]$result[[2]]$codes$msoa


#>

 [1] "W02000404"


#>

 


#>

 [[1]]$result[[2]]$codes$lau2


#>

 [1] "W06000015"


#>

 


#>

 [[1]]$result[[2]]$codes$pfa


#>

 [1] "W15000003"


#>

 


#>

 


#>

 [[1]]$result[[2]]$distance


#>

 [1] 53.91644


#>

 


#>

 


#>

 [[1]]$result[[3]]


#>

 [[1]]$result[[3]]$postcode


#>

 [1] "CF24 2AA"


#>

 


#>

 [[1]]$result[[3]]$quality


#>

 [1] 1


#>

 


#>

 [[1]]$result[[3]]$eastings


#>

 [1] 319607


#>

 


#>

 [[1]]$result[[3]]$northings


#>

 [1] 176332


#>

 


#>

 [[1]]$result[[3]]$country


#>

 [1] "Wales"


#>

 


#>

 [[1]]$result[[3]]$nhs_ha


#>

 [1] "Cardiff and Vale University Health Board"


#>

 


#>

 [[1]]$result[[3]]$longitude


#>

 [1] -3.159062


#>

 


#>

 [[1]]$result[[3]]$latitude


#>

 [1] 51.48021


#>

 


#>

 [[1]]$result[[3]]$european_electoral_region


#>

 [1] "Wales"


#>

 


#>

 [[1]]$result[[3]]$primary_care_trust


#>

 [1] "Cardiff and Vale University Health Board"


#>

 


#>

 [[1]]$result[[3]]$region


#>

 NULL


#>

 


#>

 [[1]]$result[[3]]$lsoa


#>

 [1] "Cardiff 038D"


#>

 


#>

 [[1]]$result[[3]]$msoa


#>

 [1] "Cardiff 038"


#>

 


#>

 [[1]]$result[[3]]$incode


#>

 [1] "2AA"


#>

 


#>

 [[1]]$result[[3]]$outcode


#>

 [1] "CF24"


#>

 


#>

 [[1]]$result[[3]]$parliamentary_constituency


#>

 [1] "Cardiff South and Penarth"


#>

 


#>

 [[1]]$result[[3]]$admin_district


#>

 [1] "Cardiff"


#>

 


#>

 [[1]]$result[[3]]$parish


#>

 [1] "Splott"


#>

 


#>

 [[1]]$result[[3]]$admin_county


#>

 NULL


#>

 


#>

 [[1]]$result[[3]]$date_of_introduction


#>

 [1] "199906"


#>

 


#>

 [[1]]$result[[3]]$admin_ward


#>

 [1] "Splott"


#>

 


#>

 [[1]]$result[[3]]$ced


#>

 NULL


#>

 


#>

 [[1]]$result[[3]]$ccg


#>

 [1] "Cardiff and Vale University"


#>

 


#>

 [[1]]$result[[3]]$nuts


#>

 [1] "Cardiff and Vale of Glamorgan"


#>

 


#>

 [[1]]$result[[3]]$pfa


#>

 [1] "South Wales"


#>

 


#>

 [[1]]$result[[3]]$codes


#>

 [[1]]$result[[3]]$codes$admin_district


#>

 [1] "W06000015"


#>

 


#>

 [[1]]$result[[3]]$codes$admin_county


#>

 [1] "W99999999"


#>

 


#>

 [[1]]$result[[3]]$codes$admin_ward


#>

 [1] "W05001295"


#>

 


#>

 [[1]]$result[[3]]$codes$parish


#>

 [1] "W04001005"


#>

 


#>

 [[1]]$result[[3]]$codes$parliamentary_constituency


#>

 [1] "W07000080"


#>

 


#>

 [[1]]$result[[3]]$codes$ccg


#>

 [1] "W11000029"


#>

 


#>

 [[1]]$result[[3]]$codes$ccg_id


#>

 [1] "7A4"


#>

 


#>

 [[1]]$result[[3]]$codes$ced


#>

 [1] "W99999999"


#>

 


#>

 [[1]]$result[[3]]$codes$nuts


#>

 [1] "TLL22"


#>

 


#>

 [[1]]$result[[3]]$codes$lsoa


#>

 [1] "W01001874"


#>

 


#>

 [[1]]$result[[3]]$codes$msoa


#>

 [1] "W02000404"


#>

 


#>

 [[1]]$result[[3]]$codes$lau2


#>

 [1] "W06000015"


#>

 


#>

 [[1]]$result[[3]]$codes$pfa


#>

 [1] "W15000003"


#>

 


#>

 


#>

 [[1]]$result[[3]]$distance


#>

 [1] 72.61436


#>

 


#>

 


#>

 [[1]]$result[[4]]


#>

 [[1]]$result[[4]]$postcode


#>

 [1] "CF24 5NW"


#>

 


#>

 [[1]]$result[[4]]$quality


#>

 [1] 1


#>

 


#>

 [[1]]$result[[4]]$eastings


#>

 [1] 319646


#>

 


#>

 [[1]]$result[[4]]$northings


#>

 [1] 176237


#>

 


#>

 [[1]]$result[[4]]$country


#>

 [1] "Wales"


#>

 


#>

 [[1]]$result[[4]]$nhs_ha


#>

 [1] "Cardiff and Vale University Health Board"


#>

 


#>

 [[1]]$result[[4]]$longitude


#>

 [1] -3.158478


#>

 


#>

 [[1]]$result[[4]]$latitude


#>

 [1] 51.47936


#>

 


#>

 [[1]]$result[[4]]$european_electoral_region


#>

 [1] "Wales"


#>

 


#>

 [[1]]$result[[4]]$primary_care_trust


#>

 [1] "Cardiff and Vale University Health Board"


#>

 


#>

 [[1]]$result[[4]]$region


#>

 NULL


#>

 


#>

 [[1]]$result[[4]]$lsoa


#>

 [1] "Cardiff 038D"


#>

 


#>

 [[1]]$result[[4]]$msoa


#>

 [1] "Cardiff 038"


#>

 


#>

 [[1]]$result[[4]]$incode


#>

 [1] "5NW"


#>

 


#>

 [[1]]$result[[4]]$outcode


#>

 [1] "CF24"


#>

 


#>

 [[1]]$result[[4]]$parliamentary_constituency


#>

 [1] "Cardiff South and Penarth"


#>

 


#>

 [[1]]$result[[4]]$admin_district


#>

 [1] "Cardiff"


#>

 


#>

 [[1]]$result[[4]]$parish


#>

 [1] "Splott"


#>

 


#>

 [[1]]$result[[4]]$admin_county


#>

 NULL


#>

 


#>

 [[1]]$result[[4]]$date_of_introduction


#>

 [1] "199906"


#>

 


#>

 [[1]]$result[[4]]$admin_ward


#>

 [1] "Splott"


#>

 


#>

 [[1]]$result[[4]]$ced


#>

 NULL


#>

 


#>

 [[1]]$result[[4]]$ccg


#>

 [1] "Cardiff and Vale University"


#>

 


#>

 [[1]]$result[[4]]$nuts


#>

 [1] "Cardiff and Vale of Glamorgan"


#>

 


#>

 [[1]]$result[[4]]$pfa


#>

 [1] "South Wales"


#>

 


#>

 [[1]]$result[[4]]$codes


#>

 [[1]]$result[[4]]$codes$admin_district


#>

 [1] "W06000015"


#>

 


#>

 [[1]]$result[[4]]$codes$admin_county


#>

 [1] "W99999999"


#>

 


#>

 [[1]]$result[[4]]$codes$admin_ward


#>

 [1] "W05001295"


#>

 


#>

 [[1]]$result[[4]]$codes$parish


#>

 [1] "W04001005"


#>

 


#>

 [[1]]$result[[4]]$codes$parliamentary_constituency


#>

 [1] "W07000080"


#>

 


#>

 [[1]]$result[[4]]$codes$ccg


#>

 [1] "W11000029"


#>

 


#>

 [[1]]$result[[4]]$codes$ccg_id


#>

 [1] "7A4"


#>

 


#>

 [[1]]$result[[4]]$codes$ced


#>

 [1] "W99999999"


#>

 


#>

 [[1]]$result[[4]]$codes$nuts


#>

 [1] "TLL22"


#>

 


#>

 [[1]]$result[[4]]$codes$lsoa


#>

 [1] "W01001874"


#>

 


#>

 [[1]]$result[[4]]$codes$msoa


#>

 [1] "W02000404"


#>

 


#>

 [[1]]$result[[4]]$codes$lau2


#>

 [1] "W06000015"


#>

 


#>

 [[1]]$result[[4]]$codes$pfa


#>

 [1] "W15000003"


#>

 


#>

 


#>

 [[1]]$result[[4]]$distance


#>

 [1] 75.42382


#>

 


#>

 


#>

 [[1]]$result[[5]]


#>

 [[1]]$result[[5]]$postcode


#>

 [1] "CF24 2AJ"


#>

 


#>

 [[1]]$result[[5]]$quality


#>

 [1] 1


#>

 


#>

 [[1]]$result[[5]]$eastings


#>

 [1] 319645


#>

 


#>

 [[1]]$result[[5]]$northings


#>

 [1] 176384


#>

 


#>

 [[1]]$result[[5]]$country


#>

 [1] "Wales"


#>

 


#>

 [[1]]$result[[5]]$nhs_ha


#>

 [1] "Cardiff and Vale University Health Board"


#>

 


#>

 [[1]]$result[[5]]$longitude


#>

 [1] -3.158526


#>

 


#>

 [[1]]$result[[5]]$latitude


#>

 [1] 51.48068


#>

 


#>

 [[1]]$result[[5]]$european_electoral_region


#>

 [1] "Wales"


#>

 


#>

 [[1]]$result[[5]]$primary_care_trust


#>

 [1] "Cardiff and Vale University Health Board"


#>

 


#>

 [[1]]$result[[5]]$region


#>

 NULL


#>

 


#>

 [[1]]$result[[5]]$lsoa


#>

 [1] "Cardiff 038D"


#>

 


#>

 [[1]]$result[[5]]$msoa


#>

 [1] "Cardiff 038"


#>

 


#>

 [[1]]$result[[5]]$incode


#>

 [1] "2AJ"


#>

 


#>

 [[1]]$result[[5]]$outcode


#>

 [1] "CF24"


#>

 


#>

 [[1]]$result[[5]]$parliamentary_constituency


#>

 [1] "Cardiff South and Penarth"


#>

 


#>

 [[1]]$result[[5]]$admin_district


#>

 [1] "Cardiff"


#>

 


#>

 [[1]]$result[[5]]$parish


#>

 [1] "Splott"


#>

 


#>

 [[1]]$result[[5]]$admin_county


#>

 NULL


#>

 


#>

 [[1]]$result[[5]]$date_of_introduction


#>

 [1] "199906"


#>

 


#>

 [[1]]$result[[5]]$admin_ward


#>

 [1] "Splott"


#>

 


#>

 [[1]]$result[[5]]$ced


#>

 NULL


#>

 


#>

 [[1]]$result[[5]]$ccg


#>

 [1] "Cardiff and Vale University"


#>

 


#>

 [[1]]$result[[5]]$nuts


#>

 [1] "Cardiff and Vale of Glamorgan"


#>

 


#>

 [[1]]$result[[5]]$pfa


#>

 [1] "South Wales"


#>

 


#>

 [[1]]$result[[5]]$codes


#>

 [[1]]$result[[5]]$codes$admin_district


#>

 [1] "W06000015"


#>

 


#>

 [[1]]$result[[5]]$codes$admin_county


#>

 [1] "W99999999"


#>

 


#>

 [[1]]$result[[5]]$codes$admin_ward


#>

 [1] "W05001295"


#>

 


#>

 [[1]]$result[[5]]$codes$parish


#>

 [1] "W04001005"


#>

 


#>

 [[1]]$result[[5]]$codes$parliamentary_constituency


#>

 [1] "W07000080"


#>

 


#>

 [[1]]$result[[5]]$codes$ccg


#>

 [1] "W11000029"


#>

 


#>

 [[1]]$result[[5]]$codes$ccg_id


#>

 [1] "7A4"


#>

 


#>

 [[1]]$result[[5]]$codes$ced


#>

 [1] "W99999999"


#>

 


#>

 [[1]]$result[[5]]$codes$nuts


#>

 [1] "TLL22"


#>

 


#>

 [[1]]$result[[5]]$codes$lsoa


#>

 [1] "W01001874"


#>

 


#>

 [[1]]$result[[5]]$codes$msoa


#>

 [1] "W02000404"


#>

 


#>

 [[1]]$result[[5]]$codes$lau2


#>

 [1] "W06000015"


#>

 


#>

 [[1]]$result[[5]]$codes$pfa


#>

 [1] "W15000003"


#>

 


#>

 


#>

 [[1]]$result[[5]]$distance


#>

 [1] 83.05426


#>

 


#>

 


#>

 [[1]]$result[[6]]


#>

 [[1]]$result[[6]]$postcode


#>

 [1] "CF24 2AH"


#>

 


#>

 [[1]]$result[[6]]$quality


#>

 [1] 1


#>

 


#>

 [[1]]$result[[6]]$eastings


#>

 [1] 319618


#>

 


#>

 [[1]]$result[[6]]$northings


#>

 [1] 176370


#>

 


#>

 [[1]]$result[[6]]$country


#>

 [1] "Wales"


#>

 


#>

 [[1]]$result[[6]]$nhs_ha


#>

 [1] "Cardiff and Vale University Health Board"


#>

 


#>

 [[1]]$result[[6]]$longitude


#>

 [1] -3.158912


#>

 


#>

 [[1]]$result[[6]]$latitude


#>

 [1] 51.48055


#>

 


#>

 [[1]]$result[[6]]$european_electoral_region


#>

 [1] "Wales"


#>

 


#>

 [[1]]$result[[6]]$primary_care_trust


#>

 [1] "Cardiff and Vale University Health Board"


#>

 


#>

 [[1]]$result[[6]]$region


#>

 NULL


#>

 


#>

 [[1]]$result[[6]]$lsoa


#>

 [1] "Cardiff 038D"


#>

 


#>

 [[1]]$result[[6]]$msoa


#>

 [1] "Cardiff 038"


#>

 


#>

 [[1]]$result[[6]]$incode


#>

 [1] "2AH"


#>

 


#>

 [[1]]$result[[6]]$outcode


#>

 [1] "CF24"


#>

 


#>

 [[1]]$result[[6]]$parliamentary_constituency


#>

 [1] "Cardiff South and Penarth"


#>

 


#>

 [[1]]$result[[6]]$admin_district


#>

 [1] "Cardiff"


#>

 


#>

 [[1]]$result[[6]]$parish


#>

 [1] "Splott"


#>

 


#>

 [[1]]$result[[6]]$admin_county


#>

 NULL


#>

 


#>

 [[1]]$result[[6]]$date_of_introduction


#>

 [1] "199906"


#>

 


#>

 [[1]]$result[[6]]$admin_ward


#>

 [1] "Splott"


#>

 


#>

 [[1]]$result[[6]]$ced


#>

 NULL


#>

 


#>

 [[1]]$result[[6]]$ccg


#>

 [1] "Cardiff and Vale University"


#>

 


#>

 [[1]]$result[[6]]$nuts


#>

 [1] "Cardiff and Vale of Glamorgan"


#>

 


#>

 [[1]]$result[[6]]$pfa


#>

 [1] "South Wales"


#>

 


#>

 [[1]]$result[[6]]$codes


#>

 [[1]]$result[[6]]$codes$admin_district


#>

 [1] "W06000015"


#>

 


#>

 [[1]]$result[[6]]$codes$admin_county


#>

 [1] "W99999999"


#>

 


#>

 [[1]]$result[[6]]$codes$admin_ward


#>

 [1] "W05001295"


#>

 


#>

 [[1]]$result[[6]]$codes$parish


#>

 [1] "W04001005"


#>

 


#>

 [[1]]$result[[6]]$codes$parliamentary_constituency


#>

 [1] "W07000080"


#>

 


#>

 [[1]]$result[[6]]$codes$ccg


#>

 [1] "W11000029"


#>

 


#>

 [[1]]$result[[6]]$codes$ccg_id


#>

 [1] "7A4"


#>

 


#>

 [[1]]$result[[6]]$codes$ced


#>

 [1] "W99999999"


#>

 


#>

 [[1]]$result[[6]]$codes$nuts


#>

 [1] "TLL22"


#>

 


#>

 [[1]]$result[[6]]$codes$lsoa


#>

 [1] "W01001874"


#>

 


#>

 [[1]]$result[[6]]$codes$msoa


#>

 [1] "W02000404"


#>

 


#>

 [[1]]$result[[6]]$codes$lau2


#>

 [1] "W06000015"


#>

 


#>

 [[1]]$result[[6]]$codes$pfa


#>

 [1] "W15000003"


#>

 


#>

 


#>

 [[1]]$result[[6]]$distance


#>

 [1] 85.27079


#>

 


#>

 


#>

 [[1]]$result[[7]]


#>

 [[1]]$result[[7]]$postcode


#>

 [1] "CF24 2DZ"


#>

 


#>

 [[1]]$result[[7]]$quality


#>

 [1] 1


#>

 


#>

 [[1]]$result[[7]]$eastings


#>

 [1] 319764


#>

 


#>

 [[1]]$result[[7]]$northings


#>

 [1] 176318


#>

 


#>

 [[1]]$result[[7]]$country


#>

 [1] "Wales"


#>

 


#>

 [[1]]$result[[7]]$nhs_ha


#>

 [1] "Cardiff and Vale University Health Board"


#>

 


#>

 [[1]]$result[[7]]$longitude


#>

 [1] -3.156798


#>

 


#>

 [[1]]$result[[7]]$latitude


#>

 [1] 51.48011


#>

 


#>

 [[1]]$result[[7]]$european_electoral_region


#>

 [1] "Wales"


#>

 


#>

 [[1]]$result[[7]]$primary_care_trust


#>

 [1] "Cardiff and Vale University Health Board"


#>

 


#>

 [[1]]$result[[7]]$region


#>

 NULL


#>

 


#>

 [[1]]$result[[7]]$lsoa


#>

 [1] "Cardiff 038D"


#>

 


#>

 [[1]]$result[[7]]$msoa


#>

 [1] "Cardiff 038"


#>

 


#>

 [[1]]$result[[7]]$incode


#>

 [1] "2DZ"


#>

 


#>

 [[1]]$result[[7]]$outcode


#>

 [1] "CF24"


#>

 


#>

 [[1]]$result[[7]]$parliamentary_constituency


#>

 [1] "Cardiff South and Penarth"


#>

 


#>

 [[1]]$result[[7]]$admin_district


#>

 [1] "Cardiff"


#>

 


#>

 [[1]]$result[[7]]$parish


#>

 [1] "Splott"


#>

 


#>

 [[1]]$result[[7]]$admin_county


#>

 NULL


#>

 


#>

 [[1]]$result[[7]]$date_of_introduction


#>

 [1] "199906"


#>

 


#>

 [[1]]$result[[7]]$admin_ward


#>

 [1] "Splott"


#>

 


#>

 [[1]]$result[[7]]$ced


#>

 NULL


#>

 


#>

 [[1]]$result[[7]]$ccg


#>

 [1] "Cardiff and Vale University"


#>

 


#>

 [[1]]$result[[7]]$nuts


#>

 [1] "Cardiff and Vale of Glamorgan"


#>

 


#>

 [[1]]$result[[7]]$pfa


#>

 [1] "South Wales"


#>

 


#>

 [[1]]$result[[7]]$codes


#>

 [[1]]$result[[7]]$codes$admin_district


#>

 [1] "W06000015"


#>

 


#>

 [[1]]$result[[7]]$codes$admin_county


#>

 [1] "W99999999"


#>

 


#>

 [[1]]$result[[7]]$codes$admin_ward


#>

 [1] "W05001295"


#>

 


#>

 [[1]]$result[[7]]$codes$parish


#>

 [1] "W04001005"


#>

 


#>

 [[1]]$result[[7]]$codes$parliamentary_constituency


#>

 [1] "W07000080"


#>

 


#>

 [[1]]$result[[7]]$codes$ccg


#>

 [1] "W11000029"


#>

 


#>

 [[1]]$result[[7]]$codes$ccg_id


#>

 [1] "7A4"


#>

 


#>

 [[1]]$result[[7]]$codes$ced


#>

 [1] "W99999999"


#>

 


#>

 [[1]]$result[[7]]$codes$nuts


#>

 [1] "TLL22"


#>

 


#>

 [[1]]$result[[7]]$codes$lsoa


#>

 [1] "W01001874"


#>

 


#>

 [[1]]$result[[7]]$codes$msoa


#>

 [1] "W02000404"


#>

 


#>

 [[1]]$result[[7]]$codes$lau2


#>

 [1] "W06000015"


#>

 


#>

 [[1]]$result[[7]]$codes$pfa


#>

 [1] "W15000003"


#>

 


#>

 


#>

 [[1]]$result[[7]]$distance


#>

 [1] 89.79017


#>

 


#>

 


#>

 [[1]]$result[[8]]


#>

 [[1]]$result[[8]]$postcode


#>

 [1] "CF24 2AL"


#>

 


#>

 [[1]]$result[[8]]$quality


#>

 [1] 1


#>

 


#>

 [[1]]$result[[8]]$eastings


#>

 [1] 319672


#>

 


#>

 [[1]]$result[[8]]$northings


#>

 [1] 176400


#>

 


#>

 [[1]]$result[[8]]$country


#>

 [1] "Wales"


#>

 


#>

 [[1]]$result[[8]]$nhs_ha


#>

 [1] "Cardiff and Vale University Health Board"


#>

 


#>

 [[1]]$result[[8]]$longitude


#>

 [1] -3.158141


#>

 


#>

 [[1]]$result[[8]]$latitude


#>

 [1] 51.48083


#>

 


#>

 [[1]]$result[[8]]$european_electoral_region


#>

 [1] "Wales"


#>

 


#>

 [[1]]$result[[8]]$primary_care_trust


#>

 [1] "Cardiff and Vale University Health Board"


#>

 


#>

 [[1]]$result[[8]]$region


#>

 NULL


#>

 


#>

 [[1]]$result[[8]]$lsoa


#>

 [1] "Cardiff 038D"


#>

 


#>

 [[1]]$result[[8]]$msoa


#>

 [1] "Cardiff 038"


#>

 


#>

 [[1]]$result[[8]]$incode


#>

 [1] "2AL"


#>

 


#>

 [[1]]$result[[8]]$outcode


#>

 [1] "CF24"


#>

 


#>

 [[1]]$result[[8]]$parliamentary_constituency


#>

 [1] "Cardiff South and Penarth"


#>

 


#>

 [[1]]$result[[8]]$admin_district


#>

 [1] "Cardiff"


#>

 


#>

 [[1]]$result[[8]]$parish


#>

 [1] "Splott"


#>

 


#>

 [[1]]$result[[8]]$admin_county


#>

 NULL


#>

 


#>

 [[1]]$result[[8]]$date_of_introduction


#>

 [1] "199906"


#>

 


#>

 [[1]]$result[[8]]$admin_ward


#>

 [1] "Splott"


#>

 


#>

 [[1]]$result[[8]]$ced


#>

 NULL


#>

 


#>

 [[1]]$result[[8]]$ccg


#>

 [1] "Cardiff and Vale University"


#>

 


#>

 [[1]]$result[[8]]$nuts


#>

 [1] "Cardiff and Vale of Glamorgan"


#>

 


#>

 [[1]]$result[[8]]$pfa


#>

 [1] "South Wales"


#>

 


#>

 [[1]]$result[[8]]$codes


#>

 [[1]]$result[[8]]$codes$admin_district


#>

 [1] "W06000015"


#>

 


#>

 [[1]]$result[[8]]$codes$admin_county


#>

 [1] "W99999999"


#>

 


#>

 [[1]]$result[[8]]$codes$admin_ward


#>

 [1] "W05001295"


#>

 


#>

 [[1]]$result[[8]]$codes$parish


#>

 [1] "W04001005"


#>

 


#>

 [[1]]$result[[8]]$codes$parliamentary_constituency


#>

 [1] "W07000080"


#>

 


#>

 [[1]]$result[[8]]$codes$ccg


#>

 [1] "W11000029"


#>

 


#>

 [[1]]$result[[8]]$codes$ccg_id


#>

 [1] "7A4"


#>

 


#>

 [[1]]$result[[8]]$codes$ced


#>

 [1] "W99999999"


#>

 


#>

 [[1]]$result[[8]]$codes$nuts


#>

 [1] "TLL22"


#>

 


#>

 [[1]]$result[[8]]$codes$lsoa


#>

 [1] "W01001874"


#>

 


#>

 [[1]]$result[[8]]$codes$msoa


#>

 [1] "W02000404"


#>

 


#>

 [[1]]$result[[8]]$codes$lau2


#>

 [1] "W06000015"


#>

 


#>

 [[1]]$result[[8]]$codes$pfa


#>

 [1] "W15000003"


#>

 


#>

 


#>

 [[1]]$result[[8]]$distance


#>

 [1] 93.55397


#>

 


#>

 


#>

 


#>

 


#>

 [[2]]


#>

 [[2]]$query


#>

 [[2]]$query$longitude


#>

 [1] -1.129358


#>

 


#>

 [[2]]$query$latitude


#>

 [1] 50.71864


#>

 


#>

 [[2]]$query$limit


#>

 [1] 100


#>

 


#>

 [[2]]$query$radius


#>

 [1] 500


#>

 


#>

 


#>

 [[2]]$result


#>

 [[2]]$result[[1]]


#>

 [[2]]$result[[1]]$postcode


#>

 [1] "PO33 1PS"


#>

 


#>

 [[2]]$result[[1]]$quality


#>

 [1] 1


#>

 


#>

 [[2]]$result[[1]]$eastings


#>

 [1] 461564


#>

 


#>

 [[2]]$result[[1]]$northings


#>

 [1] 91388


#>

 


#>

 [[2]]$result[[1]]$country


#>

 [1] "England"


#>

 


#>

 [[2]]$result[[1]]$nhs_ha


#>

 [1] "South Central"


#>

 


#>

 [[2]]$result[[1]]$longitude


#>

 [1] -1.129271


#>

 


#>

 [[2]]$result[[1]]$latitude


#>

 [1] 50.71886


#>

 


#>

 [[2]]$result[[1]]$european_electoral_region


#>

 [1] "South East"


#>

 


#>

 [[2]]$result[[1]]$primary_care_trust


#>

 [1] "Isle of Wight National Health Service"


#>

 


#>

 [[2]]$result[[1]]$region


#>

 [1] "South East"


#>

 


#>

 [[2]]$result[[1]]$lsoa


#>

 [1] "Isle of Wight 010D"


#>

 


#>

 [[2]]$result[[1]]$msoa


#>

 [1] "Isle of Wight 010"


#>

 


#>

 [[2]]$result[[1]]$incode


#>

 [1] "1PS"


#>

 


#>

 [[2]]$result[[1]]$outcode


#>

 [1] "PO33"


#>

 


#>

 [[2]]$result[[1]]$parliamentary_constituency


#>

 [1] "Isle of Wight"


#>

 


#>

 [[2]]$result[[1]]$admin_district


#>

 [1] "Isle of Wight"


#>

 


#>

 [[2]]$result[[1]]$parish


#>

 [1] "Nettlestone and Seaview"


#>

 


#>

 [[2]]$result[[1]]$admin_county


#>

 NULL


#>

 


#>

 [[2]]$result[[1]]$date_of_introduction


#>

 [1] "198001"


#>

 


#>

 [[2]]$result[[1]]$admin_ward


#>

 [1] "Nettlestone & Seaview"


#>

 


#>

 [[2]]$result[[1]]$ced


#>

 NULL


#>

 


#>

 [[2]]$result[[1]]$ccg


#>

 [1] "NHS Hampshire and Isle of Wight"


#>

 


#>

 [[2]]$result[[1]]$nuts


#>

 [1] "Isle of Wight"


#>

 


#>

 [[2]]$result[[1]]$pfa


#>

 [1] "Hampshire"


#>

 


#>

 [[2]]$result[[1]]$codes


#>

 [[2]]$result[[1]]$codes$admin_district


#>

 [1] "E06000046"


#>

 


#>

 [[2]]$result[[1]]$codes$admin_county


#>

 [1] "E99999999"


#>

 


#>

 [[2]]$result[[1]]$codes$admin_ward


#>

 [1] "E05013378"


#>

 


#>

 [[2]]$result[[1]]$codes$parish


#>

 [1] "E04001306"


#>

 


#>

 [[2]]$result[[1]]$codes$parliamentary_constituency


#>

 [1] "E14000762"


#>

 


#>

 [[2]]$result[[1]]$codes$ccg


#>

 [1] "E38000253"


#>

 


#>

 [[2]]$result[[1]]$codes$ccg_id


#>

 [1] "D9Y0V"


#>

 


#>

 [[2]]$result[[1]]$codes$ced


#>

 [1] "E99999999"


#>

 


#>

 [[2]]$result[[1]]$codes$nuts


#>

 [1] "TLJ34"


#>

 


#>

 [[2]]$result[[1]]$codes$lsoa


#>

 [1] "E01017351"


#>

 


#>

 [[2]]$result[[1]]$codes$msoa


#>

 [1] "E02003590"


#>

 


#>

 [[2]]$result[[1]]$codes$lau2


#>

 [1] "E06000046"


#>

 


#>

 [[2]]$result[[1]]$codes$pfa


#>

 [1] "E23000030"


#>

 


#>

 


#>

 [[2]]$result[[1]]$distance


#>

 [1] 25.26598


#>

 


#>

 


#>

 [[2]]$result[[2]]


#>

 [[2]]$result[[2]]$postcode


#>

 [1] "PO33 1PT"


#>

 


#>

 [[2]]$result[[2]]$quality


#>

 [1] 1


#>

 


#>

 [[2]]$result[[2]]$eastings


#>

 [1] 461622


#>

 


#>

 [[2]]$result[[2]]$northings


#>

 [1] 91356


#>

 


#>

 [[2]]$result[[2]]$country


#>

 [1] "England"


#>

 


#>

 [[2]]$result[[2]]$nhs_ha


#>

 [1] "South Central"


#>

 


#>

 [[2]]$result[[2]]$longitude


#>

 [1] -1.128467


#>

 


#>

 [[2]]$result[[2]]$latitude


#>

 [1] 50.71857


#>

 


#>

 [[2]]$result[[2]]$european_electoral_region


#>

 [1] "South East"


#>

 


#>

 [[2]]$result[[2]]$primary_care_trust


#>

 [1] "Isle of Wight National Health Service"


#>

 


#>

 [[2]]$result[[2]]$region


#>

 [1] "South East"


#>

 


#>

 [[2]]$result[[2]]$lsoa


#>

 [1] "Isle of Wight 010D"


#>

 


#>

 [[2]]$result[[2]]$msoa


#>

 [1] "Isle of Wight 010"


#>

 


#>

 [[2]]$result[[2]]$incode


#>

 [1] "1PT"


#>

 


#>

 [[2]]$result[[2]]$outcode


#>

 [1] "PO33"


#>

 


#>

 [[2]]$result[[2]]$parliamentary_constituency


#>

 [1] "Isle of Wight"


#>

 


#>

 [[2]]$result[[2]]$admin_district


#>

 [1] "Isle of Wight"


#>

 


#>

 [[2]]$result[[2]]$parish


#>

 [1] "Nettlestone and Seaview"


#>

 


#>

 [[2]]$result[[2]]$admin_county


#>

 NULL


#>

 


#>

 [[2]]$result[[2]]$date_of_introduction


#>

 [1] "198001"


#>

 


#>

 [[2]]$result[[2]]$admin_ward


#>

 [1] "Nettlestone & Seaview"


#>

 


#>

 [[2]]$result[[2]]$ced


#>

 NULL


#>

 


#>

 [[2]]$result[[2]]$ccg


#>

 [1] "NHS Hampshire and Isle of Wight"


#>

 


#>

 [[2]]$result[[2]]$nuts


#>

 [1] "Isle of Wight"


#>

 


#>

 [[2]]$result[[2]]$pfa


#>

 [1] "Hampshire"


#>

 


#>

 [[2]]$result[[2]]$codes


#>

 [[2]]$result[[2]]$codes$admin_district


#>

 [1] "E06000046"


#>

 


#>

 [[2]]$result[[2]]$codes$admin_county


#>

 [1] "E99999999"


#>

 


#>

 [[2]]$result[[2]]$codes$admin_ward


#>

 [1] "E05013378"


#>

 


#>

 [[2]]$result[[2]]$codes$parish


#>

 [1] "E04001306"


#>

 


#>

 [[2]]$result[[2]]$codes$parliamentary_constituency


#>

 [1] "E14000762"


#>

 


#>

 [[2]]$result[[2]]$codes$ccg


#>

 [1] "E38000253"


#>

 


#>

 [[2]]$result[[2]]$codes$ccg_id


#>

 [1] "D9Y0V"


#>

 


#>

 [[2]]$result[[2]]$codes$ced


#>

 [1] "E99999999"


#>

 


#>

 [[2]]$result[[2]]$codes$nuts


#>

 [1] "TLJ34"


#>

 


#>

 [[2]]$result[[2]]$codes$lsoa


#>

 [1] "E01017351"


#>

 


#>

 [[2]]$result[[2]]$codes$msoa


#>

 [1] "E02003590"


#>

 


#>

 [[2]]$result[[2]]$codes$lau2


#>

 [1] "E06000046"


#>

 


#>

 [[2]]$result[[2]]$codes$pfa


#>

 [1] "E23000030"


#>

 


#>

 


#>

 [[2]]$result[[2]]$distance


#>

 [1] 63.31111


#>

 


#>

 


#>

 [[2]]$result[[3]]


#>

 [[2]]$result[[3]]$postcode


#>

 [1] "PO33 1PX"


#>

 


#>

 [[2]]$result[[3]]$quality


#>

 [1] 1


#>

 


#>

 [[2]]$result[[3]]$eastings


#>

 [1] 461716


#>

 


#>

 [[2]]$result[[3]]$northings


#>

 [1] 91281


#>

 


#>

 [[2]]$result[[3]]$country


#>

 [1] "England"


#>

 


#>

 [[2]]$result[[3]]$nhs_ha


#>

 [1] "South Central"


#>

 


#>

 [[2]]$result[[3]]$longitude


#>

 [1] -1.127136


#>

 


#>

 [[2]]$result[[3]]$latitude


#>

 [1] 50.71788


#>

 


#>

 [[2]]$result[[3]]$european_electoral_region


#>

 [1] "South East"


#>

 


#>

 [[2]]$result[[3]]$primary_care_trust


#>

 [1] "Isle of Wight National Health Service"


#>

 


#>

 [[2]]$result[[3]]$region


#>

 [1] "South East"


#>

 


#>

 [[2]]$result[[3]]$lsoa


#>

 [1] "Isle of Wight 010D"


#>

 


#>

 [[2]]$result[[3]]$msoa


#>

 [1] "Isle of Wight 010"


#>

 


#>

 [[2]]$result[[3]]$incode


#>

 [1] "1PX"


#>

 


#>

 [[2]]$result[[3]]$outcode


#>

 [1] "PO33"


#>

 


#>

 [[2]]$result[[3]]$parliamentary_constituency


#>

 [1] "Isle of Wight"


#>

 


#>

 [[2]]$result[[3]]$admin_district


#>

 [1] "Isle of Wight"


#>

 


#>

 [[2]]$result[[3]]$parish


#>

 [1] "Nettlestone and Seaview"


#>

 


#>

 [[2]]$result[[3]]$admin_county


#>

 NULL


#>

 


#>

 [[2]]$result[[3]]$date_of_introduction


#>

 [1] "198001"


#>

 


#>

 [[2]]$result[[3]]$admin_ward


#>

 [1] "Nettlestone & Seaview"


#>

 


#>

 [[2]]$result[[3]]$ced


#>

 NULL


#>

 


#>

 [[2]]$result[[3]]$ccg


#>

 [1] "NHS Hampshire and Isle of Wight"


#>

 


#>

 [[2]]$result[[3]]$nuts


#>

 [1] "Isle of Wight"


#>

 


#>

 [[2]]$result[[3]]$pfa


#>

 [1] "Hampshire"


#>

 


#>

 [[2]]$result[[3]]$codes


#>

 [[2]]$result[[3]]$codes$admin_district


#>

 [1] "E06000046"


#>

 


#>

 [[2]]$result[[3]]$codes$admin_county


#>

 [1] "E99999999"


#>

 


#>

 [[2]]$result[[3]]$codes$admin_ward


#>

 [1] "E05013378"


#>

 


#>

 [[2]]$result[[3]]$codes$parish


#>

 [1] "E04001306"


#>

 


#>

 [[2]]$result[[3]]$codes$parliamentary_constituency


#>

 [1] "E14000762"


#>

 


#>

 [[2]]$result[[3]]$codes$ccg


#>

 [1] "E38000253"


#>

 


#>

 [[2]]$result[[3]]$codes$ccg_id


#>

 [1] "D9Y0V"


#>

 


#>

 [[2]]$result[[3]]$codes$ced


#>

 [1] "E99999999"


#>

 


#>

 [[2]]$result[[3]]$codes$nuts


#>

 [1] "TLJ34"


#>

 


#>

 [[2]]$result[[3]]$codes$lsoa


#>

 [1] "E01017351"


#>

 


#>

 [[2]]$result[[3]]$codes$msoa


#>

 [1] "E02003590"


#>

 


#>

 [[2]]$result[[3]]$codes$lau2


#>

 [1] "E06000046"


#>

 


#>

 [[2]]$result[[3]]$codes$pfa


#>

 [1] "E23000030"


#>

 


#>

 


#>

 [[2]]$result[[3]]$distance


#>

 [1] 178.1283


#>

 


#>

 


#>

 [[2]]$result[[4]]


#>

 [[2]]$result[[4]]$postcode


#>

 [1] "PO33 1QB"


#>

 


#>

 [[2]]$result[[4]]$quality


#>

 [1] 1


#>

 


#>

 [[2]]$result[[4]]$eastings


#>

 [1] 461528


#>

 


#>

 [[2]]$result[[4]]$northings


#>

 [1] 91185


#>

 


#>

 [[2]]$result[[4]]$country


#>

 [1] "England"


#>

 


#>

 [[2]]$result[[4]]$nhs_ha


#>

 [1] "South Central"


#>

 


#>

 [[2]]$result[[4]]$longitude


#>

 [1] -1.129826


#>

 


#>

 [[2]]$result[[4]]$latitude


#>

 [1] 50.71705


#>

 


#>

 [[2]]$result[[4]]$european_electoral_region


#>

 [1] "South East"


#>

 


#>

 [[2]]$result[[4]]$primary_care_trust


#>

 [1] "Isle of Wight National Health Service"


#>

 


#>

 [[2]]$result[[4]]$region


#>

 [1] "South East"


#>

 


#>

 [[2]]$result[[4]]$lsoa


#>

 [1] "Isle of Wight 010D"


#>

 


#>

 [[2]]$result[[4]]$msoa


#>

 [1] "Isle of Wight 010"


#>

 


#>

 [[2]]$result[[4]]$incode


#>

 [1] "1QB"


#>

 


#>

 [[2]]$result[[4]]$outcode


#>

 [1] "PO33"


#>

 


#>

 [[2]]$result[[4]]$parliamentary_constituency


#>

 [1] "Isle of Wight"


#>

 


#>

 [[2]]$result[[4]]$admin_district


#>

 [1] "Isle of Wight"


#>

 


#>

 [[2]]$result[[4]]$parish


#>

 [1] "Nettlestone and Seaview"


#>

 


#>

 [[2]]$result[[4]]$admin_county


#>

 NULL


#>

 


#>

 [[2]]$result[[4]]$date_of_introduction


#>

 [1] "198001"


#>

 


#>

 [[2]]$result[[4]]$admin_ward


#>

 [1] "Nettlestone & Seaview"


#>

 


#>

 [[2]]$result[[4]]$ced


#>

 NULL


#>

 


#>

 [[2]]$result[[4]]$ccg


#>

 [1] "NHS Hampshire and Isle of Wight"


#>

 


#>

 [[2]]$result[[4]]$nuts


#>

 [1] "Isle of Wight"


#>

 


#>

 [[2]]$result[[4]]$pfa


#>

 [1] "Hampshire"


#>

 


#>

 [[2]]$result[[4]]$codes


#>

 [[2]]$result[[4]]$codes$admin_district


#>

 [1] "E06000046"


#>

 


#>

 [[2]]$result[[4]]$codes$admin_county


#>

 [1] "E99999999"


#>

 


#>

 [[2]]$result[[4]]$codes$admin_ward


#>

 [1] "E05013378"


#>

 


#>

 [[2]]$result[[4]]$codes$parish


#>

 [1] "E04001306"


#>

 


#>

 [[2]]$result[[4]]$codes$parliamentary_constituency


#>

 [1] "E14000762"


#>

 


#>

 [[2]]$result[[4]]$codes$ccg


#>

 [1] "E38000253"


#>

 


#>

 [[2]]$result[[4]]$codes$ccg_id


#>

 [1] "D9Y0V"


#>

 


#>

 [[2]]$result[[4]]$codes$ced


#>

 [1] "E99999999"


#>

 


#>

 [[2]]$result[[4]]$codes$nuts


#>

 [1] "TLJ34"


#>

 


#>

 [[2]]$result[[4]]$codes$lsoa


#>

 [1] "E01017351"


#>

 


#>

 [[2]]$result[[4]]$codes$msoa


#>

 [1] "E02003590"


#>

 


#>

 [[2]]$result[[4]]$codes$lau2


#>

 [1] "E06000046"


#>

 


#>

 [[2]]$result[[4]]$codes$pfa


#>

 [1] "E23000030"


#>

 


#>

 


#>

 [[2]]$result[[4]]$distance


#>

 [1] 179.9043


#>

 


#>

 


#>

 [[2]]$result[[5]]


#>

 [[2]]$result[[5]]$postcode


#>

 [1] "PO33 1QD"


#>

 


#>

 [[2]]$result[[5]]$quality


#>

 [1] 1


#>

 


#>

 [[2]]$result[[5]]$eastings


#>

 [1] 461667


#>

 


#>

 [[2]]$result[[5]]$northings


#>

 [1] 91204


#>

 


#>

 [[2]]$result[[5]]$country


#>

 [1] "England"


#>

 


#>

 [[2]]$result[[5]]$nhs_ha


#>

 [1] "South Central"


#>

 


#>

 [[2]]$result[[5]]$longitude


#>

 [1] -1.127843


#>

 


#>

 [[2]]$result[[5]]$latitude


#>

 [1] 50.71719


#>

 


#>

 [[2]]$result[[5]]$european_electoral_region


#>

 [1] "South East"


#>

 


#>

 [[2]]$result[[5]]$primary_care_trust


#>

 [1] "Isle of Wight National Health Service"


#>

 


#>

 [[2]]$result[[5]]$region


#>

 [1] "South East"


#>

 


#>

 [[2]]$result[[5]]$lsoa


#>

 [1] "Isle of Wight 010D"


#>

 


#>

 [[2]]$result[[5]]$msoa


#>

 [1] "Isle of Wight 010"


#>

 


#>

 [[2]]$result[[5]]$incode


#>

 [1] "1QD"


#>

 


#>

 [[2]]$result[[5]]$outcode


#>

 [1] "PO33"


#>

 


#>

 [[2]]$result[[5]]$parliamentary_constituency


#>

 [1] "Isle of Wight"


#>

 


#>

 [[2]]$result[[5]]$admin_district


#>

 [1] "Isle of Wight"


#>

 


#>

 [[2]]$result[[5]]$parish


#>

 [1] "Nettlestone and Seaview"


#>

 


#>

 [[2]]$result[[5]]$admin_county


#>

 NULL


#>

 


#>

 [[2]]$result[[5]]$date_of_introduction


#>

 [1] "198001"


#>

 


#>

 [[2]]$result[[5]]$admin_ward


#>

 [1] "Nettlestone & Seaview"


#>

 


#>

 [[2]]$result[[5]]$ced


#>

 NULL


#>

 


#>

 [[2]]$result[[5]]$ccg


#>

 [1] "NHS Hampshire and Isle of Wight"


#>

 


#>

 [[2]]$result[[5]]$nuts


#>

 [1] "Isle of Wight"


#>

 


#>

 [[2]]$result[[5]]$pfa


#>

 [1] "Hampshire"


#>

 


#>

 [[2]]$result[[5]]$codes


#>

 [[2]]$result[[5]]$codes$admin_district


#>

 [1] "E06000046"


#>

 


#>

 [[2]]$result[[5]]$codes$admin_county


#>

 [1] "E99999999"


#>

 


#>

 [[2]]$result[[5]]$codes$admin_ward


#>

 [1] "E05013378"


#>

 


#>

 [[2]]$result[[5]]$codes$parish


#>

 [1] "E04001306"


#>

 


#>

 [[2]]$result[[5]]$codes$parliamentary_constituency


#>

 [1] "E14000762"


#>

 


#>

 [[2]]$result[[5]]$codes$ccg


#>

 [1] "E38000253"


#>

 


#>

 [[2]]$result[[5]]$codes$ccg_id


#>

 [1] "D9Y0V"


#>

 


#>

 [[2]]$result[[5]]$codes$ced


#>

 [1] "E99999999"


#>

 


#>

 [[2]]$result[[5]]$codes$nuts


#>

 [1] "TLJ34"


#>

 


#>

 [[2]]$result[[5]]$codes$lsoa


#>

 [1] "E01017351"


#>

 


#>

 [[2]]$result[[5]]$codes$msoa


#>

 [1] "E02003590"


#>

 


#>

 [[2]]$result[[5]]$codes$lau2


#>

 [1] "E06000046"


#>

 


#>

 [[2]]$result[[5]]$codes$pfa


#>

 [1] "E23000030"


#>

 


#>

 


#>

 [[2]]$result[[5]]$distance


#>

 [1] 193.071


#>

 


#>

 


#>

 [[2]]$result[[6]]


#>

 [[2]]$result[[6]]$postcode


#>

 [1] "PO33 1PU"


#>

 


#>

 [[2]]$result[[6]]$quality


#>

 [1] 1


#>

 


#>

 [[2]]$result[[6]]$eastings


#>

 [1] 461794


#>

 


#>

 [[2]]$result[[6]]$northings


#>

 [1] 91346


#>

 


#>

 [[2]]$result[[6]]$country


#>

 [1] "England"


#>

 


#>

 [[2]]$result[[6]]$nhs_ha


#>

 [1] "South Central"


#>

 


#>

 [[2]]$result[[6]]$longitude


#>

 [1] -1.126032


#>

 


#>

 [[2]]$result[[6]]$latitude


#>

 [1] 50.71847


#>

 


#>

 [[2]]$result[[6]]$european_electoral_region


#>

 [1] "South East"


#>

 


#>

 [[2]]$result[[6]]$primary_care_trust


#>

 [1] "Isle of Wight National Health Service"


#>

 


#>

 [[2]]$result[[6]]$region


#>

 [1] "South East"


#>

 


#>

 [[2]]$result[[6]]$lsoa


#>

 [1] "Isle of Wight 010D"


#>

 


#>

 [[2]]$result[[6]]$msoa


#>

 [1] "Isle of Wight 010"


#>

 


#>

 [[2]]$result[[6]]$incode


#>

 [1] "1PU"


#>

 


#>

 [[2]]$result[[6]]$outcode


#>

 [1] "PO33"


#>

 


#>

 [[2]]$result[[6]]$parliamentary_constituency


#>

 [1] "Isle of Wight"


#>

 


#>

 [[2]]$result[[6]]$admin_district


#>

 [1] "Isle of Wight"


#>

 


#>

 [[2]]$result[[6]]$parish


#>

 [1] "Nettlestone and Seaview"


#>

 


#>

 [[2]]$result[[6]]$admin_county


#>

 NULL


#>

 


#>

 [[2]]$result[[6]]$date_of_introduction


#>

 [1] "198001"


#>

 


#>

 [[2]]$result[[6]]$admin_ward


#>

 [1] "Nettlestone & Seaview"


#>

 


#>

 [[2]]$result[[6]]$ced


#>

 NULL


#>

 


#>

 [[2]]$result[[6]]$ccg


#>

 [1] "NHS Hampshire and Isle of Wight"


#>

 


#>

 [[2]]$result[[6]]$nuts


#>

 [1] "Isle of Wight"


#>

 


#>

 [[2]]$result[[6]]$pfa


#>

 [1] "Hampshire"


#>

 


#>

 [[2]]$result[[6]]$codes


#>

 [[2]]$result[[6]]$codes$admin_district


#>

 [1] "E06000046"


#>

 


#>

 [[2]]$result[[6]]$codes$admin_county


#>

 [1] "E99999999"


#>

 


#>

 [[2]]$result[[6]]$codes$admin_ward


#>

 [1] "E05013378"


#>

 


#>

 [[2]]$result[[6]]$codes$parish


#>

 [1] "E04001306"


#>

 


#>

 [[2]]$result[[6]]$codes$parliamentary_constituency


#>

 [1] "E14000762"


#>

 


#>

 [[2]]$result[[6]]$codes$ccg


#>

 [1] "E38000253"


#>

 


#>

 [[2]]$result[[6]]$codes$ccg_id


#>

 [1] "D9Y0V"


#>

 


#>

 [[2]]$result[[6]]$codes$ced


#>

 [1] "E99999999"


#>

 


#>

 [[2]]$result[[6]]$codes$nuts


#>

 [1] "TLJ34"


#>

 


#>

 [[2]]$result[[6]]$codes$lsoa


#>

 [1] "E01017351"


#>

 


#>

 [[2]]$result[[6]]$codes$msoa


#>

 [1] "E02003590"


#>

 


#>

 [[2]]$result[[6]]$codes$lau2


#>

 [1] "E06000046"


#>

 


#>

 [[2]]$result[[6]]$codes$pfa


#>

 [1] "E23000030"


#>

 


#>

 


#>

 [[2]]$result[[6]]$distance


#>

 [1] 235.6555


#>

 


#>

 


#>

 [[2]]$result[[7]]


#>

 [[2]]$result[[7]]$postcode


#>

 [1] "PO33 1PZ"


#>

 


#>

 [[2]]$result[[7]]$quality


#>

 [1] 1


#>

 


#>

 [[2]]$result[[7]]$eastings


#>

 [1] 461662


#>

 


#>

 [[2]]$result[[7]]$northings


#>

 [1] 91099


#>

 


#>

 [[2]]$result[[7]]$country


#>

 [1] "England"


#>

 


#>

 [[2]]$result[[7]]$nhs_ha


#>

 [1] "South Central"


#>

 


#>

 [[2]]$result[[7]]$longitude


#>

 [1] -1.127932


#>

 


#>

 [[2]]$result[[7]]$latitude


#>

 [1] 50.71625


#>

 


#>

 [[2]]$result[[7]]$european_electoral_region


#>

 [1] "South East"


#>

 


#>

 [[2]]$result[[7]]$primary_care_trust


#>

 [1] "Isle of Wight National Health Service"


#>

 


#>

 [[2]]$result[[7]]$region


#>

 [1] "South East"


#>

 


#>

 [[2]]$result[[7]]$lsoa


#>

 [1] "Isle of Wight 010D"


#>

 


#>

 [[2]]$result[[7]]$msoa


#>

 [1] "Isle of Wight 010"


#>

 


#>

 [[2]]$result[[7]]$incode


#>

 [1] "1PZ"


#>

 


#>

 [[2]]$result[[7]]$outcode


#>

 [1] "PO33"


#>

 


#>

 [[2]]$result[[7]]$parliamentary_constituency


#>

 [1] "Isle of Wight"


#>

 


#>

 [[2]]$result[[7]]$admin_district


#>

 [1] "Isle of Wight"


#>

 


#>

 [[2]]$result[[7]]$parish


#>

 [1] "Nettlestone and Seaview"


#>

 


#>

 [[2]]$result[[7]]$admin_county


#>

 NULL


#>

 


#>

 [[2]]$result[[7]]$date_of_introduction


#>

 [1] "198001"


#>

 


#>

 [[2]]$result[[7]]$admin_ward


#>

 [1] "Nettlestone & Seaview"


#>

 


#>

 [[2]]$result[[7]]$ced


#>

 NULL


#>

 


#>

 [[2]]$result[[7]]$ccg


#>

 [1] "NHS Hampshire and Isle of Wight"


#>

 


#>

 [[2]]$result[[7]]$nuts


#>

 [1] "Isle of Wight"


#>

 


#>

 [[2]]$result[[7]]$pfa


#>

 [1] "Hampshire"


#>

 


#>

 [[2]]$result[[7]]$codes


#>

 [[2]]$result[[7]]$codes$admin_district


#>

 [1] "E06000046"


#>

 


#>

 [[2]]$result[[7]]$codes$admin_county


#>

 [1] "E99999999"


#>

 


#>

 [[2]]$result[[7]]$codes$admin_ward


#>

 [1] "E05013378"


#>

 


#>

 [[2]]$result[[7]]$codes$parish


#>

 [1] "E04001306"


#>

 


#>

 [[2]]$result[[7]]$codes$parliamentary_constituency


#>

 [1] "E14000762"


#>

 


#>

 [[2]]$result[[7]]$codes$ccg


#>

 [1] "E38000253"


#>

 


#>

 [[2]]$result[[7]]$codes$ccg_id


#>

 [1] "D9Y0V"


#>

 


#>

 [[2]]$result[[7]]$codes$ced


#>

 [1] "E99999999"


#>

 


#>

 [[2]]$result[[7]]$codes$nuts


#>

 [1] "TLJ34"


#>

 


#>

 [[2]]$result[[7]]$codes$lsoa


#>

 [1] "E01017351"


#>

 


#>

 [[2]]$result[[7]]$codes$msoa


#>

 [1] "E02003590"


#>

 


#>

 [[2]]$result[[7]]$codes$lau2


#>

 [1] "E06000046"


#>

 


#>

 [[2]]$result[[7]]$codes$pfa


#>

 [1] "E23000030"


#>

 


#>

 


#>

 [[2]]$result[[7]]$distance


#>

 [1] 284.1703


#>

 


#>

 


#>

 [[2]]$result[[8]]


#>

 [[2]]$result[[8]]$postcode


#>

 [1] "PO33 1FS"


#>

 


#>

 [[2]]$result[[8]]$quality


#>

 [1] 1


#>

 


#>

 [[2]]$result[[8]]$eastings


#>

 [1] 461940


#>

 


#>

 [[2]]$result[[8]]$northings


#>

 [1] 91245


#>

 


#>

 [[2]]$result[[8]]$country


#>

 [1] "England"


#>

 


#>

 [[2]]$result[[8]]$nhs_ha


#>

 [1] "South Central"


#>

 


#>

 [[2]]$result[[8]]$longitude


#>

 [1] -1.12397


#>

 


#>

 [[2]]$result[[8]]$latitude


#>

 [1] 50.71753


#>

 


#>

 [[2]]$result[[8]]$european_electoral_region


#>

 [1] "South East"


#>

 


#>

 [[2]]$result[[8]]$primary_care_trust


#>

 [1] "Isle of Wight National Health Service"


#>

 


#>

 [[2]]$result[[8]]$region


#>

 [1] "South East"


#>

 


#>

 [[2]]$result[[8]]$lsoa


#>

 [1] "Isle of Wight 010D"


#>

 


#>

 [[2]]$result[[8]]$msoa


#>

 [1] "Isle of Wight 010"


#>

 


#>

 [[2]]$result[[8]]$incode


#>

 [1] "1FS"


#>

 


#>

 [[2]]$result[[8]]$outcode


#>

 [1] "PO33"


#>

 


#>

 [[2]]$result[[8]]$parliamentary_constituency


#>

 [1] "Isle of Wight"


#>

 


#>

 [[2]]$result[[8]]$admin_district


#>

 [1] "Isle of Wight"


#>

 


#>

 [[2]]$result[[8]]$parish


#>

 [1] "Nettlestone and Seaview"


#>

 


#>

 [[2]]$result[[8]]$admin_county


#>

 NULL


#>

 


#>

 [[2]]$result[[8]]$date_of_introduction


#>

 [1] "201810"


#>

 


#>

 [[2]]$result[[8]]$admin_ward


#>

 [1] "Nettlestone & Seaview"


#>

 


#>

 [[2]]$result[[8]]$ced


#>

 NULL


#>

 


#>

 [[2]]$result[[8]]$ccg


#>

 [1] "NHS Hampshire and Isle of Wight"


#>

 


#>

 [[2]]$result[[8]]$nuts


#>

 [1] "Isle of Wight"


#>

 


#>

 [[2]]$result[[8]]$pfa


#>

 [1] "Hampshire"


#>

 


#>

 [[2]]$result[[8]]$codes


#>

 [[2]]$result[[8]]$codes$admin_district


#>

 [1] "E06000046"


#>

 


#>

 [[2]]$result[[8]]$codes$admin_county


#>

 [1] "E99999999"


#>

 


#>

 [[2]]$result[[8]]$codes$admin_ward


#>

 [1] "E05013378"


#>

 


#>

 [[2]]$result[[8]]$codes$parish


#>

 [1] "E04001306"


#>

 


#>

 [[2]]$result[[8]]$codes$parliamentary_constituency


#>

 [1] "E14000762"


#>

 


#>

 [[2]]$result[[8]]$codes$ccg


#>

 [1] "E38000253"


#>

 


#>

 [[2]]$result[[8]]$codes$ccg_id


#>

 [1] "D9Y0V"


#>

 


#>

 [[2]]$result[[8]]$codes$ced


#>

 [1] "E99999999"


#>

 


#>

 [[2]]$result[[8]]$codes$nuts


#>

 [1] "TLJ34"


#>

 


#>

 [[2]]$result[[8]]$codes$lsoa


#>

 [1] "E01017351"


#>

 


#>

 [[2]]$result[[8]]$codes$msoa


#>

 [1] "E02003590"


#>

 


#>

 [[2]]$result[[8]]$codes$lau2


#>

 [1] "E06000046"


#>

 


#>

 [[2]]$result[[8]]$codes$pfa


#>

 [1] "E23000030"


#>

 


#>

 


#>

 [[2]]$result[[8]]$distance


#>

 [1] 399.9007


#>

 


#>

 


#>

 [[2]]$result[[9]]


#>

 [[2]]$result[[9]]$postcode


#>

 [1] "PO33 1QR"


#>

 


#>

 [[2]]$result[[9]]$quality


#>

 [1] 1


#>

 


#>

 [[2]]$result[[9]]$eastings


#>

 [1] 461800


#>

 


#>

 [[2]]$result[[9]]$northings


#>

 [1] 91043


#>

 


#>

 [[2]]$result[[9]]$country


#>

 [1] "England"


#>

 


#>

 [[2]]$result[[9]]$nhs_ha


#>

 [1] "South Central"


#>

 


#>

 [[2]]$result[[9]]$longitude


#>

 [1] -1.125998


#>

 


#>

 [[2]]$result[[9]]$latitude


#>

 [1] 50.71574


#>

 


#>

 [[2]]$result[[9]]$european_electoral_region


#>

 [1] "South East"


#>

 


#>

 [[2]]$result[[9]]$primary_care_trust


#>

 [1] "Isle of Wight National Health Service"


#>

 


#>

 [[2]]$result[[9]]$region


#>

 [1] "South East"


#>

 


#>

 [[2]]$result[[9]]$lsoa


#>

 [1] "Isle of Wight 010D"


#>

 


#>

 [[2]]$result[[9]]$msoa


#>

 [1] "Isle of Wight 010"


#>

 


#>

 [[2]]$result[[9]]$incode


#>

 [1] "1QR"


#>

 


#>

 [[2]]$result[[9]]$outcode


#>

 [1] "PO33"


#>

 


#>

 [[2]]$result[[9]]$parliamentary_constituency


#>

 [1] "Isle of Wight"


#>

 


#>

 [[2]]$result[[9]]$admin_district


#>

 [1] "Isle of Wight"


#>

 


#>

 [[2]]$result[[9]]$parish


#>

 [1] "Nettlestone and Seaview"


#>

 


#>

 [[2]]$result[[9]]$admin_county


#>

 NULL


#>

 


#>

 [[2]]$result[[9]]$date_of_introduction


#>

 [1] "198001"


#>

 


#>

 [[2]]$result[[9]]$admin_ward


#>

 [1] "Nettlestone & Seaview"


#>

 


#>

 [[2]]$result[[9]]$ced


#>

 NULL


#>

 


#>

 [[2]]$result[[9]]$ccg


#>

 [1] "NHS Hampshire and Isle of Wight"


#>

 


#>

 [[2]]$result[[9]]$nuts


#>

 [1] "Isle of Wight"


#>

 


#>

 [[2]]$result[[9]]$pfa


#>

 [1] "Hampshire"


#>

 


#>

 [[2]]$result[[9]]$codes


#>

 [[2]]$result[[9]]$codes$admin_district


#>

 [1] "E06000046"


#>

 


#>

 [[2]]$result[[9]]$codes$admin_county


#>

 [1] "E99999999"


#>

 


#>

 [[2]]$result[[9]]$codes$admin_ward


#>

 [1] "E05013378"


#>

 


#>

 [[2]]$result[[9]]$codes$parish


#>

 [1] "E04001306"


#>

 


#>

 [[2]]$result[[9]]$codes$parliamentary_constituency


#>

 [1] "E14000762"


#>

 


#>

 [[2]]$result[[9]]$codes$ccg


#>

 [1] "E38000253"


#>

 


#>

 [[2]]$result[[9]]$codes$ccg_id


#>

 [1] "D9Y0V"


#>

 


#>

 [[2]]$result[[9]]$codes$ced


#>

 [1] "E99999999"


#>

 


#>

 [[2]]$result[[9]]$codes$nuts


#>

 [1] "TLJ34"


#>

 


#>

 [[2]]$result[[9]]$codes$lsoa


#>

 [1] "E01017351"


#>

 


#>

 [[2]]$result[[9]]$codes$msoa


#>

 [1] "E02003590"


#>

 


#>

 [[2]]$result[[9]]$codes$lau2


#>

 [1] "E06000046"


#>

 


#>

 [[2]]$result[[9]]$codes$pfa


#>

 [1] "E23000030"


#>

 


#>

 


#>

 [[2]]$result[[9]]$distance


#>

 [1] 400.0937


#>

 


#>

 


#>

 [[2]]$result[[10]]


#>

 [[2]]$result[[10]]$postcode


#>

 [1] "PO33 1PB"


#>

 


#>

 [[2]]$result[[10]]$quality


#>

 [1] 1


#>

 


#>

 [[2]]$result[[10]]$eastings


#>

 [1] 461246


#>

 


#>

 [[2]]$result[[10]]$northings


#>

 [1] 91634


#>

 


#>

 [[2]]$result[[10]]$country


#>

 [1] "England"


#>

 


#>

 [[2]]$result[[10]]$nhs_ha


#>

 [1] "South Central"


#>

 


#>

 [[2]]$result[[10]]$longitude


#>

 [1] -1.133735


#>

 


#>

 [[2]]$result[[10]]$latitude


#>

 [1] 50.7211


#>

 


#>

 [[2]]$result[[10]]$european_electoral_region


#>

 [1] "South East"


#>

 


#>

 [[2]]$result[[10]]$primary_care_trust


#>

 [1] "Isle of Wight National Health Service"


#>

 


#>

 [[2]]$result[[10]]$region


#>

 [1] "South East"


#>

 


#>

 [[2]]$result[[10]]$lsoa


#>

 [1] "Isle of Wight 010D"


#>

 


#>

 [[2]]$result[[10]]$msoa


#>

 [1] "Isle of Wight 010"


#>

 


#>

 [[2]]$result[[10]]$incode


#>

 [1] "1PB"


#>

 


#>

 [[2]]$result[[10]]$outcode


#>

 [1] "PO33"


#>

 


#>

 [[2]]$result[[10]]$parliamentary_constituency


#>

 [1] "Isle of Wight"


#>

 


#>

 [[2]]$result[[10]]$admin_district


#>

 [1] "Isle of Wight"


#>

 


#>

 [[2]]$result[[10]]$parish


#>

 [1] "Nettlestone and Seaview"


#>

 


#>

 [[2]]$result[[10]]$admin_county


#>

 NULL


#>

 


#>

 [[2]]$result[[10]]$date_of_introduction


#>

 [1] "198504"


#>

 


#>

 [[2]]$result[[10]]$admin_ward


#>

 [1] "Nettlestone & Seaview"


#>

 


#>

 [[2]]$result[[10]]$ced


#>

 NULL


#>

 


#>

 [[2]]$result[[10]]$ccg


#>

 [1] "NHS Hampshire and Isle of Wight"


#>

 


#>

 [[2]]$result[[10]]$nuts


#>

 [1] "Isle of Wight"


#>

 


#>

 [[2]]$result[[10]]$pfa


#>

 [1] "Hampshire"


#>

 


#>

 [[2]]$result[[10]]$codes


#>

 [[2]]$result[[10]]$codes$admin_district


#>

 [1] "E06000046"


#>

 


#>

 [[2]]$result[[10]]$codes$admin_county


#>

 [1] "E99999999"


#>

 


#>

 [[2]]$result[[10]]$codes$admin_ward


#>

 [1] "E05013378"


#>

 


#>

 [[2]]$result[[10]]$codes$parish


#>

 [1] "E04001306"


#>

 


#>

 [[2]]$result[[10]]$codes$parliamentary_constituency


#>

 [1] "E14000762"


#>

 


#>

 [[2]]$result[[10]]$codes$ccg


#>

 [1] "E38000253"


#>

 


#>

 [[2]]$result[[10]]$codes$ccg_id


#>

 [1] "D9Y0V"


#>

 


#>

 [[2]]$result[[10]]$codes$ced


#>

 [1] "E99999999"


#>

 


#>

 [[2]]$result[[10]]$codes$nuts


#>

 [1] "TLJ34"


#>

 


#>

 [[2]]$result[[10]]$codes$lsoa


#>

 [1] "E01017351"


#>

 


#>

 [[2]]$result[[10]]$codes$msoa


#>

 [1] "E02003590"


#>

 


#>

 [[2]]$result[[10]]$codes$lau2


#>

 [1] "E06000046"


#>

 


#>

 [[2]]$result[[10]]$codes$pfa


#>

 [1] "E23000030"


#>

 


#>

 


#>

 [[2]]$result[[10]]$distance


#>

 [1] 413.2242


#>

 


#>

 


#>

 [[2]]$result[[11]]


#>

 [[2]]$result[[11]]$postcode


#>

 [1] "PO33 1PR"


#>

 


#>

 [[2]]$result[[11]]$quality


#>

 [1] 1


#>

 


#>

 [[2]]$result[[11]]$eastings


#>

 [1] 461285


#>

 


#>

 [[2]]$result[[11]]$northings


#>

 [1] 91676


#>

 


#>

 [[2]]$result[[11]]$country


#>

 [1] "England"


#>

 


#>

 [[2]]$result[[11]]$nhs_ha


#>

 [1] "South Central"


#>

 


#>

 [[2]]$result[[11]]$longitude


#>

 [1] -1.133187


#>

 


#>

 [[2]]$result[[11]]$latitude


#>

 [1] 50.72149


#>

 


#>

 [[2]]$result[[11]]$european_electoral_region


#>

 [1] "South East"


#>

 


#>

 [[2]]$result[[11]]$primary_care_trust


#>

 [1] "Isle of Wight National Health Service"


#>

 


#>

 [[2]]$result[[11]]$region


#>

 [1] "South East"


#>

 


#>

 [[2]]$result[[11]]$lsoa


#>

 [1] "Isle of Wight 010D"


#>

 


#>

 [[2]]$result[[11]]$msoa


#>

 [1] "Isle of Wight 010"


#>

 


#>

 [[2]]$result[[11]]$incode


#>

 [1] "1PR"


#>

 


#>

 [[2]]$result[[11]]$outcode


#>

 [1] "PO33"


#>

 


#>

 [[2]]$result[[11]]$parliamentary_constituency


#>

 [1] "Isle of Wight"


#>

 


#>

 [[2]]$result[[11]]$admin_district


#>

 [1] "Isle of Wight"


#>

 


#>

 [[2]]$result[[11]]$parish


#>

 [1] "Nettlestone and Seaview"


#>

 


#>

 [[2]]$result[[11]]$admin_county


#>

 NULL


#>

 


#>

 [[2]]$result[[11]]$date_of_introduction


#>

 [1] "198001"


#>

 


#>

 [[2]]$result[[11]]$admin_ward


#>

 [1] "Nettlestone & Seaview"


#>

 


#>

 [[2]]$result[[11]]$ced


#>

 NULL


#>

 


#>

 [[2]]$result[[11]]$ccg


#>

 [1] "NHS Hampshire and Isle of Wight"


#>

 


#>

 [[2]]$result[[11]]$nuts


#>

 [1] "Isle of Wight"


#>

 


#>

 [[2]]$result[[11]]$pfa


#>

 [1] "Hampshire"


#>

 


#>

 [[2]]$result[[11]]$codes


#>

 [[2]]$result[[11]]$codes$admin_district


#>

 [1] "E06000046"


#>

 


#>

 [[2]]$result[[11]]$codes$admin_county


#>

 [1] "E99999999"


#>

 


#>

 [[2]]$result[[11]]$codes$admin_ward


#>

 [1] "E05013378"


#>

 


#>

 [[2]]$result[[11]]$codes$parish


#>

 [1] "E04001306"


#>

 


#>

 [[2]]$result[[11]]$codes$parliamentary_constituency


#>

 [1] "E14000762"


#>

 


#>

 [[2]]$result[[11]]$codes$ccg


#>

 [1] "E38000253"


#>

 


#>

 [[2]]$result[[11]]$codes$ccg_id


#>

 [1] "D9Y0V"


#>

 


#>

 [[2]]$result[[11]]$codes$ced


#>

 [1] "E99999999"


#>

 


#>

 [[2]]$result[[11]]$codes$nuts


#>

 [1] "TLJ34"


#>

 


#>

 [[2]]$result[[11]]$codes$lsoa


#>

 [1] "E01017351"


#>

 


#>

 [[2]]$result[[11]]$codes$msoa


#>

 [1] "E02003590"


#>

 


#>

 [[2]]$result[[11]]$codes$lau2


#>

 [1] "E06000046"


#>

 


#>

 [[2]]$result[[11]]$codes$pfa


#>

 [1] "E23000030"


#>

 


#>

 


#>

 [[2]]$result[[11]]$distance


#>

 [1] 416.7166


#>

 


#>

 


#>

 [[2]]$result[[12]]


#>

 [[2]]$result[[12]]$postcode


#>

 [1] "PO33 1PY"


#>

 


#>

 [[2]]$result[[12]]$quality


#>

 [1] 1


#>

 


#>

 [[2]]$result[[12]]$eastings


#>

 [1] 461748


#>

 


#>

 [[2]]$result[[12]]$northings


#>

 [1] 90979


#>

 


#>

 [[2]]$result[[12]]$country


#>

 [1] "England"


#>

 


#>

 [[2]]$result[[12]]$nhs_ha


#>

 [1] "South Central"


#>

 


#>

 [[2]]$result[[12]]$longitude


#>

 [1] -1.126734


#>

 


#>

 [[2]]$result[[12]]$latitude


#>

 [1] 50.71516


#>

 


#>

 [[2]]$result[[12]]$european_electoral_region


#>

 [1] "South East"


#>

 


#>

 [[2]]$result[[12]]$primary_care_trust


#>

 [1] "Isle of Wight National Health Service"


#>

 


#>

 [[2]]$result[[12]]$region


#>

 [1] "South East"


#>

 


#>

 [[2]]$result[[12]]$lsoa


#>

 [1] "Isle of Wight 010D"


#>

 


#>

 [[2]]$result[[12]]$msoa


#>

 [1] "Isle of Wight 010"


#>

 


#>

 [[2]]$result[[12]]$incode


#>

 [1] "1PY"


#>

 


#>

 [[2]]$result[[12]]$outcode


#>

 [1] "PO33"


#>

 


#>

 [[2]]$result[[12]]$parliamentary_constituency


#>

 [1] "Isle of Wight"


#>

 


#>

 [[2]]$result[[12]]$admin_district


#>

 [1] "Isle of Wight"


#>

 


#>

 [[2]]$result[[12]]$parish


#>

 [1] "Nettlestone and Seaview"


#>

 


#>

 [[2]]$result[[12]]$admin_county


#>

 NULL


#>

 


#>

 [[2]]$result[[12]]$date_of_introduction


#>

 [1] "198001"


#>

 


#>

 [[2]]$result[[12]]$admin_ward


#>

 [1] "Nettlestone & Seaview"


#>

 


#>

 [[2]]$result[[12]]$ced


#>

 NULL


#>

 


#>

 [[2]]$result[[12]]$ccg


#>

 [1] "NHS Hampshire and Isle of Wight"


#>

 


#>

 [[2]]$result[[12]]$nuts


#>

 [1] "Isle of Wight"


#>

 


#>

 [[2]]$result[[12]]$pfa


#>

 [1] "Hampshire"


#>

 


#>

 [[2]]$result[[12]]$codes


#>

 [[2]]$result[[12]]$codes$admin_district


#>

 [1] "E06000046"


#>

 


#>

 [[2]]$result[[12]]$codes$admin_county


#>

 [1] "E99999999"


#>

 


#>

 [[2]]$result[[12]]$codes$admin_ward


#>

 [1] "E05013378"


#>

 


#>

 [[2]]$result[[12]]$codes$parish


#>

 [1] "E04001306"


#>

 


#>

 [[2]]$result[[12]]$codes$parliamentary_constituency


#>

 [1] "E14000762"


#>

 


#>

 [[2]]$result[[12]]$codes$ccg


#>

 [1] "E38000253"


#>

 


#>

 [[2]]$result[[12]]$codes$ccg_id


#>

 [1] "D9Y0V"


#>

 


#>

 [[2]]$result[[12]]$codes$ced


#>

 [1] "E99999999"


#>

 


#>

 [[2]]$result[[12]]$codes$nuts


#>

 [1] "TLJ34"


#>

 


#>

 [[2]]$result[[12]]$codes$lsoa


#>

 [1] "E01017351"


#>

 


#>

 [[2]]$result[[12]]$codes$msoa


#>

 [1] "E02003590"


#>

 


#>

 [[2]]$result[[12]]$codes$lau2


#>

 [1] "E06000046"


#>

 


#>

 [[2]]$result[[12]]$codes$pfa


#>

 [1] "E23000030"


#>

 


#>

 


#>

 [[2]]$result[[12]]$distance


#>

 [1] 428.8646


#>

 


#>

 


#>

 [[2]]$result[[13]]


#>

 [[2]]$result[[13]]$postcode


#>

 [1] "PO33 1QP"


#>

 


#>

 [[2]]$result[[13]]$quality


#>

 [1] 1


#>

 


#>

 [[2]]$result[[13]]$eastings


#>

 [1] 461876


#>

 


#>

 [[2]]$result[[13]]$northings


#>

 [1] 91040


#>

 


#>

 [[2]]$result[[13]]$country


#>

 [1] "England"


#>

 


#>

 [[2]]$result[[13]]$nhs_ha


#>

 [1] "South Central"


#>

 


#>

 [[2]]$result[[13]]$longitude


#>

 [1] -1.124911


#>

 


#>

 [[2]]$result[[13]]$latitude


#>

 [1] 50.71569


#>

 


#>

 [[2]]$result[[13]]$european_electoral_region


#>

 [1] "South East"


#>

 


#>

 [[2]]$result[[13]]$primary_care_trust


#>

 [1] "Isle of Wight National Health Service"


#>

 


#>

 [[2]]$result[[13]]$region


#>

 [1] "South East"


#>

 


#>

 [[2]]$result[[13]]$lsoa


#>

 [1] "Isle of Wight 010D"


#>

 


#>

 [[2]]$result[[13]]$msoa


#>

 [1] "Isle of Wight 010"


#>

 


#>

 [[2]]$result[[13]]$incode


#>

 [1] "1QP"


#>

 


#>

 [[2]]$result[[13]]$outcode


#>

 [1] "PO33"


#>

 


#>

 [[2]]$result[[13]]$parliamentary_constituency


#>

 [1] "Isle of Wight"


#>

 


#>

 [[2]]$result[[13]]$admin_district


#>

 [1] "Isle of Wight"


#>

 


#>

 [[2]]$result[[13]]$parish


#>

 [1] "Nettlestone and Seaview"


#>

 


#>

 [[2]]$result[[13]]$admin_county


#>

 NULL


#>

 


#>

 [[2]]$result[[13]]$date_of_introduction


#>

 [1] "198001"


#>

 


#>

 [[2]]$result[[13]]$admin_ward


#>

 [1] "Nettlestone & Seaview"


#>

 


#>

 [[2]]$result[[13]]$ced


#>

 NULL


#>

 


#>

 [[2]]$result[[13]]$ccg


#>

 [1] "NHS Hampshire and Isle of Wight"


#>

 


#>

 [[2]]$result[[13]]$nuts


#>

 [1] "Isle of Wight"


#>

 


#>

 [[2]]$result[[13]]$pfa


#>

 [1] "Hampshire"


#>

 


#>

 [[2]]$result[[13]]$codes


#>

 [[2]]$result[[13]]$codes$admin_district


#>

 [1] "E06000046"


#>

 


#>

 [[2]]$result[[13]]$codes$admin_county


#>

 [1] "E99999999"


#>

 


#>

 [[2]]$result[[13]]$codes$admin_ward


#>

 [1] "E05013378"


#>

 


#>

 [[2]]$result[[13]]$codes$parish


#>

 [1] "E04001306"


#>

 


#>

 [[2]]$result[[13]]$codes$parliamentary_constituency


#>

 [1] "E14000762"


#>

 


#>

 [[2]]$result[[13]]$codes$ccg


#>

 [1] "E38000253"


#>

 


#>

 [[2]]$result[[13]]$codes$ccg_id


#>

 [1] "D9Y0V"


#>

 


#>

 [[2]]$result[[13]]$codes$ced


#>

 [1] "E99999999"


#>

 


#>

 [[2]]$result[[13]]$codes$nuts


#>

 [1] "TLJ34"


#>

 


#>

 [[2]]$result[[13]]$codes$lsoa


#>

 [1] "E01017351"


#>

 


#>

 [[2]]$result[[13]]$codes$msoa


#>

 [1] "E02003590"


#>

 


#>

 [[2]]$result[[13]]$codes$lau2


#>

 [1] "E06000046"


#>

 


#>

 [[2]]$result[[13]]$codes$pfa


#>

 [1] "E23000030"


#>

 


#>

 


#>

 [[2]]$result[[13]]$distance


#>

 [1] 453.569


#>

 


#>

 


#>

 [[2]]$result[[14]]


#>

 [[2]]$result[[14]]$postcode


#>

 [1] "PO34 5AP"


#>

 


#>

 [[2]]$result[[14]]$quality


#>

 [1] 1


#>

 


#>

 [[2]]$result[[14]]$eastings


#>

 [1] 461899


#>

 


#>

 [[2]]$result[[14]]$northings


#>

 [1] 91690


#>

 


#>

 [[2]]$result[[14]]$country


#>

 [1] "England"


#>

 


#>

 [[2]]$result[[14]]$nhs_ha


#>

 [1] "South Central"


#>

 


#>

 [[2]]$result[[14]]$longitude


#>

 [1] -1.124476


#>

 


#>

 [[2]]$result[[14]]$latitude


#>

 [1] 50.72154


#>

 


#>

 [[2]]$result[[14]]$european_electoral_region


#>

 [1] "South East"


#>

 


#>

 [[2]]$result[[14]]$primary_care_trust


#>

 [1] "Isle of Wight National Health Service"


#>

 


#>

 [[2]]$result[[14]]$region


#>

 [1] "South East"


#>

 


#>

 [[2]]$result[[14]]$lsoa


#>

 [1] "Isle of Wight 010D"


#>

 


#>

 [[2]]$result[[14]]$msoa


#>

 [1] "Isle of Wight 010"


#>

 


#>

 [[2]]$result[[14]]$incode


#>

 [1] "5AP"


#>

 


#>

 [[2]]$result[[14]]$outcode


#>

 [1] "PO34"


#>

 


#>

 [[2]]$result[[14]]$parliamentary_constituency


#>

 [1] "Isle of Wight"


#>

 


#>

 [[2]]$result[[14]]$admin_district


#>

 [1] "Isle of Wight"


#>

 


#>

 [[2]]$result[[14]]$parish


#>

 [1] "Nettlestone and Seaview"


#>

 


#>

 [[2]]$result[[14]]$admin_county


#>

 NULL


#>

 


#>

 [[2]]$result[[14]]$date_of_introduction


#>

 [1] "198001"


#>

 


#>

 [[2]]$result[[14]]$admin_ward


#>

 [1] "Nettlestone & Seaview"


#>

 


#>

 [[2]]$result[[14]]$ced


#>

 NULL


#>

 


#>

 [[2]]$result[[14]]$ccg


#>

 [1] "NHS Hampshire and Isle of Wight"


#>

 


#>

 [[2]]$result[[14]]$nuts


#>

 [1] "Isle of Wight"


#>

 


#>

 [[2]]$result[[14]]$pfa


#>

 [1] "Hampshire"


#>

 


#>

 [[2]]$result[[14]]$codes


#>

 [[2]]$result[[14]]$codes$admin_district


#>

 [1] "E06000046"


#>

 


#>

 [[2]]$result[[14]]$codes$admin_county


#>

 [1] "E99999999"


#>

 


#>

 [[2]]$result[[14]]$codes$admin_ward


#>

 [1] "E05013378"


#>

 


#>

 [[2]]$result[[14]]$codes$parish


#>

 [1] "E04001306"


#>

 


#>

 [[2]]$result[[14]]$codes$parliamentary_constituency


#>

 [1] "E14000762"


#>

 


#>

 [[2]]$result[[14]]$codes$ccg


#>

 [1] "E38000253"


#>

 


#>

 [[2]]$result[[14]]$codes$ccg_id


#>

 [1] "D9Y0V"


#>

 


#>

 [[2]]$result[[14]]$codes$ced


#>

 [1] "E99999999"


#>

 


#>

 [[2]]$result[[14]]$codes$nuts


#>

 [1] "TLJ34"


#>

 


#>

 [[2]]$result[[14]]$codes$lsoa


#>

 [1] "E01017351"


#>

 


#>

 [[2]]$result[[14]]$codes$msoa


#>

 [1] "E02003590"


#>

 


#>

 [[2]]$result[[14]]$codes$lau2


#>

 [1] "E06000046"


#>

 


#>

 [[2]]$result[[14]]$codes$pfa


#>

 [1] "E23000030"


#>

 


#>

 


#>

 [[2]]$result[[14]]$distance


#>

 [1] 472.1845


#>

 


#>

 


#>

 


#>

 


# }