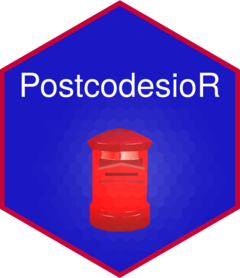 Postcode query
Source:
R/postcode_query.R
postcode_query.Rd
Submit a postcode query and receive a complete list of postcode matches and all associated postcode data.
Arguments
postcode

A string. Valid UK postcode.

limit

An integer. Limits the number of matches to return. Defaults to 10. Needs to be less than 100.
Value
A list of geographic properties. To return a data frame use postcode_lookup.
Examples
# \donttest{




postcode_query

(

"EC1Y8LX"

)




#>

 [[1]]


#>

 [[1]]$postcode


#>

 [1] "EC1Y 8LX"


#>

 


#>

 [[1]]$quality


#>

 [1] 1


#>

 


#>

 [[1]]$eastings


#>

 [1] 532544


#>

 


#>

 [[1]]$northings


#>

 [1] 182128


#>

 


#>

 [[1]]$country


#>

 [1] "England"


#>

 


#>

 [[1]]$nhs_ha


#>

 [1] "London"


#>

 


#>

 [[1]]$longitude


#>

 [1] -0.090922


#>

 


#>

 [[1]]$latitude


#>

 [1] 51.52252


#>

 


#>

 [[1]]$european_electoral_region


#>

 [1] "London"


#>

 


#>

 [[1]]$primary_care_trust


#>

 [1] "Islington"


#>

 


#>

 [[1]]$region


#>

 [1] "London"


#>

 


#>

 [[1]]$lsoa


#>

 [1] "Islington 023D"


#>

 


#>

 [[1]]$msoa


#>

 [1] "Islington 023"


#>

 


#>

 [[1]]$incode


#>

 [1] "8LX"


#>

 


#>

 [[1]]$outcode


#>

 [1] "EC1Y"


#>

 


#>

 [[1]]$parliamentary_constituency


#>

 [1] "Islington South and Finsbury"


#>

 


#>

 [[1]]$admin_district


#>

 [1] "Islington"


#>

 


#>

 [[1]]$parish


#>

 [1] "Islington, unparished area"


#>

 


#>

 [[1]]$admin_county


#>

 NULL


#>

 


#>

 [[1]]$date_of_introduction


#>

 [1] "198001"


#>

 


#>

 [[1]]$admin_ward


#>

 [1] "Bunhill"


#>

 


#>

 [[1]]$ced


#>

 NULL


#>

 


#>

 [[1]]$ccg


#>

 [1] "NHS North Central London"


#>

 


#>

 [[1]]$nuts


#>

 [1] "Haringey and Islington"


#>

 


#>

 [[1]]$pfa


#>

 [1] "Metropolitan Police"


#>

 


#>

 [[1]]$codes


#>

 [[1]]$codes$admin_district


#>

 [1] "E09000019"


#>

 


#>

 [[1]]$codes$admin_county


#>

 [1] "E99999999"


#>

 


#>

 [[1]]$codes$admin_ward


#>

 [1] "E05013699"


#>

 


#>

 [[1]]$codes$parish


#>

 [1] "E43000209"


#>

 


#>

 [[1]]$codes$parliamentary_constituency


#>

 [1] "E14000764"


#>

 


#>

 [[1]]$codes$ccg


#>

 [1] "E38000240"


#>

 


#>

 [[1]]$codes$ccg_id


#>

 [1] "93C"


#>

 


#>

 [[1]]$codes$ced


#>

 [1] "E99999999"


#>

 


#>

 [[1]]$codes$nuts


#>

 [1] "TLI43"


#>

 


#>

 [[1]]$codes$lsoa


#>

 [1] "E01002704"


#>

 


#>

 [[1]]$codes$msoa


#>

 [1] "E02000576"


#>

 


#>

 [[1]]$codes$lau2


#>

 [1] "E09000019"


#>

 


#>

 [[1]]$codes$pfa


#>

 [1] "E23000001"


#>

 


#>

 


#>

 


postcode_query

(

"EC1"

, limit 

=

 

11

)




#>

 [[1]]


#>

 [[1]]$postcode


#>

 [1] "EC1A 1AA"


#>

 


#>

 [[1]]$quality


#>

 [1] 1


#>

 


#>

 [[1]]$eastings


#>

 [1] 531131


#>

 


#>

 [[1]]$northings


#>

 [1] 182382


#>

 


#>

 [[1]]$country


#>

 [1] "England"


#>

 


#>

 [[1]]$nhs_ha


#>

 [1] "London"


#>

 


#>

 [[1]]$longitude


#>

 [1] -0.111183


#>

 


#>

 [[1]]$latitude


#>

 [1] 51.52514


#>

 


#>

 [[1]]$european_electoral_region


#>

 [1] "London"


#>

 


#>

 [[1]]$primary_care_trust


#>

 [1] "Islington"


#>

 


#>

 [[1]]$region


#>

 [1] "London"


#>

 


#>

 [[1]]$lsoa


#>

 [1] "Islington 022F"


#>

 


#>

 [[1]]$msoa


#>

 [1] "Islington 022"


#>

 


#>

 [[1]]$incode


#>

 [1] "1AA"


#>

 


#>

 [[1]]$outcode


#>

 [1] "EC1A"


#>

 


#>

 [[1]]$parliamentary_constituency


#>

 [1] "Islington South and Finsbury"


#>

 


#>

 [[1]]$admin_district


#>

 [1] "Islington"


#>

 


#>

 [[1]]$parish


#>

 [1] "Islington, unparished area"


#>

 


#>

 [[1]]$admin_county


#>

 NULL


#>

 


#>

 [[1]]$date_of_introduction


#>

 [1] "201307"


#>

 


#>

 [[1]]$admin_ward


#>

 [1] "Clerkenwell"


#>

 


#>

 [[1]]$ced


#>

 NULL


#>

 


#>

 [[1]]$ccg


#>

 [1] "NHS North Central London"


#>

 


#>

 [[1]]$nuts


#>

 [1] "Haringey and Islington"


#>

 


#>

 [[1]]$pfa


#>

 [1] "Metropolitan Police"


#>

 


#>

 [[1]]$codes


#>

 [[1]]$codes$admin_district


#>

 [1] "E09000019"


#>

 


#>

 [[1]]$codes$admin_county


#>

 [1] "E99999999"


#>

 


#>

 [[1]]$codes$admin_ward


#>

 [1] "E05013702"


#>

 


#>

 [[1]]$codes$parish


#>

 [1] "E43000209"


#>

 


#>

 [[1]]$codes$parliamentary_constituency


#>

 [1] "E14000764"


#>

 


#>

 [[1]]$codes$ccg


#>

 [1] "E38000240"


#>

 


#>

 [[1]]$codes$ccg_id


#>

 [1] "93C"


#>

 


#>

 [[1]]$codes$ced


#>

 [1] "E99999999"


#>

 


#>

 [[1]]$codes$nuts


#>

 [1] "TLI43"


#>

 


#>

 [[1]]$codes$lsoa


#>

 [1] "E01002726"


#>

 


#>

 [[1]]$codes$msoa


#>

 [1] "E02000575"


#>

 


#>

 [[1]]$codes$lau2


#>

 [1] "E09000019"


#>

 


#>

 [[1]]$codes$pfa


#>

 [1] "E23000001"


#>

 


#>

 


#>

 


#>

 [[2]]


#>

 [[2]]$postcode


#>

 [1] "EC1A 1AH"


#>

 


#>

 [[2]]$quality


#>

 [1] 1


#>

 


#>

 [[2]]$eastings


#>

 [1] 531073


#>

 


#>

 [[2]]$northings


#>

 [1] 182317


#>

 


#>

 [[2]]$country


#>

 [1] "England"


#>

 


#>

 [[2]]$nhs_ha


#>

 [1] "London"


#>

 


#>

 [[2]]$longitude


#>

 [1] -0.112042


#>

 


#>

 [[2]]$latitude


#>

 [1] 51.52457


#>

 


#>

 [[2]]$european_electoral_region


#>

 [1] "London"


#>

 


#>

 [[2]]$primary_care_trust


#>

 [1] "Islington"


#>

 


#>

 [[2]]$region


#>

 [1] "London"


#>

 


#>

 [[2]]$lsoa


#>

 [1] "Islington 022F"


#>

 


#>

 [[2]]$msoa


#>

 [1] "Islington 022"


#>

 


#>

 [[2]]$incode


#>

 [1] "1AH"


#>

 


#>

 [[2]]$outcode


#>

 [1] "EC1A"


#>

 


#>

 [[2]]$parliamentary_constituency


#>

 [1] "Islington South and Finsbury"


#>

 


#>

 [[2]]$admin_district


#>

 [1] "Islington"


#>

 


#>

 [[2]]$parish


#>

 [1] "Islington, unparished area"


#>

 


#>

 [[2]]$admin_county


#>

 NULL


#>

 


#>

 [[2]]$date_of_introduction


#>

 [1] "199501"


#>

 


#>

 [[2]]$admin_ward


#>

 [1] "Clerkenwell"


#>

 


#>

 [[2]]$ced


#>

 NULL


#>

 


#>

 [[2]]$ccg


#>

 [1] "NHS North Central London"


#>

 


#>

 [[2]]$nuts


#>

 [1] "Haringey and Islington"


#>

 


#>

 [[2]]$pfa


#>

 [1] "Metropolitan Police"


#>

 


#>

 [[2]]$codes


#>

 [[2]]$codes$admin_district


#>

 [1] "E09000019"


#>

 


#>

 [[2]]$codes$admin_county


#>

 [1] "E99999999"


#>

 


#>

 [[2]]$codes$admin_ward


#>

 [1] "E05013702"


#>

 


#>

 [[2]]$codes$parish


#>

 [1] "E43000209"


#>

 


#>

 [[2]]$codes$parliamentary_constituency


#>

 [1] "E14000764"


#>

 


#>

 [[2]]$codes$ccg


#>

 [1] "E38000240"


#>

 


#>

 [[2]]$codes$ccg_id


#>

 [1] "93C"


#>

 


#>

 [[2]]$codes$ced


#>

 [1] "E99999999"


#>

 


#>

 [[2]]$codes$nuts


#>

 [1] "TLI43"


#>

 


#>

 [[2]]$codes$lsoa


#>

 [1] "E01002726"


#>

 


#>

 [[2]]$codes$msoa


#>

 [1] "E02000575"


#>

 


#>

 [[2]]$codes$lau2


#>

 [1] "E09000019"


#>

 


#>

 [[2]]$codes$pfa


#>

 [1] "E23000001"


#>

 


#>

 


#>

 


#>

 [[3]]


#>

 [[3]]$postcode


#>

 [1] "EC1A 1AZ"


#>

 


#>

 [[3]]$quality


#>

 [1] 1


#>

 


#>

 [[3]]$eastings


#>

 [1] 531070


#>

 


#>

 [[3]]$northings


#>

 [1] 182310


#>

 


#>

 [[3]]$country


#>

 [1] "England"


#>

 


#>

 [[3]]$nhs_ha


#>

 [1] "London"


#>

 


#>

 [[3]]$longitude


#>

 [1] -0.112088


#>

 


#>

 [[3]]$latitude


#>

 [1] 51.5245


#>

 


#>

 [[3]]$european_electoral_region


#>

 [1] "London"


#>

 


#>

 [[3]]$primary_care_trust


#>

 [1] "Islington"


#>

 


#>

 [[3]]$region


#>

 [1] "London"


#>

 


#>

 [[3]]$lsoa


#>

 [1] "Islington 022F"


#>

 


#>

 [[3]]$msoa


#>

 [1] "Islington 022"


#>

 


#>

 [[3]]$incode


#>

 [1] "1AZ"


#>

 


#>

 [[3]]$outcode


#>

 [1] "EC1A"


#>

 


#>

 [[3]]$parliamentary_constituency


#>

 [1] "Islington South and Finsbury"


#>

 


#>

 [[3]]$admin_district


#>

 [1] "Islington"


#>

 


#>

 [[3]]$parish


#>

 [1] "Islington, unparished area"


#>

 


#>

 [[3]]$admin_county


#>

 NULL


#>

 


#>

 [[3]]$date_of_introduction


#>

 [1] "200207"


#>

 


#>

 [[3]]$admin_ward


#>

 [1] "Clerkenwell"


#>

 


#>

 [[3]]$ced


#>

 NULL


#>

 


#>

 [[3]]$ccg


#>

 [1] "NHS North Central London"


#>

 


#>

 [[3]]$nuts


#>

 [1] "Haringey and Islington"


#>

 


#>

 [[3]]$pfa


#>

 [1] "Metropolitan Police"


#>

 


#>

 [[3]]$codes


#>

 [[3]]$codes$admin_district


#>

 [1] "E09000019"


#>

 


#>

 [[3]]$codes$admin_county


#>

 [1] "E99999999"


#>

 


#>

 [[3]]$codes$admin_ward


#>

 [1] "E05013702"


#>

 


#>

 [[3]]$codes$parish


#>

 [1] "E43000209"


#>

 


#>

 [[3]]$codes$parliamentary_constituency


#>

 [1] "E14000764"


#>

 


#>

 [[3]]$codes$ccg


#>

 [1] "E38000240"


#>

 


#>

 [[3]]$codes$ccg_id


#>

 [1] "93C"


#>

 


#>

 [[3]]$codes$ced


#>

 [1] "E99999999"


#>

 


#>

 [[3]]$codes$nuts


#>

 [1] "TLI43"


#>

 


#>

 [[3]]$codes$lsoa


#>

 [1] "E01002726"


#>

 


#>

 [[3]]$codes$msoa


#>

 [1] "E02000575"


#>

 


#>

 [[3]]$codes$lau2


#>

 [1] "E09000019"


#>

 


#>

 [[3]]$codes$pfa


#>

 [1] "E23000001"


#>

 


#>

 


#>

 


#>

 [[4]]


#>

 [[4]]$postcode


#>

 [1] "EC1A 1BB"


#>

 


#>

 [[4]]$quality


#>

 [1] 1


#>

 


#>

 [[4]]$eastings


#>

 [1] 531073


#>

 


#>

 [[4]]$northings


#>

 [1] 182317


#>

 


#>

 [[4]]$country


#>

 [1] "England"


#>

 


#>

 [[4]]$nhs_ha


#>

 [1] "London"


#>

 


#>

 [[4]]$longitude


#>

 [1] -0.112042


#>

 


#>

 [[4]]$latitude


#>

 [1] 51.52457


#>

 


#>

 [[4]]$european_electoral_region


#>

 [1] "London"


#>

 


#>

 [[4]]$primary_care_trust


#>

 [1] "Islington"


#>

 


#>

 [[4]]$region


#>

 [1] "London"


#>

 


#>

 [[4]]$lsoa


#>

 [1] "Islington 022F"


#>

 


#>

 [[4]]$msoa


#>

 [1] "Islington 022"


#>

 


#>

 [[4]]$incode


#>

 [1] "1BB"


#>

 


#>

 [[4]]$outcode


#>

 [1] "EC1A"


#>

 


#>

 [[4]]$parliamentary_constituency


#>

 [1] "Islington South and Finsbury"


#>

 


#>

 [[4]]$admin_district


#>

 [1] "Islington"


#>

 


#>

 [[4]]$parish


#>

 [1] "Islington, unparished area"


#>

 


#>

 [[4]]$admin_county


#>

 NULL


#>

 


#>

 [[4]]$date_of_introduction


#>

 [1] "198410"


#>

 


#>

 [[4]]$admin_ward


#>

 [1] "Clerkenwell"


#>

 


#>

 [[4]]$ced


#>

 NULL


#>

 


#>

 [[4]]$ccg


#>

 [1] "NHS North Central London"


#>

 


#>

 [[4]]$nuts


#>

 [1] "Haringey and Islington"


#>

 


#>

 [[4]]$pfa


#>

 [1] "Metropolitan Police"


#>

 


#>

 [[4]]$codes


#>

 [[4]]$codes$admin_district


#>

 [1] "E09000019"


#>

 


#>

 [[4]]$codes$admin_county


#>

 [1] "E99999999"


#>

 


#>

 [[4]]$codes$admin_ward


#>

 [1] "E05013702"


#>

 


#>

 [[4]]$codes$parish


#>

 [1] "E43000209"


#>

 


#>

 [[4]]$codes$parliamentary_constituency


#>

 [1] "E14000764"


#>

 


#>

 [[4]]$codes$ccg


#>

 [1] "E38000240"


#>

 


#>

 [[4]]$codes$ccg_id


#>

 [1] "93C"


#>

 


#>

 [[4]]$codes$ced


#>

 [1] "E99999999"


#>

 


#>

 [[4]]$codes$nuts


#>

 [1] "TLI43"


#>

 


#>

 [[4]]$codes$lsoa


#>

 [1] "E01002726"


#>

 


#>

 [[4]]$codes$msoa


#>

 [1] "E02000575"


#>

 


#>

 [[4]]$codes$lau2


#>

 [1] "E09000019"


#>

 


#>

 [[4]]$codes$pfa


#>

 [1] "E23000001"


#>

 


#>

 


#>

 


#>

 [[5]]


#>

 [[5]]$postcode


#>

 [1] "EC1A 1DN"


#>

 


#>

 [[5]]$quality


#>

 [1] 1


#>

 


#>

 [[5]]$eastings


#>

 [1] 531073


#>

 


#>

 [[5]]$northings


#>

 [1] 182317


#>

 


#>

 [[5]]$country


#>

 [1] "England"


#>

 


#>

 [[5]]$nhs_ha


#>

 [1] "London"


#>

 


#>

 [[5]]$longitude


#>

 [1] -0.112042


#>

 


#>

 [[5]]$latitude


#>

 [1] 51.52457


#>

 


#>

 [[5]]$european_electoral_region


#>

 [1] "London"


#>

 


#>

 [[5]]$primary_care_trust


#>

 [1] "Islington"


#>

 


#>

 [[5]]$region


#>

 [1] "London"


#>

 


#>

 [[5]]$lsoa


#>

 [1] "Islington 022F"


#>

 


#>

 [[5]]$msoa


#>

 [1] "Islington 022"


#>

 


#>

 [[5]]$incode


#>

 [1] "1DN"


#>

 


#>

 [[5]]$outcode


#>

 [1] "EC1A"


#>

 


#>

 [[5]]$parliamentary_constituency


#>

 [1] "Islington South and Finsbury"


#>

 


#>

 [[5]]$admin_district


#>

 [1] "Islington"


#>

 


#>

 [[5]]$parish


#>

 [1] "Islington, unparished area"


#>

 


#>

 [[5]]$admin_county


#>

 NULL


#>

 


#>

 [[5]]$date_of_introduction


#>

 [1] "200006"


#>

 


#>

 [[5]]$admin_ward


#>

 [1] "Clerkenwell"


#>

 


#>

 [[5]]$ced


#>

 NULL


#>

 


#>

 [[5]]$ccg


#>

 [1] "NHS North Central London"


#>

 


#>

 [[5]]$nuts


#>

 [1] "Haringey and Islington"


#>

 


#>

 [[5]]$pfa


#>

 [1] "Metropolitan Police"


#>

 


#>

 [[5]]$codes


#>

 [[5]]$codes$admin_district


#>

 [1] "E09000019"


#>

 


#>

 [[5]]$codes$admin_county


#>

 [1] "E99999999"


#>

 


#>

 [[5]]$codes$admin_ward


#>

 [1] "E05013702"


#>

 


#>

 [[5]]$codes$parish


#>

 [1] "E43000209"


#>

 


#>

 [[5]]$codes$parliamentary_constituency


#>

 [1] "E14000764"


#>

 


#>

 [[5]]$codes$ccg


#>

 [1] "E38000240"


#>

 


#>

 [[5]]$codes$ccg_id


#>

 [1] "93C"


#>

 


#>

 [[5]]$codes$ced


#>

 [1] "E99999999"


#>

 


#>

 [[5]]$codes$nuts


#>

 [1] "TLI43"


#>

 


#>

 [[5]]$codes$lsoa


#>

 [1] "E01002726"


#>

 


#>

 [[5]]$codes$msoa


#>

 [1] "E02000575"


#>

 


#>

 [[5]]$codes$lau2


#>

 [1] "E09000019"


#>

 


#>

 [[5]]$codes$pfa


#>

 [1] "E23000001"


#>

 


#>

 


#>

 


#>

 [[6]]


#>

 [[6]]$postcode


#>

 [1] "EC1A 1DU"


#>

 


#>

 [[6]]$quality


#>

 [1] 1


#>

 


#>

 [[6]]$eastings


#>

 [1] 531073


#>

 


#>

 [[6]]$northings


#>

 [1] 182317


#>

 


#>

 [[6]]$country


#>

 [1] "England"


#>

 


#>

 [[6]]$nhs_ha


#>

 [1] "London"


#>

 


#>

 [[6]]$longitude


#>

 [1] -0.112042


#>

 


#>

 [[6]]$latitude


#>

 [1] 51.52457


#>

 


#>

 [[6]]$european_electoral_region


#>

 [1] "London"


#>

 


#>

 [[6]]$primary_care_trust


#>

 [1] "Islington"


#>

 


#>

 [[6]]$region


#>

 [1] "London"


#>

 


#>

 [[6]]$lsoa


#>

 [1] "Islington 022F"


#>

 


#>

 [[6]]$msoa


#>

 [1] "Islington 022"


#>

 


#>

 [[6]]$incode


#>

 [1] "1DU"


#>

 


#>

 [[6]]$outcode


#>

 [1] "EC1A"


#>

 


#>

 [[6]]$parliamentary_constituency


#>

 [1] "Islington South and Finsbury"


#>

 


#>

 [[6]]$admin_district


#>

 [1] "Islington"


#>

 


#>

 [[6]]$parish


#>

 [1] "Islington, unparished area"


#>

 


#>

 [[6]]$admin_county


#>

 NULL


#>

 


#>

 [[6]]$date_of_introduction


#>

 [1] "200012"


#>

 


#>

 [[6]]$admin_ward


#>

 [1] "Clerkenwell"


#>

 


#>

 [[6]]$ced


#>

 NULL


#>

 


#>

 [[6]]$ccg


#>

 [1] "NHS North Central London"


#>

 


#>

 [[6]]$nuts


#>

 [1] "Haringey and Islington"


#>

 


#>

 [[6]]$pfa


#>

 [1] "Metropolitan Police"


#>

 


#>

 [[6]]$codes


#>

 [[6]]$codes$admin_district


#>

 [1] "E09000019"


#>

 


#>

 [[6]]$codes$admin_county


#>

 [1] "E99999999"


#>

 


#>

 [[6]]$codes$admin_ward


#>

 [1] "E05013702"


#>

 


#>

 [[6]]$codes$parish


#>

 [1] "E43000209"


#>

 


#>

 [[6]]$codes$parliamentary_constituency


#>

 [1] "E14000764"


#>

 


#>

 [[6]]$codes$ccg


#>

 [1] "E38000240"


#>

 


#>

 [[6]]$codes$ccg_id


#>

 [1] "93C"


#>

 


#>

 [[6]]$codes$ced


#>

 [1] "E99999999"


#>

 


#>

 [[6]]$codes$nuts


#>

 [1] "TLI43"


#>

 


#>

 [[6]]$codes$lsoa


#>

 [1] "E01002726"


#>

 


#>

 [[6]]$codes$msoa


#>

 [1] "E02000575"


#>

 


#>

 [[6]]$codes$lau2


#>

 [1] "E09000019"


#>

 


#>

 [[6]]$codes$pfa


#>

 [1] "E23000001"


#>

 


#>

 


#>

 


#>

 [[7]]


#>

 [[7]]$postcode


#>

 [1] "EC1A 1HQ"


#>

 


#>

 [[7]]$quality


#>

 [1] 1


#>

 


#>

 [[7]]$eastings


#>

 [1] 532008


#>

 


#>

 [[7]]$northings


#>

 [1] 181428


#>

 


#>

 [[7]]$country


#>

 [1] "England"


#>

 


#>

 [[7]]$nhs_ha


#>

 [1] "London"


#>

 


#>

 [[7]]$longitude


#>

 [1] -0.098906


#>

 


#>

 [[7]]$latitude


#>

 [1] 51.51636


#>

 


#>

 [[7]]$european_electoral_region


#>

 [1] "London"


#>

 


#>

 [[7]]$primary_care_trust


#>

 [1] "City and Hackney Teaching"


#>

 


#>

 [[7]]$region


#>

 [1] "London"


#>

 


#>

 [[7]]$lsoa


#>

 [1] "City of London 001F"


#>

 


#>

 [[7]]$msoa


#>

 [1] "City of London 001"


#>

 


#>

 [[7]]$incode


#>

 [1] "1HQ"


#>

 


#>

 [[7]]$outcode


#>

 [1] "EC1A"


#>

 


#>

 [[7]]$parliamentary_constituency


#>

 [1] "Cities of London and Westminster"


#>

 


#>

 [[7]]$admin_district


#>

 [1] "City of London"


#>

 


#>

 [[7]]$parish


#>

 [1] "City of London, unparished area"


#>

 


#>

 [[7]]$admin_county


#>

 NULL


#>

 


#>

 [[7]]$date_of_introduction


#>

 [1] "200206"


#>

 


#>

 [[7]]$admin_ward


#>

 [1] "Farringdon Within"


#>

 


#>

 [[7]]$ced


#>

 NULL


#>

 


#>

 [[7]]$ccg


#>

 [1] "NHS North East London"


#>

 


#>

 [[7]]$nuts


#>

 [1] "Camden and City of London"


#>

 


#>

 [[7]]$pfa


#>

 [1] "City of London"


#>

 


#>

 [[7]]$codes


#>

 [[7]]$codes$admin_district


#>

 [1] "E09000001"


#>

 


#>

 [[7]]$codes$admin_county


#>

 [1] "E99999999"


#>

 


#>

 [[7]]$codes$admin_ward


#>

 [1] "E05009304"


#>

 


#>

 [[7]]$codes$parish


#>

 [1] "E43000191"


#>

 


#>

 [[7]]$codes$parliamentary_constituency


#>

 [1] "E14000639"


#>

 


#>

 [[7]]$codes$ccg


#>

 [1] "E38000255"


#>

 


#>

 [[7]]$codes$ccg_id


#>

 [1] "A3A8R"


#>

 


#>

 [[7]]$codes$ced


#>

 [1] "E99999999"


#>

 


#>

 [[7]]$codes$nuts


#>

 [1] "TLI31"


#>

 


#>

 [[7]]$codes$lsoa


#>

 [1] "E01032739"


#>

 


#>

 [[7]]$codes$msoa


#>

 [1] "E02000001"


#>

 


#>

 [[7]]$codes$lau2


#>

 [1] "E09000001"


#>

 


#>

 [[7]]$codes$pfa


#>

 [1] "E23000034"


#>

 


#>

 


#>

 


#>

 [[8]]


#>

 [[8]]$postcode


#>

 [1] "EC1A 1TA"


#>

 


#>

 [[8]]$quality


#>

 [1] 1


#>

 


#>

 [[8]]$eastings


#>

 [1] 531073


#>

 


#>

 [[8]]$northings


#>

 [1] 182317


#>

 


#>

 [[8]]$country


#>

 [1] "England"


#>

 


#>

 [[8]]$nhs_ha


#>

 [1] "London"


#>

 


#>

 [[8]]$longitude


#>

 [1] -0.112042


#>

 


#>

 [[8]]$latitude


#>

 [1] 51.52457


#>

 


#>

 [[8]]$european_electoral_region


#>

 [1] "London"


#>

 


#>

 [[8]]$primary_care_trust


#>

 [1] "Islington"


#>

 


#>

 [[8]]$region


#>

 [1] "London"


#>

 


#>

 [[8]]$lsoa


#>

 [1] "Islington 022F"


#>

 


#>

 [[8]]$msoa


#>

 [1] "Islington 022"


#>

 


#>

 [[8]]$incode


#>

 [1] "1TA"


#>

 


#>

 [[8]]$outcode


#>

 [1] "EC1A"


#>

 


#>

 [[8]]$parliamentary_constituency


#>

 [1] "Islington South and Finsbury"


#>

 


#>

 [[8]]$admin_district


#>

 [1] "Islington"


#>

 


#>

 [[8]]$parish


#>

 [1] "Islington, unparished area"


#>

 


#>

 [[8]]$admin_county


#>

 NULL


#>

 


#>

 [[8]]$date_of_introduction


#>

 [1] "200303"


#>

 


#>

 [[8]]$admin_ward


#>

 [1] "Clerkenwell"


#>

 


#>

 [[8]]$ced


#>

 NULL


#>

 


#>

 [[8]]$ccg


#>

 [1] "NHS North Central London"


#>

 


#>

 [[8]]$nuts


#>

 [1] "Haringey and Islington"


#>

 


#>

 [[8]]$pfa


#>

 [1] "Metropolitan Police"


#>

 


#>

 [[8]]$codes


#>

 [[8]]$codes$admin_district


#>

 [1] "E09000019"


#>

 


#>

 [[8]]$codes$admin_county


#>

 [1] "E99999999"


#>

 


#>

 [[8]]$codes$admin_ward


#>

 [1] "E05013702"


#>

 


#>

 [[8]]$codes$parish


#>

 [1] "E43000209"


#>

 


#>

 [[8]]$codes$parliamentary_constituency


#>

 [1] "E14000764"


#>

 


#>

 [[8]]$codes$ccg


#>

 [1] "E38000240"


#>

 


#>

 [[8]]$codes$ccg_id


#>

 [1] "93C"


#>

 


#>

 [[8]]$codes$ced


#>

 [1] "E99999999"


#>

 


#>

 [[8]]$codes$nuts


#>

 [1] "TLI43"


#>

 


#>

 [[8]]$codes$lsoa


#>

 [1] "E01002726"


#>

 


#>

 [[8]]$codes$msoa


#>

 [1] "E02000575"


#>

 


#>

 [[8]]$codes$lau2


#>

 [1] "E09000019"


#>

 


#>

 [[8]]$codes$pfa


#>

 [1] "E23000001"


#>

 


#>

 


#>

 


#>

 [[9]]


#>

 [[9]]$postcode


#>

 [1] "EC1A 1TB"


#>

 


#>

 [[9]]$quality


#>

 [1] 1


#>

 


#>

 [[9]]$eastings


#>

 [1] 531073


#>

 


#>

 [[9]]$northings


#>

 [1] 182317


#>

 


#>

 [[9]]$country


#>

 [1] "England"


#>

 


#>

 [[9]]$nhs_ha


#>

 [1] "London"


#>

 


#>

 [[9]]$longitude


#>

 [1] -0.112042


#>

 


#>

 [[9]]$latitude


#>

 [1] 51.52457


#>

 


#>

 [[9]]$european_electoral_region


#>

 [1] "London"


#>

 


#>

 [[9]]$primary_care_trust


#>

 [1] "Islington"


#>

 


#>

 [[9]]$region


#>

 [1] "London"


#>

 


#>

 [[9]]$lsoa


#>

 [1] "Islington 022F"


#>

 


#>

 [[9]]$msoa


#>

 [1] "Islington 022"


#>

 


#>

 [[9]]$incode


#>

 [1] "1TB"


#>

 


#>

 [[9]]$outcode


#>

 [1] "EC1A"


#>

 


#>

 [[9]]$parliamentary_constituency


#>

 [1] "Islington South and Finsbury"


#>

 


#>

 [[9]]$admin_district


#>

 [1] "Islington"


#>

 


#>

 [[9]]$parish


#>

 [1] "Islington, unparished area"


#>

 


#>

 [[9]]$admin_county


#>

 NULL


#>

 


#>

 [[9]]$date_of_introduction


#>

 [1] "200303"


#>

 


#>

 [[9]]$admin_ward


#>

 [1] "Clerkenwell"


#>

 


#>

 [[9]]$ced


#>

 NULL


#>

 


#>

 [[9]]$ccg


#>

 [1] "NHS North Central London"


#>

 


#>

 [[9]]$nuts


#>

 [1] "Haringey and Islington"


#>

 


#>

 [[9]]$pfa


#>

 [1] "Metropolitan Police"


#>

 


#>

 [[9]]$codes


#>

 [[9]]$codes$admin_district


#>

 [1] "E09000019"


#>

 


#>

 [[9]]$codes$admin_county


#>

 [1] "E99999999"


#>

 


#>

 [[9]]$codes$admin_ward


#>

 [1] "E05013702"


#>

 


#>

 [[9]]$codes$parish


#>

 [1] "E43000209"


#>

 


#>

 [[9]]$codes$parliamentary_constituency


#>

 [1] "E14000764"


#>

 


#>

 [[9]]$codes$ccg


#>

 [1] "E38000240"


#>

 


#>

 [[9]]$codes$ccg_id


#>

 [1] "93C"


#>

 


#>

 [[9]]$codes$ced


#>

 [1] "E99999999"


#>

 


#>

 [[9]]$codes$nuts


#>

 [1] "TLI43"


#>

 


#>

 [[9]]$codes$lsoa


#>

 [1] "E01002726"


#>

 


#>

 [[9]]$codes$msoa


#>

 [1] "E02000575"


#>

 


#>

 [[9]]$codes$lau2


#>

 [1] "E09000019"


#>

 


#>

 [[9]]$codes$pfa


#>

 [1] "E23000001"


#>

 


#>

 


#>

 


#>

 [[10]]


#>

 [[10]]$postcode


#>

 [1] "EC1A 1TF"


#>

 


#>

 [[10]]$quality


#>

 [1] 1


#>

 


#>

 [[10]]$eastings


#>

 [1] 531073


#>

 


#>

 [[10]]$northings


#>

 [1] 182317


#>

 


#>

 [[10]]$country


#>

 [1] "England"


#>

 


#>

 [[10]]$nhs_ha


#>

 [1] "London"


#>

 


#>

 [[10]]$longitude


#>

 [1] -0.112042


#>

 


#>

 [[10]]$latitude


#>

 [1] 51.52457


#>

 


#>

 [[10]]$european_electoral_region


#>

 [1] "London"


#>

 


#>

 [[10]]$primary_care_trust


#>

 [1] "Islington"


#>

 


#>

 [[10]]$region


#>

 [1] "London"


#>

 


#>

 [[10]]$lsoa


#>

 [1] "Islington 022F"


#>

 


#>

 [[10]]$msoa


#>

 [1] "Islington 022"


#>

 


#>

 [[10]]$incode


#>

 [1] "1TF"


#>

 


#>

 [[10]]$outcode


#>

 [1] "EC1A"


#>

 


#>

 [[10]]$parliamentary_constituency


#>

 [1] "Islington South and Finsbury"


#>

 


#>

 [[10]]$admin_district


#>

 [1] "Islington"


#>

 


#>

 [[10]]$parish


#>

 [1] "Islington, unparished area"


#>

 


#>

 [[10]]$admin_county


#>

 NULL


#>

 


#>

 [[10]]$date_of_introduction


#>

 [1] "200303"


#>

 


#>

 [[10]]$admin_ward


#>

 [1] "Clerkenwell"


#>

 


#>

 [[10]]$ced


#>

 NULL


#>

 


#>

 [[10]]$ccg


#>

 [1] "NHS North Central London"


#>

 


#>

 [[10]]$nuts


#>

 [1] "Haringey and Islington"


#>

 


#>

 [[10]]$pfa


#>

 [1] "Metropolitan Police"


#>

 


#>

 [[10]]$codes


#>

 [[10]]$codes$admin_district


#>

 [1] "E09000019"


#>

 


#>

 [[10]]$codes$admin_county


#>

 [1] "E99999999"


#>

 


#>

 [[10]]$codes$admin_ward


#>

 [1] "E05013702"


#>

 


#>

 [[10]]$codes$parish


#>

 [1] "E43000209"


#>

 


#>

 [[10]]$codes$parliamentary_constituency


#>

 [1] "E14000764"


#>

 


#>

 [[10]]$codes$ccg


#>

 [1] "E38000240"


#>

 


#>

 [[10]]$codes$ccg_id


#>

 [1] "93C"


#>

 


#>

 [[10]]$codes$ced


#>

 [1] "E99999999"


#>

 


#>

 [[10]]$codes$nuts


#>

 [1] "TLI43"


#>

 


#>

 [[10]]$codes$lsoa


#>

 [1] "E01002726"


#>

 


#>

 [[10]]$codes$msoa


#>

 [1] "E02000575"


#>

 


#>

 [[10]]$codes$lau2


#>

 [1] "E09000019"


#>

 


#>

 [[10]]$codes$pfa


#>

 [1] "E23000001"


#>

 


#>

 


#>

 


#>

 [[11]]


#>

 [[11]]$postcode


#>

 [1] "EC1A 1TG"


#>

 


#>

 [[11]]$quality


#>

 [1] 1


#>

 


#>

 [[11]]$eastings


#>

 [1] 531073


#>

 


#>

 [[11]]$northings


#>

 [1] 182317


#>

 


#>

 [[11]]$country


#>

 [1] "England"


#>

 


#>

 [[11]]$nhs_ha


#>

 [1] "London"


#>

 


#>

 [[11]]$longitude


#>

 [1] -0.112042


#>

 


#>

 [[11]]$latitude


#>

 [1] 51.52457


#>

 


#>

 [[11]]$european_electoral_region


#>

 [1] "London"


#>

 


#>

 [[11]]$primary_care_trust


#>

 [1] "Islington"


#>

 


#>

 [[11]]$region


#>

 [1] "London"


#>

 


#>

 [[11]]$lsoa


#>

 [1] "Islington 022F"


#>

 


#>

 [[11]]$msoa


#>

 [1] "Islington 022"


#>

 


#>

 [[11]]$incode


#>

 [1] "1TG"


#>

 


#>

 [[11]]$outcode


#>

 [1] "EC1A"


#>

 


#>

 [[11]]$parliamentary_constituency


#>

 [1] "Islington South and Finsbury"


#>

 


#>

 [[11]]$admin_district


#>

 [1] "Islington"


#>

 


#>

 [[11]]$parish


#>

 [1] "Islington, unparished area"


#>

 


#>

 [[11]]$admin_county


#>

 NULL


#>

 


#>

 [[11]]$date_of_introduction


#>

 [1] "200303"


#>

 


#>

 [[11]]$admin_ward


#>

 [1] "Clerkenwell"


#>

 


#>

 [[11]]$ced


#>

 NULL


#>

 


#>

 [[11]]$ccg


#>

 [1] "NHS North Central London"


#>

 


#>

 [[11]]$nuts


#>

 [1] "Haringey and Islington"


#>

 


#>

 [[11]]$pfa


#>

 [1] "Metropolitan Police"


#>

 


#>

 [[11]]$codes


#>

 [[11]]$codes$admin_district


#>

 [1] "E09000019"


#>

 


#>

 [[11]]$codes$admin_county


#>

 [1] "E99999999"


#>

 


#>

 [[11]]$codes$admin_ward


#>

 [1] "E05013702"


#>

 


#>

 [[11]]$codes$parish


#>

 [1] "E43000209"


#>

 


#>

 [[11]]$codes$parliamentary_constituency


#>

 [1] "E14000764"


#>

 


#>

 [[11]]$codes$ccg


#>

 [1] "E38000240"


#>

 


#>

 [[11]]$codes$ccg_id


#>

 [1] "93C"


#>

 


#>

 [[11]]$codes$ced


#>

 [1] "E99999999"


#>

 


#>

 [[11]]$codes$nuts


#>

 [1] "TLI43"


#>

 


#>

 [[11]]$codes$lsoa


#>

 [1] "E01002726"


#>

 


#>

 [[11]]$codes$msoa


#>

 [1] "E02000575"


#>

 


#>

 [[11]]$codes$lau2


#>

 [1] "E09000019"


#>

 


#>

 [[11]]$codes$pfa


#>

 [1] "E23000001"


#>

 


#>

 


#>

 


# }