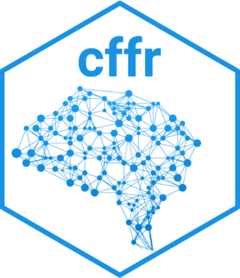 Parse a bibentry to cff
Source:
R/cff_parse_citation.R
cff_parse_citation.Rd
Parse a bibentry object to a valid format for a CITATION.cff file.
Details
This is a helper function designed to help on adding or replacing the auto-generated authors of the package. See Examples.
This function tries to adapt a bibentry object (generated with bibentry() or citEntry()) to the CFF standard.
Entry types considered
Article, Book, Booklet, InBook, InCollection, InProceedings, Manual, MastersThesis, Misc, PhDThesis, Proceedings, TechReport, Unpublished. See bibentry() for more information.
Note that Conference is not implemented in bibentry(), however is equivalent to InProceedings (Patashnik (1988)).
Examples
# \donttest{




bib

 

<-

 citation

(

"base"

)




bib




#>

 To cite R in publications use:


#>

 


#>

   R Core Team (2023). _R: A Language and Environment for Statistical


#>

   Computing_. R Foundation for Statistical Computing, Vienna, Austria.


#>

   <https://www.R-project.org/>.


#>

 


#>

 A BibTeX entry for LaTeX users is


#>

 


#>

   @Manual{,


#>

     title = {R: A Language and Environment for Statistical Computing},


#>

     author = {{R Core Team}},


#>

     organization = {R Foundation for Statistical Computing},


#>

     address = {Vienna, Austria},


#>

     year = {2023},


#>

     url = {https://www.R-project.org/},


#>

   }


#>

 


#>

 We have invested a lot of time and effort in creating R, please cite it


#>

 when using it for data analysis. See also 'citation("pkgname")' for


#>

 citing R packages.








# To cff




bib_to_cff

 

<-

 

cff_parse_citation

(

bib

)




bib_to_cff




#>

 type: manual


#>

 title: 'R: A Language and Environment for Statistical Computing'


#>

 authors:


#>

 - name: R Core Team


#>

 location:


#>

   name: Vienna, Austria


#>

 year: '2023'


#>

 url: https://www.R-project.org/


#>

 institution:


#>

   name: R Foundation for Statistical Computing





# Create the object




new_cff

 

<-

 cff

(

)







full

 

<-

 cff_create

(

new_cff

, keys 

=

 list

(

"preferred-citation"

 

=

 

bib_to_cff

)

)







full




#>

 cff-version: 1.2.0


#>

 message: If you use this software, please cite it using these metadata.


#>

 title: My Research Software


#>

 authors:


#>

 - family-names: Doe


#>

   given-names: John


#>

 preferred-citation:


#>

   type: manual


#>

   title: 'R: A Language and Environment for Statistical Computing'


#>

   authors:


#>

   - name: R Core Team


#>

   location:


#>

     name: Vienna, Austria


#>

   year: '2023'


#>

   url: https://www.R-project.org/


#>

   institution:


#>

     name: R Foundation for Statistical Computing


# Validate


cff_validate

(

full

)




#>

 

══

 

Validating cff

 

══════════════════════════════════════════════════════════════




#>

 

✔

 Congratulations! This 

<cff>

 is valid





# Several citations







cff_parse_citation

(

citation

(

"rmarkdown"

)

)




#>

 - type: manual


#>

   title: 'rmarkdown: Dynamic Documents for R'


#>

   authors:


#>

   - family-names: Allaire


#>

     given-names: JJ


#>

   - family-names: Xie


#>

     given-names: Yihui


#>

   - family-names: Dervieux


#>

     given-names: Christophe


#>

   - family-names: McPherson


#>

     given-names: Jonathan


#>

   - family-names: Luraschi


#>

     given-names: Javier


#>

   - family-names: Ushey


#>

     given-names: Kevin


#>

   - family-names: Atkins


#>

     given-names: Aron


#>

   - family-names: Wickham


#>

     given-names: Hadley


#>

   - family-names: Cheng


#>

     given-names: Joe


#>

   - family-names: Chang


#>

     given-names: Winston


#>

   - family-names: Iannone


#>

     given-names: Richard


#>

   year: '2023'


#>

   notes: R package version 2.25


#>

   url: https://github.com/rstudio/rmarkdown


#>

 - type: book


#>

   title: 'R Markdown: The Definitive Guide'


#>

   authors:


#>

   - family-names: Xie


#>

     given-names: Yihui


#>

   - family-names: Allaire


#>

     given-names: J.J.


#>

   - family-names: Grolemund


#>

     given-names: Garrett


#>

   publisher:


#>

     name: Chapman and Hall/CRC


#>

     address: Boca Raton, Florida


#>

   year: '2018'


#>

   isbn: '9781138359338'


#>

   url: https://bookdown.org/yihui/rmarkdown


#>

 - type: book


#>

   title: R Markdown Cookbook


#>

   authors:


#>

   - family-names: Xie


#>

     given-names: Yihui


#>

   - family-names: Dervieux


#>

     given-names: Christophe


#>

   - family-names: Riederer


#>

     given-names: Emily


#>

   publisher:


#>

     name: Chapman and Hall/CRC


#>

     address: Boca Raton, Florida


#>

   year: '2020'


#>

   isbn: '9780367563837'


#>

   url: https://bookdown.org/yihui/rmarkdown-cookbook


# }