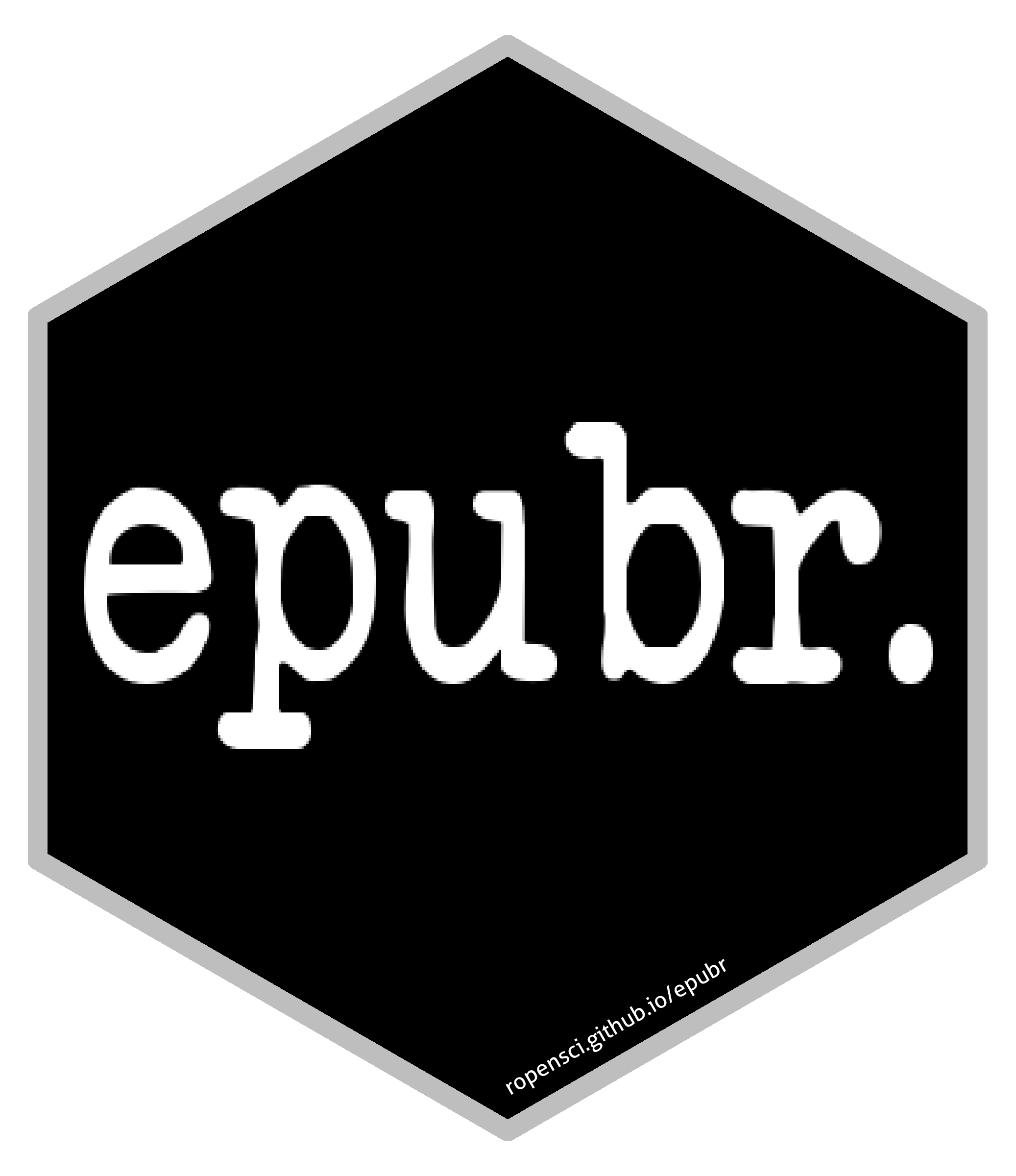 Extract and read EPUB e-books
Source:
R/epub.R
epub.Rd
Read EPUB format e-books into a data frame using epub or extract EPUB archive files for direct use with epub_unzip.
Usage
epub

(


  

file

,
  fields 

=

 

NULL

,
  drop_sections 

=

 

NULL

,
  chapter_pattern 

=

 

NULL

,
  encoding 

=

 

"UTF-8"

,
  

...




)





epub_meta

(

file

)





epub_unzip

(

file

, exdir 

=

 tempdir

(

)

)
Arguments
file

character, input EPUB filename. May be a vector for epub and epub_meta. Always a single file for epub_unzip.

fields

character, vector of metadata fields (data frame columns) to parse from metadata, if they exist. See details.

drop_sections

character, a regular expression pattern string to identify text sections (rows of nested text data frame) to drop.

chapter_pattern

character, a regular expression pattern string to attempt distinguishing nested data frame rows of chapter text entries from other types of entries.

encoding

character, defaults to "UTF-8".

...

additional arguments. With the exception of passing title (see details), currently developmental/unsupported.

exdir

for epub_unzip, extraction directory to place archive contents (files). It will be created if necessary.
Value
epub returns a data frame. epub_unzip returns nothing but extracts files from an EPUB file archive.
Details
The primary function here is epub. It parses EPUB file metadata and textual content into a data frame. The output data frame has one row for each file in file. It has metadata in all columns except the data column, which is a column of nested data frames containing e-book text by book section (e.g., chapters). Both the primary and nested data frames are tibbles and safe to print to the console "as is".
Be careful if file is a long vector of many EPUB files. This could take a long time to process as well as could potentially use up all of your system RAM if you have far too many large books in one call to epub.
On a case by case basis, you can always select columns and filter rows of a resulting data frame for a single e-book subsequent to visual inspection. However, the optional arguments fields, drop_sections and chapter_pattern allow you to do some of this as part of the EPUB file reading process. You can ignore these arguments and do all your own post-processing of the resulting data frame, but if using these arguments, they are most likely to be useful for bulk e-book processing where file is a vector of like-formatted files.
Examples
# Use a local example EPUB file included in the package




file

 

<-

 system.file

(

"dracula.epub"

, package 

=

 

"epubr"

)




bookdir

 

<-

 file.path

(

tempdir

(

)

, 

"dracula"

)




epub_unzip

(

file

, exdir 

=

 

bookdir

)

 

# unzip to directly inspect archive files


list.files

(

bookdir

, recursive 

=

 

TRUE

)




#>

  [1] "META-INF/container.xml"                                                  


#>

  [2] "OEBPS/0.css"                                                             


#>

  [3] "OEBPS/1.css"                                                             


#>

  [4] "OEBPS/@public@vhost@g@gutenberg@html@files@345@345-h@345-h-0.htm.html"   


#>

  [5] "OEBPS/@public@vhost@g@gutenberg@html@files@345@345-h@345-h-1.htm.html"   


#>

  [6] "OEBPS/@public@vhost@g@gutenberg@html@files@345@345-h@345-h-10.htm.html"  


#>

  [7] "OEBPS/@public@vhost@g@gutenberg@html@files@345@345-h@345-h-11.htm.html"  


#>

  [8] "OEBPS/@public@vhost@g@gutenberg@html@files@345@345-h@345-h-12.htm.html"  


#>

  [9] "OEBPS/@public@vhost@g@gutenberg@html@files@345@345-h@345-h-13.htm.html"  


#>

 [10] "OEBPS/@public@vhost@g@gutenberg@html@files@345@345-h@345-h-2.htm.html"   


#>

 [11] "OEBPS/@public@vhost@g@gutenberg@html@files@345@345-h@345-h-3.htm.html"   


#>

 [12] "OEBPS/@public@vhost@g@gutenberg@html@files@345@345-h@345-h-4.htm.html"   


#>

 [13] "OEBPS/@public@vhost@g@gutenberg@html@files@345@345-h@345-h-5.htm.html"   


#>

 [14] "OEBPS/@public@vhost@g@gutenberg@html@files@345@345-h@345-h-6.htm.html"   


#>

 [15] "OEBPS/@public@vhost@g@gutenberg@html@files@345@345-h@345-h-7.htm.html"   


#>

 [16] "OEBPS/@public@vhost@g@gutenberg@html@files@345@345-h@345-h-8.htm.html"   


#>

 [17] "OEBPS/@public@vhost@g@gutenberg@html@files@345@345-h@345-h-9.htm.html"   


#>

 [18] "OEBPS/@public@vhost@g@gutenberg@html@files@345@345-h@images@colophon.png"


#>

 [19] "OEBPS/@public@vhost@g@gutenberg@html@files@345@345-h@images@cover.jpg"   


#>

 [20] "OEBPS/content.opf"                                                       


#>

 [21] "OEBPS/pgepub.css"                                                        


#>

 [22] "OEBPS/toc.ncx"                                                           


#>

 [23] "OEBPS/wrap0000.html"                                                     


#>

 [24] "mimetype"                                                                





# \donttest{




epub_meta

(

file

)

 

# parse EPUB file metadata only




#>

 

# A tibble: 1 × 8




#>

   rights                  identifier creator title language subject date  source


#>

   

<chr>

                   

<chr>

      

<chr>

   

<chr>

 

<chr>

    

<chr>

   

<chr>

 

<chr>

 


#>

 

1

 Public domain in the U… http://ww… Bram S… Drac… en       Horror… 1995… http:…





x

 

<-

 

epub

(

file

)

 

# parse entire e-book




x




#>

 

# A tibble: 1 × 9




#>

   rights         identifier creator title language subject date  source data    


#>

   

<chr>

          

<chr>

      

<chr>

   

<chr>

 

<chr>

    

<chr>

   

<chr>

 

<chr>

  

<list>

  


#>

 

1

 Public domain… http://ww… Bram S… Drac… en       Horror… 1995… http:… 

<tibble>




x

$

data

[[

1

]

]




#>

 

# A tibble: 15 × 4




#>

    section           text                                            nword nchar


#>

    

<chr>

             

<chr>

                                           

<int>

 

<int>




#>

 

 1

 item6             

"

The Project Gutenberg EBook of Dracula, by Br… 

11

446 

60

972


#>

 

 2

 item7             

"

But I am not in heart to describe beauty, for… 

13

879 

71

798


#>

 

 3

 item8             

"

\" 'Lucy, you are an honest-hearted girl, I k… 

12

474 

65

522


#>

 

 4

 item9             

"

CHAPTER VIIIMINA MURRAY'S JOURNAL\nSame day, … 

12

177 

62

724


#>

 

 5

 item10            

"

CHAPTER X\nLetter, Dr. Seward to Hon. Arthur … 

12

806 

66

678


#>

 

 6

 item11            

"

Once again we went through that ghastly opera… 

12

103 

62

949


#>

 

 7

 item12            

"

CHAPTER XIVMINA HARKER'S JOURNAL\n23 Septembe… 

12

214 

62

234


#>

 

 8

 item13            

"

CHAPTER XVIDR. SEWARD'S DIARY-continued\nIT w… 

13

990 

72

903


#>

 

 9

 item14            

"

\"Thus when we find the habitation of this ma… 

13

356 

69

779


#>

 

10

 item15            

"

\"I see,\" I said. \"You want big things that… 

12

866 

66

921


#>

 

11

 item16            

"

CHAPTER XXIIIDR. SEWARD'S DIARY\n3 October.-T… 

11

928 

61

550


#>

 

12

 item17            

"

CHAPTER XXVDR. SEWARD'S DIARY\n11 October, Ev… 

13

119 

68

564


#>

 

13

 item18            

"

 \nLater.-Dr. Van Helsing has returned. He ha…  

8

435 

43

464


#>

 

14

 item19            

"

End of the Project Gutenberg EBook of Dracula…  

2

665 

18

541


#>

 

15

 coverpage-wrapper 

""

                                                  0     0





epub

(

file

, fields 

=

 c

(

"title"

, 

"creator"

)

, drop_sections 

=

 

"^cov"

)




#>

 

# A tibble: 1 × 3




#>

   title   creator     data             


#>

   

<chr>

   

<chr>

       

<list>

           


#>

 

1

 Dracula Bram Stoker 

<tibble [14 × 4]>




# }