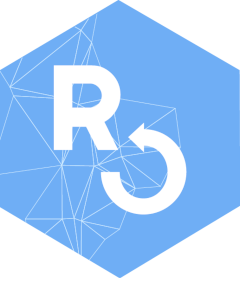 Read a dendrogram from parenthetic text.
Source:
R/read.R
read.dendrogram.Rd
This function wraps the read.tree parser from the ape package to read a phylogenetic tree from parenthetic text in the Newick/New Hampshire format, and converts it to object of class "dendrogram".
Arguments
file

character string giving a valid path to the file from which to read the data.

text

optional character string in lieu of a "file" argument. If a text argument is provided instead of a file path, the data are read via a text connection.

...

further arguments to be passed to read.tree (which may then be passed on to scan).
See also
write.dendrogram writes an object of class "dendrogram" to a Newick text string. The read.tree function in the ape package parses objects of class "phylo" and "multiPhylo".
Examples
  

x

 

<-

 

read.dendrogram

(

text 

=

 

"(A:0.1,B:0.2,(C:0.3,D:0.4):0.5);"

)


  plot

(

x

, horiz 

=

 

TRUE

)