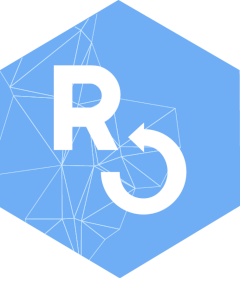 Evaluate data package
Source:
R/evaluate_data_package.R
evaluate_data_package.Rd
Arguments
eml

(character) Full path to an EML file describing the data package to be evaluated

useChecksum

(logical) Use data entities from a previous version of the data package? See details below.

env

(character) Repository environment. Can be: "production", "staging", or "development".
Value
transaction (character) Transaction identifier. May be used in a subsequent call to:
Details
Each data entity described in eml must be accompanied by a web accessible URL at the EML XPath ".//physical/distribution/online/url". The EDI data repository downloads the data entities via this URL. The URLs must be static and not have any redirects otherwise the data entities will not be downloaded.
An optional query parameter, "useChecksum", can be appended to the URL. When specified, the useChecksum query parameter directs the repository to determine whether it can use an existing copy of a data entity from a previous revision of the data package based on matching a metadata-documented checksum value (MD5 or SHA-1) to the checksum of the existing copy. If a match is found, the repository will skip the upload of the data entity from the remote URL and instead use its matching copy. Specifying "useChecksum" can save time by eliminating data uploads, but clients should take care to ensure that metadata-documented checksum values are accurate and up to date.
Note
User authentication is required (see login())
Examples
if

 

(

FALSE

)

 

{





login

(

)







transaction

 

<-

 

evaluate_data_package

(


  eml 

=

 paste0

(

tempdir

(

)

, 

"/edi.595.1.xml"

)

,
  env 

=

 

"staging"




)




transaction




#> [1] "evaluate_163966785813042760"







# Check evaluation status




status

 

<-

 check_status_evaluate

(

transaction

, env 

=

 

"staging"

)




status




#> [1] TRUE







# Read evaluation report




report

 

<-

 read_evaluate_report

(

transaction

, env 

=

 

"staging"

)




report




#> {xml_document}




#> <qualityReport schemaLocation="eml://ecoinformatics.org/qualityReport ...




#> [1] <creationDate>2021-12-15T17:46:33</creationDate>




#> [2] <packageId>edi.595.1</packageId>




#> [3] <includeSystem>lter</includeSystem>




#> [4] <includeSystem>knb</includeSystem>




#> [5] <datasetReport>\n  <qualityCheck qualityType="metadata" system=" ...




#> [6] <entityReport>\n  <entityName>data.txt</entityName>\n  <qualityC ...







# Summarize evaluation report


read_evaluate_report_summary

(

transaction

, env 

=

 

"staging"

)




#> ===================================================




#>   EVALUATION REPORT




#> ===================================================




#>




#> PackageId: edi.595.1




#> Report Date/Time: 2021-12-15T17:46:33




#> Total Quality Checks: 29




#> Valid: 21




#> Info: 8




#> Warn: 0




#> Error: 0





logout

(

)




}