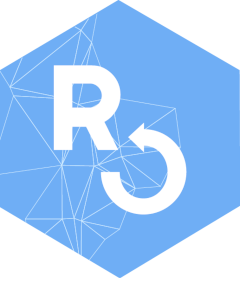 Geobuf serialization
Source:
R/geobuf.R
geobuf.Rd
Arguments
x

(character) a file or raw object for from_geobuf, and json string for to_geobuf

pretty

(logical) pretty print JSON. Default: FALSE

file

(character) file to write protobuf to. if NULL, geobuf raw binary returned

decimals

(integer) how many decimals (digits behind the dot) to store for numbers
Details
from_geobuf uses protolite::geobuf2json(), while to_geobuf uses protolite::json2geobuf()
Note that protolite expects either a Feature, FeatureCollection, or Geometry class geojson object, Thus, for to_geobuf we check the geojson class, and convert to a Feature if the class is something other than the acceptable set.
References
Geobuf is a compact binary encoding for geographic data using protocol buffers https://github.com/mapbox/geobuf
Examples
file

 

<-

 system.file

(

"examples/test.pb"

, package 

=

 

"geojson"

)




(

json

 

<-

 

from_geobuf

(

file

)

)




#>

 {"type":"FeatureCollection","features":[{"type":"Feature","geometry":{"type":"Point","coordinates":[102,0.5]},"id":999,"properties":{"prop0":"value0","double":0.0123,"negative_int":-100,"positive_int":100,"negative_double":-12345000000000000,"positive_double":12345000000000000,"null":null,"array":[1,2,3.1],"object":{"foo":[5,6,7]}},"blabla":{"foo":[1,1,1]}},{"type":"Feature","geometry":{"type":"LineString","coordinates":[[102,0],[103,-1.1],[104,-3],[105,1]]},"id":123,"properties":{"custom1":"test","prop0":"value0","prop1":0}},{"type":"Feature","geometry":{"type":"Polygon","coordinates":[[[100,0],[101,0],[101,1],[100,1],[100,0]],[[99,10],[101,0],[100,1],[99,10]]]},"id":"test-id","properties":{"prop0":"value0","prop1":{"this":"that"}},"custom1":"jeroen"},{"type":"Feature","geometry":{"type":"MultiPolygon","coordinates":[[[[102,2],[103,2],[103,3],[102,2]]],[[[100,0],[101,0],[101,1],[100,1],[100,0]],[[100.2,0.2],[100.2,0.8],[100.2,0.2]]]]}},{"type":"Feature","geometry":{"type":"GeometryCollection","geometries":[{"type":"Point","coordinates":[100,0]},{"type":"LineString","coordinates":[[101,0],[102,1]]},{"type":"MultiPoint","coordinates":[[100,0],[101,1]]},{"type":"MultiLineString","coordinates":[[[100,0],[101,1]],[[102,2],[103,3]]]},{"type":"MultiPolygon","coordinates":[[[[102,2],[103,2],[103,3],[102,3],[102,2]]],[[[100,0],[101,0],[101,1],[100,1],[100,0]],[[100.2,0.2],[100.8,0.2],[100.8,0.8],[100.2,0.8],[100.2,0.2]]]]}]}}]} 


from_geobuf

(

file

, pretty 

=

 

TRUE

)




#>

 {


#>

   "type": "FeatureCollection",


#>

   "features": [


#>

     {


#>

       "type": "Feature",


#>

       "geometry": {


#>

         "type": "Point",


#>

         "coordinates": [102, 0.5]


#>

       },


#>

       "id": 999,


#>

       "properties": {


#>

         "prop0": "value0",


#>

         "double": 0.0123,


#>

         "negative_int": -100,


#>

         "positive_int": 100,


#>

         "negative_double": -12345000000000000,


#>

         "positive_double": 12345000000000000,


#>

         "null": null,


#>

         "array": [1, 2, 3.1],


#>

         "object": {


#>

           "foo": [5, 6, 7]


#>

         }


#>

       },


#>

       "blabla": {


#>

         "foo": [1, 1, 1]


#>

       }


#>

     },


#>

     {


#>

       "type": "Feature",


#>

       "geometry": {


#>

         "type": "LineString",


#>

         "coordinates": [


#>

           [102, 0],


#>

           [103, -1.1],


#>

           [104, -3],


#>

           [105, 1]


#>

         ]


#>

       },


#>

       "id": 123,


#>

       "properties": {


#>

         "custom1": "test",


#>

         "prop0": "value0",


#>

         "prop1": 0


#>

       }


#>

     },


#>

     {


#>

       "type": "Feature",


#>

       "geometry": {


#>

         "type": "Polygon",


#>

         "coordinates": [


#>

           [


#>

             [100, 0],


#>

             [101, 0],


#>

             [101, 1],


#>

             [100, 1],


#>

             [100, 0]


#>

           ],


#>

           [


#>

             [99, 10],


#>

             [101, 0],


#>

             [100, 1],


#>

             [99, 10]


#>

           ]


#>

         ]


#>

       },


#>

       "id": "test-id",


#>

       "properties": {


#>

         "prop0": "value0",


#>

         "prop1": {


#>

           "this": "that"


#>

         }


#>

       },


#>

       "custom1": "jeroen"


#>

     },


#>

     {


#>

       "type": "Feature",


#>

       "geometry": {


#>

         "type": "MultiPolygon",


#>

         "coordinates": [


#>

           [


#>

             [


#>

               [102, 2],


#>

               [103, 2],


#>

               [103, 3],


#>

               [102, 2]


#>

             ]


#>

           ],


#>

           [


#>

             [


#>

               [100, 0],


#>

               [101, 0],


#>

               [101, 1],


#>

               [100, 1],


#>

               [100, 0]


#>

             ],


#>

             [


#>

               [100.2, 0.2],


#>

               [100.2, 0.8],


#>

               [100.2, 0.2]


#>

             ]


#>

           ]


#>

         ]


#>

       }


#>

     },


#>

     {


#>

       "type": "Feature",


#>

       "geometry": {


#>

         "type": "GeometryCollection",


#>

         "geometries": [


#>

           {


#>

             "type": "Point",


#>

             "coordinates": [100, 0]


#>

           },


#>

           {


#>

             "type": "LineString",


#>

             "coordinates": [


#>

               [101, 0],


#>

               [102, 1]


#>

             ]


#>

           },


#>

           {


#>

             "type": "MultiPoint",


#>

             "coordinates": [


#>

               [100, 0],


#>

               [101, 1]


#>

             ]


#>

           },


#>

           {


#>

             "type": "MultiLineString",


#>

             "coordinates": [


#>

               [


#>

                 [100, 0],


#>

                 [101, 1]


#>

               ],


#>

               [


#>

                 [102, 2],


#>

                 [103, 3]


#>

               ]


#>

             ]


#>

           },


#>

           {


#>

             "type": "MultiPolygon",


#>

             "coordinates": [


#>

               [


#>

                 [


#>

                   [102, 2],


#>

                   [103, 2],


#>

                   [103, 3],


#>

                   [102, 3],


#>

                   [102, 2]


#>

                 ]


#>

               ],


#>

               [


#>

                 [


#>

                   [100, 0],


#>

                   [101, 0],


#>

                   [101, 1],


#>

                   [100, 1],


#>

                   [100, 0]


#>

                 ],


#>

                 [


#>

                   [100.2, 0.2],


#>

                   [100.8, 0.2],


#>

                   [100.8, 0.8],


#>

                   [100.2, 0.8],


#>

                   [100.2, 0.2]


#>

                 ]


#>

               ]


#>

             ]


#>

           }


#>

         ]


#>

       }


#>

     }


#>

   ]


#>

 } 


pb

 

<-

 

to_geobuf

(

json

)




f

 

<-

 tempfile

(

fileext 

=

 

".pb"

)




to_geobuf

(

json

, 

f

)




from_geobuf

(

f

)




#>

 {"type":"FeatureCollection","features":[{"type":"Feature","geometry":{"type":"Point","coordinates":[102,0.5]},"id":999,"properties":{"prop0":"value0","double":0.0123,"negative_int":-100,"positive_int":100,"negative_double":-12345000000000000,"positive_double":12345000000000000,"null":null,"array":[1,2,3.1],"object":{"foo":[5,6,7]}},"blabla":{"foo":[1,1,1]}},{"type":"Feature","geometry":{"type":"LineString","coordinates":[[102,0],[103,-1.1],[104,-3],[105,1]]},"id":123,"properties":{"custom1":"test","prop0":"value0","prop1":0}},{"type":"Feature","geometry":{"type":"Polygon","coordinates":[[[100,0],[101,0],[101,1],[100,1],[100,0]],[[99,10],[101,0],[100,1],[99,10]]]},"id":"test-id","properties":{"prop0":"value0","prop1":{"this":"that"}},"custom1":"jeroen"},{"type":"Feature","geometry":{"type":"MultiPolygon","coordinates":[[[[102,2],[103,2],[103,3],[102,2]]],[[[100,0],[101,0],[101,1],[100,1],[100,0]],[[100.2,0.2],[100.2,0.8],[100.2,0.2]]]]}},{"type":"Feature","geometry":{"type":"GeometryCollection","geometries":[{"type":"Point","coordinates":[100,0]},{"type":"LineString","coordinates":[[101,0],[102,1]]},{"type":"MultiPoint","coordinates":[[100,0],[101,1]]},{"type":"MultiLineString","coordinates":[[[100,0],[101,1]],[[102,2],[103,3]]]},{"type":"MultiPolygon","coordinates":[[[[102,2],[103,2],[103,3],[102,3],[102,2]]],[[[100,0],[101,0],[101,1],[100,1],[100,0]],[[100.2,0.2],[100.8,0.2],[100.8,0.8],[100.2,0.8],[100.2,0.2]]]]}]}}]} 



object.size

(

json

)




#>

 1776 bytes
object.size

(

pb

)




#>

 728 bytes
file.info

(

file

)

$

size




#>

 [1] 577
file.info

(

f

)

$

size




#>

 [1] 676





file

 

<-

 system.file

(

"examples/featurecollection1.geojson"

,
  package 

=

 

"geojson"

)




json

 

<-

 paste0

(

readLines

(

file

)

, collapse 

=

 

""

)




to_geobuf

(

json

)




#>

     [1] 0a 08 73 74 79 6c 65 55 72 6c 0a 09 73 74 79 6c 65 48 61 73 68 0a 04 5a


#>

    [25] 30 30 30 0a 04 5a 30 30 31 0a 04 5a 30 30 32 0a 04 5a 30 30 33 0a 05 43


#>

    [49] 4f 55 4e 54 0a 04 5a 30 30 34 0a 04 5a 30 30 35 0a 06 52 5f 43 4f 44 45


#>

    [73] 0a 06 52 45 47 49 4f 4e 10 03 18 06 22 b6 aa 01 0a b2 aa 01 0a aa a9 01


#>

    [97] 08 06 22 81 01 08 04 12 01 18 1a 7a c4 b3 af 73 e2 81 e9 0d 00 f5 12 b9


#>

   [121] 1d 00 9b 14 fb 1a 00 f7 19 e1 1e 00 c7 13 e9 1c 00 91 0a 87 0a 00 97 14


#>

   [145] a9 1f 00 83 08 eb 1f 00 a2 03 b9 07 00 ca 0b af 07 00 fe 0f 62 00 b4 1b


#>

   [169] 9a 0a 00 dc 0c 9a 08 00 e8 0f 8a 14 00 fc 0b d6 14 00 a6 12 ca 1b 00 a0


#>

   [193] 14 ee 17 00 c4 1c a4 1c 00 84 0a 92 17 00 96 0b be 25 00 ab 03 96 10 00


#>

   [217] cd 12 a8 07 00 c5 12 13 00 9b 16 d1 11 00 22 a0 a8 01 08 04 12 03 ea 25


#>

   [241] 5f 1a 95 a8 01 c0 a4 b9 73 f4 88 e6 0d 00 72 ea 02 00 b0 01 f2 02 00 02


#>

   [265] f8 01 00 7c 90 03 00 a2 01 92 03 00 ba 01 b8 02 00 d0 01 96 03 00 a6 01


#>

   [289] b8 03 00 9e 01 90 04 00 cc 01 dc 02 00 d4 02 c6 03 00 e2 01 0e 00 a4 02


#>

   [313] d4 06 00 a7 03 d6 01 00 7c a8 02 00 98 01 86 04 00 88 01 31 00 f8 03 c8


#>

   [337] 0a 00 81 03 a2 01 00 b0 02 9a 06 00 f4 02 63 00 ac 03 e4 05 00 e2 02 0a


#>

   [361] 00 98 01 b6 03 00 98 01 9a 03 00 85 04 8e 02 00 86 02 a2 05 00 d8 04 b6


#>

   [385] 0c 00 e2 02 1d 00 a0 01 bc 08 00 32 c4 05 00 e4 01 a0 03 00 d0 02 f2 01


#>

   [409] 00 90 05 c3 01 00 c0 05 25 00 ce 02 02 00 26 9c 01 00 a3 0a e2 03 00 12


#>

   [433] dc 01 00 64 ca 02 00 44 da 01 00 b8 01 74 00 9f 01 7e 00 11 c6 01 00 07


#>

   [457] ca 02 00 3e ec 01 00 e4 01 f6 01 00 ac 04 95 01 00 b4 01 dc 03 00 8b 03


#>

   [481] c0 01 00 8a 01 f2 02 00 1f 84 03 00 68 aa 03 00 da 01 9e 02 00 f0 01 4c


#>

   [505] 00 ca 04 07 00 90 01 d6 04 00 b3 01 90 01 00 d3 01 0a 00 00 a2 01 00 a2


#>

   [529] 01 3a 00 42 e4 01 00 d7 01 8a 01 00 59 b0 01 00 de 01 84 02 00 e2 01 16


#>

   [553] 00 de 01 42 00 29 8e 01 00 9b 01 64 00 72 8a 01 00 8a 01 e6 02 00 07 bc


#>

   [577] 02 00 ad 01 ca 01 00 00 c0 01 00 76 da 02 00 c0 01 9a 08 00 50 b8 01 00


#>

   [601] 45 c6 01 00 23 fc 01 00 a2 01 dc 03 00 ca 01 84 07 00 e0 01 86 06 00 b6


#>

   [625] 01 d8 04 00 80 02 dc 05 00 90 01 dc 03 00 14 a2 05 00 11 82 04 00 94 01


#>

   [649] 9e 02 00 aa 01 a0 04 00 3a ea 03 00 bc 02 2a 00 17 f8 01 00 17 66 00 81


#>

   [673] 03 48 00 77 a0 07 00 e4 01 e6 03 00 9a 01 d4 04 00 06 b4 03 00 eb 01 98


#>

   [697] 02 00 52 86 02 00 1a a6 03 00 52 ca 02 00 e8 01 82 02 00 61 b4 01 00 c8


#>

   [721] 01 f2 01 00 0e d0 01 00 1b 94 02 00 80 02 90 01 00 95 02 4a 00 8d 01 50


#>

   [745] 00 48 d0 01 00 b4 01 de 01 00 15 98 02 00 87 01 ca 02 00 18 d2 01 00 67


#>

   [769] 86 02 00 91 01 fa 01 00 02 d6 03 00 64 8e 05 00 8f 01 c0 05 00 1a 88 04


#>

   [793] 00 b0 01 dc 01 00 e6 01 19 00 aa 01 16 00 00 a6 02 00 6a 92 04 00 7c c0


#>

   [817] 05 00 b2 01 c0 06 00 10 90 04 00 95 01 86 01 00 61 72 00 5a e0 01 00 30


#>

   [841] cc 04 00 a0 01 c6 07 00 9a 02 94 09 00 40 9a 07 00 4e f8 06 00 24 bc 07


#>

   [865] 00 90 01 ca 06 00 be 01 90 05 00 23 c0 02 00 a5 07 c4 01 00 42 84 02 00


#>

   [889] 86 07 1b 00 c2 01 ec 01 00 ee 01 e8 06 00 b6 01 90 05 00 0d de 01 00 be


#>

   [913] 01 80 03 00 ce 02 88 08 00 b6 01 9c 08 00 94 01 b2 05 00 22 cc 05 00 b0


#>

   [937] 01 fc 03 00 8a 03 d8 05 00 90 02 a2 05 00 15 c8 02 00 95 01 c8 01 00 26


#>

   [961] 66 00 8a 01 03 00 9c 01 86 01 00 80 02 ea 03 00 90 02 8a 07 00 60 90 04


#>

   [985] 00 a1 03 50 00 54 ee 06 00 3c fa 01 00 46 a0 01 00 b6 03 c4 02 00 8c 02


#>

  [1009] be 01 00 76 ae 01 00 d2 02 d2 08 00 9e 03 86 07 00 ba 01 b4 03 00 7c e2


#>

  [1033] 05 00 98 01 b0 04 00 c0 01 92 02 00 a6 02 9e 04 00 d0 02 82 05 00 88 01


#>

  [1057] bc 02 00 66 a2 03 00 5c ee 02 00 c0 01 ac 02 00 94 01 a6 05 00 4e cc 02


#>

  [1081] 00 d8 01 a8 02 00 a4 01 fa 01 00 4e ce 01 00 84 01 1c 00 ee 01 d4 02 00


#>

  [1105] 1d 9e 01 00 04 86 01 00 ba 05 ca 07 00 d2 01 90 02 00 b6 01 da 01 00 c6


#>

  [1129] 04 a4 0b 00 82 01 bc 02 00 7a a0 01 00 9a 01 8c 01 00 24 82 02 00 16 ba


#>

  [1153] 01 00 8c 01 c8 01 00 ff 02 8e 03 00 00 8a 01 00 70 ae 01 00 f2 01 31 00


#>

  [1177] 92 01 35 00 82 01 fc 01 00 52 ac 03 00 6c e0 02 00 66 ac 01 00 d4 01 8e


#>

  [1201] 01 00 d4 01 b8 01 00 5e d2 01 00 16 a0 01 00 62 a6 01 00 46 8e 01 00 24


#>

  [1225] b8 03 00 52 cc 04 00 66 d6 02 00 d2 01 da 02 00 b0 03 84 03 00 96 06 d2


#>

  [1249] 05 00 86 02 e2 01 00 6c e0 01 00 8c 01 82 02 00 ea 02 92 03 00 e8 02 e2


#>

  [1273] 03 00 f4 01 8a 02 00 d8 05 a4 04 00 98 03 a4 03 00 f8 01 aa 02 00 b0 02


#>

  [1297] f0 02 00 b6 02 c6 02 00 84 01 90 01 00 b2 01 7c 00 30 75 00 8b 02 a7 02


#>

  [1321] 00 a5 03 c7 03 00 5d 97 01 00 8a 01 47 00 9e 0b 86 09 00 e8 03 ca 02 00


#>

  [1345] f0 01 02 00 8c 02 34 00 c2 01 4e 00 e8 02 55 00 fa 01 0b 00 ec 02 aa 01


#>

  [1369] 00 b8 01 7a 00 b8 02 05 00 ca 01 80 01 00 16 e2 01 00 2a 8a 01 00 d8 01


#>

  [1393] ca 01 00 ae 01 92 01 00 4a cc 02 00 19 f2 02 00 3f b0 02 00 00 9a 01 00


#>

  [1417] b2 02 4a 00 8a 02 5d 00 fe 01 31 00 f4 02 58 00 c4 03 cc 01 00 b6 03 fa


#>

  [1441] 01 00 b8 01 a6 01 00 92 01 aa 01 00 b2 02 3e 00 9c 02 5e 00 92 01 1f 00


#>

  [1465] 60 8d 01 00 34 c7 01 00 b0 01 65 00 26 a9 01 00 c0 01 e5 03 00 8a 01 ed


#>

  [1489] 01 00 aa 01 b9 01 00 5a 93 01 00 a9 01 91 01 00 f1 02 7e 00 87 03 cc 01


#>

  [1513] 00 d9 01 6a 00 b7 01 0a 00 bb 01 45 00 87 01 93 01 00 40 97 03 00 30 ad


#>

  [1537] 02 00 02 b7 02 00 02 97 02 00 c0 01 ff 02 00 4c b1 01 00 45 61 00 9f 01


#>

  [1561] 4f 00 23 9f 01 00 f4 01 ef 05 00 c4 01 fd 02 00 b0 01 f7 01 00 3a d7 01


#>

  [1585] 00 27 99 03 00 3a b3 01 00 a6 02 a1 01 00 ba 01 bd 01 00 b4 01 cd 01 00


#>

  [1609] be 03 dd 01 00 fa 02 dd 01 00 80 02 91 02 00 b8 02 25 00 e8 01 c7 01 00


#>

  [1633] 92 03 95 01 00 b8 02 68 00 ba 01 c5 01 00 8e 01 2f 00 9c 02 2a 00 aa 01


#>

  [1657] 89 01 00 10 c3 01 00 5a 51 00 90 03 30 00 98 01 31 00 2c d7 01 00 23 c3


#>

  [1681] 01 00 9c 01 d5 01 00 fc 02 bf 01 00 ba 01 a5 01 00 a8 03 0c 00 e2 01 38


#>

  [1705] 00 c8 02 8b 02 00 b4 01 a5 01 00 ae 04 6d 00 fe 04 6f 00 e0 02 b1 01 00


#>

  [1729] aa 02 63 00 be 01 71 00 a0 02 31 00 a0 03 38 00 c6 02 4f 00 9c 02 cb 01


#>

  [1753] 00 ae 02 4b 00 d4 01 5d 00 3e ab 01 00 bb 01 a1 01 00 c7 03 af 01 00 8d


#>

  [1777] 01 97 01 00 de 02 67 00 8a 08 18 00 d8 05 19 00 b4 05 74 00 c8 06 03 00


#>

  [1801] fa 02 4e 00 9c 04 ca 02 00 a4 03 c4 01 00 fa 01 21 00 9c 02 1c 00 96 01


#>

  [1825] 9e 02 00 cc 01 9c 06 00 58 d2 02 00 a4 01 c0 01 00 a0 01 c2 01 00 74 c2


#>

  [1849] 02 00 92 01 03 00 d6 01 af 01 00 9a 03 63 00 a6 02 21 00 d6 01 a5 02 00


#>

  [1873] fc 01 bd 02 00 b4 03 a3 01 00 ae 03 4f 00 b6 02 ba 01 00 36 ea 01 00 76


#>

  [1897] 70 00 ca 01 08 00 b0 02 af 01 00 b8 02 02 00 aa 06 94 02 00 88 02 22 00


#>

  [1921] 8e 01 dd 01 00 a2 01 d5 01 00 f0 01 10 00 ce 01 9a 01 00 70 7e 00 9c 01


#>

  [1945] 61 00 8e 01 77 00 b8 02 2c 00 88 01 fc 01 00 8c 01 c4 02 00 c6 01 72 00


#>

  [1969] d4 02 2c 00 86 03 6c 00 d0 01 9a 01 00 c4 03 98 01 00 bc 08 da 01 00 c4


#>

  [1993] 01 9c 02 00 c4 01 ca 02 00 a4 02 4c 00 6a 91 01 00 3e cd 01 00 96 04 0b


#>

  [2017] 00 de 01 5e 00 92 01 84 01 00 f2 01 37 00 ae 02 0e 00 e6 02 da 02 00 d8


#>

  [2041] 03 cc 05 00 d6 01 f4 02 00 8a 02 c4 04 00 bc 02 80 06 00 d4 01 f8 06 00


#>

  [2065] 5a b6 05 00 c8 01 92 03 00 cc 03 ac 03 00 fc 01 aa 04 00 80 02 a8 04 00


#>

  [2089] ba 02 82 04 00 8e 03 d6 02 00 ca 02 8e 02 00 ce 01 aa 02 00 c0 01 ac 03


#>

  [2113] 00 78 c2 03 00 47 78 00 e7 01 5a 00 13 e8 01 00 82 01 ce 02 00 be 01 9e


#>

  [2137] 05 00 66 e4 03 00 be 01 a0 03 00 f8 01 d6 03 00 ac 01 98 03 00 2c a2 03


#>

  [2161] 00 1f b6 02 00 0e b8 01 00 01 ea 02 00 9a 01 88 03 00 62 fa 02 00 08 82


#>

  [2185] 03 00 a8 03 b0 02 00 94 03 c0 02 00 82 02 92 03 00 1e f8 02 00 1a fe 02


#>

  [2209] 00 4e 86 02 00 01 82 03 00 25 98 01 00 1e 82 03 00 b6 01 aa 02 00 9a 02


#>

  [2233] b6 02 00 52 fa 02 00 6d 8a 03 00 57 86 04 00 93 01 dc 02 00 31 d0 04 00


#>

  [2257] 7e f2 03 00 6e ee 03 00 7f 9a 02 00 21 8a 02 00 4a 98 02 00 1a 90 02 00


#>

  [2281] 12 ea 02 00 7a dc 01 00 86 02 c8 02 00 e0 01 ea 02 00 62 8e 02 00 54 ac


#>

  [2305] 01 00 9a 03 ec 01 00 a4 01 fc 01 00 6e 94 03 00 4e 96 03 00 d6 01 b8 03


#>

  [2329] 00 78 d2 03 00 86 02 94 03 00 ac 01 c2 02 00 44 94 02 00 ea 01 a6 01 00


#>

  [2353] fa 02 96 01 00 ee 02 be 02 00 a4 01 ba 02 00 5c d6 02 00 24 8a 02 00 b2


#>

  [2377] 03 f0 01 00 8c 06 8a 04 00 ec 03 e8 03 00 8c 02 c2 01 00 ca 02 e0 01 00


#>

  [2401] 86 03 e2 02 00 90 03 86 01 00 d2 04 4a 00 f8 04 b4 01 00 b8 05 9a 02 00


#>

  [2425] 9e 04 7a 00 a8 05 13 00 ca 02 0a 00 f4 02 ac 01 00 ec 01 70 00 fe 02 6c


#>

  [2449] 00 90 03 94 02 00 f8 02 a2 02 00 9e 03 b8 01 00 e0 04 dc 02 00 be 08 c3


#>

  [2473] 06 00 f0 01 42 00 3c a8 02 00 ba 02 9a 02 00 8a 03 de 04 00 d2 01 e6 02


#>

  [2497] 00 a8 01 e8 01 00 62 f4 02 00 bc 01 96 02 00 6c 78 00 2e e4 01 00 bc 01


#>

  [2521] 90 02 00 66 e0 01 00 6c 9a 02 00 ca 02 d4 01 00 94 03 90 01 00 a4 03 08


#>

  [2545] 00 8a 02 b9 01 00 da 02 95 03 00 a0 03 f7 02 00 8a 06 a3 04 00 ec 01 75


#>

  [2569] 00 3e 81 01 00 00 ad 01 00 d6 01 ad 01 00 f2 0b ef 06 00 98 02 6b 00 d0


#>

  [2593] 01 ad 01 00 56 c7 01 00 b4 01 93 01 00 dc 04 cf 01 00 92 03 11 00 8e 02


#>

  [2617] 61 00 7c 91 01 00 18 97 01 00 52 a3 01 00 8c 03 7f 00 9c 02 37 00 82 03


#>

  [2641] 37 00 b8 04 f5 02 00 94 02 77 00 9a 02 69 00 9e 02 59 00 a2 02 4d 00 a6


#>

  [2665] 02 3b 00 a8 02 31 00 aa 02 21 00 ac 02 13 00 ac 02 03 00 ac 02 0c 00 ac


#>

  [2689] 02 1a 00 aa 02 28 00 a8 02 36 00 f6 02 b8 01 00 fc 02 ac 01 00 82 03 a0


#>

  [2713] 01 00 88 03 90 01 00 8c 03 82 01 00 92 03 74 00 94 03 64 00 98 03 56 00


#>

  [2737] 9c 03 4a 00 9e 03 3a 00 a0 03 2a 00 a0 03 1c 00 ac 05 8a 08 00 85 09 d4


#>

  [2761] 01 00 ed 05 70 00 af 07 98 01 00 e3 15 f2 08 00 cb 03 cc 02 00 a3 07 9a


#>

  [2785] 06 00 d3 02 e6 03 00 db 01 86 03 00 99 01 ce 02 00 65 88 03 00 4f 98 03


#>

  [2809] 00 07 b8 03 00 1e c8 03 00 58 ba 08 00 22 be 03 00 80 01 b2 03 00 60 f2


#>

  [2833] 02 00 b8 01 f4 03 00 b8 01 8c 04 00 c0 01 d4 04 00 a2 01 f4 0a 00 41 d0


#>

  [2857] 03 00 c9 01 d8 03 00 bb 02 c8 03 00 e9 01 d6 02 00 8f 03 e2 02 00 f7 02


#>

  [2881] fa 02 00 e7 0a 9e 09 00 fb 03 cc 03 00 db 11 90 0f 00 f3 04 be 04 00 bb


#>

  [2905] 08 aa 08 00 d9 01 72 00 83 02 7a 00 c1 01 84 01 00 ab 01 88 01 00 d3 06


#>

  [2929] ea 04 00 8d 01 4c 00 75 48 00 0d 0e 00 5d 4c 00 53 56 00 45 28 00 7f 0c


#>

  [2953] 00 7f 20 00 6b 34 00 71 46 00 5d 46 00 cf 01 88 01 00 a5 01 40 00 91 01


#>

  [2977] 56 00 f3 02 c2 01 00 41 18 00 dd 01 74 00 bb 01 3a 00 b7 01 5c 00 a9 02


#>

  [3001] ac 01 00 59 44 00 95 01 4a 00 8d 01 62 00 71 60 00 75 6e 00 c5 01 ce 01


#>

  [3025] 00 89 01 7c 00 59 46 00 5d 58 00 7f 52 00 ad 01 86 01 00 fd 01 bc 01 00


#>

  [3049] 1f 20 00 6d 5c 00 b7 01 64 00 9b 01 6c 00 eb 01 dc 01 00 b1 02 8a 02 00


#>

  [3073] 6b 80 01 00 4f 8a 01 00 87 01 b4 01 00 87 01 94 01 00 67 92 01 00 79 a8


#>

  [3097] 01 00 41 94 01 00 4f 9c 01 00 29 b6 01 00 71 9e 02 00 95 01 e8 02 00 e1


#>

  [3121] 01 9e 03 00 3d a2 01 00 61 b6 01 00 65 8e 01 00 59 8c 01 00 95 01 e0 01


#>

  [3145] 00 a3 01 ca 02 00 95 02 e4 02 00 b7 01 ec 01 00 9f 01 b2 02 00 19 38 00


#>

  [3169] 2b 64 00 25 34 00 97 01 b4 01 00 a3 01 be 01 00 29 38 00 91 01 9c 01 00


#>

  [3193] ad 01 9c 01 00 8d 01 74 00 9f 01 6c 00 9f 01 5e 00 71 40 00 cc 0a e8 29


#>

  [3217] 00 f8 03 8e 09 00 e8 02 de 05 00 7c ee 03 00 12 ac 03 00 49 84 04 00 b9


#>

  [3241] 01 c4 08 00 99 01 9e 0a 00 87 01 90 0a 00 c3 01 d4 0a 00 51 f8 08 00 ab


#>

  [3265] 01 b8 08 00 81 01 8c 06 00 83 02 ba 0f 00 cb 01 e8 08 00 a1 01 e8 08 00


#>

  [3289] 39 96 05 00 ae 01 ca 04 00 de 01 bc 04 00 d8 03 84 08 00 96 05 92 0b 00


#>

  [3313] ac 06 ea 0f 00 b2 06 fa 0d 00 9c 01 ca 04 00 10 cc 02 00 05 36 00 3f b6


#>

  [3337] 02 00 57 d8 01 00 9b 01 82 03 00 db 0c 96 28 00 bf 09 f6 1b 00 a7 0e 80


#>

  [3361] 2c 00 c9 01 fa 04 00 9b 0e c8 2c 00 f1 05 9e 12 00 87 02 b2 06 00 98 01


#>

  [3385] b0 02 00 cc 03 b8 02 00 8c 05 b8 03 00 d4 09 e8 08 00 ea 08 a0 07 00 d8


#>

  [3409] 06 be 05 00 ac 0d e2 0b 00 88 0d 9c 0b 00 f8 0d 84 0c 00 f8 0c d4 0a 00


#>

  [3433] 1e 1a 00 b8 36 ac 40 00 10 0e 00 a0 05 e6 04 00 b6 0b d4 06 00 cc 04 f4


#>

  [3457] 03 00 f8 03 8e 03 00 f0 04 48 00 b6 03 54 00 ec 01 94 01 00 ce 02 a4 04


#>

  [3481] 00 c8 02 9e 03 00 d4 04 f4 04 00 fc 02 aa 01 00 48 0e 00 a4 05 96 01 00


#>

  [3505] a0 08 bc 01 00 ea 05 98 02 00 86 04 a0 03 00 94 03 e2 03 00 12 1e 00 b8


#>

  [3529] 03 ac 05 00 9c 05 be 0f 00 9a 01 da 04 00 59 a2 03 00 cf 01 a4 03 00 03


#>

  [3553] b8 02 00 cc 01 8e 05 00 1e 86 05 00 93 01 d0 03 00 a3 02 9c 02 00 db 01


#>

  [3577] 84 01 00 4d f6 01 00 18 aa 02 00 b5 01 ee 01 00 f3 01 f0 02 00 81 01 96


#>

  [3601] 04 00 81 01 ea 01 00 b1 01 fc 01 00 23 ec 01 00 60 ac 02 00 18 94 02 00


#>

  [3625] 3d 90 03 00 10 88 05 00 be 01 b2 08 00 11 ae 02 00 75 ba 02 00 11 dc 02


#>

  [3649] 00 8a 01 f4 02 00 bc 01 ee 05 00 8a 01 f0 04 00 8f 01 92 04 00 89 01 9e


#>

  [3673] 03 00 44 f2 01 00 f4 01 a2 04 00 f2 04 cc 07 00 e2 03 e0 07 00 d6 02 c8


#>

  [3697] 04 00 ec 01 b2 03 00 50 ea 01 00 d4 01 c4 01 00 74 d8 02 00 58 ec 02 00


#>

  [3721] be 01 de 02 00 dc 02 e6 03 00 c2 03 c2 03 00 be 06 b2 04 00 c0 03 e8 02


#>

  [3745] 00 9a 02 f2 02 00 5e a2 02 00 41 f0 02 00 f7 02 cc 06 00 cf 03 8c 08 00


#>

  [3769] 9b 01 fe 03 00 d5 01 f6 07 00 08 92 03 00 2a 9a 04 00 0b da 05 00 b6 05


#>

  [3793] fa 11 00 3f e4 06 00 bb 01 c2 05 00 d1 02 ea 07 00 e9 02 c6 07 00 eb 02


#>

  [3817] f8 08 00 dd 02 a0 08 00 99 03 8a 0b 00 0f ee 02 00 0b d6 04 00 29 d6 03


#>

  [3841] 00 43 b2 04 00 43 ea 04 00 fb 01 ba 02 00 89 01 de 03 00 7f 94 02 00 0b


#>

  [3865] 9e 01 00 4a 80 02 00 6a c0 01 00 b4 01 d2 02 00 4c ec 01 00 01 c4 01 00


#>

  [3889] 69 de 01 00 1f a6 02 00 24 62 00 7e 9a 01 00 8e 01 74 00 b0 01 9c 01 00


#>

  [3913] c8 01 e4 01 00 52 5c 00 0a 4c 00 09 34 00 35 5c 00 71 7c 00 c7 01 dc 01


#>

  [3937] 00 a3 01 b4 01 00 8f 01 36 00 eb 01 0d 00 d3 01 0a 00 77 7c 00 3f 6e 00


#>

  [3961] 3d 88 02 00 0b ea 01 00 16 b2 01 00 8e 01 a0 01 00 dc 01 9c 01 00 92 01


#>

  [3985] 7e 00 30 70 00 0c da 02 00 16 a4 02 00 34 b2 01 00 08 9e 01 00 19 ea 01


#>

  [4009] 00 2a cc 01 00 2c 78 00 0f 86 01 00 2d 6e 00 3f 44 00 d9 01 50 00 e3 02


#>

  [4033] 6c 00 89 01 62 00 b3 01 94 02 00 c5 01 ea 01 00 05 b2 01 00 4e b8 01 00


#>

  [4057] 36 a8 01 00 0f 80 01 00 3b 66 00 77 7c 00 af 01 94 01 00 dd 01 98 01 00


#>

  [4081] 99 02 f2 01 00 a7 01 7e 00 c5 01 84 01 00 8f 01 64 00 ad 02 82 01 00 77


#>

  [4105] 86 01 00 08 8e 01 00 44 7c 00 8e 01 4e 00 c4 02 72 00 4e 44 00 26 9e 01


#>

  [4129] 00 01 86 01 00 31 90 01 00 45 66 00 29 f4 01 00 35 f2 02 00 1f b8 02 00


#>

  [4153] 37 8c 02 00 23 d4 01 00 20 be 01 00 92 01 92 01 00 dc 01 be 01 00 b6 01


#>

  [4177] 30 00 dc 01 46 00 84 01 64 00 34 b0 01 00 90 01 8a 03 00 5c aa 01 00 40


#>

  [4201] 4e 00 80 01 4e 00 76 52 00 94 01 60 00 62 44 00 7a 3a 00 72 0c 00 94 01


#>

  [4225] 13 00 86 01 2d 00 d0 01 07 00 8e 01 02 00 66 5c 00 1c 66 00 16 b4 03 00


#>

  [4249] 36 56 00 b0 01 0e 00 7c 17 00 76 3c 00 44 6c 00 06 94 03 00 0e 8e 01 00


#>

  [4273] 84 01 88 01 00 c4 01 44 00 c4 01 24 00 f6 01 34 00 94 01 1f 00 86 01 5b


#>

  [4297] 00 80 01 59 00 9e 01 a5 01 00 86 01 13 00 4e 44 00 3a 56 00 0c 8a 03 00


#>

  [4321] fa 02 96 03 00 92 01 88 01 00 76 ce 01 00 92 01 8a 01 00 76 92 01 00 18


#>

  [4345] 6a 00 21 9c 01 00 0b 96 01 00 3c 9a 01 00 6e 46 00 94 01 0e 00 9a 01 20


#>

  [4369] 00 78 5c 00 38 ba 01 00 0f 94 01 00 77 a8 02 00 1d d6 01 00 42 e0 01 00


#>

  [4393] 7c 68 00 a2 01 5e 00 fa 01 56 00 56 84 01 00 12 98 01 00 85 01 2c 00 e5


#>

  [4417] 01 13 00 f7 01 9f 01 00 ad 01 01 00 57 6e 00 26 98 01 00 be 01 88 02 00


#>

  [4441] 68 54 00 96 01 ba 03 00 7c 88 02 00 1d 6e 00 91 01 96 01 00 1d 82 01 00


#>

  [4465] 38 84 01 00 86 07 9a 06 00 e4 04 8e 03 00 b4 02 28 00 fa 01 65 00 7e 5b


#>

  [4489] 00 b6 01 1c 00 86 01 42 00 68 84 01 00 27 d8 01 00 08 d6 01 00 7a e4 02


#>

  [4513] 00 00 68 00 c7 02 f2 01 00 4d d6 01 00 57 b2 01 00 4d d6 01 00 1f f4 01


#>

  [4537] 00 01 aa 02 00 13 9e 01 00 12 7a 00 97 02 2e 00 2f 70 00 12 96 01 00 82


#>

  [4561] 02 88 02 00 a2 01 88 02 00 1d 94 01 00 d7 01 c8 01 00 a3 01 2e 00 ff 01


#>

  [4585] 35 00 e9 01 02 00 7d 94 01 00 a1 01 dc 01 00 17 ae 02 00 3b 96 01 00 91


#>

  [4609] 01 f0 01 00 1d 98 01 00 31 c8 02 00 9b 01 88 01 00 d3 01 10 00 81 02 c5


#>

  [4633] 01 00 99 01 13 00 9b 04 94 02 00 7d 70 00 31 c4 01 00 7d a6 01 00 7d 2e


#>

  [4657] 00 85 01 2f 00 ab 01 83 01 00 c1 01 06 00 c1 01 d8 01 00 4d c4 01 00 3b


#>

  [4681] f2 01 00 7f 9a 02 00 4d d6 01 00 01 b0 01 00 e9 03 2c 00 ab 02 66 00 a1


#>

  [4705] 02 84 02 00 a1 02 96 02 00 93 01 f6 02 00 1d b0 01 00 87 01 40 00 8f 01


#>

  [4729] 01 00 c9 01 5d 00 b1 02 43 00 e5 01 01 00 d3 01 1a 00 b7 01 d8 01 00 75


#>

  [4753] c4 01 00 e5 01 2c 00 b3 02 94 01 00 4d 82 01 00 4f ac 01 00 3b c4 01 00


#>

  [4777] 61 94 01 00 a1 02 f2 01 00 b5 01 2f 00 8f 01 01 00 a3 01 2e 00 7d 82 01


#>

  [4801] 00 73 82 01 00 83 02 c2 01 00 b5 02 e8 01 00 87 01 5c 00 e7 01 d4 01 00


#>

  [4825] 69 40 00 89 03 2f 00 bf 01 5c 00 8f 01 82 01 00 6b c4 01 00 87 01 d6 01


#>

  [4849] 00 9b 01 9a 02 00 9b 02 cc 05 00 9b 01 f6 02 00 45 ac 02 00 01 d6 01 00


#>

  [4873] 4a 86 02 00 98 01 72 00 dc 01 84 01 00 04 f4 01 00 cd 01 e8 03 00 df 02


#>

  [4897] ca 05 00 57 a4 02 00 44 98 02 00 80 01 b4 02 00 1d aa 01 00 cf 04 a0 02


#>

  [4921] 00 83 02 98 01 00 49 ee 01 00 01 a6 02 00 48 9a 01 00 d4 02 ac 02 00 38


#>

  [4945] aa 01 00 6b 88 06 00 e9 01 f8 02 00 99 01 80 01 00 c3 01 10 00 b7 01 27


#>

  [4969] 00 f9 04 a9 03 00 7b 12 00 3b 3c 00 b5 06 ae 06 00 81 04 c8 05 00 91 02


#>

  [4993] fc 02 00 29 7a 00 01 b6 01 00 a9 04 c6 06 00 26 9a 01 00 68 a0 02 00 b2


#>

  [5017] 01 7c 00 a0 01 6a 00 60 cc 02 00 20 f0 01 00 23 e4 01 00 26 a8 01 00 ac


#>

  [5041] 01 fe 01 00 34 7c 00 35 88 01 00 f9 02 9e 04 00 2f d0 01 00 4e 9c 01 00


#>

  [5065] c6 01 a2 01 00 20 d6 01 00 2f aa 01 00 b1 0c cc 06 00 3d 5a 00 06 42 00


#>

  [5089] 88 01 94 03 00 00 6e 00 97 01 80 04 00 12 a2 01 00 9c 03 de 08 00 0b a0


#>

  [5113] 01 00 c3 03 b2 08 00 c9 01 92 04 00 8e 06 f0 03 00 f6 05 c6 06 00 64 88


#>

  [5137] 01 00 d6 03 ae 0a 00 7c c2 03 00 74 96 0f 00 06 46 00 0a 80 01 00 1c f6


#>

  [5161] 02 00 30 a4 04 00 d6 06 b6 02 00 76 a4 05 00 2a 98 04 00 6a ee 05 00 67


#>

  [5185] f4 01 00 0b a8 01 00 d0 04 d4 0a 00 1e ac 01 00 35 5e 00 55 48 00 b3 03


#>

  [5209] c4 02 00 3f 6c 00 1d de 01 00 01 8a 02 00 3a 64 00 9a 02 b2 01 00 64 94


#>

  [5233] 01 00 ea 01 ac 05 00 06 12 00 ca 01 80 04 00 9a 01 a4 01 00 d8 03 ec 02


#>

  [5257] 00 92 02 92 03 00 5a 5c 00 d4 03 d4 02 00 98 02 9e 03 00 84 01 6e 00 ce


#>

  [5281] 04 f2 07 00 7a 9c 01 00 47 ca 02 00 0a 88 01 00 f2 03 bc 04 00 72 d6 01


#>

  [5305] 00 fa 02 8c 02 00 6e b8 01 00 8e 01 ec 02 00 9a 07 96 05 00 f0 03 ba 02


#>

  [5329] 00 a2 02 14 00 ce 06 7f 00 e4 04 55 00 be 05 69 00 ec 04 43 00 f8 01 4d


#>

  [5353] 00 c2 06 a9 04 00 ec 01 a9 01 00 b6 02 31 00 92 03 0c 00 c8 01 1a 00 ce


#>

  [5377] 05 a4 02 00 92 08 8e 02 00 86 02 68 00 fc 01 ba 01 00 b6 04 a2 04 00 c4


#>

  [5401] 04 d4 04 00 7c aa 01 00 a6 04 a2 06 00 a4 03 ea 04 00 f0 01 ba 02 00 9e


#>

  [5425] 01 72 00 fa 12 f4 02 00 fc 03 8c 01 00 f0 07 a8 02 00 86 02 14 00 b6 01


#>

  [5449] 45 00 9c 06 f5 04 00 4a c5 01 00 14 b3 01 00 22 69 00 96 01 15 00 ca 01


#>

  [5473] 2f 00 a4 01 4b 00 88 01 7f 00 48 8f 01 00 4c 95 01 00 8a 07 dd 06 00 e0


#>

  [5497] 01 7b 00 cc 05 3b 00 d4 0c 71 00 88 01 27 00 84 01 4b 00 72 7f 00 64 af


#>

  [5521] 01 00 10 9d 02 00 2f c1 02 00 11 cf 04 00 34 e5 03 00 3e 9d 01 00 aa 01


#>

  [5545] 75 00 b0 02 65 00 96 01 27 00 a6 01 95 01 00 5a 35 00 ea 01 02 00 c4 08


#>

  [5569] c2 01 00 f8 02 74 00 ca 09 35 00 dc 01 07 00 7e 20 00 1a 90 01 00 39 fe


#>

  [5593] 01 00 3d a8 01 00 01 b4 01 00 96 01 24 00 e0 01 07 00 9e 01 5c 00 ca 01


#>

  [5617] a0 02 00 ca 02 f0 01 00 fe 02 96 01 00 9a 01 49 00 b0 03 b9 01 00 b2 01


#>

  [5641] 33 00 ca 03 1a 00 86 04 ac 01 00 f4 02 8e 02 00 ae 02 94 02 00 96 02 e0


#>

  [5665] 01 00 32 98 01 00 25 92 01 00 d1 01 dc 03 00 1d 98 01 00 2e be 01 00 9e


#>

  [5689] 01 da 01 00 28 ba 01 00 0b 80 02 00 3c a0 01 00 96 01 4a 00 da 02 10 00


#>

  [5713] b6 04 51 00 d4 03 0c 00 fe 02 62 00 5e 0e 00 46 0b 00 c2 04 c9 08 00 da


#>

  [5737] 03 dd 07 00 4c 5f 00 d4 01 3d 00 b6 01 45 00 80 01 9f 01 00 44 af 01 00


#>

  [5761] 22 5f 00 b0 02 3b 00 6c 15 00 70 73 00 7c 91 01 00 ac 02 a3 01 00 80 02


#>

  [5785] 19 00 5e 5c 00 72 dc 01 00 62 72 00 36 00 00 40 35 00 84 02 a7 04 00 36


#>

  [5809] 23 00 3c 25 00 ba 02 31 00 aa 01 6f 00 e8 01 07 00 f6 03 14 00 d2 01 0d


#>

  [5833] 00 de 02 39 00 8c 02 0c 00 a0 02 36 00 c8 02 30 00 ce 02 12 00 6a 1d 00


#>

  [5857] 82 01 41 00 90 01 89 01 00 20 6f 00 46 6f 00 74 85 01 00 70 15 00 7c 2b


#>

  [5881] 00 56 43 00 dc 02 e5 02 00 b8 03 f9 02 00 86 02 df 01 00 de 01 9b 01 00


#>

  [5905] 90 02 7d 00 fe 02 47 00 d6 02 7d 00 da 02 83 01 00 9a 03 8d 01 00 98 02


#>

  [5929] ad 01 00 36 4d 00 da 01 81 03 00 68 41 00 de 01 41 00 9a 04 3f 00 44 00


#>

  [5953] 00 ce 02 ba 02 00 50 b2 02 00 48 a0 03 00 4e a4 03 00 a4 02 d8 02 00 bc


#>

  [5977] 02 f8 01 00 94 01 d0 03 00 24 8e 03 00 99 01 f2 02 00 af 02 f0 02 00 cb


#>

  [6001] 03 f6 02 00 f3 04 de 03 00 b1 03 b8 03 00 c7 01 ba 02 00 13 8c 03 00 12


#>

  [6025] a8 04 00 1f fc 05 00 31 ba 07 00 5b f8 06 00 d3 01 a8 0b 00 67 8c 06 00


#>

  [6049] 99 01 9e 05 00 d3 01 9c 06 00 99 02 9c 07 00 b3 03 e2 08 00 ff 02 92 07


#>

  [6073] 00 78 d0 06 00 05 82 03 00 fa 09 90 21 00 8e 0d b6 25 00 b2 07 96 15 00


#>

  [6097] ee 01 fe 0d 00 90 02 a2 0c 00 94 01 92 08 00 d0 01 dc 06 00 84 01 a4 04


#>

  [6121] 00 ea 03 cc 0a 00 f2 03 a0 08 00 e8 03 8e 08 00 c8 03 82 07 00 ce 06 ec


#>

  [6145] 02 00 f6 05 4d 00 b2 05 85 03 00 ba 01 86 01 00 fe 04 d6 03 00 d6 06 88


#>

  [6169] 05 00 8a 06 86 05 00 ce 03 b4 05 00 9c 01 d2 05 00 2d ec 04 00 cf 01 9c


#>

  [6193] 04 00 4e d6 03 00 b8 01 92 04 00 cc 01 ce 05 00 a0 01 de 04 00 a0 02 92


#>

  [6217] 06 00 4f 90 04 00 bf 01 a4 03 00 8b 02 d2 04 00 71 fe 04 00 83 01 f8 04


#>

  [6241] 00 c9 02 90 06 00 d9 03 a6 06 00 8b 02 b2 04 00 fb 02 f0 02 00 a3 06 ce


#>

  [6265] 06 00 db 04 ec 05 00 ad 02 ae 04 00 8d 02 b2 05 00 ad 02 f4 06 00 cb 05


#>

  [6289] f6 07 00 d9 04 a4 07 00 e1 02 ca 05 00 cf 02 a0 05 00 c9 03 fc 05 00 b5


#>

  [6313] 04 d6 03 00 bf 05 9c 05 00 b1 02 f0 03 00 65 cc 03 00 0d b0 04 00 1d 8e


#>

  [6337] 07 00 32 b4 07 00 b6 01 96 08 00 f4 02 94 08 00 b2 01 f8 06 00 4d e6 02


#>

  [6361] 00 c7 02 f2 01 00 91 03 94 01 00 89 05 e6 02 00 8d 07 ae 03 00 99 08 e4


#>

  [6385] 02 00 a9 07 9c 02 00 9f 06 a4 02 00 a7 07 ba 01 00 d5 06 4b 00 9b 04 48


#>

  [6409] 00 97 03 be 02 00 fd 03 f2 03 00 fd 03 ba 05 00 e1 03 ea 04 00 af 03 cc


#>

  [6433] 01 00 b5 03 4b 00 df 02 f1 01 00 97 03 df 03 00 fd 03 f7 03 00 97 03 c1


#>

  [6457] 03 00 e7 01 c1 03 00 5f f7 03 00 41 8f 05 00 80 01 ab 06 00 f2 01 9d 06


#>

  [6481] 00 92 01 a5 05 00 3d a3 04 00 d1 02 f1 02 00 9f 06 a3 03 00 e9 07 a7 04


#>

  [6505] 00 9f 0b cb 04 00 cf 06 81 02 00 e3 03 b6 01 00 b1 02 d2 03 00 fd 01 92


#>

  [6529] 03 00 af 01 d2 03 00 a1 02 96 01 00 9f 04 62 00 9f 02 6c 00 eb 04 9a 02


#>

  [6553] 00 b7 03 c0 01 00 a7 01 8a 03 00 cd 02 d0 03 00 ab 04 c4 04 00 ed 02 ee


#>

  [6577] 03 00 bb 01 d6 03 00 19 c2 03 00 7d e2 02 00 8d 02 84 02 00 f1 01 b2 02


#>

  [6601] 00 01 1c 00 1b a6 02 00 d2 01 d6 03 00 84 02 98 05 00 80 03 80 05 00 e4


#>

  [6625] 01 8e 04 00 19 bc 01 00 8f 01 a6 01 00 9b 03 fc 02 00 f7 03 da 02 00 97


#>

  [6649] 05 ca 03 00 fd 01 76 00 e1 01 8e 02 00 4f a6 02 00 2a fc 02 00 38 f2 01


#>

  [6673] 00 07 d4 03 00 67 fc 02 00 f7 02 e0 02 00 fb 04 1e 00 b1 05 41 00 ad 06


#>

  [6697] a7 01 00 fd 05 cf 03 00 91 05 b3 03 00 fb 02 29 00 bf 02 b0 02 00 7d ee


#>

  [6721] 03 00 47 9a 06 00 b5 03 ba 09 00 99 01 94 03 00 cd 02 88 03 00 f3 01 d0


#>

  [6745] 02 00 a3 02 98 02 00 9b 02 e0 01 00 a1 02 56 00 9b 06 25 00 fb 02 bb 01


#>

  [6769] 00 af 02 e3 01 00 f7 0a a5 04 00 28 8b 02 00 76 c1 02 00 e4 03 af 03 00


#>

  [6793] c2 03 df 02 00 b4 02 c5 01 00 86 01 c1 01 00 1a b9 01 00 2f a9 01 00 ab


#>

  [6817] 01 d3 02 00 f1 02 d5 02 00 a3 03 87 02 00 a1 08 93 03 00 b5 07 e7 01 00


#>

  [6841] 89 02 27 00 91 03 36 00 ad 04 74 00 af 03 c0 02 00 fb 02 f8 02 00 ef 04


#>

  [6865] de 05 00 e9 01 ba 02 00 20 aa 02 00 08 ca 01 00 d5 01 b4 01 00 bb 02 02


#>

  [6889] 00 ad 03 97 01 00 b5 05 bf 03 00 db 01 bb 02 00 3f b3 02 00 46 cb 02 00


#>

  [6913] c0 01 a9 04 00 e4 03 9b 07 00 aa 01 b5 02 00 03 f1 02 00 b7 01 f1 06 00


#>

  [6937] 83 06 a3 07 00 e1 02 ab 01 00 ef 03 f7 01 00 8d 04 13 00 c5 03 1c 00 83


#>

  [6961] 04 f4 01 00 93 03 ec 02 00 cd 02 ee 03 00 95 01 ce 03 00 1e 96 04 00 9e


#>

  [6985] 01 fe 03 00 e6 01 a4 04 00 86 02 c6 03 00 e0 01 ae 05 00 a6 02 c4 04 00


#>

  [7009] aa 02 98 04 00 16 8a 02 00 85 02 9e 03 00 ff 02 98 02 00 eb 03 96 02 00


#>

  [7033] ab 05 de 03 00 8d 04 fa 03 00 f9 01 98 02 00 9d 03 90 01 00 91 05 ee 02


#>

  [7057] 00 99 06 d6 03 00 df 02 e6 02 00 bf 09 96 04 00 d1 06 f8 03 00 f7 07 8c


#>

  [7081] 0b 00 be 04 8e 03 00 92 04 e6 03 00 ee 05 90 05 00 da 06 ac 07 00 ea 05


#>

  [7105] a0 06 00 fc 05 9a 07 00 aa 05 a2 07 00 b6 03 9a 06 00 a6 04 ec 08 00 88


#>

  [7129] 05 ae 09 00 f6 03 86 08 00 9e 04 be 07 00 be 04 f2 07 00 84 05 a0 09 00


#>

  [7153] aa 04 f4 07 00 aa 04 cc 08 00 82 04 ba 06 00 f2 02 e0 04 00 b4 02 f6 04


#>

  [7177] 00 12 fc 05 00 5f ae 06 00 59 b2 06 00 55 a6 03 00 55 bc 03 00 b1 01 a0


#>

  [7201] 09 00 fd 01 9a 0a 00 87 02 d0 0a 00 d1 02 8a 0d 00 c3 01 f6 08 00 77 ca


#>

  [7225] 08 00 7f ce 0b 00 49 88 09 00 1f e2 0a 00 1b 9c 0a 00 63 b8 0a 00 11 f2


#>

  [7249] 02 00 31 9e 08 00 0a cc 0a 00 d0 01 d0 0a 00 ce 02 e6 06 00 da 01 ac 04


#>

  [7273] 00 96 03 c6 04 00 8a 02 e8 02 00 9c 04 86 03 00 f6 03 b6 02 00 c6 05 ee


#>

  [7297] 02 00 a4 07 86 03 00 f2 09 c2 04 00 ee 09 b0 03 00 e6 09 c0 02 00 a4 01


#>

  [7321] 8e 01 00 54 da 01 00 22 9e 03 00 18 c0 07 00 90 02 92 13 00 b6 01 e8 03


#>

  [7345] 00 f8 01 90 01 00 dc 12 d4 04 00 da 0a fa 02 00 d8 08 b0 02 00 b0 11 b2


#>

  [7369] 04 00 8c 13 96 05 00 d6 03 7a 00 ac 10 a2 04 00 c8 06 dc 01 00 e8 03 d4


#>

  [7393] 08 00 96 06 bc 0c 00 bc 05 ee 11 00 06 10 00 f0 06 c6 12 00 d6 07 a4 13


#>

  [7417] 00 e8 09 a6 1a 00 b4 04 e4 0a 00 be 03 c4 08 00 86 0a e4 18 00 d4 01 b4


#>

  [7441] 04 00 cc 0a 92 1c 00 f6 08 f8 14 00 f8 08 c0 16 00 be 01 de 03 00 88 02


#>

  [7465] 98 05 00 ec 08 94 17 00 a0 0c e0 1f 00 ca 09 b2 19 00 9a 09 90 17 00 f2


#>

  [7489] 06 ac 10 00 be 06 c4 10 00 ea 05 e0 0e 00 88 05 f6 0c 00 d2 03 cc 0b 00


#>

  [7513] c2 02 de 05 00 2d ca 6c 00 97 08 c0 03 00 c9 0c 8e 06 00 dd 0c 98 05 00


#>

  [7537] cf 0e ee 06 00 ff 0d de 06 00 8f 13 c8 07 00 d1 03 f4 01 00 ef 08 d4 04


#>

  [7561] 00 e5 08 d4 04 00 a1 0e e2 06 00 8b 10 84 08 00 8f 0d c2 06 00 f9 0d b0


#>

  [7585] 07 00 d9 09 fa 04 00 ff 09 a4 05 00 b5 09 a6 04 00 a5 08 d6 02 00 e3 06


#>

  [7609] 5e 00 c9 07 a1 01 00 d9 06 dd 01 00 ed 03 38 00 f5 01 80 02 00 39 90 02


#>

  [7633] 00 2c b0 03 00 b2 01 d8 04 00 e8 01 bc 07 00 d4 01 a6 07 00 ea 02 a0 09


#>

  [7657] 00 68 b2 05 00 02 ec 05 00 20 88 07 00 55 c8 06 00 ed 01 9e 06 00 a9 02


#>

  [7681] 84 05 00 ad 02 84 05 00 57 f0 03 00 8a 01 c6 02 00 9e 02 d0 03 00 84 04


#>

  [7705] c8 05 00 ea 03 a8 06 00 ec 01 a4 04 00 05 84 04 00 87 01 c8 02 00 f3 01


#>

  [7729] 84 03 00 bf 02 94 04 00 d3 03 ca 03 00 9b 02 8c 03 00 f3 01 e0 03 00 a5


#>

  [7753] 02 dc 04 00 89 01 fe 03 00 03 d4 03 00 a4 02 c4 03 00 96 02 7a 00 c2 03


#>

  [7777] 92 02 00 7a de 01 00 99 01 de 01 00 c3 02 da 02 00 8b 03 a8 03 00 87 02


#>

  [7801] e0 03 00 b5 01 f2 04 00 2b 8a 05 00 43 d6 04 00 93 01 d4 04 00 17 fe 03


#>

  [7825] 00 b0 01 d8 02 00 ee 02 f6 01 00 b4 04 94 03 00 a8 07 e0 03 00 d2 04 f0


#>

  [7849] 01 00 bc 06 c6 03 00 d8 03 c0 03 00 b0 01 ce 03 00 25 bc 03 00 2b b6 03


#>

  [7873] 00 b7 01 de 03 00 83 05 ea 04 00 e3 02 94 04 00 2f b6 04 00 3f f8 04 00


#>

  [7897] 9e 02 8e 05 00 de 04 c6 06 00 de 03 e6 06 00 92 03 8e 07 00 ae 02 b2 03


#>

  [7921] 00 b6 03 52 00 e4 03 db 01 00 be 04 cd 01 00 92 06 9d 01 00 98 05 99 02


#>

  [7945] 00 d2 08 85 01 00 a2 0a 28 00 f8 07 0d 00 b2 03 98 01 00 e0 01 c8 02 00


#>

  [7969] 2a d8 03 00 05 92 05 00 35 fc 05 00 14 d0 06 00 76 a8 04 00 bc 02 8e 04


#>

  [7993] 00 fc 02 92 02 00 94 04 a0 01 00 90 05 78 00 86 03 f8 01 00 c8 02 c2 02


#>

  [8017] 00 8e 01 94 03 00 aa 02 84 03 00 fc 01 a2 03 00 12 1e 00 a2 04 fa 08 00


#>

  [8041] d8 04 c0 07 00 8c 03 dc 04 00 ae 02 e8 04 00 0e 1e 00 30 d0 03 00 87 01


#>

  [8065] fc 02 00 87 02 ba 03 00 83 04 da 04 00 eb 01 92 04 00 1d 94 05 00 07 ac


#>

  [8089] 05 00 a3 01 9c 06 00 ab 03 bc 06 00 ed 02 f8 04 00 b3 02 fa 04 00 37 ac


#>

  [8113] 03 00 94 02 b4 02 00 c2 04 ca 03 00 d0 07 da 05 00 b8 06 e0 02 00 ba 05


#>

  [8137] cc 01 00 e8 02 da 02 00 b0 01 a8 03 00 84 01 96 04 00 f4 02 d6 05 00 d8


#>

  [8161] 03 fc 03 00 8a 02 9e 02 00 a6 05 94 06 00 44 aa 05 00 e1 01 b6 07 00 d1


#>

  [8185] 01 dc 05 00 1a a0 05 00 02 c8 05 00 59 d4 06 00 e7 01 9e 08 00 ad 02 b0


#>

  [8209] 07 00 ff 02 8a 08 00 df 04 d4 06 00 b9 05 96 06 00 d9 03 f0 04 00 f3 01


#>

  [8233] 82 03 00 6a d6 02 00 f6 02 c4 02 00 86 03 d8 02 00 94 01 98 03 00 4d a2


#>

  [8257] 05 00 02 a8 06 00 a1 01 b4 05 00 04 98 04 00 12 a0 05 00 96 01 fc 02 00


#>

  [8281] b1 01 2f 00 f3 03 8f 01 00 cb 03 e9 01 00 af 02 83 03 00 d5 01 a7 06 00


#>

  [8305] 5d 8b 04 00 d7 02 a1 05 00 b3 03 ab 03 00 eb 03 91 03 00 db 04 93 01 00


#>

  [8329] 9f 06 58 00 9d 05 c0 02 00 93 05 fa 02 00 fb 05 c8 01 00 dd 07 f0 01 00


#>

  [8353] eb 06 d2 01 00 f9 05 54 00 d1 03 73 00 89 02 89 03 00 8f 03 99 02 00 83


#>

  [8377] 07 a7 01 00 a1 04 7f 00 b5 03 93 02 00 b9 01 a1 03 00 79 d3 04 00 8d 01


#>

  [8401] 97 03 00 dd 04 d1 02 00 8f 05 3f 00 ab 05 55 00 bf 03 95 01 00 a9 02 cb


#>

  [8425] 02 00 ab 01 9d 03 00 9f 01 c9 03 00 a5 02 ef 02 00 b9 03 8d 02 00 e5 03


#>

  [8449] 45 00 ad 04 40 00 ff 02 7e 00 b5 03 95 01 00 87 03 a1 03 00 85 03 a1 02


#>

  [8473] 00 f3 02 11 00 cf 02 17 00 f9 01 5f 00 23 d3 01 00 78 e9 04 00 46 e7 02


#>

  [8497] 00 17 df 02 00 54 95 03 00 e2 01 f9 02 00 a4 01 a5 03 00 ed 01 cb 02 00


#>

  [8521] e9 03 a5 01 00 ad 04 40 00 83 04 5c 00 cd 02 53 00 c3 02 fb 01 00 85 01


#>

  [8545] 9b 03 00 33 8b 03 00 c7 02 bd 02 00 f3 07 e1 03 00 c5 0e e1 07 00 d5 0a


#>

  [8569] ad 07 00 c7 0b c7 0a 00 f1 07 ad 08 00 bd 08 8f 08 00 f7 07 f3 06 00 a7


#>

  [8593] 09 cb 07 00 a7 0c 97 09 00 d1 07 ef 07 00 87 05 e3 03 00 d3 05 f3 02 00


#>

  [8617] a9 06 d7 02 00 bd 07 af 01 00 c1 06 cd 01 00 bf 0d 99 01 00 bf 0d cf 01


#>

  [8641] 00 bd 05 6b 00 c1 03 18 00 81 03 9e 02 00 e1 0a e8 09 00 81 0a e2 08 00


#>

  [8665] 89 08 ac 07 00 97 03 8a 01 00 9b 03 42 00 af 05 7f 00 b5 0a b5 05 00 6b


#>

  [8689] 9a 02 00 b1 07 ff 01 00 93 08 cc 05 00 b9 01 80 01 00 d9 07 ea 05 00 89


#>

  [8713] 07 b8 04 00 9f 0c 86 06 00 af 0a cc 04 00 df 0c ae 05 00 e5 0e ae 06 00


#>

  [8737] f3 0e 82 06 00 d7 48 e2 1b 00 bb 6b f8 28 00 c1 45 8a 1b 00 b7 33 92 14


#>

  [8761] 00 a1 6e c5 07 00 c5 53 9d 05 00 af 10 61 00 c9 0a 77 00 ad 06 3a 00 d5


#>

  [8785] 04 be 01 00 a1 06 a8 03 00 93 0c bc 06 00 93 11 d4 09 00 85 22 be 11 00


#>

  [8809] b1 20 ae 11 00 c9 32 b8 19 00 af 4a d6 27 00 f1 1e a9 27 00 8d 02 17 00


#>

  [8833] fd 11 98 09 00 d7 0d d8 07 00 bf 11 cc 08 00 bd 06 a8 03 00 b9 02 90 02


#>

  [8857] 00 c1 01 c6 05 00 bd 02 9c 0a 00 c9 04 f0 13 00 97 03 0a 00 ef 03 42 00


#>

  [8881] cf 02 6a 00 d5 04 e0 02 00 df 04 d2 02 00 cb 04 e4 02 00 ff 04 c4 01 00


#>

  [8905] 87 05 0f 00 9b 04 0d 00 d3 04 28 00 8b 06 56 00 e1 06 39 00 ab 03 b5 01


#>

  [8929] 00 ef 01 c1 02 00 6d 95 04 00 92 01 c9 05 00 8e 01 85 04 00 89 01 a7 03


#>

  [8953] 00 cd 02 87 02 00 db 04 bb 01 00 dd 04 01 00 a5 05 c8 01 00 97 03 80 02


#>

  [8977] 00 a7 02 a8 03 00 9f 02 ee 04 00 a7 02 c6 02 00 ff 03 a6 01 00 81 03 99


#>

  [9001] 01 00 db 01 a1 03 00 67 87 04 00 43 e3 04 00 f5 02 f3 03 00 85 05 d5 02


#>

  [9025] 00 df 05 b1 02 00 9b 05 a7 03 00 e9 05 cf 01 00 bb 04 32 00 f5 03 8c 01


#>

  [9049] 00 e7 04 c6 01 00 8f 03 f8 02 00 f3 01 fc 03 00 39 86 02 00 70 f4 02 00


#>

  [9073] 5c ce 03 00 5f da 01 00 b3 02 aa 01 00 9f 04 42 00 ef 03 a3 01 00 cd 01


#>

  [9097] c9 02 00 bd 01 e1 03 00 75 a7 04 00 17 a1 04 00 43 8b 03 00 7a a3 05 00


#>

  [9121] 96 02 8f 04 00 e6 03 fd 02 00 9e 01 93 02 00 3d cb 03 00 3d ed 03 00 af


#>

  [9145] 02 eb 02 00 ad 03 6f 00 bb 03 1a 00 d9 03 96 01 00 97 04 e0 01 00 f1 04


#>

  [9169] 8e 01 00 cb 04 b2 01 00 bd 03 86 01 00 93 03 72 00 cf 01 43 00 ad 01 37


#>

  [9193] 00 e1 01 f5 01 00 cd 01 e5 02 00 93 01 f9 02 00 08 cf 03 00 4f 9b 05 00


#>

  [9217] 00 c5 05 00 0f c1 04 00 ab 02 9b 03 00 a3 03 ed 01 00 fb 04 b5 02 00 8b


#>

  [9241] 05 cb 01 00 db 05 89 01 00 9d 06 57 00 df 06 db 01 00 8f 06 45 00 fd 04


#>

  [9265] 03 00 9e 01 9f 07 00 ee 02 b7 01 00 e0 02 a7 03 00 d4 02 b5 03 00 42 53


#>

  [9289] 00 ee 03 91 02 00 8e 05 c3 01 00 a6 05 5f 00 82 06 66 00 c4 06 46 00 e2


#>

  [9313] 06 21 00 fe 02 af 04 00 9d 01 e1 02 00 d7 02 a3 01 00 c7 06 85 02 00 bd


#>

  [9337] 02 e9 02 00 ed 03 d7 02 00 db 03 a7 02 00 8f 04 d1 01 00 ab 04 c7 01 00


#>

  [9361] 93 04 95 02 00 d1 01 a7 02 00 57 d7 02 00 04 a9 03 00 4e 87 03 00 ba 02


#>

  [9385] 8d 02 00 c2 03 55 00 c2 03 19 00 ae 05 1b 00 8a 05 49 00 a0 03 6f 00 d2


#>

  [9409] 01 99 02 00 46 85 03 00 0b e9 02 00 73 cd 02 00 d1 01 ad 02 00 8f 02 f1


#>

  [9433] 01 00 81 03 a7 01 00 ad 03 8d 01 00 8b 04 2d 00 85 0d cf 23 00 eb 01 81


#>

  [9457] 05 00 b9 1c e1 4a 00 8f 15 8b 39 00 97 01 5d 00 b7 45 8d 1f 00 d1 27 e1


#>

  [9481] 11 00 c1 5d 97 28 00 e3 ad 01 91 41 00 eb 01 9e 01 00 b1 07 90 05 00 e3


#>

  [9505] 04 ba 03 00 b7 02 be 01 00 a3 02 e6 01 00 d5 02 ba 01 00 bb 02 b8 01 00


#>

  [9529] 87 03 f8 01 00 af 06 b0 03 00 fd 07 f2 02 00 e9 05 f2 01 00 dd 01 56 00


#>

  [9553] d9 01 3e 00 f9 01 40 00 91 01 00 00 b7 01 2d 00 c9 01 47 00 fb 08 fd 04


#>

  [9577] 00 85 04 e1 02 00 c5 01 77 00 cf 01 8b 01 00 bd 03 95 04 00 fd 01 b3 02


#>

  [9601] 00 f3 01 a1 02 00 df 02 8f 03 00 83 04 fd 04 00 e3 06 cf 08 00 df 05 ef


#>

  [9625] 07 00 8f 0b d9 10 00 85 0c ad 12 00 85 09 f5 0d 00 eb 07 e7 0c 00 b9 09


#>

  [9649] bb 0b 00 a3 0e bb 0f 00 b3 06 b7 06 00 b9 04 b8 03 00 c5 02 cc 01 00 81


#>

  [9673] 02 ee 02 00 1e 8a 03 00 06 b8 02 00 bd 01 dc 02 00 93 03 ee 02 00 bb 03


#>

  [9697] 86 01 00 bf 06 1f 00 89 06 49 00 8b 04 47 00 df 01 d7 01 00 b9 02 9b 04


#>

  [9721] 00 eb 01 ef 03 00 c5 01 ed 05 00 34 f7 03 00 90 01 e1 03 00 6d 9b 03 00


#>

  [9745] 8f 02 f5 01 00 c7 04 b9 02 00 a5 04 d7 02 00 a9 03 a5 04 00 93 02 83 03


#>

  [9769] 00 79 a3 05 00 1f bd 05 00 ad 01 d5 05 00 a3 02 df 05 00 bf 02 c9 05 00


#>

  [9793] bf 03 ed 05 00 a9 03 f5 03 00 e5 03 9b 05 00 b7 02 9f 06 00 d3 03 91 09


#>

  [9817] 00 ef 03 eb 09 00 ff 04 ad 0c 00 e5 0e c7 23 00 bd 0c 95 22 00 db 0e cd


#>

  [9841] 2d 00 b3 07 8f 12 00 97 06 d3 11 00 c5 06 93 13 00 f3 05 a9 13 00 d5 04


#>

  [9865] bf 11 00 a3 04 99 0a 00 ad 02 cb 05 00 95 03 b3 01 00 e7 03 96 01 00 f7


#>

  [9889] 02 d2 02 00 91 03 fc 01 00 91 03 6b 00 e9 02 8d 02 00 57 fd 01 00 d8 01


#>

  [9913] a1 02 00 98 02 81 02 00 b0 01 b7 01 00 a6 01 c5 01 00 07 e5 01 00 dd 02


#>

  [9937] 15 00 d9 02 36 00 d7 04 06 00 91 04 35 00 fd 02 8d 01 00 e7 02 99 03 00


#>

  [9961] e9 01 a1 03 00 e3 02 af 02 00 fb 04 d7 02 00 95 04 22 00 83 04 7c 00 87


#>

  [9985] 04 16 00 81 05 a7 01 00 fb 03 f7 01 00 f1 04 d5 01 00 a7 05 73 00 c1 05


#>

 [10009] b8 01 00 8d 04 86 02 00 bb 04 c6 04 00 e3 03 e4 03 00 a3 05 ca 04 00 99


#>

 [10033] 06 dc 05 00 b1 04 9c 04 00 c7 03 82 03 00 d5 03 fc 01 00 cd 04 44 00 b5


#>

 [10057] 04 5f 00 ef 08 b9 03 00 e1 0b 83 05 00 d5 0b 8d 04 00 ed 0c b1 03 00 ff


#>

 [10081] 0b eb 02 00 db 06 33 00 9f 05 3e 00 93 06 4f 00 fb 05 fb 01 00 f3 06 ff


#>

 [10105] 03 00 d1 05 dd 05 00 85 03 b5 07 00 5b ed 07 00 12 fd 09 00 ae 01 f3 09


#>

 [10129] 00 b4 01 8b 0a 00 9a 02 b9 08 00 e0 01 ad 0c 00 b8 02 85 0b 00 84 02 ff


#>

 [10153] 09 00 b8 02 b1 0a 00 e2 02 d3 08 00 c8 02 a7 07 00 b6 01 a7 08 00 33 fb


#>

 [10177] 03 00 b9 01 db 02 00 bd 02 cd 02 00 f7 04 c5 01 00 99 05 3a 00 f1 04 b4


#>

 [10201] 02 00 8f 05 86 04 00 91 05 c8 06 00 eb 05 94 08 00 d1 04 a6 08 00 f1 04


#>

 [10225] 9c 08 00 8f 04 fa 07 00 ab 04 ba 08 00 cd 02 90 04 00 8d 04 d0 07 00 f1


#>

 [10249] 03 e0 07 00 eb 03 84 06 00 d7 04 94 04 00 c1 04 90 06 00 d3 04 9e 06 00


#>

 [10273] ff 04 fc 06 00 bb 05 e6 06 00 c7 05 f0 07 00 f5 04 88 07 00 f5 05 a2 07


#>

 [10297] 00 83 05 c4 06 00 b7 06 c0 07 00 f9 05 e6 06 00 f5 05 ca 06 00 f9 07 fe


#>

 [10321] 07 00 95 06 b8 06 00 b7 06 e2 06 00 e9 07 fa 06 00 9d 06 e0 05 00 f3 04


#>

 [10345] a0 04 00 91 07 be 07 00 c9 04 c4 05 00 cf 03 f2 05 00 a3 04 a2 04 00 ed


#>

 [10369] 13 d2 15 00 a3 16 e8 18 00 a9 13 dc 14 00 d5 14 e2 16 00 8d 1b f0 1c 00


#>

 [10393] ff 0a c0 0b 00 a1 26 ce 23 00 1b 11 00 6d 09 00 29 03 00 89 01 1c 00 87


#>

 [10417] 02 62 00 b1 02 82 01 00 3b 08 00 db 05 80 05 00 c7 03 b6 06 00 af 01 c0


#>

 [10441] 07 00 b9 01 88 01 00 cb 01 66 00 fd 01 76 00 b1 02 24 00 c9 03 32 00 8f


#>

 [10465] 02 44 00 f5 02 a8 01 00 eb 03 a2 02 00 eb 03 a0 02 00 ed 01 56 00 99 01


#>

 [10489] 11 00 85 03 eb 01 00 c5 07 b7 05 00 cf 06 83 05 00 85 03 c1 02 00 d3 02


#>

 [10513] 53 00 c1 02 10 00 d3 02 56 00 db 01 78 00 c1 02 fc 01 00 eb 03 e6 02 00


#>

 [10537] 85 03 90 02 00 db 01 f6 02 00 a9 01 be 04 00 a9 01 d2 04 00 cb 01 d0 04


#>

 [10561] 00 97 02 fa 0b 00 53 9e 05 00 3d c8 04 00 2a 9a 06 00 d2 01 9c 05 00 a6


#>

 [10585] 01 e8 08 00 29 e6 01 00 51 b8 03 00 a3 02 a2 03 00 cd 02 be 01 00 c3 06


#>

 [10609] 14 00 93 08 8f 01 00 d5 07 90 01 00 c1 07 ba 02 00 97 07 8c 03 00 ef 05


#>

 [10633] 98 07 00 fd 08 98 07 00 c9 04 fa 01 00 b5 03 ce 02 00 e3 02 fc 01 00 9b


#>

 [10657] 05 d6 07 00 c9 01 88 03 00 a7 03 bc 02 00 fb 04 68 00 c5 04 33 00 a3 08


#>

 [10681] bb 02 00 ed 07 00 00 c5 04 88 02 00 91 04 ea 0c 00 e5 05 d2 0d 00 cf 06


#>

 [10705] 8c 09 00 87 02 8e 04 00 a0 01 b6 0d 00 8c 02 c4 07 00 d6 01 e4 03 00 c2


#>

 [10729] 07 f0 04 00 e0 0d cc 04 00 ba 0b c8 04 00 e0 0d ea 03 00 f6 09 ca 04 00


#>

 [10753] c0 0e b4 08 00 92 16 da 0a 00 8e 06 8e 06 00 86 03 d2 07 00 8d 06 fc 0c


#>

 [10777] 00 cf 07 ea 03 00 d1 07 e8 03 00 e7 03 ac 05 00 62 b2 08 00 00 d8 0a 00


#>

 [10801] 61 d8 0a 00 c9 04 ac 05 00 ef 06 62 00 b9 0b 00 00 93 09 a6 02 00 e7 03


#>

 [10825] aa 05 00 61 ea 03 00 e8 03 f0 06 00 ca 04 e8 03 00 ac 05 c2 01 00 8e 06


#>

 [10849] 64 00 ca 04 62 00 e8 03 8e 06 00 a6 02 d8 0a 00 00 96 06 00 00 c2 04 00


#>

 [10873] e7 03 ac 05 00 dd 0d ac 05 00 df 0d 00 00 9b 0c a5 02 00 f5 09 85 03 00


#>

 [10897] b3 08 c4 01 00 d1 07 88 03 00 b9 0b 88 03 00 d1 07 5f 00 b1 08 c2 01 00


#>

 [10921] c9 04 ca 04 00 ef 06 ea 03 00 d1 07 5f 00 fd 0c c9 04 00 9b 0c d1 07 00


#>

 [10945] f3 1b 9f 0e 00 fb 07 d5 02 00 8d 09 62 00 91 0c dc 08 00 87 11 c6 0f 00


#>

 [10969] 99 12 90 09 00 a7 10 88 06 00 9f 0a f4 01 00 9d 09 c4 05 00 f1 0b c5 06


#>

 [10993] 00 97 0d bd 08 00 e3 13 97 0d 00 f9 10 a7 0b 00 8f 0e 97 0d 00 b5 09 81


#>

 [11017] 10 00 e1 03 f9 10 00 f1 01 e3 13 00 d4 05 cd 16 00 88 06 f5 15 00 98 06


#>

 [11041] ad 16 00 e2 03 e3 13 00 77 97 0d 00 e9 02 c3 07 00 c3 07 dd 04 00 9f 0c


#>

 [11065] e7 02 00 bd 18 da 04 00 dd 16 e6 09 00 9b 01 95 09 00 2e 9f 16 00 71 83


#>

 [11089] 1c 00 f4 21 cb 0b 00 a8 1b bb 08 00 ac 01 33 00 b2 23 f3 0a 00 dc 07 a9


#>

 [11113] 01 00 a0 29 91 07 00 9a 1d b5 09 00 fa 10 d9 04 00 c4 07 b5 09 00 d4 05


#>

 [11137] 89 0f 00 ea 05 9b 1b 00 d4 02 ab 0c 00 a6 0b fb 10 00 ce 16 eb 12 00 ce


#>

 [11161] 10 c5 0b 00 a6 11 ff 0b 00 94 2a 93 1b 00 82 01 a9 01 00 a2 05 a3 08 00


#>

 [11185] c8 02 b9 06 00 b2 03 ef 07 00 f9 05 87 08 00 ad 05 d3 07 00 f9 03 f3 05


#>

 [11209] 00 f5 01 9d 04 00 15 ef 08 00 21 df 0d 00 29 9b 18 00 ac 1d 8a 0a 00 ca


#>

 [11233] 16 b9 2d 00 86 19 c5 33 00 e3 14 c7 0d 00 ce 35 dd 40 00 e4 34 f9 3d 00


#>

 [11257] 99 05 fd 0c 00 de 1a a1 21 00 e8 12 8b 17 00 c8 12 eb 16 00 f4 11 89 16


#>

 [11281] 00 d6 12 f3 16 00 f8 0d 97 11 00 e2 12 b9 17 00 ea 10 f3 14 00 e2 17 d5


#>

 [11305] 1d 00 bc 0d e9 12 00 8a 0c db 0f 00 86 17 9b 1f 00 80 01 af 01 00 e3 03


#>

 [11329] b5 05 00 d7 0b c1 15 00 bf 07 cd 0d 00 95 07 a3 0d 00 d1 07 9f 0e 00 d3


#>

 [11353] 0a 95 13 00 e7 04 85 09 00 e9 02 a3 05 00 d3 02 9d 03 00 81 03 bb 02 00


#>

 [11377] eb 08 b5 06 00 a5 06 81 05 00 c7 05 b3 04 00 b7 04 e6 02 00 e9 0a fa 04


#>

 [11401] 00 d9 0d dc 05 00 a3 06 ee 03 00 87 05 d8 04 00 b7 05 d6 05 00 a9 06 a4


#>

 [11425] 07 00 91 06 c2 06 00 b7 04 f4 03 00 9f 08 da 08 00 e3 0a 98 09 00 f3 08


#>

 [11449] 88 08 00 e1 07 8a 07 00 fd 05 98 05 00 ad 06 b0 06 00 f9 05 c4 06 00 9f


#>

 [11473] 08 a0 07 00 eb 06 aa 06 00 b1 08 94 06 00 ef 07 c6 06 00 f7 09 d8 06 00


#>

 [11497] c1 05 e0 04 00 b5 05 f2 03 00 95 06 f0 03 00 c9 06 a4 05 00 d1 07 ac 08


#>

 [11521] 00 e9 03 e4 06 00 93 02 ec 02 00 d3 03 e2 03 00 cb 06 e8 05 00 a1 08 d8


#>

 [11545] 07 00 bd 0d be 0c 00 b7 11 c8 0f 00 fb 07 8a 07 00 d5 05 84 05 00 93 12


#>

 [11569] 8a 11 00 8b 0d 82 0d 00 af 0e be 0e 00 9f 0c a8 0f 00 ad 0f b6 12 00 cd


#>

 [11593] 07 ee 08 00 c5 08 ac 08 00 87 09 da 08 00 99 09 86 09 00 ed 07 f6 07 00


#>

 [11617] bf 07 e4 06 00 eb 08 a4 06 00 e5 0e 8c 0d 00 d5 0a c4 08 00 bb 0b f7 06


#>

 [11641] 00 95 06 b7 02 00 e7 03 4b 00 fb 03 62 00 c7 04 be 02 00 c7 04 a2 02 00


#>

 [11665] cb 05 94 02 00 af 05 34 00 d9 07 97 01 00 b9 06 e9 01 00 b9 04 b1 03 00


#>

 [11689] f5 02 e9 03 00 c9 01 eb 04 00 a9 01 f1 05 00 1e ff 04 00 d2 01 93 05 00


#>

 [11713] f0 01 ab 04 00 a2 02 e7 04 00 a6 01 c9 05 00 92 01 db 05 00 5c f5 04 00


#>

 [11737] a3 01 c5 05 00 e5 02 89 07 00 c3 03 eb 06 00 bd 04 f5 06 00 f5 04 a9 06


#>

 [11761] 00 fb 06 a5 07 00 c1 07 b1 08 00 b9 08 f7 09 00 b9 09 e9 0b 00 a3 05 d5


#>

 [11785] 05 00 a1 05 e9 01 00 9d 07 db 03 00 bd 04 a7 02 00 bc 27 b3 28 00 fc 5a


#>

 [11809] fb 64 00 b0 30 ed 29 00 ec 1f c1 19 00 c8 13 cb 15 00 84 0f bb 18 00 fc


#>

 [11833] 0e 9b 2c 00 e6 12 97 19 00 fc 09 e9 0e 00 d0 0c 81 0c 00 c8 08 8f 04 00


#>

 [11857] ec 14 87 08 00 82 1e fb 04 00 a2 0b 9b 02 00 ac 0b ff 03 00 fa 03 99 05


#>

 [11881] 00 28 93 07 00 85 07 a5 09 00 d5 0d ef 06 00 d1 0a 8f 0c 00 46 c5 0c 00


#>

 [11905] fc 0f b7 18 00 96 2d 91 20 00 b6 24 c7 17 00 c4 1b f5 20 00 ae 13 e3 25


#>

 [11929] 00 e4 1a 8f 3a 00 dc 28 c1 39 00 c2 2b b3 39 00 ca 35 85 4a 00 fe 18 e9


#>

 [11953] 1e 00 80 2c 9f 36 00 a0 3a ef 49 00 9e 20 d3 21 00 80 0c af 12 00 9e 04


#>

 [11977] bf 0b 00 ca 02 89 10 00 cf 01 85 03 00 9f 05 ed 09 00 db 0a ad 0a 00 d3


#>

 [12001] 0d f1 06 00 fd 08 cb 07 00 52 ad 0e 00 ca 06 9b 16 00 a4 08 c3 12 00 b0


#>

 [12025] 09 89 16 00 c0 06 b5 14 00 bc 0f c1 21 00 a0 08 cf 11 00 a4 04 8f 21 00


#>

 [12049] 67 b9 17 00 d3 01 a1 19 00 db 06 c1 10 00 eb 0a d7 07 00 e1 0f c9 01 00


#>

 [12073] e7 0f 59 00 f7 0c af 02 00 c9 0d d9 08 00 97 0a 87 16 00 61 ab 18 00 c0


#>

 [12097] 01 9f 21 00 e2 03 95 2a 00 5e f3 24 00 eb 07 c1 35 00 4e bf 0d 00 8e 02


#>

 [12121] a7 05 00 e8 04 af 03 00 c2 07 bb 01 00 bc 06 98 01 00 ac 05 d2 05 00 a0


#>

 [12145] 05 b6 07 00 ea 09 ba 09 00 80 0f 87 02 00 b8 0b e5 05 00 20 b3 05 00 a3


#>

 [12169] 04 a5 08 00 91 09 81 04 00 91 09 ff 03 00 a3 03 85 0a 00 b2 02 cd 0b 00


#>

 [12193] aa 0c ef 04 00 e8 10 85 01 00 d8 13 dd 02 00 ac 0a 9f 02 00 e0 06 8d 05


#>

 [12217] 00 b5 02 99 08 00 e3 0d 9b 04 00 cb 11 c9 02 00 87 0a 87 04 00 b5 02 99


#>

 [12241] 08 00 bc 02 b3 0d 00 80 07 c1 0a 00 d8 07 87 05 00 88 05 e5 08 00 27 c1


#>

 [12265] 0d 00 a6 04 95 21 00 9e 06 91 0e 00 ea 16 c7 1e 00 ce 0e e3 0d 00 ae 0f


#>

 [12289] 91 0a 00 82 17 a9 0e 00 b4 08 43 00 ca 05 20 00 a2 09 a8 01 00 9c 09 9a


#>

 [12313] 02 00 a8 0a ab 01 00 e4 05 9f 04 00 9e 02 81 08 00 b3 01 fd 09 00 9b 02


#>

 [12337] dd 0c 00 dc 06 f9 18 00 e8 19 f9 22 00 b2 1b c5 1c 00 a8 1a 81 19 00 9a


#>

 [12361] 16 87 11 00 e0 0f 9f 12 00 e2 13 91 2d 00 ca 20 d9 50 00 88 1c cd 53 00


#>

 [12385] e4 23 bd 6d 00 94 04 95 12 00 c6 1c f5 7c 00 fa 1d 87 a4 01 00 b2 13 d7


#>

 [12409] 74 00 f0 0d 87 4e 00 9a 06 99 21 00 86 01 c7 16 00 6a f9 25 00 e5 04 a7


#>

 [12433] 25 00 d7 0b af 31 00 ad 0f bb 32 00 fd 0c a7 29 00 9b 17 d5 3d 00 cb 1c


#>

 [12457] bb 42 00 dd 37 fb 53 00 bb 33 8d 3e 00 c3 08 a5 0a 00 89 3f 99 42 00 f5


#>

 [12481] 19 e3 17 00 a3 35 e3 24 00 b1 2c d3 22 00 71 59 00 c8 01 9f 08 00 b3 01


#>

 [12505] df 06 00 06 91 05 00 da 01 eb 03 00 92 04 cb 05 00 d0 04 ad 05 00 f4 02


#>

 [12529] 83 04 00 da 02 93 04 00 88 02 d7 03 00 b0 01 a9 04 00 03 c5 04 00 2d d7


#>

 [12553] 03 00 c5 01 b1 03 00 83 03 9b 03 00 cf 04 a9 02 00 b5 04 07 00 83 05 c2


#>

 [12577] 01 00 9b 03 c6 01 00 c7 03 a6 02 00 cd 02 bc 03 00 81 03 92 03 00 f7 01


#>

 [12601] 8c 01 00 bf 03 3a 00 ed 04 77 00 97 04 a7 02 00 c7 05 b7 04 00 af 05 cf


#>

 [12625] 08 00 fd 02 e5 07 00 97 01 db 06 00 11 cb 04 00 68 df 03 00 e0 01 f5 01


#>

 [12649] 00 8c 03 05 00 e4 04 66 00 8a 05 5e 00 dc 04 25 00 b4 03 65 00 e4 02 89


#>

 [12673] 02 00 c0 02 ef 02 00 d0 01 8d 04 00 0b f7 04 00 db 02 af 05 00 e7 04 e9


#>

 [12697] 05 00 d3 06 8d 05 00 a9 06 cb 04 00 81 06 a3 06 00 d7 03 b3 04 00 d7 04


#>

 [12721] 95 03 00 a3 06 df 01 00 fb 04 5d 00 97 04 97 01 00 c5 03 f3 02 00 d5 02


#>

 [12745] b3 05 00 06 ef 04 00 94 01 e1 05 00 f0 01 9d 07 00 ee 02 8b 06 00 ac 05


#>

 [12769] cb 07 00 96 07 d5 08 00 fe 03 eb 04 00 c6 01 c7 03 00 60 d5 04 00 12 d1


#>

 [12793] 06 00 18 c1 08 00 20 99 06 00 d4 01 d9 07 00 88 03 bf 08 00 ae 03 a7 08


#>

 [12817] 00 86 05 8d 0b 00 b2 04 fb 07 00 a0 04 8b 06 00 b4 05 d3 05 00 ba 03 f1


#>

 [12841] 03 00 e4 02 c1 04 00 98 02 dd 05 00 a0 02 f3 04 00 ce 02 a1 06 00 ee 02


#>

 [12865] d5 06 00 8c 01 a7 06 00 1f af 05 00 9b 01 93 07 00 cd 01 95 04 00 eb 03


#>

 [12889] db 03 00 b9 02 b5 02 00 fd 01 e3 04 00 18 9f 04 00 d6 01 df 05 00 86 02


#>

 [12913] 9b 05 00 56 fb 03 00 37 93 04 00 f3 01 97 05 00 a7 02 ed 05 00 16 a1 05


#>

 [12937] 00 be 01 91 05 00 98 02 9b 05 00 86 01 f9 04 00 49 f3 05 00 7d dd 04 00


#>

 [12961] 45 9b 03 00 12 a9 05 00 6d ef 03 00 6a 85 03 00 7a c7 03 00 09 d7 03 00


#>

 [12985] 17 8b 03 00 2a 9b 04 00 c4 02 8b 04 00 cc 04 d9 02 00 fc 02 bf 02 00 a4


#>

 [13009] 04 cb 05 00 8a 08 c3 0b 00 b4 06 b9 09 00 84 04 e3 06 00 a6 01 b1 06 00


#>

 [13033] 25 d3 04 00 32 b1 03 00 b2 02 91 04 00 ac 08 c3 0b 00 d4 02 e5 05 00 4a


#>

 [13057] c1 04 00 1b 9b 04 00 04 e7 03 00 90 01 fb 02 00 f2 02 b7 03 00 f0 02 8f


#>

 [13081] 04 00 9a 02 ef 04 00 80 02 a1 06 00 b2 02 f7 03 00 e4 02 d1 02 00 c2 04


#>

 [13105] 9f 02 00 90 08 d3 01 00 9c 04 83 02 00 b4 03 d1 02 00 f8 03 cf 04 00 90


#>

 [13129] 04 c3 04 00 f8 04 81 05 00 f2 03 d9 02 00 fa 04 f3 01 00 b6 04 8f 01 00


#>

 [13153] d4 06 a1 03 00 d2 04 87 04 00 f8 01 cb 03 00 ca 01 ef 03 00 d6 02 c7 03


#>

 [13177] 00 b8 05 ab 03 00 ea 04 d7 04 00 aa 02 e7 04 00 b2 02 95 03 00 aa 03 e7


#>

 [13201] 01 00 a4 05 37 00 a4 05 c1 01 00 d6 04 cf 02 00 a0 04 e5 01 00 e2 04 79


#>

 [13225] 00 ba 02 87 02 00 d2 02 93 04 00 0a 05 00 3a 49 00 2e 3b 00 24 25 00 1e


#>

 [13249] 19 00 24 13 00 24 07 00 1e 00 00 14 0a 00 34 14 00 1e 20 00 24 2e 00 28


#>

 [13273] 3c 00 2e 48 00 38 50 00 24 38 00 32 50 00 1e 2e 00 1e 10 00 24 10 00 2a


#>

 [13297] 0a 00 2e 03 00 48 13 00 3e 23 00 5e 2b 00 44 2b 00 34 17 00 3a 17 00 2e


#>

 [13321] 03 00 58 00 00 34 0a 00 34 14 00 28 20 00 48 36 00 34 2e 00 3e 2e 00 2e


#>

 [13345] 1a 00 2e 00 00 2e 0d 00 24 1f 00 2a 31 00 2a 31 00 4a 55 00 4a 55 00 34


#>

 [13369] 41 00 68 8b 01 00 2e 45 00 3a 59 00 4e 81 01 00 44 4b 00 3e 45 00 4e 39


#>

 [13393] 00 54 3b 00 4e 27 00 62 2f 00 4e 27 00 48 17 00 52 1b 00 86 01 1d 00 68


#>

 [13417] 17 00 62 0d 00 80 01 0b 00 5e 06 00 8c 01 03 00 90 01 0a 00 f8 01 1a 00


#>

 [13441] 76 10 00 90 01 12 00 5c 16 00 62 05 00 aa 01 03 00 8c 01 2b 00 ac 01 57


#>

 [13465] 00 fa 01 87 01 00 bc 01 75 00 9c 01 67 00 50 5b 00 10 69 00 12 97 01 00


#>

 [13489] 08 d7 07 00 10 69 00 40 89 01 00 40 95 01 00 7e a5 01 00 aa 02 ab 02 00


#>

 [13513] 8e 01 df 01 00 70 8f 02 00 30 a5 01 00 0d c3 01 00 2d 79 00 5b 89 01 00


#>

 [13537] a9 01 79 00 a9 01 3d 00 e3 02 a9 01 00 a9 01 97 01 00 5b 89 01 00 1d 69


#>

 [13561] 00 2d 87 01 00 0d a7 01 00 0d e3 01 00 02 f1 01 00 22 91 02 00 32 fb 02


#>

 [13585] 00 32 81 02 00 60 c3 01 00 5e 79 00 5e 3b 00 6e 0b 00 7c 02 00 5e 2e 00


#>

 [13609] 5c 4c 00 5c 5e 00 8a 01 c6 01 00 aa 01 a8 01 00 7c 4c 00 7c 10 00 7c 10


#>

 [13633] 00 9c 01 1d 00 ac 01 39 00 8c 01 5b 00 8e 01 67 00 ae 01 df 01 00 ac 01


#>

 [13657] c5 01 00 6e c3 01 00 10 87 01 00 2b b7 01 00 4d 87 01 00 6b 79 00 d7 01


#>

 [13681] 8b 01 00 b9 01 6b 00 83 03 a7 01 00 87 02 99 01 00 99 01 7b 00 89 01 97


#>

 [13705] 01 00 4b 97 01 00 0d 79 00 02 97 01 00 20 97 01 00 30 89 01 00 5e 85 01


#>

 [13729] 00 5e 5b 00 5e 2b 00 9c 01 2b 00 bc 01 2b 00 ac 01 3b 00 da 01 57 00 ae


#>

 [13753] 01 a5 01 00 8e 01 85 01 00 9c 01 a5 01 00 be 01 8f 02 00 ae 01 ff 01 00


#>

 [13777] 9e 01 f1 01 00 8e 01 ff 01 00 5e b3 01 00 7e 87 01 00 6e 75 00 7e 69 00


#>

 [13801] 7e 3b 00 5e 3b 00 20 69 00 02 a7 01 00 2b d3 01 00 6b 91 02 00 79 81 02


#>

 [13825] 00 a7 01 dd 02 00 89 01 91 02 00 2d a7 01 00 0d c3 01 00 0d b7 01 00 20


#>

 [13849] f1 01 00 32 a7 03 00 32 bd 02 00 30 81 02 00 40 c5 01 00 3e 59 00 5e 59


#>

 [13873] 00 6e 3b 00 8c 01 4b 00 7c 0b 00 9c 01 02 00 88 02 30 00 f8 01 4c 00 aa


#>

 [13897] 01 7c 00 8a 01 98 01 00 5c 6a 00 0e 7a 00 1e e4 01 00 01 c4 01 00 0e b4


#>

 [13921] 01 00 2e 5e 00 3e 1e 00 5e 00 00 7e 3b 00 bc 01 85 01 00 bc 01 c1 01 00


#>

 [13945] ae 01 8f 02 00 60 e3 01 00 40 c3 01 00 02 a7 01 00 2b e3 01 00 1d e1 01


#>

 [13969] 00 2b 83 02 00 1b 9f 02 00 0b ad 02 00 0d 91 02 00 3b 81 02 00 59 ed 02


#>

 [13993] 00 3b bb 02 00 4b 91 02 00 3b b1 02 00 1d f1 01 00 02 97 01 00 30 b5 01


#>

 [14017] 00 5e 95 01 00 6e e3 01 00 40 a3 01 00 30 b5 01 00 20 a5 01 00 2d d3 01


#>

 [14041] 00 4b c5 01 00 2d 97 01 00 1d a7 01 00 0d c3 01 00 02 a7 01 00 20 89 01


#>

 [14065] 00 2d 87 01 00 3d 79 00 3b 87 01 00 3d a7 01 00 02 79 00 12 97 01 00 20


#>

 [14089] 59 00 4e 79 00 6e 59 00 6e 1d 00 9c 01 0b 00 cc 01 3b 00 ca 01 2b 00 98


#>

 [14113] 02 0d 00 ea 01 30 00 a6 02 40 00 f4 02 6e 00 9a 01 7c 00 9a 01 6c 00 8a


#>

 [14137] 01 98 01 00 6c 4c 00 6e 20 00 5e 00 00 5e 3b 00 5e 4b 00 50 95 01 00 5e


#>

 [14161] 75 00 4e 4b 00 3e 0f 00 3e 10 00 3e 2e 00 6c 5c 00 6c 6c 00 4e 3e 00 6c


#>

 [14185] 2e 00 7c 02 00 9c 01 0b 00 fa 01 39 00 ea 01 3b 00 ac 01 3b 00 6e 49 00


#>

 [14209] 6e 3b 00 4e 5b 00 30 77 00 10 69 00 40 a5 01 00 20 79 00 4e 2b 00 5e 0f


#>

 [14233] 00 7e 39 00 8c 01 1d 00 8c 01 0d 00 4e 39 00 40 4b 00 30 59 00 30 69 00


#>

 [14257] 4e 79 00 6e 85 01 00 5e 4b 00 5e 69 00 2e 3b 00 00 59 00 2d 69 00 5b a7


#>

 [14281] 01 00 89 01 d5 01 00 4b 97 01 00 00 69 00 20 59 00 40 69 00 2e 3b 00 5e


#>

 [14305] 1d 00 ac 01 3b 00 ea 01 2b 00 9c 01 1b 00 5e 1d 00 7e 39 00 40 79 00 20


#>

 [14329] 87 01 00 00 69 00 11 4b 00 07 0f 00 35 7d 00 00 77 00 10 d1 01 00 21 f1


#>

 [14353] 03 00 2b a9 04 00 19 af 03 00 2c e3 02 00 58 c5 02 00 15 b1 01 00 3b 89


#>

 [14377] 01 00 61 a9 01 00 6f 8f 02 00 06 bb 01 00 66 ff 02 00 f0 01 df 03 00 14


#>

 [14401] 29 00 c2 01 a5 02 00 c4 01 93 02 00 8e 01 f1 01 00 80 01 8f 02 00 60 ad


#>

 [14425] 02 00 60 8f 02 00 50 ff 01 00 70 f9 02 00 20 a5 01 00 0d d1 01 00 2d c7


#>

 [14449] 01 00 59 cb 02 00 99 01 b1 02 00 99 01 81 02 00 89 01 c5 01 00 b9 01 5b


#>

 [14473] 00 b9 01 6b 00 8b 01 5d 00 3d 69 00 2d 87 01 00 0d 69 00 02 d3 01 00 30


#>

 [14497] e3 01 00 40 b3 01 00 5e a5 01 00 9e 01 f1 01 00 9c 01 67 00 ea 01 67 00


#>

 [14521] bc 01 1b 00 88 02 30 00 88 02 40 00 ba 01 12 00 9c 01 2b 00 dc 01 87 01


#>

 [14545] 00 fc 01 d1 01 00 8a 02 ef 01 00 9c 01 a5 01 00 7e c3 01 00 6e 97 01 00


#>

 [14569] 30 77 00 dc 01 95 01 00 8e 01 67 00 4e 89 01 00 40 a5 01 00 20 a3 01 00


#>

 [14593] 10 a7 01 00 50 5b 00 5e 59 00 9c 01 59 00 ec 01 d1 01 00 dc 01 b5 01 00


#>

 [14617] bc 01 df 01 00 6e a5 01 00 50 89 01 00 4e 69 00 8e 01 85 01 00 b4 01 51


#>

 [14641] 00 5e 59 00 7e 87 01 00 8e 01 67 00 9e 01 95 01 00 ac 01 95 01 00 be 01


#>

 [14665] d1 01 00 ec 01 ef 01 00 9e 01 b5 01 00 bc 01 ef 01 00 9e 01 f1 01 00 60


#>

 [14689] c3 01 00 7e d3 01 00 7e d3 01 00 8e 01 e1 01 00 7e c3 01 00 5e b5 01 00


#>

 [14713] 50 8d 02 00 32 af 02 00 50 bd 02 00 32 81 02 00 40 d3 01 00 8e 01 c3 01


#>

 [14737] 00 be 01 ff 01 00 bc 01 d1 01 00 ec 01 9f 02 00 dc 01 c1 01 00 be 01 ff


#>

 [14761] 01 00 be 01 8f 02 00 8e 01 8f 02 00 22 c3 01 00 02 c3 01 00 3d 99 01 00


#>

 [14785] 7b 77 00 b9 01 7b 00 7b 5b 00 6b 79 00 02 a7 01 00 30 d3 01 00 42 8f 02


#>

 [14809] 00 50 ff 01 00 40 c3 01 00 5e 69 00 9c 01 77 00 8a 02 b1 01 00 ae 01 b5


#>

 [14833] 01 00 30 69 00 10 79 00 4b 97 01 00 87 01 eb 02 00 c1 02 ef 04 00 5b a7


#>

 [14857] 01 00 4b 97 01 00 1d 69 00 10 79 00 20 f1 01 00 10 97 01 00 0d 89 01 00


#>

 [14881] 1d 97 01 00 3d 87 01 00 d7 01 93 02 00 f5 01 cf 02 00 89 01 d5 01 00 3b


#>

 [14905] 97 01 00 00 69 00 30 59 00 5e 4b 00 9c 01 49 00 6e 0d 00 c0 04 04 00 5e


#>

 [14929] 1b 00 4e 3b 00 30 79 00 62 c5 03 00 32 ed 02 00 42 b5 03 00 22 dd 02 00


#>

 [14953] 04 db 02 00 0d 91 02 00 20 a5 01 00 30 d3 01 00 52 cb 02 00 80 01 af 02


#>

 [14977] 00 5e b3 01 00 ac 01 c5 01 00 9e 01 c3 01 00 cc 01 a5 01 00 9e 01 95 01


#>

 [15001] 00 ac 01 57 00 bc 01 3b 00 8a 02 39 00 bc 01 3b 00 bc 01 1b 00 da 01 49


#>

 [15025] 00 9c 01 49 00 bc 01 3b 00 bc 01 2b 00 ca 01 1d 00 ba 01 12 00 98 02 40


#>

 [15049] 00 ea 01 30 00 98 02 6c 00 d8 01 6c 00 c8 01 b8 01 00 e2 02 ee 02 00 6a


#>

 [15073] a0 02 00 6a f4 01 00 4c 98 01 00 5c 5c 00 5e 10 00 6e 2b 00 5e 4b 00 ba


#>

 [15097] 02 bb 02 00 9c 02 c9 02 00 6e b5 01 00 20 4b 00 0d 59 00 1d 59 00 a9 01


#>

 [15121] e5 01 00 f5 01 fd 02 00 4b a7 01 00 00 69 00 30 59 00 40 b3 01 00 90 01


#>

 [15145] bd 02 00 60 e3 01 00 50 c3 01 00 30 89 01 00 5e 75 00 6e 4b 00 6e 85 01


#>

 [15169] 00 8e 01 f1 01 00 68 d9 01 00 5e a5 01 00 5e 89 01 00 9e 01 85 01 00 8e


#>

 [15193] 01 95 01 00 6e 69 00 40 59 00 30 79 00 80 01 d3 03 00 30 b5 01 00 30 59


#>

 [15217] 00 5e 3b 00 7c 2b 00 ba 01 1b 00 ca 01 0d 00 6e 2b 00 5e 5b 00 4e 85 01


#>

 [15241] 00 40 d3 01 00 22 f1 01 00 12 c5 01 00 20 77 00 20 69 00 4e 4b 00 6e 49


#>

 [15265] 00 9c 01 4b 00 dc 01 a5 01 00 8c 01 49 00 7e 77 00 5e 89 01 00 7e 85 01


#>

 [15289] 00 8e 01 85 01 00 bc 01 a5 01 00 ac 01 87 01 00 6e 2b 00 dc 01 85 01 00


#>

 [15313] d8 02 c3 01 00 bc 01 67 00 7e 69 00 7c 59 00 5e 79 00 20 69 00 0d 87 01


#>

 [15337] 00 04 fb 02 00 30 77 00 5e 5b 00 50 77 00 10 89 01 00 12 c3 01 00 02 a7


#>

 [15361] 01 00 20 97 01 00 40 79 00 6e b3 01 00 9e 01 cd 02 00 4e 95 01 00 9e 01


#>

 [15385] 95 01 00 aa 02 ad 02 00 86 04 fd 03 00 8c 02 8f 02 00 7e a5 01 00 4e 85


#>

 [15409] 01 00 40 95 01 00 10 89 01 00 0d 87 01 00 97 01 91 02 00 4b 97 01 00 3b


#>

 [15433] 97 01 00 0d 59 00 20 79 00 50 b5 01 00 70 ad 02 00 6e d3 01 00 90 01 cd


#>

 [15457] 02 00 be 01 ad 02 00 6e a5 01 00 8e 01 67 00 7c 69 00 8e 01 a5 01 00 9e


#>

 [15481] 01 95 01 00 bc 01 75 00 cc 01 87 01 00 bc 01 67 00 6e 59 00 30 4b 00 02


#>

 [15505] 87 01 00 2d a7 01 00 4b 81 02 00 79 b7 01 00 99 01 c5 01 00 5b 79 00 4b


#>

 [15529] 87 01 00 3b b7 01 00 1b 81 02 00 75 d1 06 00 2b f1 01 00 2d c3 01 00 4b


#>

 [15553] d5 01 00 4b a7 01 00 2d 97 01 00 02 79 00 30 69 00 5e b5 01 00 aa 02 85


#>

 [15577] 03 00 de 01 e9 02 00 30 a5 01 00 0d 69 00 3d 4d 00 3d 3d 00 5d 0d 00 6d


#>

 [15601] 0c 00 89 02 2e 00 f5 02 38 00 9b 01 0d 00 8b 01 1f 00 8b 01 4b 00 b9 01


#>

 [15625] 8b 01 00 f7 01 d5 01 00 e7 01 b5 01 00 7b 97 01 00 1d 69 00 00 5b 00 30


#>

 [15649] 87 01 00 30 79 00 4e 59 00 9e 01 95 01 00 ac 01 a5 01 00 7e 95 01 00 8e


#>

 [15673] 01 a5 01 00 60 a5 01 00 7e 77 00 3e 69 00 7e 39 00 7c 2d 00 9c 01 12 00


#>

 [15697] aa 01 02 00 ea 01 12 00 ac 01 12 00 8c 01 0e 00 5e 0b 00 6e 3b 00 cc 01


#>

 [15721] 77 00 c6 03 8d 02 00 86 03 ed 01 00 8a 02 87 01 00 7e 59 00 5e 69 00 9e


#>

 [15745] 01 c3 01 00 cc 01 87 01 00 ec 01 95 01 00 fa 01 75 00 ec 01 67 00 dc 01


#>

 [15769] 87 01 00 7c 2b 00 8c 01 1b 00 9c 01 1e 00 8c 01 3e 00 c6 02 6c 00 94 03


#>

 [15793] 5e 00 98 02 30 00 ca 01 0b 00 6e 2d 00 bc 01 57 00 bc 01 85 01 00 ec 01


#>

 [15817] b5 01 00 bc 01 77 00 6e 85 01 00 60 95 01 00 70 ff 01 00 8e 01 b5 01 00


#>

 [15841] 8e 01 85 01 00 6e 69 00 4e 3b 00 4e 95 01 00 40 95 01 00 6e a5 01 00 3e


#>

 [15865] 69 00 6e 69 00 7c 2b 00 9c 01 1d 00 a2 04 91 01 00 c8 02 67 00 da 01 67


#>

 [15889] 00 7e 59 00 8e 01 87 01 00 4e 85 01 00 50 e3 01 00 30 f1 01 00 30 b5 01


#>

 [15913] 00 40 87 01 00 4e 3b 00 9c 01 2b 00 6c 1e 00 ca 01 22 00 7c 4c 00 ba 01


#>

 [15937] 02 00 bc 01 47 00 7e 4b 00 7e 69 00 6e 75 00 40 d3 01 00 40 f3 01 00 22


#>

 [15961] bd 02 00 32 bd 02 00 22 bd 02 00 12 ad 02 00 0d c3 01 00 2b e3 01 00 79


#>

 [15985] bf 02 00 e3 01 85 04 00 c5 01 ed 02 00 a9 01 85 02 00 b7 01 dd 02 00 c5


#>

 [16009] 01 c7 03 00 c5 01 8d 03 00 3b f1 01 00 5b 81 02 00 89 01 d5 01 00 89 01


#>

 [16033] f5 01 00 99 01 a7 01 00 d7 01 a9 01 00 f7 01 e3 01 00 c9 01 7b 00 99 01


#>

 [16057] a7 01 00 3d 97 01 00 3b b7 01 00 0f 63 00 01 2d 00 16 e5 01 00 2c d1 01


#>

 [16081] 00 54 b1 01 00 46 7d 00 72 4b 00 ee 03 99 03 00 22 71 00 12 d1 01 00 06


#>

 [16105] b5 01 00 2e bb 01 00 8c 01 d9 01 00 ae 02 8b 04 00 46 d7 01 00 3a a7 01


#>

 [16129] 00 46 9f 01 00 7a f5 01 00 42 9b 01 00 7a dd 01 00 8e 02 d7 02 00 76 83


#>

 [16153] 01 00 34 89 01 00 68 73 00 42 b5 01 00 0e 7b 00 0e 63 00 1b 6d 00 0e a9


#>

 [16177] 01 00 17 7f 00 37 5d 00 71 3f 00 a5 01 49 00 4f 2d 00 67 2f 00 33 4f 00


#>

 [16201] 17 0d 00 00 9b 01 00 2e e3 01 00 f0 01 f3 02 00 5e e5 01 00 50 a5 01 00


#>

 [16225] 42 e7 01 00 24 b3 01 00 0a 2f 00 56 55 00 88 01 6d 00 ca 02 b7 01 00 5a


#>

 [16249] 4d 00 2e 7f 00 1b 75 00 6d 59 00 4c 95 01 00 4c 35 00 aa 01 41 00 94 01


#>

 [16273] 0c 00 e8 01 0a 00 9c 01 1f 00 ca 01 69 00 ae 02 9b 01 00 a0 01 7d 00 76


#>

 [16297] 5b 00 4c 31 00 0a 23 00 04 11 00 1c 79 00 00 bf 01 00 00 a3 01 00 00 dd


#>

 [16321] 01 00 18 77 00 2a 63 00 62 75 00 4c 59 00 3e 77 00 0e 6b 00 00 f3 01 00


#>

 [16345] 67 af 02 00 2f ad 01 00 00 23 00 00 d7 01 00 18 b5 01 00 6c 8d 02 00 38


#>

 [16369] 79 00 ae 01 cb 01 00 50 05 00 6e 18 00 50 0b 00 3e 41 00 4a 93 01 00 2a


#>

 [16393] 91 01 00 48 6f 00 58 8b 01 00 64 7b 00 88 03 81 02 00 8e 01 07 00 70 01


#>

 [16417] 00 a0 01 0f 00 ae 01 3d 00 9c 02 27 00 ae 01 3d 00 84 01 23 00 c2 01 77


#>

 [16441] 00 5e 2b 00 84 02 4f 00 76 01 00 92 01 02 00 76 0d 00 68 19 00 c6 01 1b


#>

 [16465] 00 b8 02 00 00 a0 01 02 00 64 04 00 6c 00 00 92 01 2b 00 84 01 35 00 68


#>

 [16489] 8f 01 00 42 69 00 34 e3 01 00 0e 00 00 00 c5 01 00 09 9b 01 00 13 6d 00


#>

 [16513] 33 9b 01 00 4f fb 01 00 5d ef 01 00 2f 87 01 00 21 bb 01 00 17 97 02 00


#>

 [16537] 33 b7 01 00 55 a5 01 00 7b 6d 00 59 5b 00 c5 01 a7 01 00 6b cf 01 00 37


#>

 [16561] cd 01 00 13 e1 01 00 20 bb 01 00 0d 97 01 00 13 73 00 2b ad 01 00 8d 01


#>

 [16585] ed 03 00 3d 89 01 00 61 d1 01 00 29 93 01 00 33 dd 01 00 00 9b 01 00 22


#>

 [16609] a3 01 00 00 69 00 2f b1 01 00 49 bb 01 00 99 01 ef 03 00 00 df 04 00 00


#>

 [16633] cb 01 00 2a 8d 01 00 00 75 00 59 cb 01 00 6d a5 02 00 13 f1 01 00 04 ad


#>

 [16657] 02 00 46 e5 01 00 3e d9 01 00 2e bd 01 00 2a a1 01 00 12 b1 01 00 00 ff


#>

 [16681] 01 00 0d a9 02 00 08 a5 03 00 21 7b 00 00 91 01 00 16 9f 01 00 0a 73 00


#>

 [16705] 25 db 01 00 25 93 02 00 4b ad 01 00 95 01 db 01 00 71 7d 00 6b 4d 00 6b


#>

 [16729] 5f 00 55 5b 00 33 9b 01 00 21 9f 01 00 00 b7 03 00 04 77 00 12 91 01 00


#>

 [16753] 03 bb 01 00 af 01 fb 04 00 6d cd 02 00 59 e9 01 00 41 a9 01 00 29 79 00


#>

 [16777] 2f 65 00 7f 5f 00 9b 01 3b 00 89 01 5f 00 87 01 87 01 00 75 b3 01 00 8d


#>

 [16801] 01 bb 01 00 5d 6d 00 87 01 4f 00 ad 01 0b 00 9b 01 2b 00 79 31 00 59 69


#>

 [16825] 00 3d 9d 01 00 55 97 01 00 37 89 01 00 67 9b 01 00 9b 01 cb 01 00 9b 01


#>

 [16849] b7 01 00 71 d7 01 00 67 f1 01 00 79 c9 02 00 25 8b 01 00 45 b5 01 00 55


#>

 [16873] a5 01 00 8d 01 a7 01 00 6b 5b 00 a9 01 83 01 00 c5 01 5d 00 b3 01 47 00


#>

 [16897] bd 01 5f 00 9f 01 01 00 7f 03 00 f3 01 0d 00 d5 01 0d 00 e1 01 14 00 9b


#>

 [16921] 01 00 00 63 05 00 67 07 00 63 29 00 71 19 00 67 3b 00 45 3d 00 71 73 00


#>

 [16945] 4f 8f 01 00 09 17 00 45 ed 01 00 09 6d 00 83 01 e7 01 00 37 cb 01 00 1b


#>

 [16969] e7 01 00 2f a9 02 00 09 57 00 0e 9f 01 00 22 8d 02 00 04 95 04 00 0d e1


#>

 [16993] 01 00 25 d9 01 00 17 dd 01 00 17 cd 01 00 1b cd 01 00 25 b9 01 00 25 9f


#>

 [17017] 01 00 55 87 01 00 6b 55 00 5d 8f 01 00 2f ad 01 00 05 77 00 26 8d 01 00


#>

 [17041] 34 69 00 08 e3 04 00 08 e3 01 00 18 d7 01 00 30 8d 01 00 42 39 00 2a 57


#>

 [17065] 00 00 67 00 2f 89 01 00 2b a5 01 00 00 8f 02 00 0e dd 01 00 70 ef 03 00


#>

 [17089] 13 c9 02 00 13 bb 02 00 17 ef 01 00 11 9f 01 00 09 e7 01 00 1c e9 01 00


#>

 [17113] 1c 77 00 30 8d 01 00 13 89 01 00 6d 9f 02 00 2d 69 00 59 43 00 63 b7 01


#>

 [17137] 00 3d d1 01 00 11 a9 01 00 03 93 03 00 13 97 01 00 47 b7 02 00 25 eb 01


#>

 [17161] 00 29 f5 01 00 1b c9 01 00 1b 83 01 00 4f b5 01 00 7f bb 01 00 33 85 01


#>

 [17185] 00 2f ef 01 00 0d eb 01 00 25 d9 04 00 00 93 02 00 00 95 01 00 0e df 01


#>

 [17209] 00 7a 7b 00 42 91 01 00 84 01 77 00 4a 9b 01 00 1c 91 01 00 00 7f 00 0d


#>

 [17233] 7b 00 04 75 00 18 af 01 00 b8 01 bd 03 00 2e d9 02 00 2a 6d 00 26 59 00


#>

 [17257] 0a 73 00 00 4b 00 45 e7 01 00 4f a5 01 00 55 df 01 00 79 c1 01 00 1c ff


#>

 [17281] 01 00 63 d5 04 00 1b 69 00 0d bf 01 00 2e af 01 00 60 c3 01 00 2a 9b 01


#>

 [17305] 00 24 b7 01 00 42 5b 00 20 69 00 bc 01 bf 01 00 5e 63 00 4c 67 00 38 b3


#>

 [17329] 01 00 2a c1 01 00 4c ad 01 00 bc 01 93 02 00 72 99 01 00 70 79 00 6c 7b


#>

 [17353] 00 34 49 00 30 4d 00 0e 6f 00 0a 6d 00 0e 73 00 09 bb 01 00 39 d9 01 00


#>

 [17377] 33 fb 01 00 51 d7 01 00 07 f3 01 00 00 4f 00 0a 61 00 1c 67 00 64 71 00


#>

 [17401] 94 01 97 01 00 6c 87 01 00 3e 91 01 00 06 9b 01 00 17 6d 00 11 65 00 1f


#>

 [17425] 93 01 00 11 8d 01 00 29 9b 01 00 3b 89 01 00 5d 6f 00 45 71 00 1f 61 00


#>

 [17449] 11 69 00 00 8d 01 00 1b 8d 01 00 25 73 00 1f 85 01 00 11 55 00 00 91 01


#>

 [17473] 00 10 91 01 00 00 99 01 00 1b 6b 00 33 89 01 00 2d 9b 01 00 3b 9f 01 00


#>

 [17497] 1f af 01 00 00 91 01 00 36 8f 03 00 18 d1 01 00 18 cb 01 00 0a ad 01 00


#>

 [17521] 00 ab 01 00 0d 89 01 00 14 85 01 00 1e 91 01 00 1e 57 00 42 77 00 50 61


#>

 [17545] 00 50 49 00 42 3b 00 34 35 00 34 37 00 3e 5f 00 1e 9b 01 00 10 7f 00 0d


#>

 [17569] 85 02 00 15 ad 02 00 37 df 01 00 33 b5 01 00 2d a9 01 00 0d 31 00 25 81


#>

 [17593] 01 00 29 85 01 00 5b e7 01 00 95 01 e9 02 00 1b 85 01 00 11 4f 00 17 35


#>

 [17617] 00 6b 6f 00 5d b3 01 00 75 c1 01 00 5d 89 01 00 79 a1 01 00 5d 89 01 00


#>

 [17641] 61 c5 01 00 4f 97 01 00 3b 97 01 00 29 93 01 00 0d 65 00 0d 97 01 00 0d


#>

 [17665] 69 00 07 27 00 2f 29 00 7d 41 00 d7 01 6d 00 9b 01 7d 00 7d 8d 01 00 67


#>

 [17689] 8f 01 00 db 01 c7 03 00 61 c3 01 00 7d ed 01 00 a3 01 9d 02 00 79 f5 01


#>

 [17713] 00 6b db 01 00 49 a5 01 00 11 a1 01 00 0a ed 01 00 02 93 02 00 29 93 01


#>

 [17737] 00 57 a7 01 00 41 83 01 00 29 93 01 00 1f 99 01 00 1b 51 00 23 53 00 a3


#>

 [17761] 01 5b 00 79 49 00 75 73 00 33 5d 00 45 b3 01 00 1f 5b 00 1b 47 00 61 6f


#>

 [17785] 00 bb 01 33 00 bf 01 69 00 ad 01 8b 01 00 15 11 00 33 81 01 00 23 61 00


#>

 [17809] 15 6b 00 05 25 00 22 a3 01 00 5a 00 00 fa 01 58 00 d4 02 34 00 c6 01 47


#>

 [17833] 00 84 01 3f 00 aa 01 3f 00 de 02 43 00 ae 02 63 00 fa 02 a3 01 00 b0 02


#>

 [17857] d5 01 00 fa 02 e3 01 00 a6 04 d3 03 00 e8 05 ed 04 00 b4 04 d1 03 00 a4


#>

 [17881] 06 97 04 00 18 0f 00 88 02 eb 0d 00 f4 01 b1 01 00 ec 01 89 01 00 ea 04


#>

 [17905] cf 02 00 d0 02 a5 01 00 82 02 55 00 ee 01 4f 00 f8 01 3d 00 a0 02 2f 00


#>

 [17929] 98 0a 66 00 ce 01 62 00 f4 05 f8 02 00 ae 02 bc 01 00 9c 01 96 01 00 8a


#>

 [17953] 01 a2 01 00 64 88 01 00 34 6a 00 02 d6 01 00 e6 02 b0 03 00 b0 02 e2 01


#>

 [17977] 00 ba 04 e4 01 00 d4 04 ec 01 00 c4 07 ae 03 00 ac 03 d4 01 00 ea 03 b8


#>

 [18001] 02 00 b0 02 a8 01 00 c0 03 28 00 8a 04 59 00 b6 02 43 00 88 03 78 00 80


#>

 [18025] 04 f8 01 00 ae 03 88 03 00 d2 01 dc 04 00 5e c4 02 00 fc 02 a4 01 00 a2


#>

 [18049] 04 8c 02 00 92 09 b2 05 00 a0 08 b8 06 00 90 07 e6 03 00 ec 07 c2 02 00


#>

 [18073] d6 11 a0 04 00 dc 0a 9a 02 00 d8 06 f8 01 00 b0 05 90 02 00 e4 06 e8 03


#>

 [18097] 00 b2 06 a8 07 00 ac 08 f0 07 00 f8 07 94 07 00 f8 03 92 06 00 92 03 f2


#>

 [18121] 03 00 de 02 ae 03 00 d2 05 aa 03 00 86 05 aa 03 00 b0 05 fc 04 00 82 05


#>

 [18145] b8 06 00 f0 03 a0 06 00 84 04 de 04 00 c2 0a a2 07 00 d4 11 b8 0c 00 e0


#>

 [18169] 04 86 03 00 e8 06 45 00 a2 06 2d 00 8a 05 1d 00 90 04 0c 00 8a 06 ec 02


#>

 [18193] 00 b6 06 be 04 00 c8 04 86 05 00 fa 01 b2 03 00 de 03 66 00 ea 02 b6 02


#>

 [18217] 00 b2 02 d0 02 00 fa 01 e2 02 00 c2 03 ba 01 00 ea 03 ca 02 00 d0 02 d0


#>

 [18241] 04 00 96 03 f0 05 00 5c ae 05 00 78 94 04 00 84 02 f2 02 00 96 02 d6 02


#>

 [18265] 00 e6 04 78 00 82 05 20 00 da 03 9e 02 00 ae 01 e4 02 00 e6 01 ac 02 00


#>

 [18289] ba 03 90 02 00 d6 01 e2 01 00 10 b4 03 00 ad 01 fe 03 00 4f ca 03 00 8a


#>

 [18313] 02 ce 01 00 b4 04 96 01 00 b6 04 c4 02 00 d0 03 a4 04 00 9e 03 be 05 00


#>

 [18337] e0 02 b6 04 00 aa 03 a0 04 00 ae 04 98 04 00 b6 05 ba 03 00 d2 04 9a 02


#>

 [18361] 00 9c 03 92 01 00 dc 04 1b 00 c6 05 da 01 00 8a 07 96 03 00 c8 07 8a 03


#>

 [18385] 00 b4 09 8a 03 00 8a 06 fc 02 00 aa 05 84 04 00 f0 05 c2 04 00 e8 04 c6


#>

 [18409] 04 00 a2 03 80 05 00 b8 04 e8 03 00 ac 05 cc 03 00 de 09 c0 06 00 90 07


#>

 [18433] be 04 00 dc 06 ec 03 00 bc 05 e0 03 00 9c 02 f0 02 00 84 03 e0 03 00 ec


#>

 [18457] 01 a4 02 00 f6 02 64 00 d8 03 29 00 92 04 2e 00 f8 02 c0 02 00 82 01 de


#>

 [18481] 03 00 30 d4 03 00 c8 01 de 03 00 da 01 9c 03 00 f0 02 ba 03 00 e6 03 ca


#>

 [18505] 03 00 e2 02 dc 02 00 bc 02 fa 02 00 d8 01 f6 01 00 ee 02 ec 01 00 ca 02


#>

 [18529] 7f 00 9e 02 f7 03 00 dc 02 87 04 00 ec 02 a3 02 00 fc 01 b9 02 00 b6 01


#>

 [18553] e1 03 00 fc 01 dd 07 00 52 cf 04 00 8e 01 e1 02 00 e0 02 9d 01 00 d0 02


#>

 [18577] f5 01 00 c6 01 85 03 00 06 cf 04 00 28 f1 04 00 54 ed 03 00 d2 01 95 04


#>

 [18601] 00 82 03 71 00 98 03 93 01 00 84 01 cb 02 00 2b 95 04 00 00 e9 02 00 ee


#>

 [18625] 01 a7 04 00 b4 03 bf 01 00 ee 05 8b 02 00 9c 03 a2 01 00 ae 02 9c 03 00


#>

 [18649] e2 01 a4 03 00 de 01 f4 02 00 f6 01 e4 02 00 86 06 6c 00 ee 06 4c 00 b2


#>

 [18673] 03 93 03 00 cc 02 b5 04 00 8e 01 bd 02 00 80 03 f7 01 00 a6 04 de 01 00


#>

 [18697] b6 02 ba 02 00 e2 01 dc 02 00 fa 01 d4 02 00 fc 02 ca 01 00 f8 02 90 02


#>

 [18721] 00 ae 02 da 03 00 68 c4 03 00 26 9e 03 00 0d b8 03 00 b6 01 f8 01 00 ae


#>

 [18745] 03 08 00 f2 04 4b 00 f8 04 55 00 f8 03 86 02 00 f6 02 ec 03 00 d8 01 e8


#>

 [18769] 01 00 f8 04 34 00 07 16 00 44 a6 01 00 ae 02 e8 03 00 86 01 ae 02 00 89


#>

 [18793] 01 a8 01 00 ad 02 2d 00 37 b6 04 00 a2 03 36 00 82 04 64 00 b6 03 c2 03


#>

 [18817] 00 c2 01 ec 03 00 7d a2 02 00 9f 03 40 00 b3 02 b4 01 00 78 d0 02 00 9c


#>

 [18841] 03 8e 02 00 f2 02 f8 01 00 c6 01 de 03 00 38 c2 04 00 54 dc 04 00 a2 02


#>

 [18865] ae 06 00 f2 01 ac 02 00 91 03 96 04 00 8a 01 d6 02 00 84 03 da 02 00 b5


#>

 [18889] 04 a8 0b 00 80 02 f8 06 00 aa 04 e0 02 00 b2 06 a2 02 00 e6 03 09 00 98


#>

 [18913] 03 9d 02 00 05 8f 03 00 87 01 b9 04 00 35 ad 05 00 f2 01 f3 01 00 96 02


#>

 [18937] 7e 00 72 a2 03 00 a0 01 d6 04 00 48 ea 02 00 40 e6 05 00 f2 01 ba 03 00


#>

 [18961] ec 03 ca 03 00 8a 04 f6 04 00 a6 04 ec 05 00 ee 03 e6 04 00 ac 03 d4 04


#>

 [18985] 00 8c 01 ce 04 00 3c 86 05 00 bb 01 98 03 00 91 02 13 00 e5 01 17 00 af


#>

 [19009] 01 4c 00 32 aa 02 00 86 02 ac 02 00 d0 03 ee 02 00 fe 03 ea 02 00 c4 02


#>

 [19033] 76 00 e0 01 87 01 00 16 8d 02 00 75 a1 03 00 2f eb 02 00 6a 87 02 00 b4


#>

 [19057] 02 23 00 c8 02 a0 02 00 8e 01 ec 02 00 1b a6 03 00 25 80 04 00 1c f2 03


#>

 [19081] 00 9e 01 c0 02 00 e0 01 e2 01 00 98 02 8c 02 00 a0 02 a8 03 00 80 03 90


#>

 [19105] 06 00 d0 04 8a 06 00 71 06 00 95 01 80 02 00 81 03 a4 03 00 8f 03 e8 02


#>

 [19129] 00 d9 02 7c 00 e7 01 9a 01 00 f1 01 32 00 f1 01 96 01 00 dd 01 38 00 ab


#>

 [19153] 02 a2 01 00 d5 02 c8 02 00 f7 01 b0 01 00 8d 01 1f 00 89 01 80 01 00 e3


#>

 [19177] 01 e2 01 00 89 01 4e 00 9d 01 70 00 97 01 ea 01 00 9f 01 e2 02 00 f7 01


#>

 [19201] ea 02 00 b9 03 a0 03 00 e1 02 92 03 00 a9 01 ae 03 00 87 01 dc 03 00 a1


#>

 [19225] 01 ac 05 00 19 a0 02 00 28 98 02 00 c3 01 c8 02 00 57 94 03 00 bf 01 d0


#>

 [19249] 01 00 b1 01 ac 02 00 5e 7a 00 01 b2 01 00 41 9e 04 00 71 b8 04 00 22 94


#>

 [19273] 03 00 03 f2 02 00 08 da 04 00 78 bc 02 00 1a a2 02 00 73 dc 01 00 15 98


#>

 [19297] 02 00 bf 01 80 03 00 16 da 01 00 ee 01 d4 02 00 19 c0 01 00 bd 01 7a 00


#>

 [19321] ad 01 12 00 c7 01 92 01 00 eb 01 44 00 eb 01 21 00 97 01 62 00 a1 01 ee


#>

 [19345] 01 00 77 a6 01 00 c9 01 84 02 00 1f d4 02 00 25 e4 03 00 0c e6 04 00 3f


#>

 [19369] f2 02 00 fb 01 ee 01 00 3f b8 02 00 03 d6 03 00 05 b4 04 00 8b 01 c6 02


#>

 [19393] 00 2c 90 03 00 10 80 06 00 47 a4 08 00 36 a8 05 00 68 bc 07 00 b6 01 ec


#>

 [19417] 04 00 66 b6 02 00 53 a4 03 00 b5 01 aa 02 00 4d b8 01 00 30 ba 02 00 98


#>

 [19441] 01 c8 02 00 d8 01 f4 01 00 1d e6 01 00 23 96 02 00 2c e8 02 00 36 e6 01


#>

 [19465] 00 a5 01 92 01 00 fd 03 03 00 df 01 9c 01 00 f1 01 e0 01 00 f5 01 54 00


#>

 [19489] e7 01 0c 00 cb 01 aa 01 00 95 01 84 02 00 5b a0 02 00 47 a0 04 00 15 fc


#>

 [19513] 05 00 09 80 08 00 38 a4 04 00 17 a8 04 00 b5 01 c0 02 00 38 ae 01 00 7e


#>

 [19537] a6 01 00 1e 90 02 00 c1 01 4e 00 c3 02 55 00 c5 01 14 00 69 86 02 00 15


#>

 [19561] d2 02 00 5c bc 01 00 66 e2 01 00 44 ba 02 00 71 ea 03 00 3f f2 02 00 56


#>

 [19585] 8c 02 00 2c a2 02 00 93 01 d4 01 00 c3 01 de 01 00 23 e2 01 00 1a d4 01


#>

 [19609] 00 82 01 a4 01 00 78 a8 02 00 19 ae 02 00 69 de 01 00 01 8e 01 00 32 e2


#>

 [19633] 01 00 23 b0 02 00 89 01 a2 01 00 89 02 de 01 00 70 82 02 00 88 01 b6 02


#>

 [19657] 00 17 98 02 00 60 ca 01 00 2a e4 01 00 03 f0 02 00 04 aa 02 00 9c 01 a6


#>

 [19681] 02 00 a6 01 9c 01 00 3a e6 03 00 74 c8 03 00 0e d4 02 00 43 c8 01 00 05


#>

 [19705] d8 01 00 51 c4 01 00 2f d0 01 00 9e 01 e4 03 00 65 de 02 00 7b bc 04 00


#>

 [19729] 59 fc 06 00 53 ca 05 00 a1 01 a0 04 00 1f 94 03 00 8c 01 c0 02 00 a2 01


#>

 [19753] 84 03 00 be 04 96 04 00 2d a2 03 00 2b 8a 04 00 5b cc 03 00 37 b2 02 00


#>

 [19777] 86 01 c6 01 00 39 b2 01 00 61 60 00 32 de 01 00 0b b2 01 00 5f b6 01 00


#>

 [19801] 24 98 01 00 37 98 02 00 67 a0 02 00 29 8e 03 00 09 e2 01 00 66 90 02 00


#>

 [19825] 1d b0 01 00 a3 01 98 01 00 5b 96 01 00 40 d4 03 00 b4 01 80 06 00 6a ee


#>

 [19849] 03 00 1d c8 06 00 30 d8 0a 00 68 88 0a 00 4c a0 08 00 84 01 90 07 00 aa


#>

 [19873] 01 9c 05 00 4b 96 02 00 59 92 02 00 92 01 fc 01 00 44 7a 00 06 d4 03 00


#>

 [19897] 7f 9a 02 00 20 86 02 00 50 dc 02 00 1e ca 03 00 1d a0 04 00 50 f8 02 00


#>

 [19921] 9a 01 de 01 00 e4 01 a0 03 00 78 c4 03 00 45 b8 03 00 ec 01 fc 02 00 d6


#>

 [19945] 02 84 01 00 88 03 0b 00 bc 02 39 00 e6 02 28 00 6c ee 01 00 21 c6 01 00


#>

 [19969] ad 01 54 00 9b 02 2b 00 33 a4 02 00 39 d4 01 00 b3 01 fe 01 00 1b fc 01


#>

 [19993] 00 85 01 cc 01 00 c7 01 96 01 00 ef 01 60 00 63 f0 01 00 6a d0 01 00 88


#>

 [20017] 01 f6 01 00 55 ae 02 00 dd 02 e8 01 00 bb 01 7a 00 3f c6 01 00 39 8a 02


#>

 [20041] 00 b7 01 8a 02 00 5d 9e 02 00 65 a4 03 00 a9 01 a4 02 00 b5 01 96 03 00


#>

 [20065] 22 f2 02 00 0c cc 03 00 08 c6 04 00 0f b6 04 00 2b b8 04 00 32 c8 04 00


#>

 [20089] 3e 90 05 00 78 f4 03 00 e6 01 a6 02 00 d6 02 98 01 00 da 02 4e 00 d8 02


#>

 [20113] 1f 00 cc 01 38 00 8e 01 b6 02 00 04 90 02 00 69 6a 00 d9 0c 56 00 97 01


#>

 [20137] c2 01 00 0d e8 09 00 62 dc 02 00 8a 02 94 03 00 90 02 9c 01 00 ae 02 38


#>

 [20161] 00 ca 02 0d 00 bc 02 34 00 dc 01 8e 02 00 de 01 f0 02 00 d8 01 9a 02 00


#>

 [20185] 39 8c 02 00 e1 01 b8 02 00 c7 01 bc 01 00 5b bf 03 00 85 04 0a 00 ab 01


#>

 [20209] 60 00 17 ae 02 00 16 dc 03 00 9e 01 aa 04 00 66 cc 04 00 24 fc 03 00 3e


#>

 [20233] fc 02 00 70 a6 02 00 2c 94 03 00 62 bc 04 00 5e fc 02 00 51 8a 01 00 ef


#>

 [20257] 01 82 01 00 b1 02 3e 00 e9 01 9a 01 00 85 02 e8 01 00 c3 02 66 00 97 02


#>

 [20281] 17 00 bf 01 36 00 4a b6 01 00 8a 01 a8 01 00 02 a4 01 00 85 01 96 01 00


#>

 [20305] 35 72 00 fc 01 7c 00 b0 02 74 00 d8 02 fa 01 00 fe 01 d0 01 00 e2 01 18


#>

 [20329] 00 fe 01 77 00 90 01 c5 01 00 da 01 c1 01 00 d8 01 29 00 8e 01 24 00 66


#>

 [20353] b6 01 00 2e ec 01 00 f1 01 92 02 00 b7 02 96 02 00 bb 02 aa 02 00 b9 02


#>

 [20377] b8 01 00 e1 01 26 00 e7 08 02 00 c9 02 2d 00 2d 7c 00 ba 01 9e 01 00 d2


#>

 [20401] 02 aa 01 00 c2 01 08 00 d2 01 37 00 82 02 77 00 48 94 01 00 4d d4 01 00


#>

 [20425] e7 01 dc 01 00 93 03 96 01 00 dd 03 9e 02 00 f9 03 dc 01 00 01 98 04 00


#>

 [20449] aa 03 f6 02 00 c8 01 66 00 72 60 00 77 58 00 10 98 01 00 ac 01 98 01 00


#>

 [20473] a6 02 50 00 c6 02 46 00 c2 03 8e 01 00 ba 01 86 01 00 09 8a 02 00 55 be


#>

 [20497] 01 00 c3 01 58 00 81 01 a8 01 00 2f e6 01 00 f1 01 e6 03 00 d5 02 c6 03


#>

 [20521] 00 6b d0 02 00 23 f0 02 00 08 ee 03 00 5c d6 06 00 44 b8 08 00 30 fc 07


#>

 [20545] 00 07 96 08 00 01 fc 0d 00 0b a2 04 00 b3 01 80 02 00 ed 01 8c 01 00 8b


#>

 [20569] 01 aa 01 00 5c 8c 01 00 d2 01 b8 01 00 b8 01 b4 02 00 5c c2 03 00 56 a6


#>

 [20593] 05 00 20 b2 04 00 5f a2 04 00 37 e6 04 00 3a ba 06 00 58 e8 08 00 6a e6


#>

 [20617] 0b 00 92 01 fa 09 00 6c b8 07 00 1a 90 07 00 07 aa 08 00 0d e8 07 00 0d


#>

 [20641] bc 08 00 56 90 08 00 4e e6 0b 00 6b c2 03 00 af 02 ae 01 00 c5 02 11 00


#>

 [20665] 8d 03 3d 00 bf 03 0e 00 d5 01 c8 01 00 73 fc 03 00 3b bc 03 00 70 94 02


#>

 [20689] 00 70 a2 02 00 11 e2 02 00 3c a6 04 00 b8 01 80 03 00 b6 01 7e 00 c6 01


#>

 [20713] 1d 00 8c 02 1b 00 09 84 02 00 24 b0 01 00 bc 01 f2 02 00 bc 01 96 04 00


#>

 [20737] d4 01 94 02 00 ec 01 ea 02 00 84 01 19 00 b2 02 d0 02 00 b8 01 2b 00 80


#>

 [20761] 01 6e 00 4a fc 01 00 0f d6 01 00 61 56 00 07 7a 00 1e b8 01 00 04 8a 02


#>

 [20785] 00 a6 01 64 00 c6 01 0a 00 d4 0a c9 01 00 9a 02 12 00 5e f0 01 00 a2 01


#>

 [20809] b8 01 00 ca 01 04 00 a6 02 42 00 8c 01 bc 01 00 03 84 03 00 00 92 05 00


#>

 [20833] 3e de 07 00 76 96 0a 00 d0 01 98 0c 00 57 d6 01 00 8b 01 66 00 f9 01 2c


#>

 [20857] 00 d5 05 54 00 e6 03 a6 07 00 8a 01 fa 02 00 83 02 03 00 8f 04 2c 00 df


#>

 [20881] 03 46 00 cf 01 88 03 00 b3 01 80 02 00 21 b6 01 00 78 a6 01 00 cd 0a 28


#>

 [20905] 00 5c 8c 06 00 e0 01 8d 01 00 dc 04 25 00 82 0e d9 01 00 10 d0 08 00 02


#>

 [20929] ac 08 00 3c e8 06 00 46 92 0b 00 ff 10 d1 01 00 3e f2 07 00 91 01 8e 01


#>

 [20953] 00 d6 02 82 1b 00 96 02 88 19 00 c6 04 a0 02 00 9c 03 b8 01 00 5c c4 02


#>

 [20977] 00 6a a8 04 00 20 f6 05 00 bb 01 d0 01 00 22 b4 02 00 b4 01 84 03 00 8e


#>

 [21001] 02 ea 03 00 48 fa 02 00 e0 01 e6 04 00 8e 01 8a 02 00 10 90 03 00 2d ac


#>

 [21025] 04 00 22 82 04 00 61 ee 03 00 99 01 f8 03 00 10 e8 03 00 a8 01 c2 05 00


#>

 [21049] 98 01 ca 03 00 56 f8 03 00 15 88 04 00 02 c0 03 00 da 01 ce 04 00 86 02


#>

 [21073] 88 07 00 82 02 80 08 00 94 02 e8 06 00 e0 02 ac 06 00 ee 01 d4 05 00 45


#>

 [21097] ec 02 00 48 ac 03 00 8a 01 fe 03 00 9e 01 ce 04 00 80 02 a4 04 00 a2 01


#>

 [21121] b6 04 00 3a 92 04 00 57 bc 03 00 9c 01 b4 03 00 c8 01 e2 03 00 72 e0 01


#>

 [21145] 00 c6 01 8e 01 00 8e 02 2e 00 f4 03 ab 01 00 88 03 41 00 bc 01 40 00 22


#>

 [21169] b8 02 00 f9 01 6a 00 8b 05 b4 01 00 c9 02 78 00 6f da 01 00 0a e6 01 00


#>

 [21193] 42 8e 02 00 30 f0 02 00 86 02 ec 05 00 b4 01 96 04 00 d6 01 ae 02 00 cc


#>

 [21217] 01 54 00 da 01 e6 01 00 8a 01 9e 02 00 8e 01 c2 01 00 f2 01 fc 01 00 d0


#>

 [21241] 01 f6 02 00 3a b0 03 00 7f 62 00 f5 01 3f 00 ad 01 b6 02 00 a6 01 ea 02


#>

 [21265] 00 36 f0 02 00 6e c0 03 00 8a 02 da 03 00 aa 01 9e 03 00 72 fe 01 00 b4


#>

 [21289] 01 30 00 92 01 25 00 92 01 0e 00 29 c8 01 00 db 01 aa 02 00 0e 76 00 b6


#>

 [21313] c3 bb 73 ec f6 85 0e 00 a0 12 b7 0a 00 f0 15 ef 06 00 cc 0e f7 06 00 fc


#>

 [21337] 0a 8d 07 00 a6 07 ff 06 00 e4 03 c7 0a 00 12 8f 0e 00 1e 95 15 00 1c 95


#>

 [21361] 15 00 e8 03 e1 11 00 b2 07 c3 0a 00 a8 07 ff 06 00 ac 07 ff 06 00 f6 0a


#>

 [21385] b7 03 00 ea 0a 94 07 00 88 07 da 11 00 17 d4 11 00 e3 03 8c 0e 00 11 cc


#>

 [21409] 0a 00 09 88 07 00 9e 07 cc 03 00 ee 0a d0 03 00 a4 07 bb 03 00 e2 03 c7


#>

 [21433] 0a 00 ac 07 c3 0a 00 b2 07 c3 0a 00 80 0b bf 0a 00 f2 0a 05 00 80 12 a2


#>

 [21457] 0e 00 96 07 90 07 00 e0 0a ac 0e 00 1d 96 15 00 85 04 e6 26 00 d3 07 e2


#>

 [21481] 26 00 bf 07 a2 15 00 0d cc 0a 00 c4 03 8c 07 00 c6 03 8c 07 00 c0 0e d4


#>

 [21505] 03 00 a2 07 08 00 cc 0e 89 07 00 d8 03 83 07 00 ce 07 d9 1f 00 2e a5 23


#>

 [21529] 00 26 af 1c 00 1c d3 11 00 de 03 c7 0a 00 de 03 c7 0a 00 d0 0e bb 0a 00


#>

 [21553] 9a 12 af 03 00 92 12 02 00 e8 0a 94 07 00 e4 0a d6 0a 00 e2 0a d6 0a 00


#>

 [21577] d2 15 a6 0e 00 a4 07 bb 03 00 e2 03 c7 0a 00 14 8f 0e 00 c1 03 cf 0a 00


#>

 [21601] c9 03 8b 07 00 87 12 99 07 00 e3 0a d5 0a 00 95 07 8f 07 00 c5 03 8b 07


#>

 [21625] 00 ad 0e 9d 0e 00 ff 11 e5 11 00 b1 20 fd 18 00 ff 11 a1 0e 00 ab 19 a1


#>

 [21649] 07 00 8b 12 d5 03 00 f3 0a 0b 00 c9 03 c7 03 00 cd 03 c7 03 00 04 c3 03


#>

 [21673] 00 20 95 15 00 c9 03 8b 07 00 85 12 99 07 00 99 24 df 0a 00 d3 20 21 00


#>

 [21697] c3 19 b0 0a 00 ed 15 82 07 00 b5 19 1b 00 b9 19 ec 06 00 9f 12 f4 06 00


#>

 [21721] ff 0a d2 0a 00 89 0b c8 11 00 bb 07 90 15 00 c3 07 d2 18 00 fb 03 f0 1f


#>

 [21745] 00 fd 03 de 1f 00 f4 06 ea 1f 00 98 0e f2 1f 00 a6 0e a6 15 00 d6 0a a2


#>

 [21769] 15 00 6a 0d 0a 0b 23 66 61 6c 73 65 43 6f 6c 6f 72 6a 06 32 04 6e 75 6c


#>

 [21793] 6c 6a 09 11 cd cc cc cc cc cc 31 40 6a 09 11 00 00 00 00 00 80 30 40 6a


#>

 [21817] 09 11 33 33 33 33 33 b3 30 40 6a 09 11 33 33 33 33 33 33 30 40 6a 02 18


#>

 [21841] 13 6a 09 11 66 66 66 66 66 66 32 40 6a 09 11 66 66 66 66 66 66 2b 40 6a


#>

 [21865] 05 0a 03 4e 43 52 6a 06 32 04 6e 75 6c 6c 72 16 00 00 01 01 02 02 03 03


#>

 [21889] 04 04 05 05 06 06 07 07 08 08 09 09 0a 0a





# other geojson class objects




x

 

<-

 

'{ "type": "Polygon",




"coordinates": [




  [ [100.0, 0.0], [101.0, 0.0], [101.0, 1.0], [100.0, 1.0], [100.0, 0.0] ]




  ]




}'




(

y

 

<-

 polygon

(

x

)

)




#>

 <Polygon> 


#>

   no. lines:  1 


#>

   no. holes:  0 


#>

   no. nodes / line:  5 


#>

   coordinates:  [[[100,0],[101,0],[101,1],[100,1],[100,0]]] 


to_geobuf

(

y

)




#>

  [1] 10 02 18 06 2a 1a 0a 18 08 04 12 01 04 1a 11 80 84 af 5f 00 80 89 7a 00 00


#>

 [26] 80 89 7a ff 88 7a 00





x

 

<-

 

'{"type": "MultiPoint", "coordinates": [ [100.0, 0.0], [101.0, 1.0] ] }'




(

y

 

<-

 multipoint

(

x

)

)




#>

 <MultiPoint> 


#>

   coordinates:  [[100,0],[101,1]] 


to_geobuf

(

y

)




#>

  [1] 10 02 18 06 2a 11 0a 0f 08 01 1a 0b 80 84 af 5f 00 80 89 7a 80 89 7a