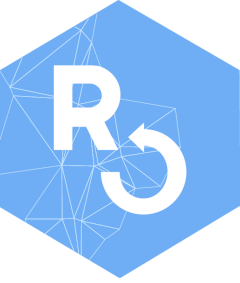 Introduction
The git2r package gives you programmatic access to Git repositories from R. Internally the package uses the libgit2 library which is a pure C implementation of the Git core methods. For more information about libgit2, check out libgit2's website (http://libgit2.github.com).
Suggestions, bugs, forks and pull requests are appreciated. Get in touch.
Installation
To install the version available on CRAN:
.

packages

(

"git2r"

)

install
To install the development version of git2r, it's easiest to use the devtools package:
# install.packages("remotes")




(

remotes

)


 library

(

"ropensci/git2r"

)

install_github
Usage
Repository
The central object in the git2r package is the S3 class git_repository. The following three methods can instantiate a repository; init, repository and clone.
Configuration
(

repo

,

 user

.

name

=

"Git2r Readme"

,

 user

.

email

=

"git2r.readme@example.org"

)


 config


## Display configuration




(

repo

)

config
#> global:




#>         core.autocrlf=input




#> local:




#>         branch.master.merge=refs/heads/master




#>         branch.master.remote=origin




#>         core.bare=false




#>         core.filemode=true




#>         core.logallrefupdates=true




#>         core.repositoryformatversion=0




#>         remote.origin.fetch=+refs/heads/*:refs/remotes/origin/*




#>         remote.origin.url=https://github.com/ropensci/git2r




#>         user.email=git2r.readme@example.org




#>         user.name=Git2r Readme
Commit
## Create a new file




(

"Hello world!"

,

 file

.

path

(

path

,

 

"test.txt"

))


 writeLines


## Add file and commit




(

repo

,

 

"test.txt"

)


 add

(

repo

,

 

"Commit message"

)

commit
#> Commit:  0a6af48cedf43208bde34230662280514e0956eb




#> Author:  Git2r Readme <git2r.readme@example.org>




#> When:    2014-04-22 21:44:57




#> Summary: Commit message