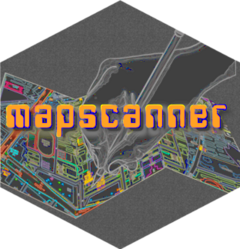 mapscanner
What does this package do for me?
mapscanner is an R package that enables lines drawn by hand on maps to be converted to spatial objects. The package has two primary functions: one for producing maps, and one for rectifying hand-drawn lines to the coordinate system of the original map. The package is intended for use in social surveys and similar endeavours in which hand-drawn markings on maps need to be converted to spatial objects. Maps can be either paper- or screen-based. Markings on paper maps need to be scanned, photographed, or otherwise digitised, while maps with screen-based markings need to be saved as .png-format images.
Installation
The current stable version can be installed from CRAN with:
Alternatively, the development version can be installed via rOpenSci's r-universe by running the following prior to calling install.packages():

options

(

repos 

=

 c

(


                  ropensci 

=

 

'https://ropensci.r-universe.dev'

,
                  CRAN 

=

 

'https://cloud.r-project.org'

)

)
The package can then be loaded for usage in a R session with
Usage
The package is designed to enable the following workflow:
Generate a map with the ms_generate_map() function, which automatically produces both .pdf and .png versions;

Either print the .pdf version to use as desired in any kind of survey environment, or use either the .pdf or .png versions in digital form for screen-based surveys.

Draw on the map;

For paper maps, digitise the drawn-on (from here on, "modified") map, converting it to either .pdf or .png format; and

Rectify the modified version against the original via the ms_rectify_map() function, which distinguishes individual annotations, and converts each one to a spatial object able to be analysed in any desired manner.
Code of Conduct
Please note that this package is released with a Contributor Code of Conduct. By contributing to this project, you agree to abide by its terms.