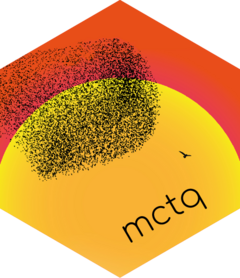 A fictional \(\mu\)MCTQ dataset
Source:
R/micro_mctq.R
micro_mctq.Rd
A fictional dataset, for testing and learning purposes, composed of basic/measurable and computed variables of the Munich ChronoType Questionnaire (MCTQ) micro (\(\mu\)) version.
This data was created following the guidelines in Ghotbi et al. (2020), in addition to the guidelines in Roenneberg, Wirz-Justice, & Merrow (2003), Roenneberg, Allebrandt, Merrow, & Vetter (2012), Jankowski (2017), and The Worldwide Experimental Platform (n.d.). See the References and Details sections to learn more.
Format
A tibble with 19 columns and 50 rows:
id

shift_work

wd

fd

so_w

se_w

sd_w

msw

so_f

se_f

sd_f

msf

sd_week

sloss_week

msf_sc

sjl_rel

sjl

sjl_sc_rel

sjl_sc
References
Ghotbi, N., Pilz, L. K., Winnebeck, E. C., Vetter, C., Zerbini, G., Lenssen, D., Frighetto, G., Salamanca, M., Costa, R., Montagnese, S., & Roenneberg, T. (2020). The \(\mu\)MCTQ: an ultra-short version of the Munich ChronoType Questionnaire. Journal of Biological Rhythms, 35(1), 98-110. doi:10.1177/0748730419886986
Jankowski K. S. (2017). Social jet lag: sleep-corrected formula. Chronobiology International, 34(4), 531-535. doi:10.1080/07420528.2017.1299162
Juda, M., Vetter, C., & Roenneberg, T. (2013). The Munich ChronoType Questionnaire for shift-workers (MCTQ\(^{Shift}\)). Journal of Biological Rhythms, 28(2), 130-140. doi:10.1177/0748730412475041
Roenneberg T., Allebrandt K. V., Merrow M., & Vetter C. (2012). Social jetlag and obesity. Current Biology, 22(10), 939-43. doi:10.1016/j.cub.2012.03.038
Roenneberg, T., Keller, L. K., Fischer, D., Matera, J. L., Vetter, C., & Winnebeck, E. C. (2015). Human activity and rest in situ. In A. Sehgal (Ed.), Methods in Enzymology (Vol. 552, pp. 257-283). Academic Press. doi:10.1016/bs.mie.2014.11.028
Roenneberg, T., Pilz, L. K., Zerbini, G., & Winnebeck, E. C. (2019). Chronotype and social jetlag: a (self-) critical review. Biology, 8(3), 54. doi:10.3390/biology8030054
Roenneberg, T., Wirz-Justice, A., & Merrow, M. (2003). Life between clocks: daily temporal patterns of human chronotypes. Journal of Biological Rhythms, 18(1), 80-90. doi:10.1177/0748730402239679
The Worldwide Experimental Platform (n.d.). MCTQ. https://www.thewep.org/documentations/mctq/