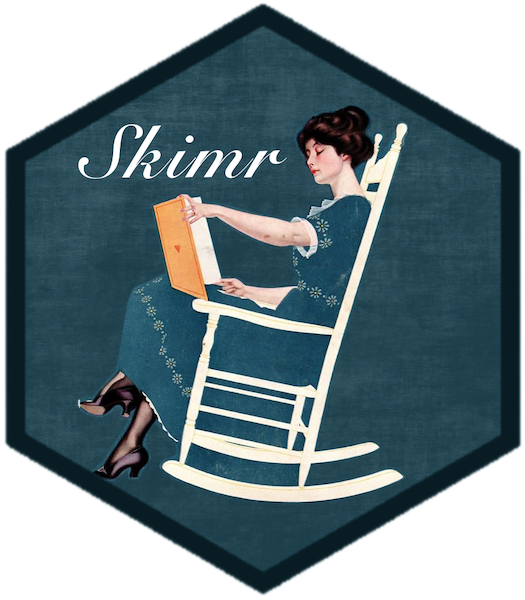 Only show a subset of summary statistics after skimming
Source:
R/reshape.R
focus.Rd
This function is a variant of dplyr::select() designed to work with skim_df objects. When using focus(), skimr metadata columns are kept, and skimr print methods are still utilized. Otherwise, the signature and behavior is identical to dplyr::select().
Arguments
.data

A skim_df object.

...

One or more unquoted expressions separated by commas. Variable names can be used as if they were positions in the data frame, so expressions like x:y can be used to select a range of variables.
Examples
# Compare




iris

 %>%
  skim

(

)

 %>%
  

dplyr

::

select

(

n_missing

)




#>

 

# A tibble: 5 × 1




#>

   n_missing


#>

       

<int>




#>

 

1

         0


#>

 

2

         0


#>

 

3

         0


#>

 

4

         0


#>

 

5

         0





iris

 %>%
  skim

(

)

 %>%
  

focus

(

n_missing

)




#>

 ── Data Summary ────────────────────────


#>

                            Values    


#>

 Name                       Piped data


#>

 Number of rows             150       


#>

 Number of columns          5         


#>

 _______________________              


#>

 Column type frequency:               


#>

   factor                   1         


#>

   numeric                  4         


#>

 ________________________             


#>

 Group variables            None      


#>

 


#>

 ── Variable type: factor ───────────────────────────────────────────────────────


#>

   skim_variable n_missing


#>

 

1

 Species               0


#>

 


#>

 ── Variable type: numeric ──────────────────────────────────────────────────────


#>

   skim_variable n_missing


#>

 

1

 Sepal.Length          0


#>

 

2

 Sepal.Width           0


#>

 

3

 Petal.Length          0


#>

 

4

 Petal.Width           0





# This is equivalent to




iris

 %>%
  skim

(

)

 %>%
  

dplyr

::

select

(

skim_variable

, 

skim_type

, 

n_missing

)




#>

 ── Data Summary ────────────────────────


#>

                            Values    


#>

 Name                       Piped data


#>

 Number of rows             150       


#>

 Number of columns          5         


#>

 _______________________              


#>

 Column type frequency:               


#>

   factor                   1         


#>

   numeric                  4         


#>

 ________________________             


#>

 Group variables            None      


#>

 


#>

 ── Variable type: factor ───────────────────────────────────────────────────────


#>

   skim_variable n_missing


#>

 

1

 Species               0


#>

 


#>

 ── Variable type: numeric ──────────────────────────────────────────────────────


#>

   skim_variable n_missing


#>

 

1

 Sepal.Length          0


#>

 

2

 Sepal.Width           0


#>

 

3

 Petal.Length          0


#>

 

4

 Petal.Width           0