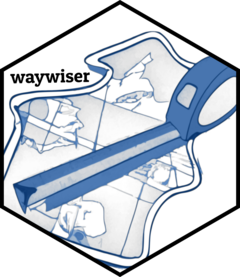 Number of trees and aboveground biomass for Forest Inventory and Analysis plots in New York State
Source:
R/data.R
ny_trees.Rd
This data is adapted from the Tidymodels "multi-scale assessment" lesson, available at https://www.tidymodels.org/learn/work/multi-scale/. The original data is derived from the Forest Inventory and Analysis program, implemented by the US Department of Agriculture's Forest Service.
Format
An sf object using EPSG 5070: NAD83 / Conus Albers (in meters), with 5,303 rows and 5 columns:
yr

The year measurements were taken.

plot

A unique identifier signifying the plot measurements were taken at.

n_trees

The number of trees present on a plot.

agb

The total aboveground biomass at the plot location, in pounds.

geometry

The centroid of the plot location.