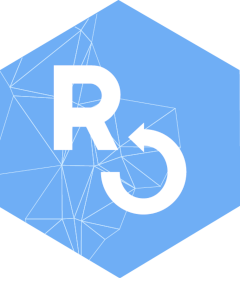 count_studies
Source:
R/count_studies.R
count_studies.Rd
returns a matrix indiating how many studies have recorded individual receptor-odorant combinations
Arguments
ors

data.frame containing all receptors exidting in DoOR.

odor_data

data.frame containing information about the odorants in DoOR.

char.columns

number of character columns in each receptor data.frame.

ident

odorant identifier to be used as rownames.
Examples
# load some data


library

(

DoOR.data

)


load_door_data

(

nointeraction 

=

 

TRUE

)







#run count studies and plot the result




count

 

<-

 

count_studies

(

)


image

(

count

)



head

(

count

)




#>

                             ac1A ac1B ac2A ac2B ac3A ac3B ac4 Or1a Or2a Or7a


#>

 SFR                            2    1    2    1    3    3   3    1    3   10


#>

 XLYOFNOQVPJJNP-UHFFFAOYSA-N    1    0    1    0    2    2   2    1    1    2


#>

 VHUUQVKOLVNVRT-UHFFFAOYSA-N    1    0    1    0    2    2   2    0    1    2


#>

 KIDHWZJUCRJVML-UHFFFAOYSA-N    2    1    2    1    3    3   3    0    1    4


#>

 VHRGRCVQAFMJIZ-UHFFFAOYSA-N    0    0    0    0    1    1   1    0    1    2


#>

 QGZKDVFQNNGYKY-UHFFFAOYSA-N    1    1    1    1    1    1   1    0    0    2


#>

                             Or9a Or10a Or13a Or19a Or22a Or22b Or22c Or23a


#>

 SFR                            2     6     7     3    10     0     2     1


#>

 XLYOFNOQVPJJNP-UHFFFAOYSA-N    1     1     2     0     1     0     1     0


#>

 VHUUQVKOLVNVRT-UHFFFAOYSA-N    2     2     1     2     2     0     0     1


#>

 KIDHWZJUCRJVML-UHFFFAOYSA-N    2     3     2     2     3     0     0     1


#>

 VHRGRCVQAFMJIZ-UHFFFAOYSA-N    1     1     0     2     1     0     0     1


#>

 QGZKDVFQNNGYKY-UHFFFAOYSA-N    0     1     1     0     1     0     0     0


#>

                             Or24a Or30a Or33a Or33b Or33c Or35a Or42a Or42b


#>

 SFR                             2     3     1     4     1     3     6     7


#>

 XLYOFNOQVPJJNP-UHFFFAOYSA-N     1     2     1     1     0     1     3     2


#>

 VHUUQVKOLVNVRT-UHFFFAOYSA-N     0     0     0     1     0     1     1     1


#>

 KIDHWZJUCRJVML-UHFFFAOYSA-N     0     0     0     1     0     1     1     2


#>

 VHRGRCVQAFMJIZ-UHFFFAOYSA-N     0     0     0     1     0     1     0     0


#>

 QGZKDVFQNNGYKY-UHFFFAOYSA-N     0     0     0     0     0     0     0     1


#>

                             Or43a Or43b Or45a Or45b Or46a Or47a Or47b Or49a


#>

 SFR                             1     3     3     3     3     4     6     3


#>

 XLYOFNOQVPJJNP-UHFFFAOYSA-N     0     1     2     2     1     1     0     2


#>

 VHUUQVKOLVNVRT-UHFFFAOYSA-N     1     2     0     0     1     1     1     0


#>

 KIDHWZJUCRJVML-UHFFFAOYSA-N     1     2     0     0     1     1     1     0


#>

 VHRGRCVQAFMJIZ-UHFFFAOYSA-N     1     1     0     0     0     1     1     0


#>

 QGZKDVFQNNGYKY-UHFFFAOYSA-N     0     0     0     0     0     0     0     0


#>

                             Or49b Or59a Or59b Or59c Or65a Or67a Or67b Or67c


#>

 SFR                             3     3     8     4     2     2     4     3


#>

 XLYOFNOQVPJJNP-UHFFFAOYSA-N     1     1     1     1     0     0     2     1


#>

 VHUUQVKOLVNVRT-UHFFFAOYSA-N     2     0     2     1     1     1     0     2


#>

 KIDHWZJUCRJVML-UHFFFAOYSA-N     3     0     3     1     1     1     0     3


#>

 VHRGRCVQAFMJIZ-UHFFFAOYSA-N     1     0     1     0     1     1     0     1


#>

 QGZKDVFQNNGYKY-UHFFFAOYSA-N     1     0     1     0     0     0     0     1


#>

                             Or67d Or71a Or74a Or82a Or85a Or85b Or85c Or85d


#>

 SFR                             2     4     3     6     1     4     3     3


#>

 XLYOFNOQVPJJNP-UHFFFAOYSA-N     0     1     2     2     0     1     2     1


#>

 VHUUQVKOLVNVRT-UHFFFAOYSA-N     0     1     0     2     1     1     0     1


#>

 KIDHWZJUCRJVML-UHFFFAOYSA-N     0     1     0     3     1     5     0     1


#>

 VHRGRCVQAFMJIZ-UHFFFAOYSA-N     0     0     0     1     1     1     0     0


#>

 QGZKDVFQNNGYKY-UHFFFAOYSA-N     0     0     0     1     0     1     0     0


#>

                             Or85e Or85f Or88a Or92a Or94a Or94b Or98a


#>

 SFR                             1     1     3     4     4     4     3


#>

 XLYOFNOQVPJJNP-UHFFFAOYSA-N     0     0     0     1     2     2     1


#>

 VHUUQVKOLVNVRT-UHFFFAOYSA-N     0     1     1     1     0     0     2


#>

 KIDHWZJUCRJVML-UHFFFAOYSA-N     0     1     1     2     0     0     3


#>

 VHRGRCVQAFMJIZ-UHFFFAOYSA-N     0     1     1     0     0     0     1


#>

 QGZKDVFQNNGYKY-UHFFFAOYSA-N     0     0     0     1     0     0     1


#>

                             Gr21a.Gr63a ab2B ab4B ab5B pb2A Or69a ac1 ac2


#>

 SFR                                   5    4    4    3    3     1   1   1


#>

 XLYOFNOQVPJJNP-UHFFFAOYSA-N           0    1    1    1    1     0   1   1


#>

 VHUUQVKOLVNVRT-UHFFFAOYSA-N           0    1    1    1    1     0   1   1


#>

 KIDHWZJUCRJVML-UHFFFAOYSA-N           0    2    2    2    1     0   1   1


#>

 VHRGRCVQAFMJIZ-UHFFFAOYSA-N           0    0    1    0    0     0   1   1


#>

 QGZKDVFQNNGYKY-UHFFFAOYSA-N           3    1    2    1    0     0   0   0


#>

                             ac3_noOr35a Ir31a Ir41a Ir75a Ir75d Ir76a Ir84a


#>

 SFR                                   1     1     1     2     1     1     2


#>

 XLYOFNOQVPJJNP-UHFFFAOYSA-N           1     1     1     2     1     1     2


#>

 VHUUQVKOLVNVRT-UHFFFAOYSA-N           1     1     1     2     1     1     2


#>

 KIDHWZJUCRJVML-UHFFFAOYSA-N           1     1     1     2     1     1     2


#>

 VHRGRCVQAFMJIZ-UHFFFAOYSA-N           1     1     1     2     1     1     2


#>

 QGZKDVFQNNGYKY-UHFFFAOYSA-N           0     0     0     0     0     0     0


#>

                             Ir92a Ir64a.DC4 Ir64a.DP1m ac1BC ac2BC Or83c


#>

 SFR                             1         1          1     1     1     1


#>

 XLYOFNOQVPJJNP-UHFFFAOYSA-N     1         1          1     1     1     0


#>

 VHUUQVKOLVNVRT-UHFFFAOYSA-N     1         1          1     1     1     0


#>

 KIDHWZJUCRJVML-UHFFFAOYSA-N     1         1          1     1     1     0


#>

 VHRGRCVQAFMJIZ-UHFFFAOYSA-N     1         1          1     0     0     0


#>

 QGZKDVFQNNGYKY-UHFFFAOYSA-N     0         0          0     0     0     1