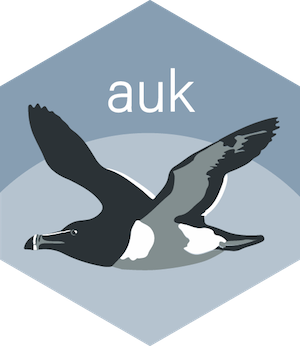 auk development
Source:
vignettes/development.Rmd
development.Rmd
This vignette describes the process of updating and extending auk. Three topics are covered: updating auk when a new eBird taxonomy is released, extending auk to include new filters, and CRAN submission.
Updating the eBird taxonomy
The species, and other taxa, available for entry into the eBird database is dependent on the eBird taxonomy. Every August, the eBird team updates this taxonomy to reflect name changes splits, merges, new species, or any other changes. Historical eBird records are then updated accordingly and subsequent EBD files reflect this updated taxonomy. The auk package stores a copy of this taxonomy as the data frame ebird_taxonomy, and uses it both for filtering by species (auk_species()) and for taxonomic roll-up (auk_rollup()). Therefore, auk must be updated when a new eBird taxonomy is released. This section described how this is done. It is best to do this after the new taxonomy and the new EBD have both been released, otherwise the taxonomy and EBD will be out of sync.
When the eBird taxonomy is updated, the new version can be downloaded from the eBird website. The taxonomy can be downloaded in csv or Excel format, be sure to download the Excel file because the csv file has character encoding issues. Copy this file to data-raw/. At this point, you should check that this new taxonomy has the same format as the previous file, which will also be in this directory. Ensure that the same columns are present and that they're named the same.
The file data-raw/ebird-taxonomy.r prepares the taxonomy as a data frame to be stored in the package. Open this file and edit the read_xlsx() call to point to the new file you just downloaded. Run the code, then open the ebird_taxonomy data frame to inspect it and make sure there's no glaring issues. One potential error that should be investigated is non-ASCII characters. Some common names have accented characters (e.g. Rüppell's Griffon, Gyps rueppelli), which can cause problems. ebird-taxonomy.r converts these characters to their unaccented equivalents (e.g. Ruppell's Griffon). Check that this record, or others with accented characters, has been properly converted.
Next, update auk_version_date() (R/auk-version-date.r) to reflect the date of the new taxonomy and the new EBD.
Finally, build the package (devtools::build()) and run R CMD check (devtools::check()). If everything looks good, commit to git and push to GitHub.
Adding new filters
The primary functionality of auk is to apply filters to the EBD to extract a subset of records that can be imported into R and further analyzed. Individual filters are defined by a particular function (e.g. auk_date() or auk_country()) and correspond to subsetting on a particular column (e.g. "OBSERVATION DATE" and "COUNTRY CODE", respectively). Defining a new filter is a fairly complicated process, involving carefully updating many components of the package, and should only be attempted by experienced R programmers. To add a filter called color, the following steps are required:
Update auk_ebd() (in file R/auk-ebd.r) to define the column number for the new filter, create a placeholder in the auk_ebd object to store the filtering criteria, and update the auk_ebd print method for the new filter.
Create a new function auk_color() (in file R/auk-color.r) that defines the new filter. As a starting point, use one of the other filtering functions. For example to filter on a range of numeric values, start with auk_duration(), to filter on a logical (true/false) variable use auk_complete(), or to filter on a discrete, categorical variable use auk_country(). Be sure to apply extensive checking on the validity of inputs and update the documentation, including examples.
Update auk_filter() (in file R/auk-filter.r) to incorporate the filtering criteria into the AWK script. Again, use an existing filter as a template.
Create unit tests for the new filter by creating a new test_that() block in tests/testthat/test_filters.r. Again, use an existing filter as a template.
Update README.md and vignettes/auk.Rmd to add the new filter to the list of potential filters.
Build, test, check, and push to GitHub
CRAN submission
Minor updates to auk can be pushed to GitHub giving users the option of installing the development version from there. However, at least once a year, when a new eBird taxonomy is released, a new version of auk should be released on CRAN. For full details on this process, consult Hadley Wickham's R Packages book, however, I'll provide a quick guide here. Once The package has been updated following the instructions from the above sections:
Check the package. Run devtools::check() to run R CMD check locally. Check that a Windows binary can be built by running devtools::build_win(). The results will be emailed to you within about 30 minutes. Also, this package uses continuous integration to automatically check the package on Linux, Mac, and Windows whenever it's pushed to GitHub. Check the badges at the top of the GitHub repo to ensure the builds are passing. Any NOTEs, ERRORs, or WARNINGs returned by R CMD check must be fixed before submission to CRAN.
Increment the version number in the DESCRIPTION file.
Update NEWS.md to note any new features or changes.
Build the package with devtools::build(), the vignettes with devtools::build_vignettes(), and the website with pkgdown::build_site().
Commit to git and push to GitHub.
Submit to CRAN with devtools::release()
At this point, you'll need to wait for binaries of your package to build, which could take a couple days. It's possible that problems will arise during this process and your package will be rejected, in which case, you'll need to fix any problems and resubmit.
Once the package is on CRAN, create a new release on GitHub and tag it with the version number.