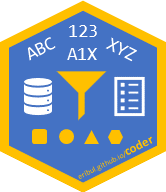 Classcodes for RxRisk V based on ATC codes
Source:
R/manual_for_datasets.R
rxriskv.Rd
Note that desired implementation might differ over time and by country.
Format
Data frames with 46 rows and 6 variables:
group

medical condition

pratt

ATC codes from table 1 in Pratt et al. 2018 (ignoring PBS item codes and extra conditions).

garland

Modified version by Anne Garland to resemble medical use in Sweden 2016 (Unpublished).

caughey

From appendix 1 in Caughey et al. 2010

pratt

Mortality weights from table 1 in Pratt et al. 2018

sum_all

Unweighted count of all conditions.
References
Caughey GE, Roughead EE, Vitry AI, McDermott RA, Shakib S, Gilbert AL. Comorbidity in the elderly with diabetes: Identification of areas of potential treatment conflicts. Diabetes Res Clin Pract 2010;87:385–93.
Pratt NL, Kerr M, Barratt JD, Kemp-Casey A, Kalisch Ellett LM, Ramsay E, et al. The validity of the Rx-Risk Comorbidity Index using medicines mapped to the Anatomical Therapeutic Chemical (ATC) Classification System. BMJ Open 2018;8.