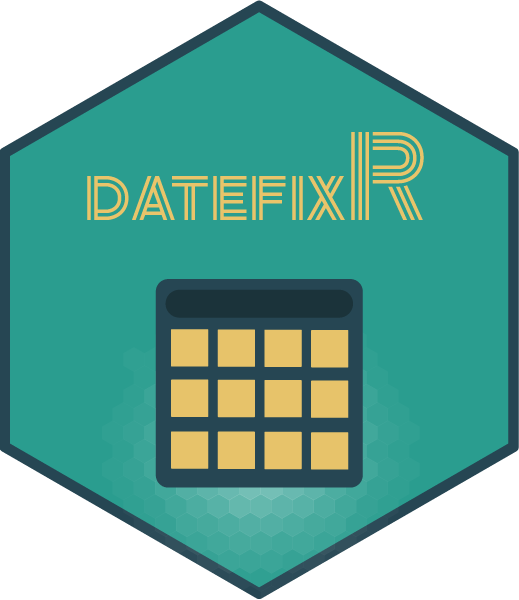 datefixR
Source:
vignettes/datefixR.Rmd
datefixR.Rmd
This vignette describes the functionality of datefixR in more detail than the README file. DatefixR is a lightweight package consisting of two main user-accessible functions, fix_date_char() and fix_date_df(), which converts dates written in different formats into R's built-in Date class. The former is designed to modify character vectors whilst the latter is intended for modifying columns of a data frame (or tibble). fix_date_app() is a third function which allows dates to be standardized via a Shiny app interface. You can learn more about the Shiny app in its dedicated vignette.
Practically, this package is most useful when handling date data which has been supplied via text boxes (instead of a date-specific input with a consistent date format). However, this package may also be useful to validate the format of date data (see date and month imputation).
Citation
If you use this package in your research, please consider citing datefixR. An up-to-date citation can be obtained by running

citation

(

"datefixR"

)




#> To cite package 'datefixR' in publications use:




#> 




#>   Constantine-Cooke N (2023). _datefixR: Standardize Dates in Different




#>   Formats or with Missing Data_. doi:10.5281/zenodo.5655311




#>   <https://doi.org/10.5281/zenodo.5655311>, R package version




#>   1.6.0.9000, <https://CRAN.R-project.org/package=datefixR>.




#> 




#> A BibTeX entry for LaTeX users is




#> 




#>   @Manual{,




#>     title = {{datefixR}: Standardize Dates in Different Formats or with Missing Data},




#>     author = {Nathan Constantine-Cooke},




#>     year = {2023},




#>     note = {R package version 1.6.0.9000},




#>     doi = {10.5281/zenodo.5655311},




#>     url = {https://CRAN.R-project.org/package=datefixR},




#>   }