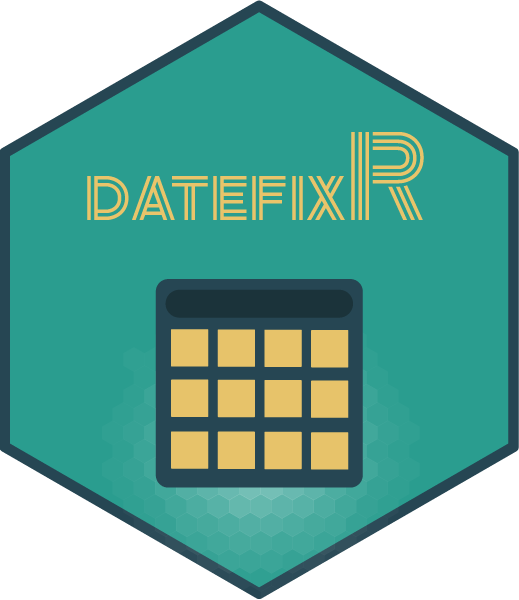 datefixR
datefixR standardizes dates in different formats or with missing data: for example dates which have been provided from free text web forms.
There are many different formats dates are commonly represented with: the order of day, month, or year can differ, different separators ("-", "/", ".", or whitespace) can be used, months can be numerical, names, or abbreviations and year given as two digits or four. datefixR takes dates in all these different formats and converts them to R's built-in date class. If datefixR cannot standardize a date, such as because it is too malformed, then the user is told which date cannot be standardized and the corresponding ID for the row. datefixR also allows the imputation of missing days and months with user-controlled behavior.
datefixR also supports dates provided in different languages and provides translated warning and error messages. The following languages are currently supported:
English
Français (French)
Deutsch (German)
español (Spanish)
Pусский (Russian)
Not familiar with R or want to quickly try out datefixR? Check out the shiny app here.
Installation instructions
datefixR is now available on CRAN.
The most up-to-date (hopefully) stable version of datefixR can be installed via r-universe



# Enable universe(s) by ropensci


options

(

repos 

=

 c

(


  ropensci 

=

 

"https://ropensci.r-universe.dev"

,
  CRAN 

=

 

"https://cloud.r-project.org"




)

)



install.packages

(

"datefixR"

)
If you wish to live on the cutting edge of datefixR development, then the development version can be installed via
Package vignette
datefixR has a "Getting Started" vignette which describes how to use this package in more detail than this page. View the vignette by either calling
or visiting the vignette on the package website
Usage
datefixR is most commonly used to standardize columns of date data in a data frame or tibble. For this demonstration, we will use an example toy dataset provided alongside the package, exampledates.
| id | some.dates | some.more.dates |
| --- | --- | --- |
| 1 | 02 05 92 | 2015 |
| 2 | 01-04-2020 | 02/05/00 |
| 3 | 1996/05/01 | 05/1990 |
| 4 | 2020-may-01 | 2012-08 |
| 5 | 02-04-96 | jan 2020 |
| 6 | le 3 mars 2013 | 22.07.1977 |
| 7 | 7 de septiembre de 2014 | 13821 |
We can standardize these date columns by using the fix_date_df() function and passing the data frame/tibble object and a character vector of column names for the corresponding columns to fix.
| id | some.dates | some.more.dates |
| --- | --- | --- |
| 1 | 1992-05-02 | 2015-07-01 |
| 2 | 2020-04-01 | 2000-05-02 |
| 3 | 1996-05-01 | 1990-05-01 |
| 4 | 2020-05-01 | 2012-08-01 |
| 5 | 1996-04-02 | 2020-01-01 |
| 6 | 2013-03-03 | 1977-07-22 |
| 7 | 2014-09-07 | 2007-11-04 |
By default, datefixR imputes missing days of the month as 01, and missing months as 07 (July). However, this behavior can be modified via the day.impute or month.impute arguments.
Functions in datefixR assume day-first instead of month-first when day, month, and year are all given (unless year is given first). However this behavior can be modified by passing format = "mdy" to function calls.
Numeric representations of dates, as used by either Excel or by R, are also supported.
Limitations
Date and time data are often reported together in the same variable (known as "datetime"). However datetime formats are not supported by datefixR. The current rationale is this package is mostly used to handle dates entered via free text web forms and it is much less common for both date and time to be reported together in this input method. However, if there is significant demand for support for datetime data in the future this may added.
The package is written solely in R and seems fast enough for my current use cases (a few hundred rows). However, I may convert the core for loop to C++ in the future if speed becomes an issue.
Contributing to datefixR
If you are interested in contributing to datefixR, please read our contributing guide.
Please note that this package is released with a Contributor Code of Conduct. By contributing to this project, you agree to abide by its terms.
Citation
If you use this package in your research, please consider citing datefixR! An up-to-date citation can be obtained by running