HYDAT download
To use many of the functions in the tidyhydat package you will need to download a version of the HYDAT database, Environment and Climate Change Canada's database of historical hydrometric data then tell R where to find the database. Conveniently tidyhydat does all this for you via:
This downloads (with your permission) the most recent version of HYDAT and then saves it in a location on your computer where tidyhydat's function will look for it. Do be patient though as this takes a long time! To see where HYDAT was saved you can run hy_dir(). Now that you have HYDAT downloaded and ready to go, you are all set to begin looking at Canadian hydrometric data.
Most functions in tidyhydat follow a common argument structure. We will use the hy_daily_flows() function for the following examples though the same approach applies to most functions in the package (See help(package = "tidyhydat") for a list of exported objects). Much of the functionality of tidyhydat originates with the choice of hydrometric stations that you are interested in. A user will often find themselves creating vectors of station numbers. There are several ways to do this.
The simplest case is if you would like to extract only station. You can supply this directly to the station_number argument:
Another method is to use hy_stations() to generate your vector which is then given the station_number argument. For example, we could take a subset for only those active stations within Prince Edward Island (Province code: PE) and then create vector which is passed to the multi-parameter function hy_daily(). This function queries the flow, level, sediment load and suspended sediment concentration tables and combines them (if present) into one dataframe:
We can also merge our station choice and data extraction into one unified pipe which accomplishes a single goal. For example, if for some reason we wanted all the stations in Canada that had the name "Canada" in them we could unify those selection and data extraction processes into a single pipe:
These example illustrate a few ways that an vector can be generated and supplied to functions within tidyhydat.
Real-time
To download real-time data using the datamart we can use approximately the same conventions discussed above. Using realtime_dd() we can easily select specific stations by supplying a station of interest:
Another option is to provide simply the province as an argument and download all stations from that province:
Plotting
Plot methods are also provided to quickly visualize realtime data: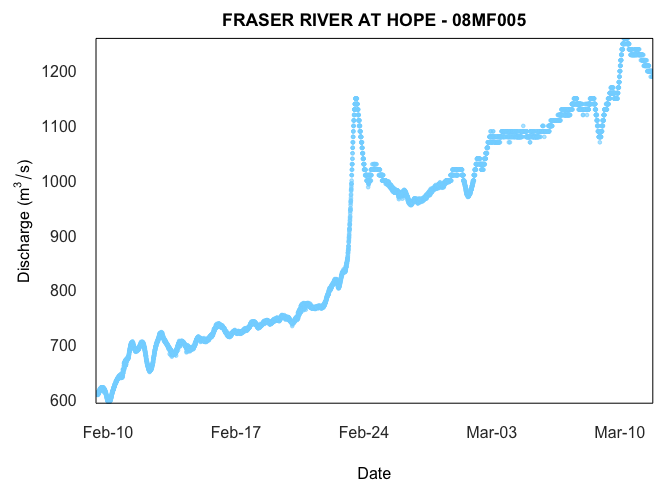 and also historical data: