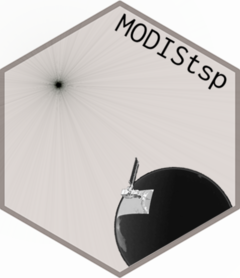 Frequently Asked Questions
Source:
vignettes/faq.Rmd
faq.Rmd
Here you can find possible solutions for common MODIStsp problems. We will add to this page as soon as additional problems are reported. If these solutions does not work for you, or you have a different problem, signal it at: https://github.com/ropensci/MODIStsp/issues
Data download Problems
- On 'http' download, files are not getting downloaded, OR you get 'timeout' problems
Visit your earthdata "profile" page, click on "My Applications" and ensure that "LP DAAC Data Pool" is authorized. If not, click on "Approve More Applications", search for it in the list and approve it.
Verify that the username and password you provided are correct (Those can be obtained by registering an account at: https://urs.earthdata.nasa.gov/profile.);
Is it Wednesday ??? If so, NASA http server may be down for maintenance. Try switching to "ftp" download;
In some cases, access to the http server seems to be not allowed (we don't know why - maybe firewalling). Try switching to ftp download.
- Files are not getting downloaded on either "http" or "ftp", and you get continuous 'timeout' problems
If you're connecting to the internet via a proxy, download will fail. To solve the problem, identify the IP address and port of you proxy, and before running MODIStsp, run the following instructions:
    library

(

httr

)


    set_config

(

use_proxy

(

url

=

"XXX.XXX.XXX.XXX"

, port

=

YYYY

)

)
(substitute XXX.XXX.XXX.XXX and YYYY with the IP address and port number of the proxy, respectively)
If your connection is very slow, you could get frequent timeout problems while MODIStsp fetches the list of files available on NASA archives. This problem is more pronounced for ftp download, so switching to http may be a good idea !
Processing Problems
- MODIStsp fails while processing product MxDyyy
Although we tried to test functionality for all products, some bugs may be still present for specific products, due to the complexity and variability of MODIS hdfs structure. In that case, please report the issue here: https://github.com/ropensci/MODIStsp/issues
- Where/How can I access the processed data ?
Please see here
- Working with already downloaded hdf files
If you wish to use MODIStsp to process MODIS hdf images that you already downloaded from NASA servers, you should proceed like this:
Place all the hdf files in a folder of your choice (e.g., "D:\myfolder\mydir\hdf_modis"). All the images must reside in the root of that folder (i.e., no subfolders)

Open MODIStsp GUI and set the processing parameters for your analysis as you would do if you had still to download the data. In particular, be sure to:

select the product corresponding to your hdf images on the top of the GUI (e.g., MOD13Q1 v006), and set the processing layers you wish to analyze;
set the processing period to that of your available images;
Set the spatial extent to that of your available images. A minimum requirement is to set the Horizontal and Vertical "Required MODIS tiles" so to correspond to your imagery. If you also specify a bounding box for the output, that will be considered while creating the outputs.

Set the "download method" to either:

http/ftp: if you want MODIStsp to check if all the images for the selected product and time period are already available on your PC. MODIStsp will take care of downloading any missing image (i.e., if you forgot to download something, or the processing period you provided is larger than that "covered" by the images you already have).

offline: if you just want to process the images that you have. In that case, MODIStsp will not even connect to NASA servers, and just process all images that it finds in your "hdf folder" and which satisfy the processing parameters you specified (to be clear: if you have a folder with MOD13Q1 images, but the GUI is set as to process MOD09A1 data, nothing will happen. Analogously, if you have imagery from 2003 to 2009, but you set the processing period from 2010 to 2015 nothing will happen)

Set the "Output Folder for Original HDF files download" to the folder containing the hdf images, and the "Main Output Folder for Time Series storage to the folder where you want to store the results of the processing.

Start the processing.
---