cffr provides utilities to generate, parse, modify and validate CITATION.cff files automatically for R packages, as well as tools and examples for working with .cff more generally.
What is a CITATION.cff file?
Citation File Format (CFF) (Druskat et al. 2021) (v1.2.0) are plain text files with human- and machine-readable citation information for software (and datasets). Code developers can include them in their repositories to let others know how to correctly cite their software.
This format is becoming popular within the software citation ecosystem. Recently GitHub, Zenodo and Zotero have included full support of this citation format (Druskat 2021). GitHub support is of special interest: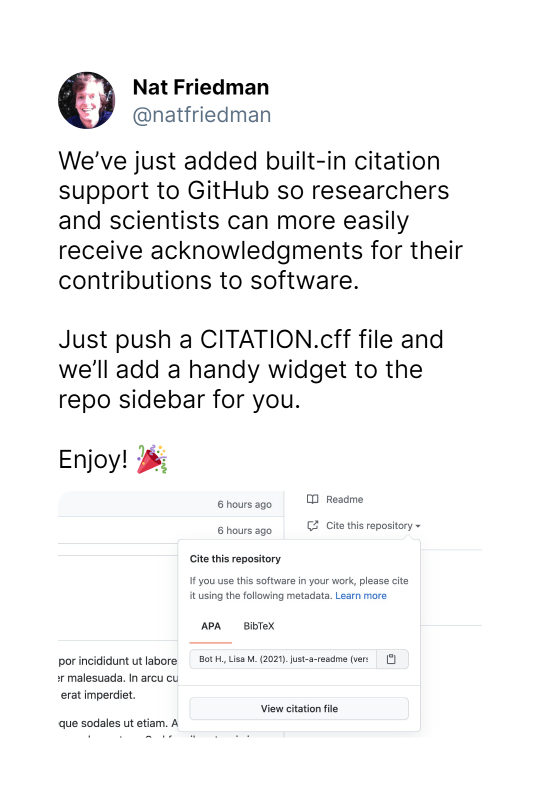 — Nat Friedman (@natfriedman) July 27, 2021
See Enhanced support for citations on GitHub (Smith 2021) for more info.
The CodeMeta Project (Jones et al. 2017) creates a concept vocabulary that can be used to standardize the exchange of software metadata across repositories and organizations. One of the many uses of a codemeta.json file (created following the standards defined on The CodeMeta Project) is to provide citation metadata such as title, authors, publication year, and venue (Fenner 2021). The packages codemeta/ codemetar allows to generate codemeta.json files from R packages metadata.
The cffr package
cffr maximizes the data extraction by using both the DESCRIPTION file and the CITATION file (if present) of your package. Note that cffr works best if your package pass R CMD check/devtools::check().
citation: The development version (at the time of this writing) includes a new function r2cff that creates a CITATION.cff file (v1.1.0) using the information of your DESCRIPTION file. It also provide minimal validity checks.
handlr: Tool for converting among citation formats, including *.cff files. At the time of this writing only CFF v1.1.0 was supported (see #24).
References
Druskat, Stephan, Jurriaan H. Spaaks, Neil Chue Hong, Robert Haines, James Baker, Spencer Bliven, Egon Willighagen, David Pérez-Suárez, and Alexander Konovalov. 2021. "Citation File Format," August. https://doi.org/10.5281/zenodo.5171937.
Jones, Matthew B, Carl Boettiger, Abby Cabunoc Mayes, Arfon Smith, Peter Slaughter, Kyle Niemeyer, Yolanda Gil, et al. 2017. CodeMeta: An Exchange Schema for Software Metadata. KNB Data Repository. https://doi.org/10.5063/SCHEMA/CODEMETA-2.0.