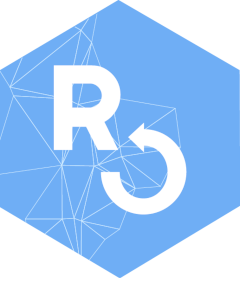 deposits
The deposits R package is a universal client for depositing and accessing research data in a variety of online deposition services. Currently supported services are zenodo and figshare. These two systems have fundamentally different interfaces ("API"s, or Application Programming Interfaces), and access to these and indeed all deposition services has traditionally been enabled through individual software clients. The deposits package aims to be a universal client offering access to a variety of deposition services, without users having to know any specific details of the APIs for each service.
The deposits package works seamlessly with the "frictionless" data workflow, to enable unified documentation of all aspects of datasets in one place. Instructions for installing and setting up the package are in the installation vignette. This README gives a brief overview of package usage, with more detail in the introductory vignette. For those who prefer to jump straight in to a workflow, there is also a deposits workflow vignette demonstrating a full workflow from data generation and documentation to publication.
Data Repositories
The list of data repositories currently supported is accessible by the deposits_services() function:
##             name                           docs                    api_base_url




## 1         zenodo https://developers.zenodo.org/         https://zenodo.org/api/




## 2 zenodo-sandbox https://developers.zenodo.org/ https://sandbox.zenodo.org/api/




## 3       figshare     https://docs.figshare.com/    https://api.figshare.com/v2/
The zenodo "sandbox" environment offers an ideal environment for testing the functionality of this package.
The "frictionless" data workflow
Prior to describing the deposits workflow, it is useful to understand the "frictionless" data workflow, which provides a standardised way to document the contents and structure of data files through a separate metadata file. The deposits package links directly with rOpenSci's frictionless package for writing, editing, and reading frictionless metadata files.
The deposits package nevertheless aims to make this integration as seamless and painless as possible. No knowledge of the frictionless workflow is necessary, and the deposits workflow should "just work" in many cases, appropriately constructing frictionless metadata files and uploading them to deposits services. It is of course also possible to use the deposits package without frictionless metadata.
The deposits workflow
We now provide a brief overview of the deposits workflow. A more complete description is given in the main package vignette, and demonstrated step-by-step in the workflow vignette. The deposits package uses the R6 package to create a depositsClient used to call all methods needed in a deposits workflow. A separate vignette describes the R6 system for those unfamiliar with it.
A typical deposits workflow, and associated methods, involves the following steps:
Create a new deposits client
Fill the client with metadata, either as part of Step 1 through using the new() method, or afterward by using the deposit_fill_metadata() method;
Create a new deposit on the nominated service using the deposit_new() method; and
Upload files for the deposit using the deposit_upload_file() method.
The following sections describe each of these steps in more detail.
Code of Conduct
Please note that this package is released with a Contributor Code of Conduct. By contributing to this project, you agree to abide by its terms.