Data analysis can be slow. A round of scientific computation can take several minutes, hours, or even days to complete. After it finishes, if you update your code or data, your hard-earned results may no longer be valid. How much of that valuable output can you keep, and how much do you need to update? How much runtime must you endure all over again?
For projects in R, the drake package can help. It analyzes your workflow, skips steps with up-to-date results, and orchestrates the rest with optional distributed computing. At the end, drake provides evidence that your results match the underlying code and data, which increases your ability to trust your research.
Video
That Feeling of Workflowing (Miles McBain)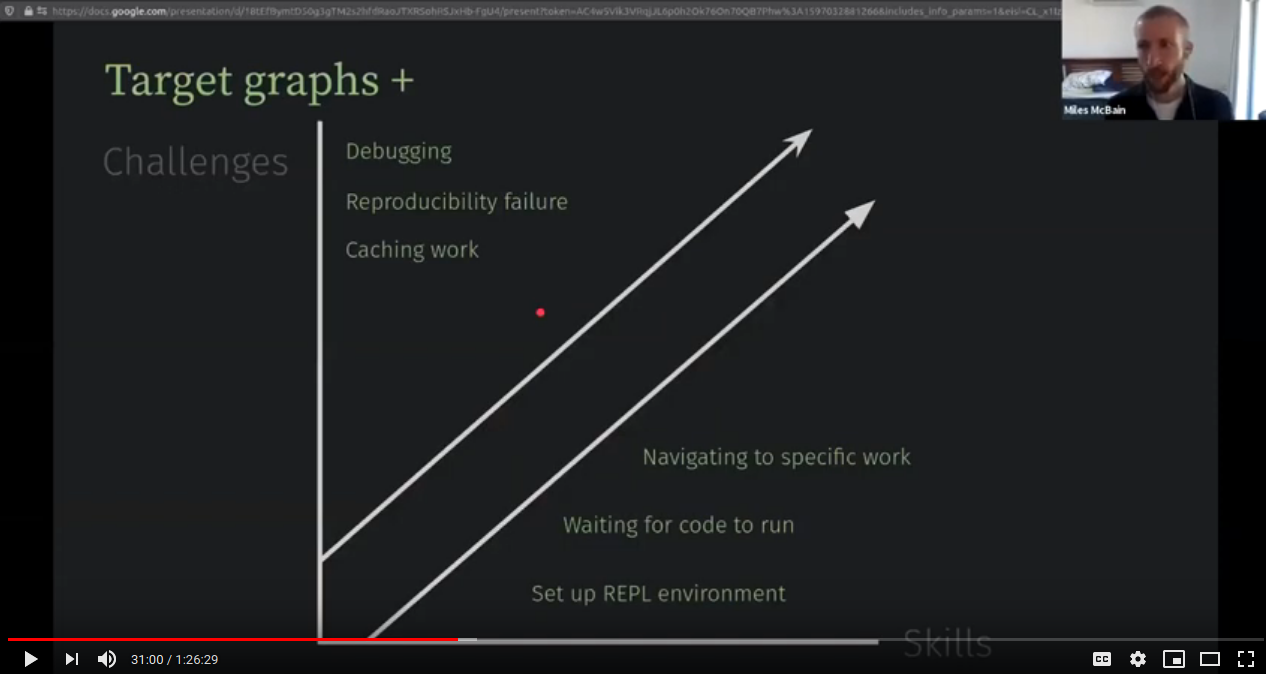 (By Miles McBain; venue, resources)
What gets done stays done.
Too many data science projects follow a Sisyphean loop:
Launch the code.
Wait while it runs.
Discover an issue.
Rerun from scratch.
For projects with long runtimes, this process gets tedious. But with drake, you can automatically
Launch the parts that changed since last time.
Skip the rest.
How it works
To set up a project, load your packages,
load your custom functions,
check any supporting files (optional),
and plan what you are going to do.
So far, we have just been setting the stage. Use make() or r_make() to do the real work. Targets are built in the correct order regardless of the row order of plan.
Except for files like report.html, your output is stored in a hidden .drake/ folder. Reading it back is easy.
You may look back on your work and see room for improvement, but it's all good! The whole point of drake is to help you go back and change things quickly and painlessly. For example, we forgot to give our histogram a bin width.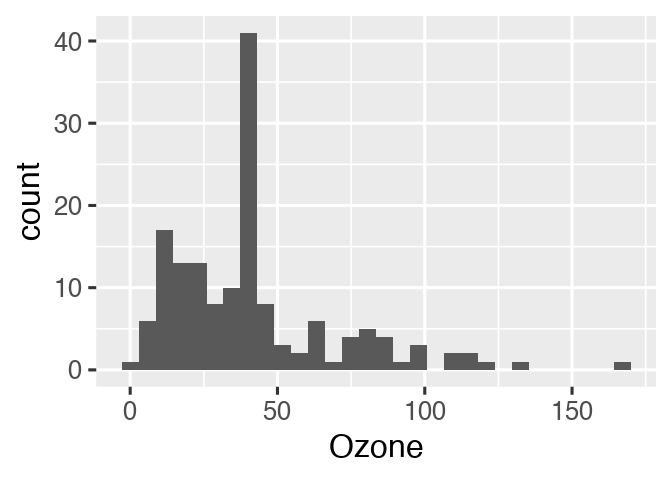 So let's fix the plotting function.
drake knows which results are affected.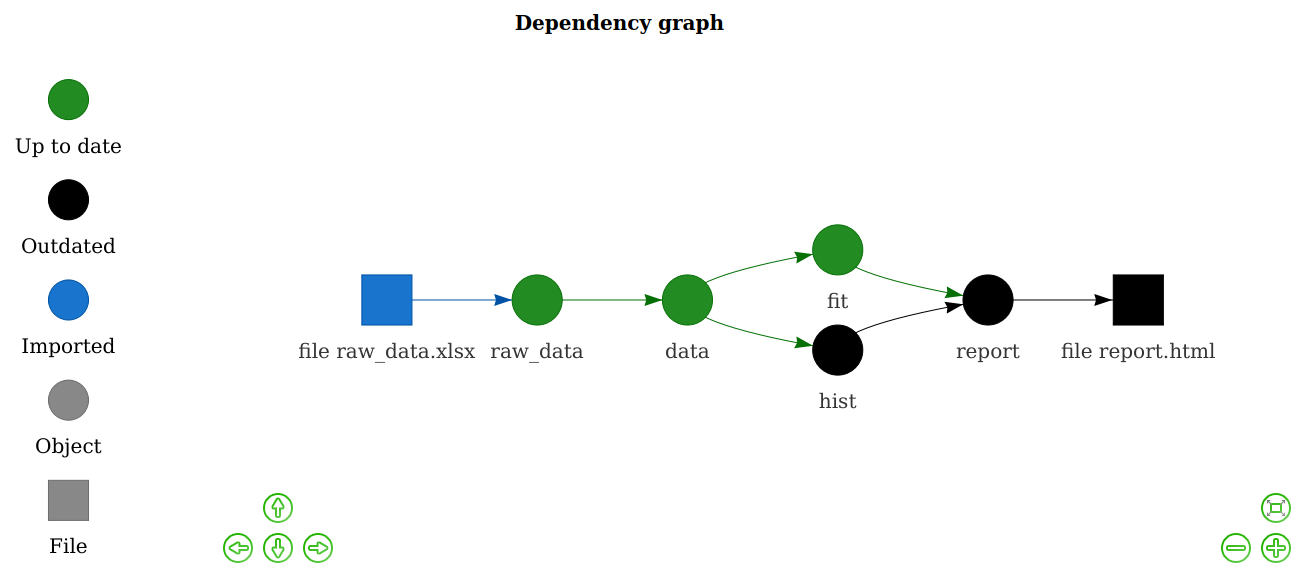 The next make() just builds hist and report.html. No point in wasting time on the data or model.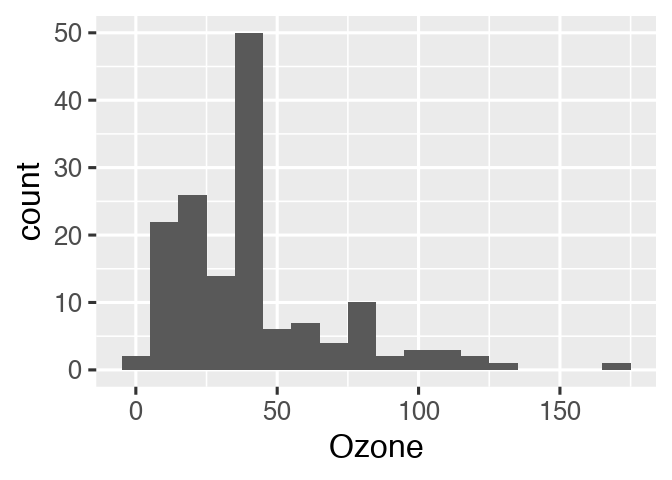 Reproducibility with confidence
The R community emphasizes reproducibility. Traditional themes include scientific replicability, literate programming with knitr, and version control with git. But internal consistency is important too. Reproducibility carries the promise that your output matches the code and data you say you used. With the exception of non-default triggers and hasty mode, drake strives to keep this promise.
Scale up and out.
Not every project can complete in a single R session on your laptop. Some projects need more speed or computing power. Some require a few local processor cores, and some need large high-performance computing systems. But parallel computing is hard. Your tables and figures depend on your analysis results, and your analyses depend on your datasets, so some tasks must finish before others even begin. drake knows what to do. Parallelism is implicit and automatic. See the high-performance computing guide for all the details.
# Use the spare cores on your local machine.


make

(

plan

, jobs 

=

 

4

)





# Or scale up to a supercomputer.


drake_hpc_template_file

(

"slurm_clustermq.tmpl"

)

 

# https://slurm.schedmd.com/


options

(


  clustermq.scheduler 

=

 

"clustermq"

,
  clustermq.template 

=

 

"slurm_clustermq.tmpl"




)


make

(

plan

, parallelism 

=

 

"clustermq"

, jobs 

=

 

4

)
With Docker
drake and Docker are compatible and complementary. Here are some examples that run drake inside a Docker image.
drake-gitlab-docker-example: A small pedagogical example workflow that leverages drake, Docker, GitLab, and continuous integration in a reproducible analysis pipeline. Created by Noam Ross.
Alternatively, it is possible to run drake outside Docker and use the future package to send targets to a Docker image. drake's Docker-psock example demonstrates how. Download the code with drake_example("Docker-psock").
Installation
You can choose among different versions of drake. The CRAN release often lags behind the online manual but may have fewer bugs.
Function reference
The reference section lists all the available functions. Here are the most important ones.
Help and troubleshooting
The following resources document many known issues and challenges.
If you are still having trouble, please submit a new issue with a bug report or feature request, along with a minimal reproducible example where appropriate.
The GitHub issue tracker is mainly intended for bug reports and feature requests. While questions about usage etc. are also highly encouraged, you may alternatively wish to post to Stack Overflow and use the drake-r-package tag.
Contributing
Development is a community effort, and we encourage participation. Please read CONTRIBUTING.md for details.
Similar work
drake enhances reproducibility and high-performance computing, but not in all respects. Literate programming, local library managers, containerization, and strict session managers offer more robust solutions in their respective domains. And for the problems drake does solve, it stands on the shoulders of the giants that came before.
Memoization
Memoization is the strategic caching of the return values of functions. It is a lightweight approach to the core problem that drake and other pipeline tools are trying to solve. Every time a memoized function is called with a new set of arguments, the return value is saved for future use. Later, whenever the same function is called with the same arguments, the previous return value is salvaged, and the function call is skipped to save time. The memoise package is the primary implementation of memoization in R.
Memoization saves time for small projects, but it arguably does not go far enough for large reproducible pipelines. In reality, the return value of a function depends not only on the function body and the arguments, but also on any nested functions and global variables, the dependencies of those dependencies, and so on upstream. drake tracks this deeper context, while memoise does not.
Literate programming
Literate programming is the practice of narrating code in plain vernacular. The goal is to communicate the research process clearly, transparently, and reproducibly. Whereas commented code is still mostly code, literate knitr / R Markdown reports can become websites, presentation slides, lecture notes, serious scientific manuscripts, and even books.
Citation
citation

(

"drake"

)




#> 




#> To cite drake in publications use:




#> 




#>   William Michael Landau, (2018). The drake R package: a pipeline




#>   toolkit for reproducibility and high-performance computing. Journal




#>   of Open Source Software, 3(21), 550,




#>   https://doi.org/10.21105/joss.00550




#> 




#> A BibTeX entry for LaTeX users is




#> 




#>   @Article{,




#>     title = {The drake R package: a pipeline toolkit for reproducibility and high-performance computing},




#>     author = {William Michael Landau},




#>     journal = {Journal of Open Source Software},




#>     year = {2018},




#>     volume = {3},




#>     number = {21},




#>     url = {https://doi.org/10.21105/joss.00550},




#>   }