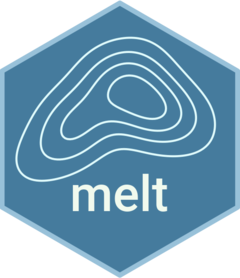 Model weights
Source:
R/AllGenerics.R
,
R/weights-methods.R
weights.Rd
Extracts weights from model objects. The weights are re-scaled to up to the total number of observations in the fitting procedure.
Arguments
object

An object that inherits from EL.

...

Further arguments passed to methods.
References
Glenn N, Zhao Y (2007). "Weighted Empirical Likelihood Estimates and Their Robustness Properties." Computational Statistics & Data Analysis, 51(10), 5130--5141. doi:10.1016/j.csda.2006.07.032 .
Examples
data

(

"airquality"

)




x

 

<-

 

airquality

$

Wind




w

 

<-

 

airquality

$

Day




fit

 

<-

 el_mean

(

x

, par 

=

 

10

, weights 

=

 

w

)




weights

(

fit

)




#>

   [1] 0.06327543 0.12655087 0.18982630 0.25310174 0.31637717 0.37965261


#>

   [7] 0.44292804 0.50620347 0.56947891 0.63275434 0.69602978 0.75930521


#>

  [13] 0.82258065 0.88585608 0.94913151 1.01240695 1.07568238 1.13895782


#>

  [19] 1.20223325 1.26550868 1.32878412 1.39205955 1.45533499 1.51861042


#>

  [25] 1.58188586 1.64516129 1.70843672 1.77171216 1.83498759 1.89826303


#>

  [31] 1.96153846 0.06327543 0.12655087 0.18982630 0.25310174 0.31637717


#>

  [37] 0.37965261 0.44292804 0.50620347 0.56947891 0.63275434 0.69602978


#>

  [43] 0.75930521 0.82258065 0.88585608 0.94913151 1.01240695 1.07568238


#>

  [49] 1.13895782 1.20223325 1.26550868 1.32878412 1.39205955 1.45533499


#>

  [55] 1.51861042 1.58188586 1.64516129 1.70843672 1.77171216 1.83498759


#>

  [61] 1.89826303 0.06327543 0.12655087 0.18982630 0.25310174 0.31637717


#>

  [67] 0.37965261 0.44292804 0.50620347 0.56947891 0.63275434 0.69602978


#>

  [73] 0.75930521 0.82258065 0.88585608 0.94913151 1.01240695 1.07568238


#>

  [79] 1.13895782 1.20223325 1.26550868 1.32878412 1.39205955 1.45533499


#>

  [85] 1.51861042 1.58188586 1.64516129 1.70843672 1.77171216 1.83498759


#>

  [91] 1.89826303 1.96153846 0.06327543 0.12655087 0.18982630 0.25310174


#>

  [97] 0.31637717 0.37965261 0.44292804 0.50620347 0.56947891 0.63275434


#>

 [103] 0.69602978 0.75930521 0.82258065 0.88585608 0.94913151 1.01240695


#>

 [109] 1.07568238 1.13895782 1.20223325 1.26550868 1.32878412 1.39205955


#>

 [115] 1.45533499 1.51861042 1.58188586 1.64516129 1.70843672 1.77171216


#>

 [121] 1.83498759 1.89826303 1.96153846 0.06327543 0.12655087 0.18982630


#>

 [127] 0.25310174 0.31637717 0.37965261 0.44292804 0.50620347 0.56947891


#>

 [133] 0.63275434 0.69602978 0.75930521 0.82258065 0.88585608 0.94913151


#>

 [139] 1.01240695 1.07568238 1.13895782 1.20223325 1.26550868 1.32878412


#>

 [145] 1.39205955 1.45533499 1.51861042 1.58188586 1.64516129 1.70843672


#>

 [151] 1.77171216 1.83498759 1.89826303