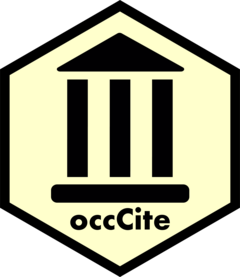 Plotting summary figures for occCite search results
Source:
R/occCite_plotting.R
plot.occCiteData.Rd
Generates up to three different kinds of plots, with toggles determining whether plots should be done for individual species or aggregating all species--histogram by year of occurrence records, waffle::waffle plot of primary data sources, waffle::waffle plot of data aggregators.
Usage
# S3 method for occCiteData


plot

(

x

, 

...

)
Arguments
x

An object of class occCiteData to map.

...

Additional arguments affecting how the formatted citation document is produced. `bySpecies`: Logical; setting to `TRUE` generates the desired plots for each species. `plotTypes`: The type of plot to be generated; "yearHistogram", "source", and/or "aggregator".
Examples
data

(

myOccCiteObject

)


plot

(


  x 

=

 

myOccCiteObject

, bySpecies 

=

 

FALSE

,
  plotTypes 

=

 c

(

"yearHistogram"

, 

"source"

, 

"aggregator"

)




)




#>

 $yearHistogram


#>

 $data


#>

 $data[[1]]


#>

       y count      x   xmin   xmax     density      ncount    ndensity


#>

 1     8     8 1823.6 1813.9 1833.3 0.000176680 0.004020101 0.004020101


#>

 2     0     0 1843.0 1833.3 1852.7 0.000000000 0.000000000 0.000000000


#>

 3     2     2 1862.4 1852.7 1872.1 0.000044170 0.001005025 0.001005025


#>

 4     5     5 1881.8 1872.1 1891.5 0.000110425 0.002512563 0.002512563


#>

 5    13    13 1901.2 1891.5 1910.9 0.000287105 0.006532663 0.006532663


#>

 6    41    41 1920.6 1910.9 1930.3 0.000905485 0.020603015 0.020603015


#>

 7    42    42 1940.0 1930.3 1949.7 0.000927570 0.021105528 0.021105528


#>

 8    84    84 1959.4 1949.7 1969.1 0.001855140 0.042211055 0.042211055


#>

 9   115   115 1978.8 1969.1 1988.5 0.002539775 0.057788945 0.057788945


#>

 10   34    34 1998.2 1988.5 2007.9 0.000750890 0.017085427 0.017085427


#>

 11 1990  1990 2017.6 2007.9 2027.3 0.043949151 1.000000000 1.000000000


#>

    flipped_aes PANEL group ymin ymax colour  fill linewidth linetype alpha


#>

 1        FALSE     1    -1    0    8  white black       0.5        1   0.9


#>

 2        FALSE     1    -1    0    0  white black       0.5        1   0.9


#>

 3        FALSE     1    -1    0    2  white black       0.5        1   0.9


#>

 4        FALSE     1    -1    0    5  white black       0.5        1   0.9


#>

 5        FALSE     1    -1    0   13  white black       0.5        1   0.9


#>

 6        FALSE     1    -1    0   41  white black       0.5        1   0.9


#>

 7        FALSE     1    -1    0   42  white black       0.5        1   0.9


#>

 8        FALSE     1    -1    0   84  white black       0.5        1   0.9


#>

 9        FALSE     1    -1    0  115  white black       0.5        1   0.9


#>

 10       FALSE     1    -1    0   34  white black       0.5        1   0.9


#>

 11       FALSE     1    -1    0 1990  white black       0.5        1   0.9


#>

 


#>

 


#>

 $layout


#>

 <ggproto object: Class Layout, gg>


#>

     coord: <ggproto object: Class CoordCartesian, Coord, gg>


#>

         aspect: function


#>

         backtransform_range: function


#>

         clip: on


#>

         default: TRUE


#>

         distance: function


#>

         expand: TRUE


#>

         is_free: function


#>

         is_linear: function


#>

         labels: function


#>

         limits: list


#>

         modify_scales: function


#>

         range: function


#>

         render_axis_h: function


#>

         render_axis_v: function


#>

         render_bg: function


#>

         render_fg: function


#>

         setup_data: function


#>

         setup_layout: function


#>

         setup_panel_guides: function


#>

         setup_panel_params: function


#>

         setup_params: function


#>

         train_panel_guides: function


#>

         transform: function


#>

         super:  <ggproto object: Class CoordCartesian, Coord, gg>


#>

     coord_params: list


#>

     facet: <ggproto object: Class FacetNull, Facet, gg>


#>

         compute_layout: function


#>

         draw_back: function


#>

         draw_front: function


#>

         draw_labels: function


#>

         draw_panels: function


#>

         finish_data: function


#>

         init_scales: function


#>

         map_data: function


#>

         params: list


#>

         setup_data: function


#>

         setup_params: function


#>

         shrink: TRUE


#>

         train_scales: function


#>

         vars: function


#>

         super:  <ggproto object: Class FacetNull, Facet, gg>


#>

     facet_params: list


#>

     finish_data: function


#>

     get_scales: function


#>

     layout: data.frame


#>

     map_position: function


#>

     panel_params: list


#>

     panel_scales_x: list


#>

     panel_scales_y: list


#>

     render: function


#>

     render_labels: function


#>

     reset_scales: function


#>

     setup: function


#>

     setup_panel_guides: function


#>

     setup_panel_params: function


#>

     train_position: function


#>

     xlabel: function


#>

     ylabel: function


#>

     super:  <ggproto object: Class Layout, gg>


#>

 


#>

 $plot



#>

 


#>

 attr(,"class")


#>

 [1] "ggplot_built"


#>

 


#>

 $source


#>

 $data


#>

 $data[[1]]


#>

          fill  x  y PANEL group xmin xmax ymin ymax colour linewidth linetype


#>

 1   #440154FF  1  1     1     1  0.5  1.5  0.5  1.5  white         2        1


#>

 2   #440154FF  1  2     1     1  0.5  1.5  1.5  2.5  white         2        1


#>

 3   #440154FF  1  3     1     1  0.5  1.5  2.5  3.5  white         2        1


#>

 4   #440154FF  1  4     1     1  0.5  1.5  3.5  4.5  white         2        1


#>

 5   #440154FF  1  5     1     1  0.5  1.5  4.5  5.5  white         2        1


#>

 6   #440154FF  1  6     1     1  0.5  1.5  5.5  6.5  white         2        1


#>

 7   #440154FF  1  7     1     1  0.5  1.5  6.5  7.5  white         2        1


#>

 8   #440154FF  1  8     1     1  0.5  1.5  7.5  8.5  white         2        1


#>

 9   #440154FF  1  9     1     1  0.5  1.5  8.5  9.5  white         2        1


#>

 10  #440154FF  1 10     1     1  0.5  1.5  9.5 10.5  white         2        1


#>

 11  #440154FF  2  1     1     1  1.5  2.5  0.5  1.5  white         2        1


#>

 12  #440154FF  2  2     1     1  1.5  2.5  1.5  2.5  white         2        1


#>

 13  #440154FF  2  3     1     1  1.5  2.5  2.5  3.5  white         2        1


#>

 14  #440154FF  2  4     1     1  1.5  2.5  3.5  4.5  white         2        1


#>

 15  #440154FF  2  5     1     1  1.5  2.5  4.5  5.5  white         2        1


#>

 16  #440154FF  2  6     1     1  1.5  2.5  5.5  6.5  white         2        1


#>

 17  #440154FF  2  7     1     1  1.5  2.5  6.5  7.5  white         2        1


#>

 18  #440154FF  2  8     1     1  1.5  2.5  7.5  8.5  white         2        1


#>

 19  #440154FF  2  9     1     1  1.5  2.5  8.5  9.5  white         2        1


#>

 20  #440154FF  2 10     1     1  1.5  2.5  9.5 10.5  white         2        1


#>

 21  #440154FF  3  1     1     1  2.5  3.5  0.5  1.5  white         2        1


#>

 22  #440154FF  3  2     1     1  2.5  3.5  1.5  2.5  white         2        1


#>

 23  #440154FF  3  3     1     1  2.5  3.5  2.5  3.5  white         2        1


#>

 24  #440154FF  3  4     1     1  2.5  3.5  3.5  4.5  white         2        1


#>

 25  #440154FF  3  5     1     1  2.5  3.5  4.5  5.5  white         2        1


#>

 26  #440154FF  3  6     1     1  2.5  3.5  5.5  6.5  white         2        1


#>

 27  #440154FF  3  7     1     1  2.5  3.5  6.5  7.5  white         2        1


#>

 28  #440154FF  3  8     1     1  2.5  3.5  7.5  8.5  white         2        1


#>

 29  #440154FF  3  9     1     1  2.5  3.5  8.5  9.5  white         2        1


#>

 30  #440154FF  3 10     1     1  2.5  3.5  9.5 10.5  white         2        1


#>

 31  #440154FF  4  1     1     1  3.5  4.5  0.5  1.5  white         2        1


#>

 32  #440154FF  4  2     1     1  3.5  4.5  1.5  2.5  white         2        1


#>

 33  #440154FF  4  3     1     1  3.5  4.5  2.5  3.5  white         2        1


#>

 34  #440154FF  4  4     1     1  3.5  4.5  3.5  4.5  white         2        1


#>

 35  #440154FF  4  5     1     1  3.5  4.5  4.5  5.5  white         2        1


#>

 36  #440154FF  4  6     1     1  3.5  4.5  5.5  6.5  white         2        1


#>

 37  #440154FF  4  7     1     1  3.5  4.5  6.5  7.5  white         2        1


#>

 38  #440154FF  4  8     1     1  3.5  4.5  7.5  8.5  white         2        1


#>

 39  #440154FF  4  9     1     1  3.5  4.5  8.5  9.5  white         2        1


#>

 40  #440154FF  4 10     1     1  3.5  4.5  9.5 10.5  white         2        1


#>

 41  #440154FF  5  1     1     1  4.5  5.5  0.5  1.5  white         2        1


#>

 42  #440154FF  5  2     1     1  4.5  5.5  1.5  2.5  white         2        1


#>

 43  #440154FF  5  3     1     1  4.5  5.5  2.5  3.5  white         2        1


#>

 44  #440154FF  5  4     1     1  4.5  5.5  3.5  4.5  white         2        1


#>

 45  #440154FF  5  5     1     1  4.5  5.5  4.5  5.5  white         2        1


#>

 46  #440154FF  5  6     1     1  4.5  5.5  5.5  6.5  white         2        1


#>

 47  #440154FF  5  7     1     1  4.5  5.5  6.5  7.5  white         2        1


#>

 48  #440154FF  5  8     1     1  4.5  5.5  7.5  8.5  white         2        1


#>

 49  #440154FF  5  9     1     1  4.5  5.5  8.5  9.5  white         2        1


#>

 50  #440154FF  5 10     1     1  4.5  5.5  9.5 10.5  white         2        1


#>

 51  #440154FF  6  1     1     1  5.5  6.5  0.5  1.5  white         2        1


#>

 52  #440154FF  6  2     1     1  5.5  6.5  1.5  2.5  white         2        1


#>

 53  #440154FF  6  3     1     1  5.5  6.5  2.5  3.5  white         2        1


#>

 54  #440154FF  6  4     1     1  5.5  6.5  3.5  4.5  white         2        1


#>

 55  #440154FF  6  5     1     1  5.5  6.5  4.5  5.5  white         2        1


#>

 56  #440154FF  6  6     1     1  5.5  6.5  5.5  6.5  white         2        1


#>

 57  #440154FF  6  7     1     1  5.5  6.5  6.5  7.5  white         2        1


#>

 58  #440154FF  6  8     1     1  5.5  6.5  7.5  8.5  white         2        1


#>

 59  #440154FF  6  9     1     1  5.5  6.5  8.5  9.5  white         2        1


#>

 60  #440154FF  6 10     1     1  5.5  6.5  9.5 10.5  white         2        1


#>

 61  #440154FF  7  1     1     1  6.5  7.5  0.5  1.5  white         2        1


#>

 62  #440154FF  7  2     1     1  6.5  7.5  1.5  2.5  white         2        1


#>

 63  #440154FF  7  3     1     1  6.5  7.5  2.5  3.5  white         2        1


#>

 64  #440154FF  7  4     1     1  6.5  7.5  3.5  4.5  white         2        1


#>

 65  #440154FF  7  5     1     1  6.5  7.5  4.5  5.5  white         2        1


#>

 66  #440154FF  7  6     1     1  6.5  7.5  5.5  6.5  white         2        1


#>

 67  #440154FF  7  7     1     1  6.5  7.5  6.5  7.5  white         2        1


#>

 68  #440154FF  7  8     1     1  6.5  7.5  7.5  8.5  white         2        1


#>

 69  #440154FF  7  9     1     1  6.5  7.5  8.5  9.5  white         2        1


#>

 70  #440154FF  7 10     1     1  6.5  7.5  9.5 10.5  white         2        1


#>

 71  #440154FF  8  1     1     1  7.5  8.5  0.5  1.5  white         2        1


#>

 72  #440154FF  8  2     1     1  7.5  8.5  1.5  2.5  white         2        1


#>

 73  #440154FF  8  3     1     1  7.5  8.5  2.5  3.5  white         2        1


#>

 74  #440154FF  8  4     1     1  7.5  8.5  3.5  4.5  white         2        1


#>

 75  #440154FF  8  5     1     1  7.5  8.5  4.5  5.5  white         2        1


#>

 76  #440154FF  8  6     1     1  7.5  8.5  5.5  6.5  white         2        1


#>

 77  #440154FF  8  7     1     1  7.5  8.5  6.5  7.5  white         2        1


#>

 78  #440154FF  8  8     1     1  7.5  8.5  7.5  8.5  white         2        1


#>

 79  #440154FF  8  9     1     1  7.5  8.5  8.5  9.5  white         2        1


#>

 80  #440154FF  8 10     1     1  7.5  8.5  9.5 10.5  white         2        1


#>

 81  #440154FF  9  1     1     1  8.5  9.5  0.5  1.5  white         2        1


#>

 82  #440154FF  9  2     1     1  8.5  9.5  1.5  2.5  white         2        1


#>

 83  #440154FF  9  3     1     1  8.5  9.5  2.5  3.5  white         2        1


#>

 84  #31688EFF  9  4     1     2  8.5  9.5  3.5  4.5  white         2        1


#>

 85  #31688EFF  9  5     1     2  8.5  9.5  4.5  5.5  white         2        1


#>

 86  #31688EFF  9  6     1     2  8.5  9.5  5.5  6.5  white         2        1


#>

 87  #31688EFF  9  7     1     2  8.5  9.5  6.5  7.5  white         2        1


#>

 88  #31688EFF  9  8     1     2  8.5  9.5  7.5  8.5  white         2        1


#>

 89  #31688EFF  9  9     1     2  8.5  9.5  8.5  9.5  white         2        1


#>

 90  #31688EFF  9 10     1     2  8.5  9.5  9.5 10.5  white         2        1


#>

 91  #35B779FF 10  1     1     3  9.5 10.5  0.5  1.5  white         2        1


#>

 92  #35B779FF 10  2     1     3  9.5 10.5  1.5  2.5  white         2        1


#>

 93  #35B779FF 10  3     1     3  9.5 10.5  2.5  3.5  white         2        1


#>

 94  #35B779FF 10  4     1     3  9.5 10.5  3.5  4.5  white         2        1


#>

 95  #35B779FF 10  5     1     3  9.5 10.5  4.5  5.5  white         2        1


#>

 96  #35B779FF 10  6     1     3  9.5 10.5  5.5  6.5  white         2        1


#>

 97  #FDE725FF 10  7     1     4  9.5 10.5  6.5  7.5  white         2        1


#>

 98  #FDE725FF 10  8     1     4  9.5 10.5  7.5  8.5  white         2        1


#>

 99  #FDE725FF 10  9     1     4  9.5 10.5  8.5  9.5  white         2        1


#>

 100 #FDE725FF 10 10     1     4  9.5 10.5  9.5 10.5  white         2        1


#>

     alpha width height


#>

 1      NA    NA     NA


#>

 2      NA    NA     NA


#>

 3      NA    NA     NA


#>

 4      NA    NA     NA


#>

 5      NA    NA     NA


#>

 6      NA    NA     NA


#>

 7      NA    NA     NA


#>

 8      NA    NA     NA


#>

 9      NA    NA     NA


#>

 10     NA    NA     NA


#>

 11     NA    NA     NA


#>

 12     NA    NA     NA


#>

 13     NA    NA     NA


#>

 14     NA    NA     NA


#>

 15     NA    NA     NA


#>

 16     NA    NA     NA


#>

 17     NA    NA     NA


#>

 18     NA    NA     NA


#>

 19     NA    NA     NA


#>

 20     NA    NA     NA


#>

 21     NA    NA     NA


#>

 22     NA    NA     NA


#>

 23     NA    NA     NA


#>

 24     NA    NA     NA


#>

 25     NA    NA     NA


#>

 26     NA    NA     NA


#>

 27     NA    NA     NA


#>

 28     NA    NA     NA


#>

 29     NA    NA     NA


#>

 30     NA    NA     NA


#>

 31     NA    NA     NA


#>

 32     NA    NA     NA


#>

 33     NA    NA     NA


#>

 34     NA    NA     NA


#>

 35     NA    NA     NA


#>

 36     NA    NA     NA


#>

 37     NA    NA     NA


#>

 38     NA    NA     NA


#>

 39     NA    NA     NA


#>

 40     NA    NA     NA


#>

 41     NA    NA     NA


#>

 42     NA    NA     NA


#>

 43     NA    NA     NA


#>

 44     NA    NA     NA


#>

 45     NA    NA     NA


#>

 46     NA    NA     NA


#>

 47     NA    NA     NA


#>

 48     NA    NA     NA


#>

 49     NA    NA     NA


#>

 50     NA    NA     NA


#>

 51     NA    NA     NA


#>

 52     NA    NA     NA


#>

 53     NA    NA     NA


#>

 54     NA    NA     NA


#>

 55     NA    NA     NA


#>

 56     NA    NA     NA


#>

 57     NA    NA     NA


#>

 58     NA    NA     NA


#>

 59     NA    NA     NA


#>

 60     NA    NA     NA


#>

 61     NA    NA     NA


#>

 62     NA    NA     NA


#>

 63     NA    NA     NA


#>

 64     NA    NA     NA


#>

 65     NA    NA     NA


#>

 66     NA    NA     NA


#>

 67     NA    NA     NA


#>

 68     NA    NA     NA


#>

 69     NA    NA     NA


#>

 70     NA    NA     NA


#>

 71     NA    NA     NA


#>

 72     NA    NA     NA


#>

 73     NA    NA     NA


#>

 74     NA    NA     NA


#>

 75     NA    NA     NA


#>

 76     NA    NA     NA


#>

 77     NA    NA     NA


#>

 78     NA    NA     NA


#>

 79     NA    NA     NA


#>

 80     NA    NA     NA


#>

 81     NA    NA     NA


#>

 82     NA    NA     NA


#>

 83     NA    NA     NA


#>

 84     NA    NA     NA


#>

 85     NA    NA     NA


#>

 86     NA    NA     NA


#>

 87     NA    NA     NA


#>

 88     NA    NA     NA


#>

 89     NA    NA     NA


#>

 90     NA    NA     NA


#>

 91     NA    NA     NA


#>

 92     NA    NA     NA


#>

 93     NA    NA     NA


#>

 94     NA    NA     NA


#>

 95     NA    NA     NA


#>

 96     NA    NA     NA


#>

 97     NA    NA     NA


#>

 98     NA    NA     NA


#>

 99     NA    NA     NA


#>

 100    NA    NA     NA


#>

 


#>

 


#>

 $layout


#>

 <ggproto object: Class Layout, gg>


#>

     coord: <ggproto object: Class CoordFixed, CoordCartesian, Coord, gg>


#>

         aspect: function


#>

         backtransform_range: function


#>

         clip: on


#>

         default: FALSE


#>

         distance: function


#>

         expand: TRUE


#>

         is_free: function


#>

         is_linear: function


#>

         labels: function


#>

         limits: list


#>

         modify_scales: function


#>

         range: function


#>

         ratio: 1


#>

         render_axis_h: function


#>

         render_axis_v: function


#>

         render_bg: function


#>

         render_fg: function


#>

         setup_data: function


#>

         setup_layout: function


#>

         setup_panel_guides: function


#>

         setup_panel_params: function


#>

         setup_params: function


#>

         train_panel_guides: function


#>

         transform: function


#>

         super:  <ggproto object: Class CoordFixed, CoordCartesian, Coord, gg>


#>

     coord_params: list


#>

     facet: <ggproto object: Class FacetNull, Facet, gg>


#>

         compute_layout: function


#>

         draw_back: function


#>

         draw_front: function


#>

         draw_labels: function


#>

         draw_panels: function


#>

         finish_data: function


#>

         init_scales: function


#>

         map_data: function


#>

         params: list


#>

         setup_data: function


#>

         setup_params: function


#>

         shrink: TRUE


#>

         train_scales: function


#>

         vars: function


#>

         super:  <ggproto object: Class FacetNull, Facet, gg>


#>

     facet_params: list


#>

     finish_data: function


#>

     get_scales: function


#>

     layout: data.frame


#>

     map_position: function


#>

     panel_params: list


#>

     panel_scales_x: list


#>

     panel_scales_y: list


#>

     render: function


#>

     render_labels: function


#>

     reset_scales: function


#>

     setup: function


#>

     setup_panel_guides: function


#>

     setup_panel_params: function


#>

     train_position: function


#>

     xlabel: function


#>

     ylabel: function


#>

     super:  <ggproto object: Class Layout, gg>


#>

 


#>

 $plot



#>

 


#>

 attr(,"class")


#>

 [1] "ggplot_built"


#>

 


#>

 $aggregator


#>

 $data


#>

 $data[[1]]


#>

          fill  x  y PANEL group xmin xmax ymin ymax colour linewidth linetype


#>

 1   #440154FF  1  1     1     1  0.5  1.5  0.5  1.5  white         2        1


#>

 2   #440154FF  1  2     1     1  0.5  1.5  1.5  2.5  white         2        1


#>

 3   #440154FF  1  3     1     1  0.5  1.5  2.5  3.5  white         2        1


#>

 4   #440154FF  1  4     1     1  0.5  1.5  3.5  4.5  white         2        1


#>

 5   #440154FF  1  5     1     1  0.5  1.5  4.5  5.5  white         2        1


#>

 6   #440154FF  1  6     1     1  0.5  1.5  5.5  6.5  white         2        1


#>

 7   #440154FF  1  7     1     1  0.5  1.5  6.5  7.5  white         2        1


#>

 8   #440154FF  1  8     1     1  0.5  1.5  7.5  8.5  white         2        1


#>

 9   #440154FF  1  9     1     1  0.5  1.5  8.5  9.5  white         2        1


#>

 10  #440154FF  1 10     1     1  0.5  1.5  9.5 10.5  white         2        1


#>

 11  #440154FF  2  1     1     1  1.5  2.5  0.5  1.5  white         2        1


#>

 12  #440154FF  2  2     1     1  1.5  2.5  1.5  2.5  white         2        1


#>

 13  #440154FF  2  3     1     1  1.5  2.5  2.5  3.5  white         2        1


#>

 14  #440154FF  2  4     1     1  1.5  2.5  3.5  4.5  white         2        1


#>

 15  #440154FF  2  5     1     1  1.5  2.5  4.5  5.5  white         2        1


#>

 16  #440154FF  2  6     1     1  1.5  2.5  5.5  6.5  white         2        1


#>

 17  #440154FF  2  7     1     1  1.5  2.5  6.5  7.5  white         2        1


#>

 18  #440154FF  2  8     1     1  1.5  2.5  7.5  8.5  white         2        1


#>

 19  #440154FF  2  9     1     1  1.5  2.5  8.5  9.5  white         2        1


#>

 20  #440154FF  2 10     1     1  1.5  2.5  9.5 10.5  white         2        1


#>

 21  #440154FF  3  1     1     1  2.5  3.5  0.5  1.5  white         2        1


#>

 22  #440154FF  3  2     1     1  2.5  3.5  1.5  2.5  white         2        1


#>

 23  #440154FF  3  3     1     1  2.5  3.5  2.5  3.5  white         2        1


#>

 24  #440154FF  3  4     1     1  2.5  3.5  3.5  4.5  white         2        1


#>

 25  #440154FF  3  5     1     1  2.5  3.5  4.5  5.5  white         2        1


#>

 26  #440154FF  3  6     1     1  2.5  3.5  5.5  6.5  white         2        1


#>

 27  #440154FF  3  7     1     1  2.5  3.5  6.5  7.5  white         2        1


#>

 28  #440154FF  3  8     1     1  2.5  3.5  7.5  8.5  white         2        1


#>

 29  #440154FF  3  9     1     1  2.5  3.5  8.5  9.5  white         2        1


#>

 30  #440154FF  3 10     1     1  2.5  3.5  9.5 10.5  white         2        1


#>

 31  #440154FF  4  1     1     1  3.5  4.5  0.5  1.5  white         2        1


#>

 32  #440154FF  4  2     1     1  3.5  4.5  1.5  2.5  white         2        1


#>

 33  #440154FF  4  3     1     1  3.5  4.5  2.5  3.5  white         2        1


#>

 34  #440154FF  4  4     1     1  3.5  4.5  3.5  4.5  white         2        1


#>

 35  #440154FF  4  5     1     1  3.5  4.5  4.5  5.5  white         2        1


#>

 36  #440154FF  4  6     1     1  3.5  4.5  5.5  6.5  white         2        1


#>

 37  #440154FF  4  7     1     1  3.5  4.5  6.5  7.5  white         2        1


#>

 38  #440154FF  4  8     1     1  3.5  4.5  7.5  8.5  white         2        1


#>

 39  #440154FF  4  9     1     1  3.5  4.5  8.5  9.5  white         2        1


#>

 40  #440154FF  4 10     1     1  3.5  4.5  9.5 10.5  white         2        1


#>

 41  #440154FF  5  1     1     1  4.5  5.5  0.5  1.5  white         2        1


#>

 42  #440154FF  5  2     1     1  4.5  5.5  1.5  2.5  white         2        1


#>

 43  #440154FF  5  3     1     1  4.5  5.5  2.5  3.5  white         2        1


#>

 44  #440154FF  5  4     1     1  4.5  5.5  3.5  4.5  white         2        1


#>

 45  #440154FF  5  5     1     1  4.5  5.5  4.5  5.5  white         2        1


#>

 46  #440154FF  5  6     1     1  4.5  5.5  5.5  6.5  white         2        1


#>

 47  #440154FF  5  7     1     1  4.5  5.5  6.5  7.5  white         2        1


#>

 48  #440154FF  5  8     1     1  4.5  5.5  7.5  8.5  white         2        1


#>

 49  #440154FF  5  9     1     1  4.5  5.5  8.5  9.5  white         2        1


#>

 50  #440154FF  5 10     1     1  4.5  5.5  9.5 10.5  white         2        1


#>

 51  #440154FF  6  1     1     1  5.5  6.5  0.5  1.5  white         2        1


#>

 52  #440154FF  6  2     1     1  5.5  6.5  1.5  2.5  white         2        1


#>

 53  #440154FF  6  3     1     1  5.5  6.5  2.5  3.5  white         2        1


#>

 54  #440154FF  6  4     1     1  5.5  6.5  3.5  4.5  white         2        1


#>

 55  #440154FF  6  5     1     1  5.5  6.5  4.5  5.5  white         2        1


#>

 56  #440154FF  6  6     1     1  5.5  6.5  5.5  6.5  white         2        1


#>

 57  #440154FF  6  7     1     1  5.5  6.5  6.5  7.5  white         2        1


#>

 58  #440154FF  6  8     1     1  5.5  6.5  7.5  8.5  white         2        1


#>

 59  #440154FF  6  9     1     1  5.5  6.5  8.5  9.5  white         2        1


#>

 60  #440154FF  6 10     1     1  5.5  6.5  9.5 10.5  white         2        1


#>

 61  #440154FF  7  1     1     1  6.5  7.5  0.5  1.5  white         2        1


#>

 62  #440154FF  7  2     1     1  6.5  7.5  1.5  2.5  white         2        1


#>

 63  #440154FF  7  3     1     1  6.5  7.5  2.5  3.5  white         2        1


#>

 64  #440154FF  7  4     1     1  6.5  7.5  3.5  4.5  white         2        1


#>

 65  #440154FF  7  5     1     1  6.5  7.5  4.5  5.5  white         2        1


#>

 66  #440154FF  7  6     1     1  6.5  7.5  5.5  6.5  white         2        1


#>

 67  #440154FF  7  7     1     1  6.5  7.5  6.5  7.5  white         2        1


#>

 68  #440154FF  7  8     1     1  6.5  7.5  7.5  8.5  white         2        1


#>

 69  #440154FF  7  9     1     1  6.5  7.5  8.5  9.5  white         2        1


#>

 70  #440154FF  7 10     1     1  6.5  7.5  9.5 10.5  white         2        1


#>

 71  #440154FF  8  1     1     1  7.5  8.5  0.5  1.5  white         2        1


#>

 72  #440154FF  8  2     1     1  7.5  8.5  1.5  2.5  white         2        1


#>

 73  #440154FF  8  3     1     1  7.5  8.5  2.5  3.5  white         2        1


#>

 74  #440154FF  8  4     1     1  7.5  8.5  3.5  4.5  white         2        1


#>

 75  #440154FF  8  5     1     1  7.5  8.5  4.5  5.5  white         2        1


#>

 76  #440154FF  8  6     1     1  7.5  8.5  5.5  6.5  white         2        1


#>

 77  #440154FF  8  7     1     1  7.5  8.5  6.5  7.5  white         2        1


#>

 78  #440154FF  8  8     1     1  7.5  8.5  7.5  8.5  white         2        1


#>

 79  #440154FF  8  9     1     1  7.5  8.5  8.5  9.5  white         2        1


#>

 80  #440154FF  8 10     1     1  7.5  8.5  9.5 10.5  white         2        1


#>

 81  #440154FF  9  1     1     1  8.5  9.5  0.5  1.5  white         2        1


#>

 82  #440154FF  9  2     1     1  8.5  9.5  1.5  2.5  white         2        1


#>

 83  #440154FF  9  3     1     1  8.5  9.5  2.5  3.5  white         2        1


#>

 84  #440154FF  9  4     1     1  8.5  9.5  3.5  4.5  white         2        1


#>

 85  #440154FF  9  5     1     1  8.5  9.5  4.5  5.5  white         2        1


#>

 86  #440154FF  9  6     1     1  8.5  9.5  5.5  6.5  white         2        1


#>

 87  #440154FF  9  7     1     1  8.5  9.5  6.5  7.5  white         2        1


#>

 88  #440154FF  9  8     1     1  8.5  9.5  7.5  8.5  white         2        1


#>

 89  #440154FF  9  9     1     1  8.5  9.5  8.5  9.5  white         2        1


#>

 90  #440154FF  9 10     1     1  8.5  9.5  9.5 10.5  white         2        1


#>

 91  #440154FF 10  1     1     1  9.5 10.5  0.5  1.5  white         2        1


#>

 92  #440154FF 10  2     1     1  9.5 10.5  1.5  2.5  white         2        1


#>

 93  #440154FF 10  3     1     1  9.5 10.5  2.5  3.5  white         2        1


#>

 94  #440154FF 10  4     1     1  9.5 10.5  3.5  4.5  white         2        1


#>

 95  #FDE725FF 10  5     1     2  9.5 10.5  4.5  5.5  white         2        1


#>

 96  #FDE725FF 10  6     1     2  9.5 10.5  5.5  6.5  white         2        1


#>

 97  #FDE725FF 10  7     1     2  9.5 10.5  6.5  7.5  white         2        1


#>

 98  #FDE725FF 10  8     1     2  9.5 10.5  7.5  8.5  white         2        1


#>

 99  #FDE725FF 10  9     1     2  9.5 10.5  8.5  9.5  white         2        1


#>

 100 #FDE725FF 10 10     1     2  9.5 10.5  9.5 10.5  white         2        1


#>

     alpha width height


#>

 1      NA    NA     NA


#>

 2      NA    NA     NA


#>

 3      NA    NA     NA


#>

 4      NA    NA     NA


#>

 5      NA    NA     NA


#>

 6      NA    NA     NA


#>

 7      NA    NA     NA


#>

 8      NA    NA     NA


#>

 9      NA    NA     NA


#>

 10     NA    NA     NA


#>

 11     NA    NA     NA


#>

 12     NA    NA     NA


#>

 13     NA    NA     NA


#>

 14     NA    NA     NA


#>

 15     NA    NA     NA


#>

 16     NA    NA     NA


#>

 17     NA    NA     NA


#>

 18     NA    NA     NA


#>

 19     NA    NA     NA


#>

 20     NA    NA     NA


#>

 21     NA    NA     NA


#>

 22     NA    NA     NA


#>

 23     NA    NA     NA


#>

 24     NA    NA     NA


#>

 25     NA    NA     NA


#>

 26     NA    NA     NA


#>

 27     NA    NA     NA


#>

 28     NA    NA     NA


#>

 29     NA    NA     NA


#>

 30     NA    NA     NA


#>

 31     NA    NA     NA


#>

 32     NA    NA     NA


#>

 33     NA    NA     NA


#>

 34     NA    NA     NA


#>

 35     NA    NA     NA


#>

 36     NA    NA     NA


#>

 37     NA    NA     NA


#>

 38     NA    NA     NA


#>

 39     NA    NA     NA


#>

 40     NA    NA     NA


#>

 41     NA    NA     NA


#>

 42     NA    NA     NA


#>

 43     NA    NA     NA


#>

 44     NA    NA     NA


#>

 45     NA    NA     NA


#>

 46     NA    NA     NA


#>

 47     NA    NA     NA


#>

 48     NA    NA     NA


#>

 49     NA    NA     NA


#>

 50     NA    NA     NA


#>

 51     NA    NA     NA


#>

 52     NA    NA     NA


#>

 53     NA    NA     NA


#>

 54     NA    NA     NA


#>

 55     NA    NA     NA


#>

 56     NA    NA     NA


#>

 57     NA    NA     NA


#>

 58     NA    NA     NA


#>

 59     NA    NA     NA


#>

 60     NA    NA     NA


#>

 61     NA    NA     NA


#>

 62     NA    NA     NA


#>

 63     NA    NA     NA


#>

 64     NA    NA     NA


#>

 65     NA    NA     NA


#>

 66     NA    NA     NA


#>

 67     NA    NA     NA


#>

 68     NA    NA     NA


#>

 69     NA    NA     NA


#>

 70     NA    NA     NA


#>

 71     NA    NA     NA


#>

 72     NA    NA     NA


#>

 73     NA    NA     NA


#>

 74     NA    NA     NA


#>

 75     NA    NA     NA


#>

 76     NA    NA     NA


#>

 77     NA    NA     NA


#>

 78     NA    NA     NA


#>

 79     NA    NA     NA


#>

 80     NA    NA     NA


#>

 81     NA    NA     NA


#>

 82     NA    NA     NA


#>

 83     NA    NA     NA


#>

 84     NA    NA     NA


#>

 85     NA    NA     NA


#>

 86     NA    NA     NA


#>

 87     NA    NA     NA


#>

 88     NA    NA     NA


#>

 89     NA    NA     NA


#>

 90     NA    NA     NA


#>

 91     NA    NA     NA


#>

 92     NA    NA     NA


#>

 93     NA    NA     NA


#>

 94     NA    NA     NA


#>

 95     NA    NA     NA


#>

 96     NA    NA     NA


#>

 97     NA    NA     NA


#>

 98     NA    NA     NA


#>

 99     NA    NA     NA


#>

 100    NA    NA     NA


#>

 


#>

 


#>

 $layout


#>

 <ggproto object: Class Layout, gg>


#>

     coord: <ggproto object: Class CoordFixed, CoordCartesian, Coord, gg>


#>

         aspect: function


#>

         backtransform_range: function


#>

         clip: on


#>

         default: FALSE


#>

         distance: function


#>

         expand: TRUE


#>

         is_free: function


#>

         is_linear: function


#>

         labels: function


#>

         limits: list


#>

         modify_scales: function


#>

         range: function


#>

         ratio: 1


#>

         render_axis_h: function


#>

         render_axis_v: function


#>

         render_bg: function


#>

         render_fg: function


#>

         setup_data: function


#>

         setup_layout: function


#>

         setup_panel_guides: function


#>

         setup_panel_params: function


#>

         setup_params: function


#>

         train_panel_guides: function


#>

         transform: function


#>

         super:  <ggproto object: Class CoordFixed, CoordCartesian, Coord, gg>


#>

     coord_params: list


#>

     facet: <ggproto object: Class FacetNull, Facet, gg>


#>

         compute_layout: function


#>

         draw_back: function


#>

         draw_front: function


#>

         draw_labels: function


#>

         draw_panels: function


#>

         finish_data: function


#>

         init_scales: function


#>

         map_data: function


#>

         params: list


#>

         setup_data: function


#>

         setup_params: function


#>

         shrink: TRUE


#>

         train_scales: function


#>

         vars: function


#>

         super:  <ggproto object: Class FacetNull, Facet, gg>


#>

     facet_params: list


#>

     finish_data: function


#>

     get_scales: function


#>

     layout: data.frame


#>

     map_position: function


#>

     panel_params: list


#>

     panel_scales_x: list


#>

     panel_scales_y: list


#>

     render: function


#>

     render_labels: function


#>

     reset_scales: function


#>

     setup: function


#>

     setup_panel_guides: function


#>

     setup_panel_params: function


#>

     train_position: function


#>

     xlabel: function


#>

     ylabel: function


#>

     super:  <ggproto object: Class Layout, gg>


#>

 


#>

 $plot



#>

 


#>

 attr(,"class")


#>

 [1] "ggplot_built"


#>