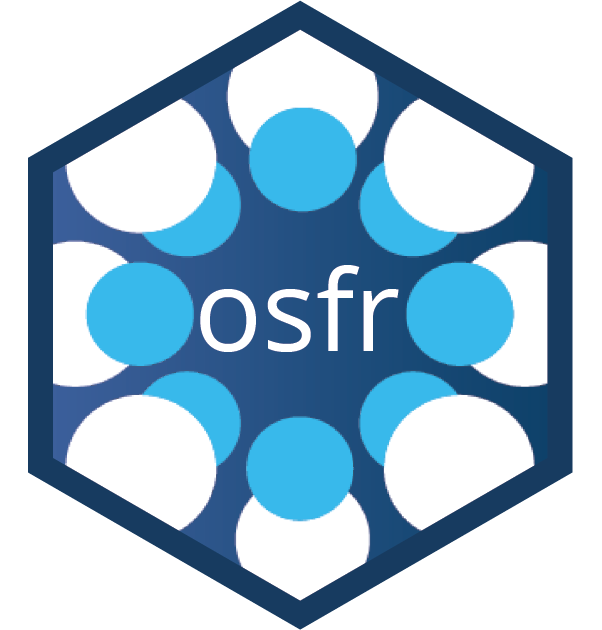 Changelog
Source:
NEWS.md
osfr 0.2.9
CRAN release: 2022-09-25
Build and test infrastructure
Unit tests for single file uploads, html encoding, and basic node mechanics are now mocked with vcr (#145)
GitHub Actions is now used for continuous integration (#146)
brio is now used in tests for writing text to files so \n is used for line endings on Windows. This produces files with identical sizes on all platforms allowing vcr to match requests that include file sizes in the body (#146).
osfr 0.2.8
CRAN release: 2020-02-17
Initial CRAN release
Publication of accompanying paper in the Journal of Open Source Software that can be cited in papers using osfr, see citation("osfr") for details
osfr 0.2.7
Other changes
The getting started vignette was overhauled to better leverage multi-file transfers and is now precomputed
Encoded HTML symbols in node titles are now handled properly (#117)
osf_rm() argument recursive been renamed to recurse in order to be consistent with other functions
Internal links now point to the ropensci repository and new documentation URL
osfr 0.2.4
Minor fixes
Listing files within a specified path would fail if sibling directories shared a common substring in their names (#95)
Setting verbose=TRUE now works properly for osf_upload()
A startup message is printed when OSF_SERVER is defined
Improved documentation for n_max, GUIDs and the mysterious meta column
osfr 0.2.1
Minor tweaks to the website
osf_retrieve_file() will no longer retrieve files on 3rd-party storage providers, since other osfr functions currently only support OSF storage
osfr 0.2.0
NOTE: This version of osfr is a rewrite of the original codebase. It is effectively an entirely different package and provides no backwards compatibility with functions in versions < 0.2.0. The last version of the previous package can be installed with the remotes package:
See https://docs.ropensci.org/osfr/ for details about the new package.