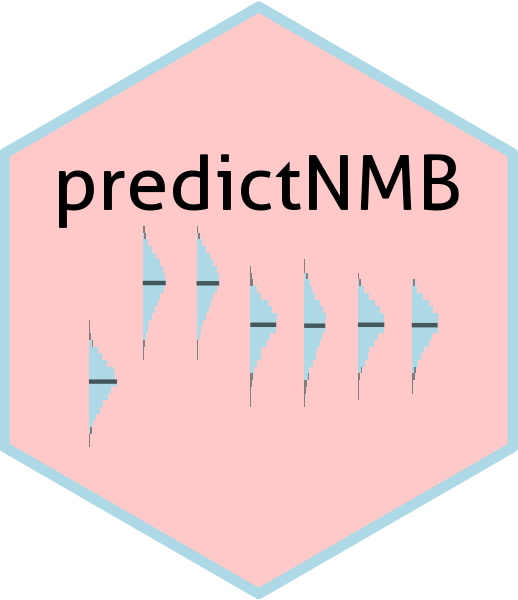 Creating NMB functions
Source:
vignettes/creating-nmb-functions.Rmd
creating-nmb-functions.Rmd
NMB functions
The key aspect of predictNMB is its ability to evaluate simulated prediction models in terms of Net Monetary Benefit (NMB). To do so, it requires the user to create and provide functions that assign NMB values to each of the four possible classifications in a confusion matrix. These functions create named vectors, which are vectors of values that provide an NMB value for each possible outcome:
TP: True Positives, correctly predicted events that lead to necessary treatment
TN: True Negatives, correctly predicted non-events that avoid unnecessary treatment
FP: False Positives, incorrectly predicted positives that lead to unnecessary treatment
FN: False Negatives, incorrectly predicted non-events that lead to a lack of necessary treatment
This vignette will guide you through creating these functions by hand, as well as using the helper function, get_nmb_sampler(). We start with key considerations for the user when creating these functions to best reflect their clinical context, and finish by using the created functions with do_nmb_sim().
If you, the user, wish to incorporate Quality-Adjusted Life Years (QALYs) lost due to the event being predicted and a willingness to pay (WTP) and be able to create a cost-effectiveness plot, you must use get_nmb_sampler() rather than constructing this function by hand. If only the vector of values above are recorded, do_nmb_sim() cannot determine how the NMB is broken down into QALYs and healthcare/intervention costs. (More on this later.)