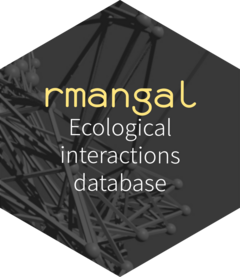 Query networks
Source:
R/search_networks.R
search_networks.Rd
Search over all networks using a keyword, a custom query or a spatial object If the query is a character string, then all character columns in the table are searched and the entries for which at least one partial match was found are returned. Alternatively, a named list can be used to look for an exact match in a specific column (see Details section)
Arguments
query

either a character string including a single keyword or a named list containing a custom query (see details section below), or a spatial object (see the description of query_sf). Note that if an empty character string is passed, then all datasets available are returned.

verbose

a logical. Should extra information be reported on progress?

...

further arguments to be passed to httr::GET().

query_sf

a spatial object of class sf used to search in a specific geographical area.
Value
An object of class mgSearchNetworks, which is a data.frame object with all networks informations
Details
Names of the list should match one of the column names within the table. For the networks table, those are
id: unique identifier of the network;

all_interactions: false interaction can be considered as real false interaction

dataset_id: the identifier of the dataset;

public: network publicly available;
Note that for lists with more than one element, only the first element is used, the others are ignored. An example is provided below.
Functions
search_networks_sf(): Search networks within a spatial object passed as an argument. Note that sf must be installed to use this function.
Examples
# \donttest{


 

mg_insect

 

<-

 

search_networks

(

query

=

"insect%"

)




#>

 Data retrieval 100%   


#>

                                                                              


#>

 Found 14 networks
 

# Retrieve the search results


 

nets_insect

 

<-

 get_collection

(

mg_insect

)




#>

 Processing id: 18 	1/1  


#>

                                                                              


#>

 Data retrieval 100%   


#>

                                                                              


#>

 Data retrieval 100%   


#>

                                                                              


#>

 Processing id: 4 	1/1  


#>

                                                                              


#>

 Processing id: 4 	1/1  


#>

                                                                              


#>

 Processing id: 909 	1/1  


#>

                                                                              


#>

 Data retrieval 50%   


#>

 Data retrieval 100%   


#>

                                                                              


#>

 Data retrieval 33.3%   


#>

 Data retrieval 66.7%   


#>

 Data retrieval 100%   


#>

                                                                              


#>

 Processing id: 9 	1/1  


#>

                                                                              


#>

 Processing id: 9 	1/1  


#>

                                                                              


#>

 Processing id: 948 	1/1  


#>

                                                                              


#>

 Data retrieval 20%   


#>

 Data retrieval 40%   


#>

 Data retrieval 60%   


#>

 Data retrieval 80%   


#>

 Data retrieval 100%   


#>

                                                                              


#>

 Data retrieval 11.1%   


#>

 Data retrieval 22.2%   


#>

 Data retrieval 33.3%   


#>

 Data retrieval 44.4%   


#>

 Data retrieval 55.6%   


#>

 Data retrieval 66.7%   


#>

 Data retrieval 77.8%   


#>

 Data retrieval 88.9%   


#>

 Data retrieval 100%   


#>

                                                                              


#>

 Processing id: 66 	1/1  


#>

                                                                              


#>

 Processing id: 65 	1/1  


#>

                                                                              


#>

 Processing id: 1460 	1/1  


#>

                                                                              


#>

 Data retrieval 100%   


#>

                                                                              


#>

 Data retrieval 100%   


#>

                                                                              


#>

 Processing id: 91 	1/1  


#>

                                                                              


#>

 Processing id: 90 	1/1  


#>

                                                                              


#>

 Processing id: 1461 	1/1  


#>

                                                                              


#>

 Data retrieval 100%   


#>

                                                                              


#>

 Data retrieval 50%   


#>

 Data retrieval 100%   


#>

                                                                              


#>

 Processing id: 91 	1/1  


#>

                                                                              


#>

 Processing id: 90 	1/1  


#>

                                                                              


#>

 Processing id: 1471 	1/1  


#>

                                                                              


#>

 Data retrieval 100%   


#>

                                                                              


#>

 Data retrieval 100%   


#>

                                                                              


#>

 Processing id: 99 	1/1  


#>

                                                                              


#>

 Processing id: 98 	1/1  


#>

                                                                              


#>

 Processing id: 1493 	1/1  


#>

                                                                              


#>

 Data retrieval 100%   


#>

                                                                              


#>

 Data retrieval 100%   


#>

                                                                              


#>

 Processing id: 114 	1/1  


#>

                                                                              


#>

 Processing id: 113 	1/1  


#>

                                                                              


#>

 Processing id: 1501 	1/1  


#>

                                                                              


#>

 Data retrieval 100%   


#>

                                                                              


#>

 Data retrieval 100%   


#>

                                                                              


#>

 Processing id: 118 	1/1  


#>

                                                                              


#>

 Processing id: 117 	1/1  


#>

                                                                              


#>

 Processing id: 1500 	1/1  


#>

                                                                              


#>

 Data retrieval 100%   


#>

                                                                              


#>

 Data retrieval 100%   


#>

                                                                              


#>

 Processing id: 118 	1/1  


#>

                                                                              


#>

 Processing id: 117 	1/1  


#>

                                                                              


#>

 Processing id: 1502 	1/1  


#>

                                                                              


#>

 Data retrieval 100%   


#>

                                                                              


#>

 Data retrieval 100%   


#>

                                                                              


#>

 Processing id: 119 	1/1  


#>

                                                                              


#>

 Processing id: 118 	1/1  


#>

                                                                              


#>

 Processing id: 1507 	1/1  


#>

                                                                              


#>

 Data retrieval 100%   


#>

                                                                              


#>

 Data retrieval 100%   


#>

                                                                              


#>

 Processing id: 124 	1/1  


#>

                                                                              


#>

 Processing id: 123 	1/1  


#>

                                                                              


#>

 Processing id: 1508 	1/1  


#>

                                                                              


#>

 Data retrieval 100%   


#>

                                                                              


#>

 Data retrieval 50%   


#>

 Data retrieval 100%   


#>

                                                                              


#>

 Processing id: 124 	1/1  


#>

                                                                              


#>

 Processing id: 123 	1/1  


#>

                                                                              


#>

 Processing id: 1510 	1/1  


#>

                                                                              


#>

 Data retrieval 100%   


#>

                                                                              


#>

 Data retrieval 100%   


#>

                                                                              


#>

 Processing id: 126 	1/1  


#>

                                                                              


#>

 Processing id: 125 	1/1  


#>

                                                                              


#>

 Processing id: 1566 	1/1  


#>

                                                                              


#>

 Data retrieval 100%   


#>

                                                                              


#>

 Data retrieval 100%   


#>

                                                                              


#>

 Processing id: 154 	1/1  


#>

                                                                              


#>

 Processing id: 151 	1/1  


#>

                                                                              
 

# Spatial query


 library

(

sf

)




#>

 Linking to GEOS 3.10.2, GDAL 3.4.1, PROJ 8.2.1; sf_use_s2() is TRUE
 library

(

USAboundaries

)




#>

 The USAboundariesData package needs to be installed.


#>

  Please try installing the package using the following command: 


#>

      install.packages("USAboundariesData", repos = "https://ropensci.r-universe.dev", type = "source")
 

area

 

<-

 us_states

(

state

=

"california"

)


 

networks_in_area

 

<-

 

search_networks_sf

(

area

, verbose 

=

 

FALSE

)


 plot

(

networks_in_area

)




#>

 

Warning: 

plotting the first 9 out of 10 attributes; use max.plot = 10 to plot all

 

# Retrieve network ID 5013


 

net_5013

 

<-

 

search_networks

(

query 

=

 list

(

id 

=

 

5013

)

)




#>

 Data retrieval 100%   


#>

                                                                              


#>

 Found 1 networks
 

# Network(s) of dataset ID 19


 

mg_19

 

<-

 

search_networks

(

list

(

dataset_id 

=

 

19

)

)




#>

 Data retrieval 100%   


#>

                                                                              


#>

 Found 1 networks


# }