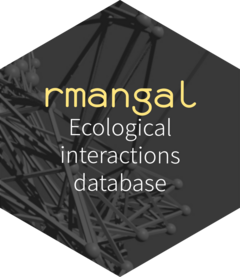 Changelog
Source:
NEWS.md
rmangal 2.1.1
CRAN release: 2022-05-15
inherits() is now used to test classes.
purrr is no longer listed as an imported package.
Add lintr workflow to automatically check stylistic errors.
Summary method for mgNetwork objects now reports nodes and properly (see nodes #108).
rmangal 2.1.0
CRAN release: 2021-11-24
rmangal 2.0.2
CRAN release: 2020-10-13
Fix a minor bug search_datasets() related to absent networks attached on a dataset (see #97 and #98);
Update Travis CI environment test (travis.yml).
rmangal 2.0.1
Fix a minor bug in the print method for mgNetwork objects see #94;
Fix broken URIs in README;
Remove mapview from vignette (CRAN issue with missing PhantomJS).
rmangal 2.0.0
CRAN release: 2019-10-03
Revisions see https://github.com/ropensci/software-review/issues/332;
add summary method [#87];
mg_to_igraph is now as.igraph();
search_references() has been rewritten [#85];
vignette now includes examples to use tigygraph and ggraph;
pkgdown website is now deployed by Travis CI [#86];
geom column has been removed from mgSearchInteractions objects;
sf features are only used in search_networks_sf() and when argument as_sf is set to TRUE [#89];
query with spatial (sf) objects are handle in query_networks_sf() that is now exported.