Data import and cleaning via pathviewr
We'll also load two tidyverse packages for wrangling & plotting in this readme.
We will import and clean a sample data set from .csv files exported by Optitrack's Motive software. For examples of how to import and clean other types of data, see the Basics of data import and cleaning vignette.
Several functions to clean and wrangle data are available, and we have a suggested pipeline for how these steps should be handled. For this example, we will use one of two "all-in-one" functions: clean_viewr(). See the Basics of data import and cleaning vignette for the full pipeline and the other "all-in-one" function.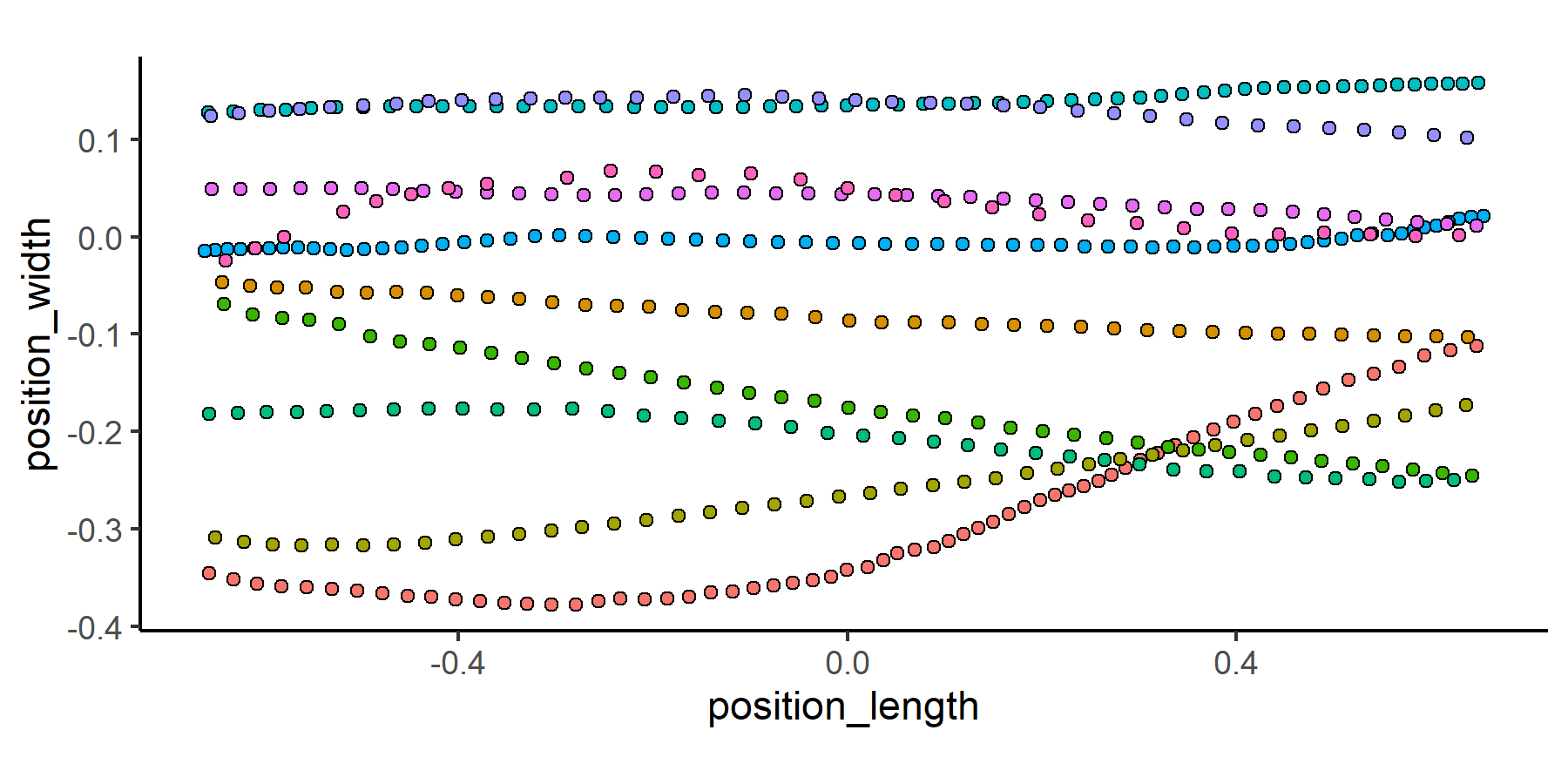 To get a sense of what we've done, compare the data before and after it has passed through the pipeline.
An important aspect of how pathviewr defines trajectories is by managing gaps in the data. See the vignette on Managing frame gaps for more information on trajectory definition and frame gaps.
Now that the data is cleaned, pathviewr includes functions that estimate visual perceptions based on the distance between the subject/observer and visual stimuli on the walls of the experimental tunnel. For a complete description of these functions, see the vignette on Estimating visual perceptions from tracking data.
Add more info about experiments
Now that our objects have been cleaned, we will use insert_treatments() to add information about the experiments that are necessary for calculating visual perceptions.
The data from this example were recorded in a V-shaped tunnel. Accordingly, the vertex angle and vertex height of the tunnel, along with information about the visual stimuli used during the experiment, will be added to the data to inform calculations of visual perception (next section).
motive_V

 

<-

 
  

motive_allinone

 

%>%


  insert_treatments

(


    tunnel_config 

=

 

"v"

,
    perch_2_vertex 

=

 

0.4

,
    vertex_angle 

=

 

90

,
    tunnel_length 

=

 

2

,
    stim_param_lat_pos 

=

 

0.1

,
    stim_param_lat_neg 

=

 

0.1

,
    stim_param_end_pos 

=

 

0.3

,
    stim_param_end_neg 

=

 

0.3

,
    treatment 

=

 

"lat10_end_30"


  

)

 
Estimate perception of visual stimuli
To calculate the spatial frequency of the visual stimuli as perceived by the subject some distance from the stimuli, we will use get_sf().
This will require two intermediate steps: 1) calculating the minimum distance between a subject and each wall (via calc_min_dist_v()) and 2) estimating the visual angles from the subject's perspective (get_vis_angle()).
Visualizing the calculations provides an more intuitive understanding of how these visual perceptions change as the subject moves throughout the tunnel. Please see the vignette on Estimating visual perceptions from tracking data for more examples of visualizing calculations.
ggplot

(

motive_V_sf

, aes

(

x 

=

 

position_width

, y 

=

 

position_height

)

)

 

+


  geom_point

(

aes

(

color 

=

 

sf_pos

)

, shape

=

1

, size

=

3

)

 

+


  geom_segment

(

aes

(

x 

=

 

0

,         

# dimensions of the positive wall


                  y 

=

 

-

0.3855

,
                  xend 

=

 

0.5869

,
                  yend 

=

 

0.2014

)

)

 

+


  geom_segment

(

aes

(

x 

=

 

0

,         

# dimensions of the negative wall


                   y 

=

 

-

0.3855

,
                   xend 

=

 

-

0.5869

,
                   yend 

=

 

0.2014

)

)

 

+


  coord_fixed

(

)

 

+


  theme_classic

(

)

 

+


  theme

(


    legend.position 

=

 

"none"


  

)