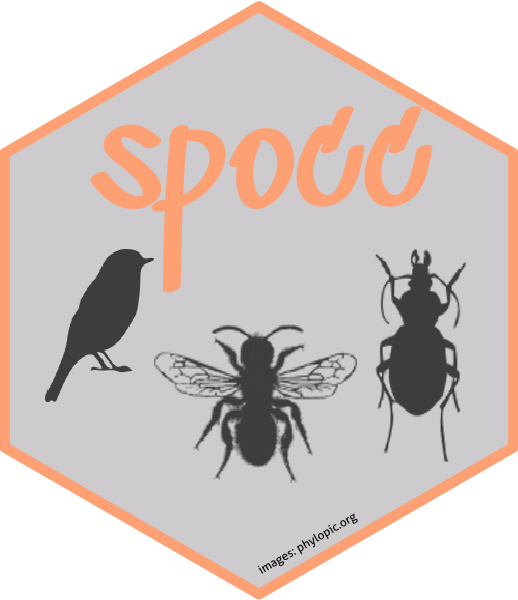 spocc (SPecies OCCurrence)
Docs: http://docs.ropensci.org/spocc/
At rOpenSci, we have been writing R packages to interact with many sources of species occurrence data, including GBIF, Vertnet, iNaturalist, and eBird. Other databases are out there as well, which we can pull in. spocc is an R package to query and collect species occurrence data from many sources. The goal is to to create a seamless search experience across data sources, as well as creating unified outputs across data sources.
spocc currently interfaces with seven major biodiversity repositories
The inspiration for this comes from users requesting a more seamless experience across data sources, and from our work on a similar package for taxonomy data (taxize).
BEWARE: In cases where you request data from multiple providers, especially when including GBIF, there could be duplicate records since many providers' data eventually ends up with GBIF. See ?spocc_duplicates, after installation, for more.
Installation
Stable version from CRAN
Or the development version from GitHub
Make maps
All mapping functionality is now in a separate package mapr (formerly known as spoccutils), to make spocc easier to maintain. mapr on CRAN.