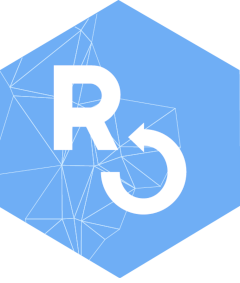 Advanced examples
Lluís Revilla
lluis.revilla@gmail.com
2023 Dec 04
Source:
vignettes/advanced.Rmd
advanced.Rmd
Abstract
This vignette assumes you are familiar with set operations from the basic vignette.
Initial setup
To show compatibility with tidy workflows we will use magrittr pipe operator and the dplyr verbs.
Human gene ontology
We will explore the genes with assigned gene ontology terms. These terms describe what is the process and role of the genes. The links are annotated with different evidence codes to indicate how such annotation is supported.
We can now explore if there are differences in evidence usage for each ontology in gene ontology: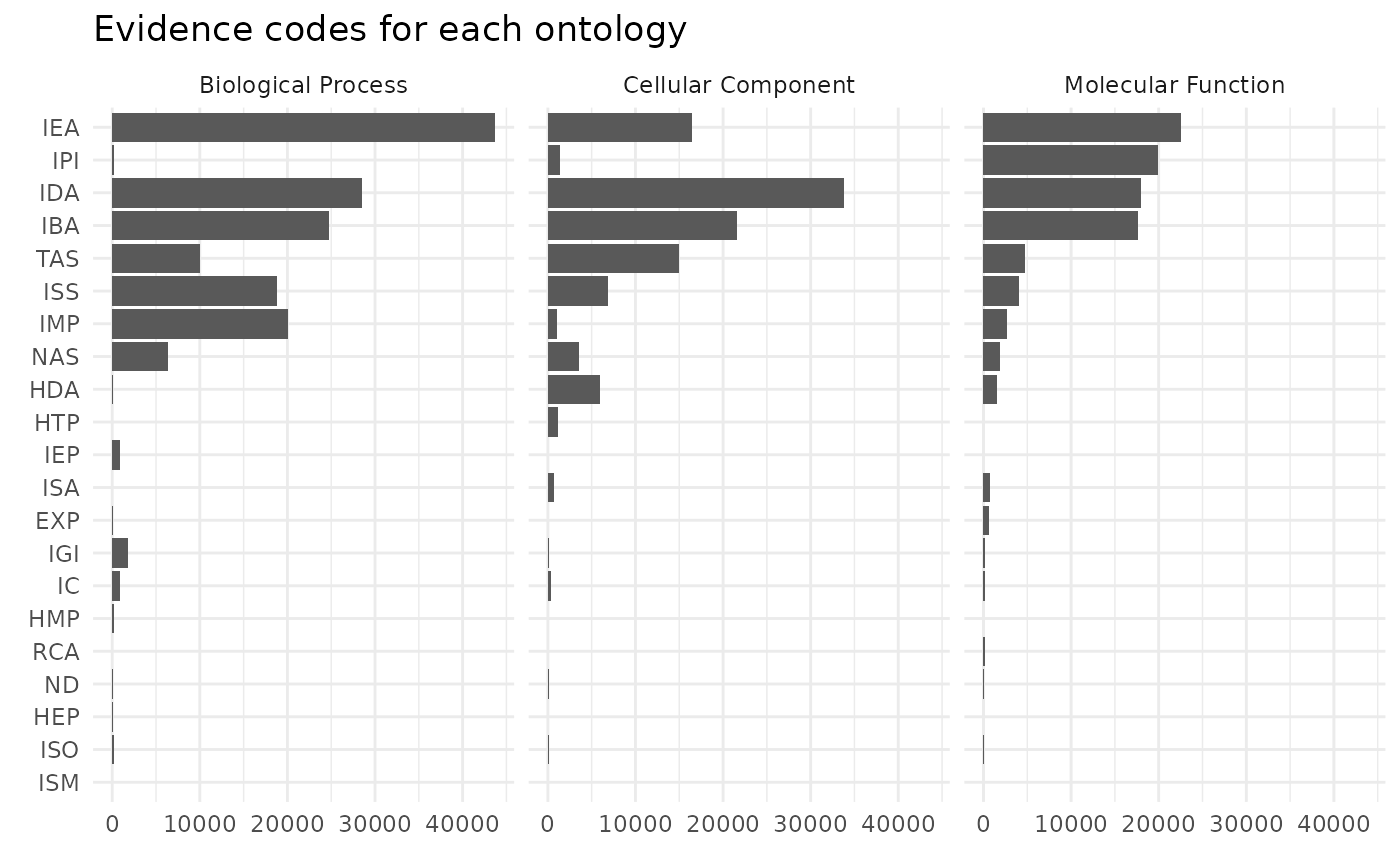 We can see that biological process are more likely to be defined by IMP evidence code that means inferred from mutant phenotype. While inferred from physical interaction (IPI) is almost exclusively used to assign molecular functions.
This graph doesn't consider that some relationships are better annotated than other: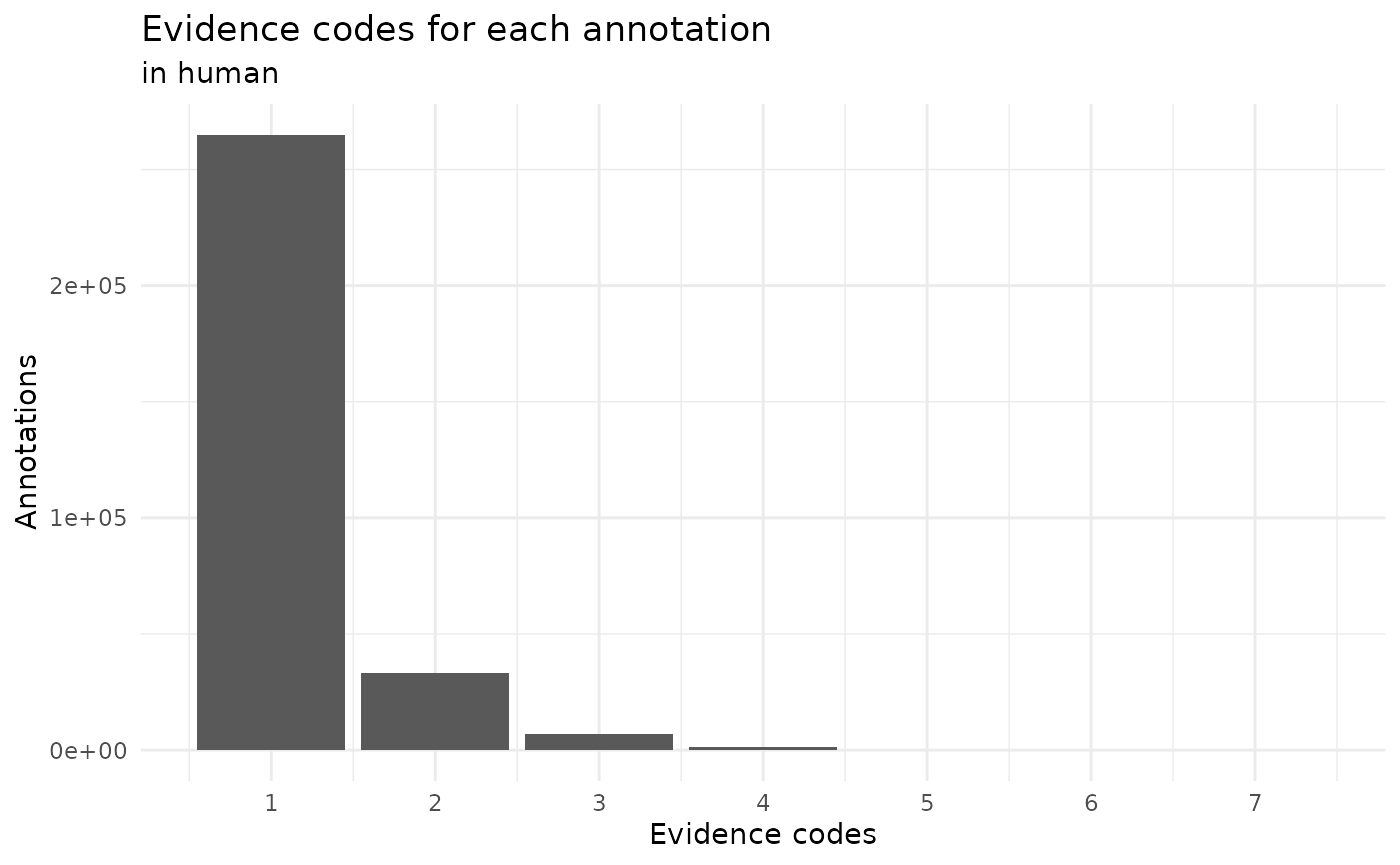 We can see that mostly all the annotations are done with a single evidence code. So far we have explored the code that it is related to a gene but how many genes don't have any annotation?
So we can see that both there are more genes without annotation and more gene ontology terms without a (direct) gene annotated.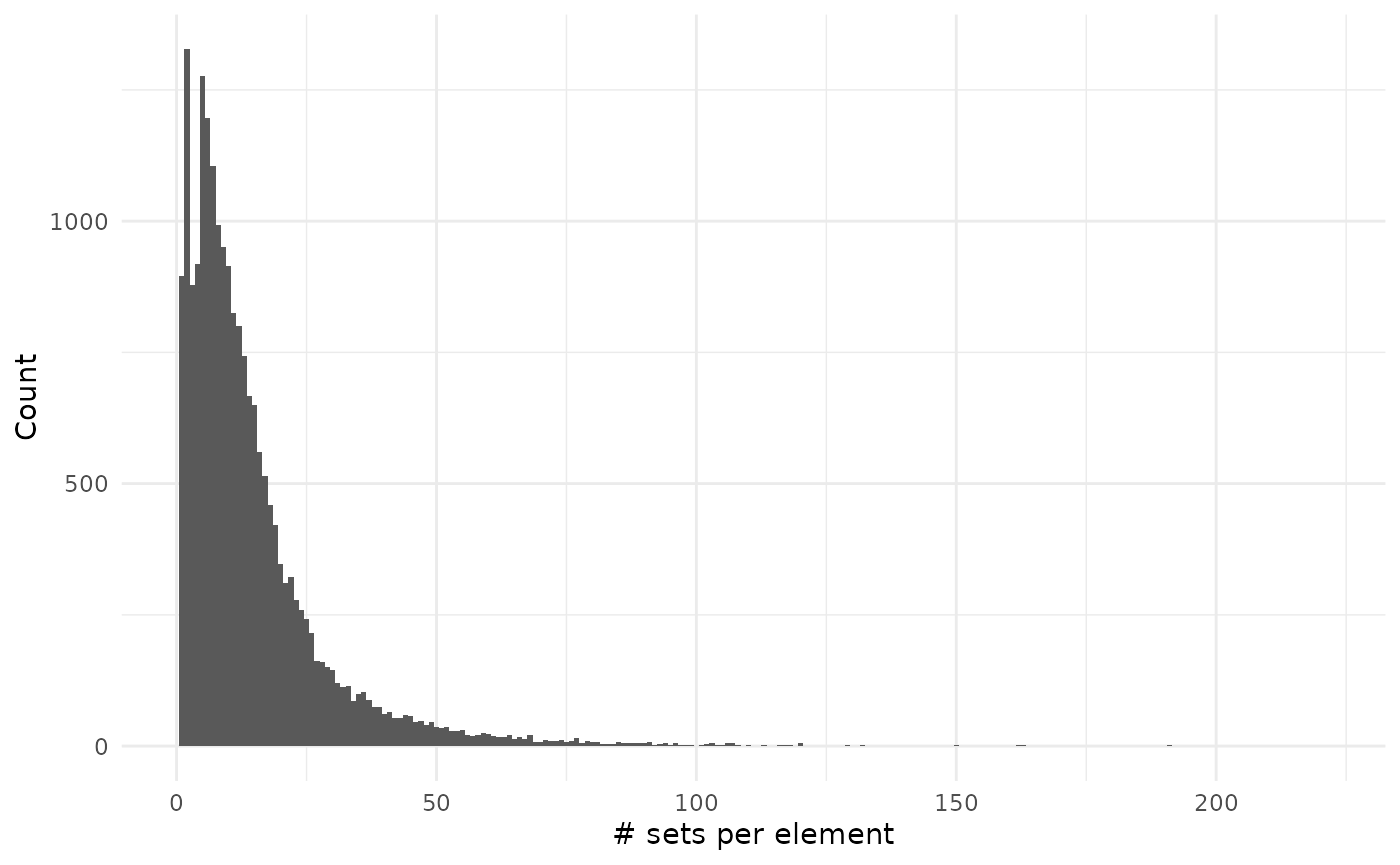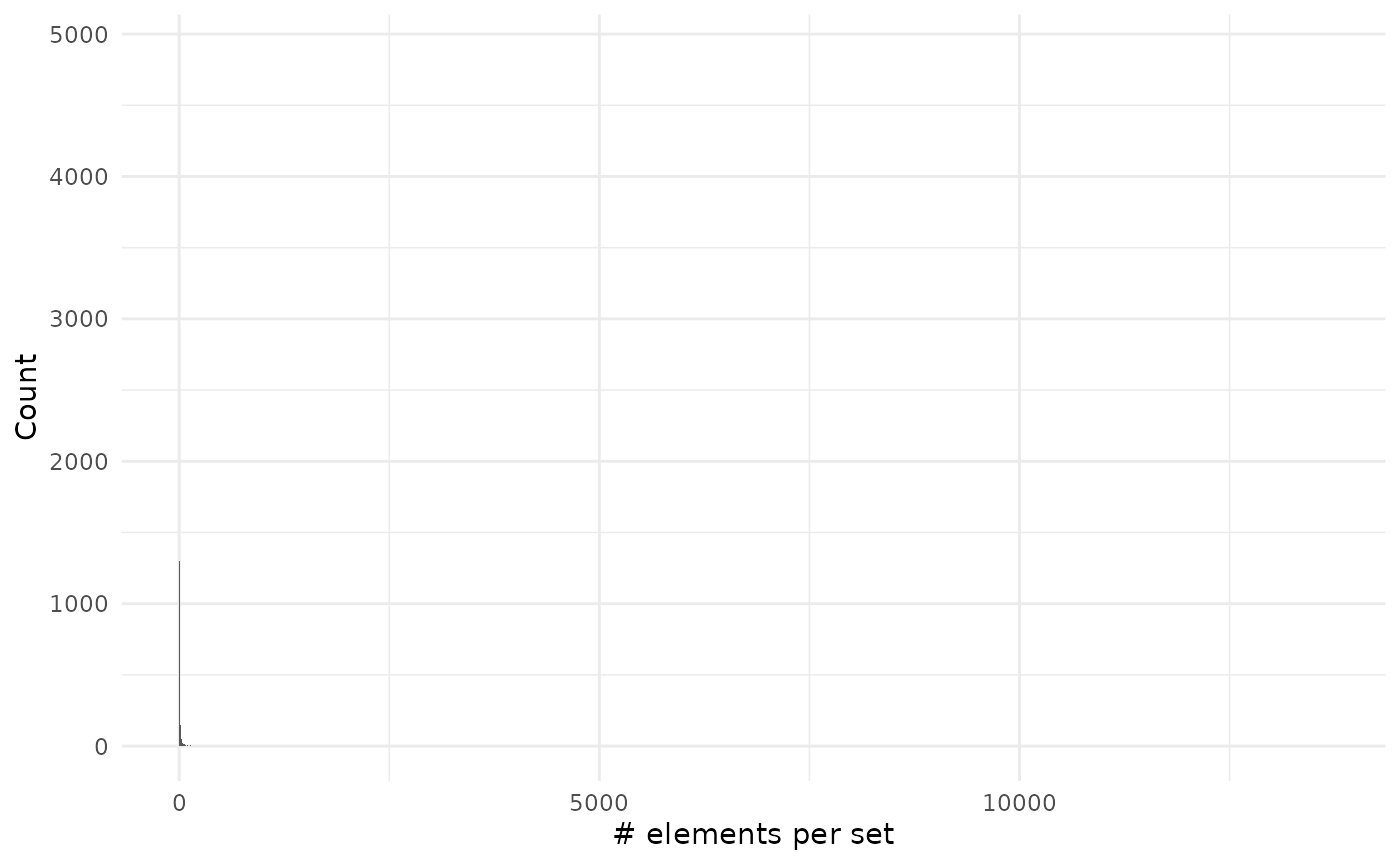 As you can see on the second plot we have very large values but that are on associated on many genes:
Human pathways
Now we will repeat the same analysis with pathways:
Now that we have everything ready we can start measuring some things…
We can see there are more genes without pathways than genes with pathways.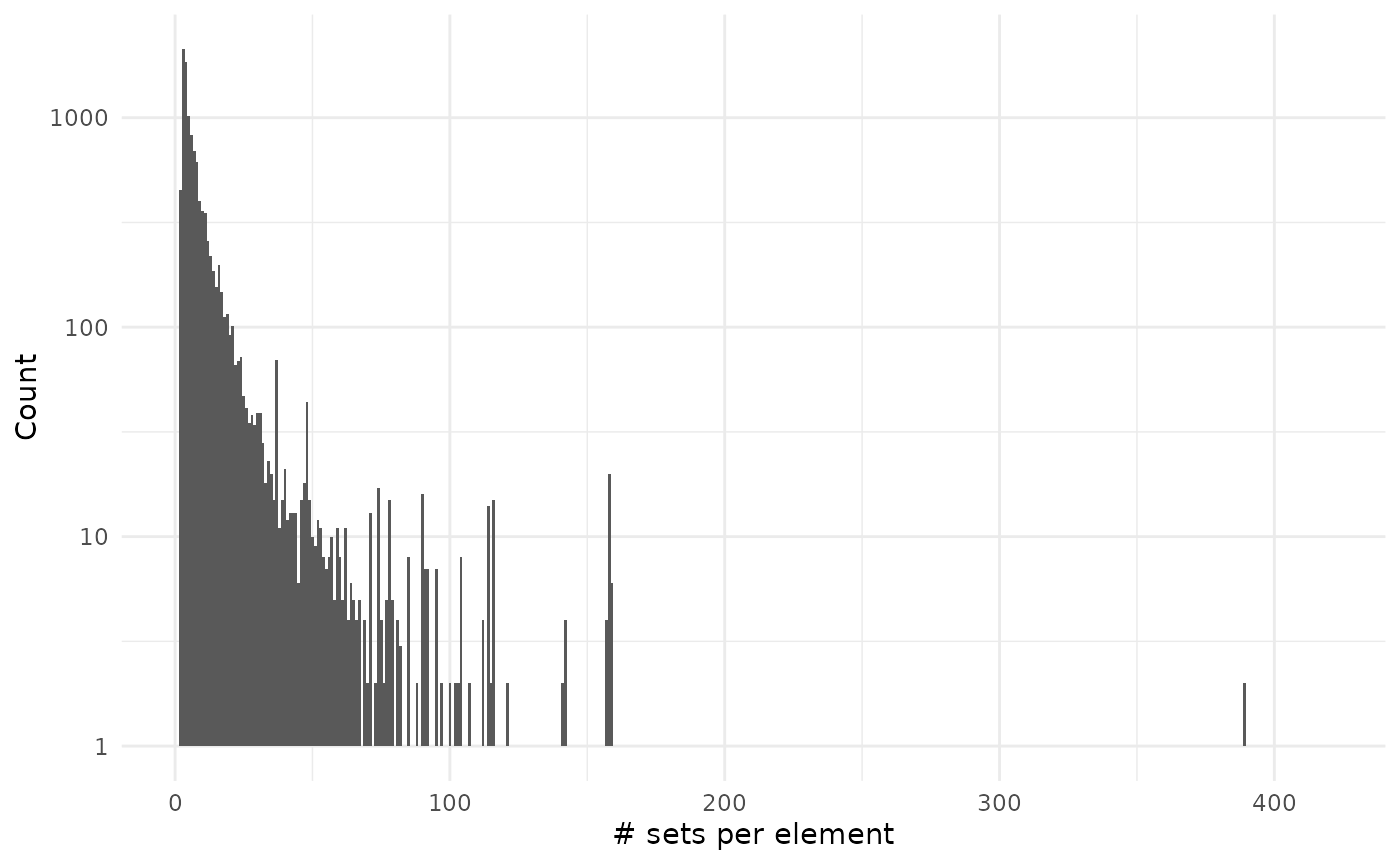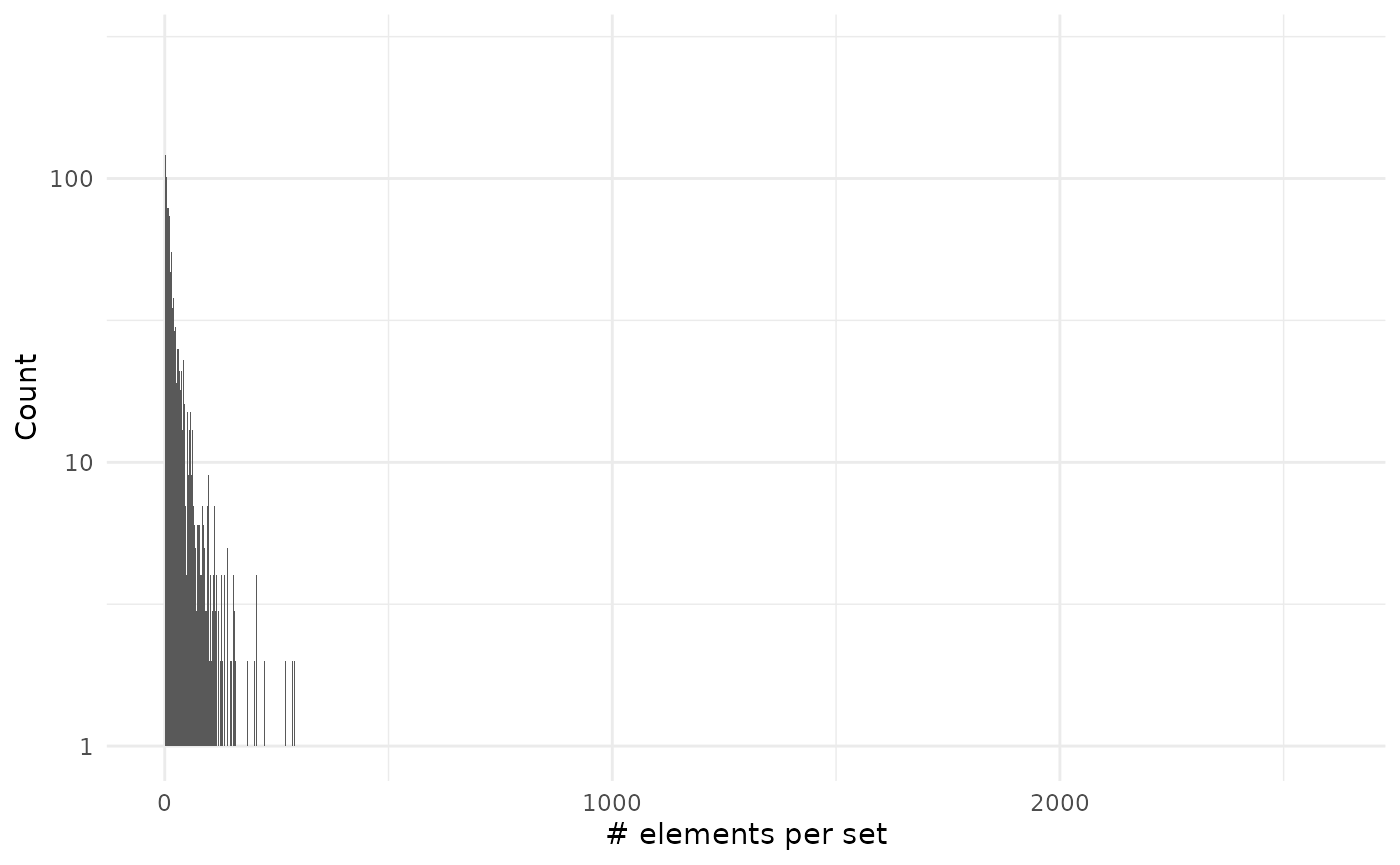 As you can see on the second plot we have very large values but that are on associated on many genes:
Session info
#> R version 4.3.2 (2023-10-31)




#> Platform: x86_64-pc-linux-gnu (64-bit)




#> Running under: Ubuntu 22.04.3 LTS




#> 




#> Matrix products: default




#> BLAS:   /usr/lib/x86_64-linux-gnu/openblas-pthread/libblas.so.3 




#> LAPACK: /usr/lib/x86_64-linux-gnu/openblas-pthread/libopenblasp-r0.3.20.so;  LAPACK version 3.10.0




#> 




#> locale:




#>  [1] LC_CTYPE=en_US.UTF-8       LC_NUMERIC=C              




#>  [3] LC_TIME=en_US.UTF-8        LC_COLLATE=en_US.UTF-8    




#>  [5] LC_MONETARY=en_US.UTF-8    LC_MESSAGES=en_US.UTF-8   




#>  [7] LC_PAPER=en_US.UTF-8       LC_NAME=C                 




#>  [9] LC_ADDRESS=C               LC_TELEPHONE=C            




#> [11] LC_MEASUREMENT=en_US.UTF-8 LC_IDENTIFICATION=C       




#> 




#> time zone: Etc/UTC




#> tzcode source: system (glibc)




#> 




#> attached base packages:




#> [1] stats4    stats     graphics  grDevices utils     datasets  methods  




#> [8] base     




#> 




#> other attached packages:




#>  [1] reactome.db_1.86.2   forcats_1.0.0        ggplot2_3.4.4       




#>  [4] GO.db_3.18.0         org.Hs.eg.db_3.18.0  AnnotationDbi_1.64.1




#>  [7] IRanges_2.36.0       S4Vectors_0.40.2     Biobase_2.62.0      




#> [10] BiocGenerics_0.48.1  dplyr_1.1.4          BaseSet_0.9.0.9002  




#> 




#> loaded via a namespace (and not attached):




#>  [1] KEGGREST_1.42.0         gtable_0.3.4            xfun_0.41              




#>  [4] bslib_0.6.1             generics_0.1.3          vctrs_0.6.5            




#>  [7] tools_4.3.2             bitops_1.0-7            fansi_1.0.5            




#> [10] tibble_3.2.1            RSQLite_2.3.3           highr_0.10             




#> [13] blob_1.2.4              pkgconfig_2.0.3         desc_1.4.2             




#> [16] graph_1.80.0            lifecycle_1.0.4         GenomeInfoDbData_1.2.11




#> [19] farver_2.1.1            compiler_4.3.2          stringr_1.5.1          




#> [22] textshaping_0.3.7       Biostrings_2.70.1       munsell_0.5.0          




#> [25] GenomeInfoDb_1.38.1     htmltools_0.5.7         sass_0.4.7             




#> [28] RCurl_1.98-1.13         yaml_2.3.7              pillar_1.9.0           




#> [31] pkgdown_2.0.7           crayon_1.5.2            jquerylib_0.1.4        




#> [34] cachem_1.0.8            tidyselect_1.2.0        digest_0.6.33          




#> [37] stringi_1.8.2           purrr_1.0.2             labeling_0.4.3         




#> [40] rprojroot_2.0.4         fastmap_1.1.1           grid_4.3.2             




#> [43] colorspace_2.1-0        cli_3.6.1               magrittr_2.0.3         




#> [46] utf8_1.2.4              XML_3.99-0.16           GSEABase_1.64.0        




#> [49] withr_2.5.2             scales_1.3.0            bit64_4.0.5            




#> [52] rmarkdown_2.25          XVector_0.42.0          httr_1.4.7             




#> [55] bit_4.0.5               ragg_1.2.6              png_0.1-8              




#> [58] memoise_2.0.1           evaluate_0.23           knitr_1.45             




#> [61] rlang_1.1.2             xtable_1.8-4            glue_1.6.2             




#> [64] DBI_1.1.3               annotate_1.80.0         jsonlite_1.8.8         




#> [67] R6_2.5.1                systemfonts_1.0.5       fs_1.6.3               




#> [70] zlibbioc_1.48.0