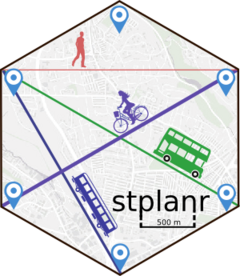 Scale a bounding box
Source:
R/geo-functions.R
bbox_scale.Rd
Takes a bounding box as an input and outputs a bounding box of a different size, centred at the same point.
Arguments
bb

Bounding box object

scale_factor

Numeric vector determining how much the bounding box will grow or shrink. Two numbers refer to extending the bounding box in x and y dimensions, respectively. If the value is 1, the output size will be the same as the input.