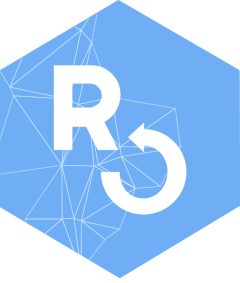 Multifactorial multi-plate qPCR analysis example
Edward Wallace
April 2022
Source:
vignettes/multifactor_vignette.Rmd
multifactor_vignette.Rmd
Summary: an example multifactorial qPCR experiment.
This vignette shows how to use tidyqpcr functions to normalize and plot data from multifactorial experiments: many primer sets, many conditions, two plates. This vignette is a more advanced example with complex data.
This is real RT-qPCR data by Edward Wallace in June 2018, testing the effect of heat shock and transcription-targeting drugs in Saccharomyces cerevisiae yeast.
Melt and Amplification Curves
# NOTE: system.file() accesses data from this R package




# To use your own data, remove the call to system.file(),




# instead pass your data's filename to read_lightcycler_1colour_cq()




# or to another relevant read_ function





file_path_raw_plate1

 

<-

 system.file

(

"extdata/Edward_qPCR_TxnInhibitors_HS_2018-06-15_plate1.txt.gz"

,
              package 

=

 

"tidyqpcr"

)





plate1curve

 

<-

 

file_path_raw_plate1

 %>%
    read_lightcycler_1colour_raw

(

)

 %>%
    debaseline

(

)

 %>%
    left_join

(

plateplan

, by 

=

 

"well"

)

 %>%
    mutate

(

biol_rep 

=

 

1

, plate 

=

 

1

)





file_path_raw_plate2

 

<-

 system.file

(

"extdata/Edward_qPCR_TxnInhibitors_HS_2018-06-15_plate2.txt.gz"

,
              package 

=

 

"tidyqpcr"

)





plate2curve

 

<-

 

file_path_raw_plate2

 %>%
    read_lightcycler_1colour_raw

(

)

 %>%
    debaseline

(

)

 %>%
    left_join

(

plateplan

, by 

=

 

"well"

)

 %>%
    mutate

(

biol_rep 

=

 

2

, plate 

=

 

2

)





platesamp

 

<-

 bind_rows

(

plate1curve

, 

plate2curve

)

 %>%
  filter

(

program_no

 

==

 

2

)





platesmelt

 

<-

 bind_rows

(

plate1curve

, 

plate2curve

)

 %>%
  filter

(

program_no

 

==

 

3

)

 %>%
  calculate_drdt_plate

(

)

 %>%
  filter

(

temperature

 

>=

 

61

)
Melt Curves, biol_rep 1
ggplot

(


  data 

=

 

platesmelt

 %>%
    filter

(

tech_rep

 

==

 

1

, 

biol_rep

 

==

 

1

)

,
  aes

(

x 

=

 

temperature

, y 

=

 

dRdT

, linetype 

=

 

prep_type

)




)

 

+


  facet_grid

(

condition

 

~

 

target_id

)

 

+


  geom_line

(

)

 

+


  scale_linetype_manual

(

values 

=

 c

(

"-RT"

 

=

 

"dashed"

, 

"+RT"

 

=

 

"solid"

)

)

 

+


  scale_x_continuous

(

breaks 

=

 seq

(

60

, 

100

, 

10

)

,
                     minor_breaks 

=

 seq

(

60

, 

100

, 

5

)

)

 

+


  labs

(

title 

=

 

"Melt curves, biol. rep. 1, tech. rep. 1"

)

 

+


  theme

(

panel.grid 

=

 element_blank

(

)

)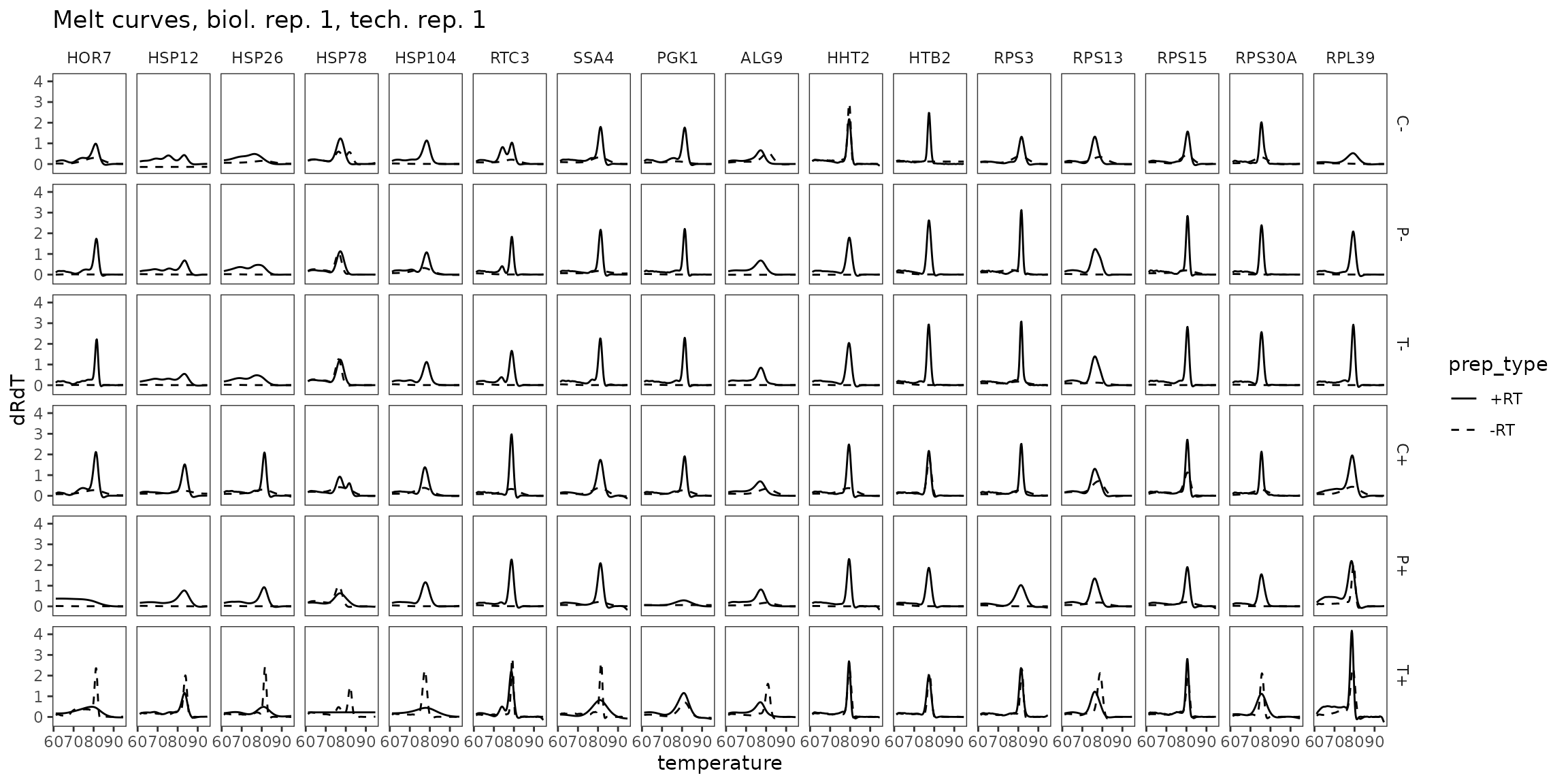 Melt Curves, biol_rep 2
ggplot

(


  data 

=

 

platesmelt

 %>%
    filter

(

tech_rep

 

==

 

1

, 

biol_rep

 

==

 

2

)

,
  aes

(

x 

=

 

temperature

, y 

=

 

dRdT

, linetype 

=

 

prep_type

)




)

 

+


  facet_grid

(

condition

 

~

 

target_id

)

 

+


  geom_line

(

)

 

+


  scale_linetype_manual

(

values 

=

 c

(

"-RT"

 

=

 

"dashed"

, 

"+RT"

 

=

 

"solid"

)

)

 

+


  scale_x_continuous

(

breaks 

=

 seq

(

60

, 

100

, 

10

)

,
                     minor_breaks 

=

 seq

(

60

, 

100

, 

5

)

)

 

+


  labs

(

title 

=

 

"Melt curves, biol. rep. 2, tech. rep. 1"

)

 

+


  theme

(

panel.grid 

=

 element_blank

(

)

)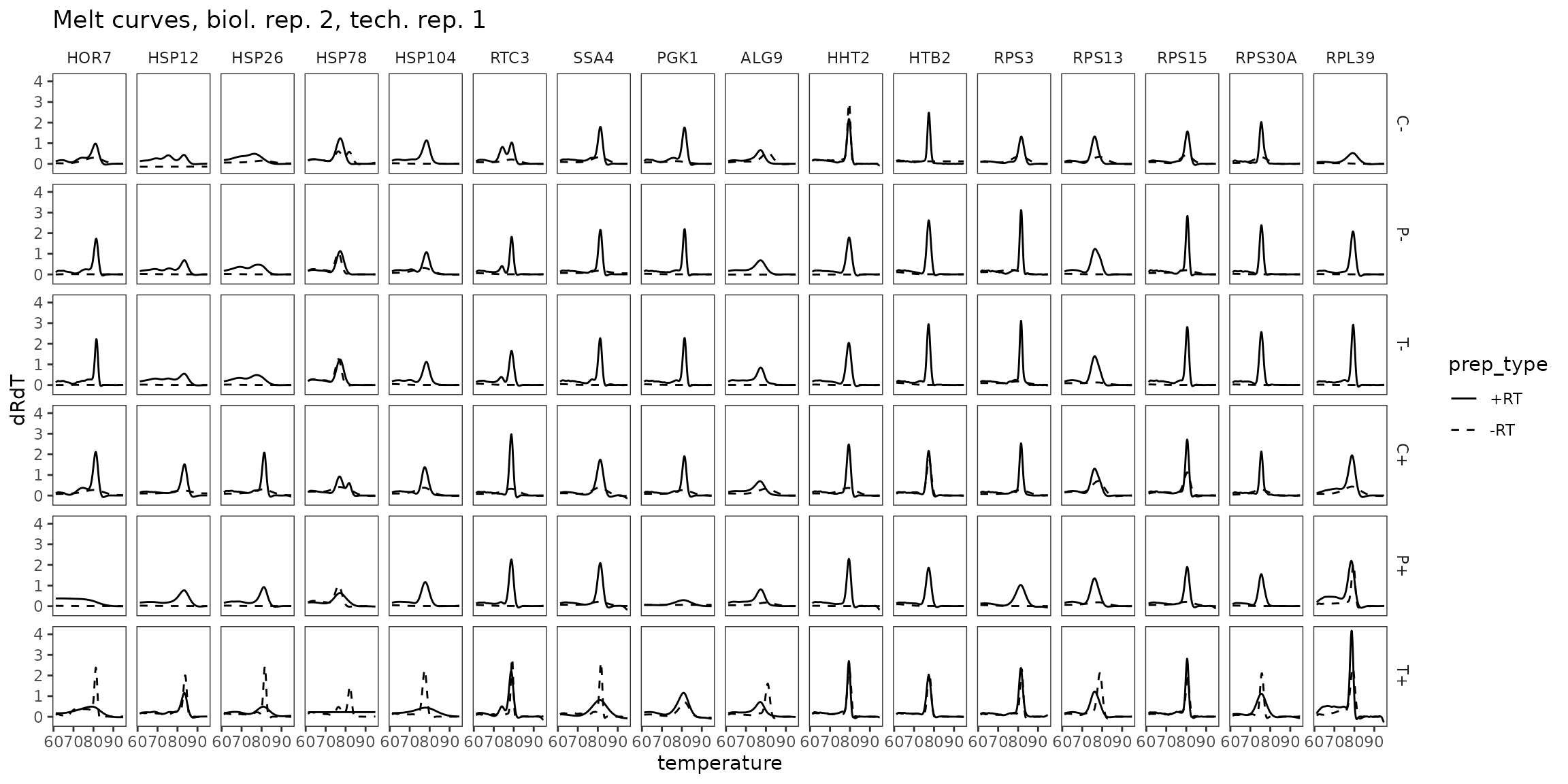 Amp Curves, biol_rep 1